Die neunte Ausgabe von 032c mit dem Titel "WE ARE SYNCHRO TIME" ist seit Mitte Mai erhältlich.Frühere Ausgaben des Magazins mit dem Untertitel "Fashion, Art & Conflict" wurden bereits für den Designpreis der Bundesrepublik Deutschland 2006 nominiert.
Wie man an das 176 Seiten starke Magazin für 10 Euro kommt, findet ihr hier.
»032c workshop publishes the bi-annual visual culture magazine 032c at the intersections of fashion, art and politics. Finding the new in the old and the old in the new, 032c invites leading and emerging creatives to collaborate on mono-thematic issues. The magazine has been considered to be "dedicated to the celebration of ideas" by i-D, "un glamour authentiquement berlinois" by Le Monde, "revue ultra-pointue" by Vogue, or simply as "the Berlin magazine that propogates an aesthetic of brutal elegance" by Frankfurter Allgemeine Zeitung. The magazine is internationally distributed to selected art bookstores and fashion boutiques. It has been exhibited at places such as London Design Museum, Colette (Paris), GAS (Tokyo), The Pineal Eye (London) and the 3rd Berlin Biennial."«
Verwandter Artikel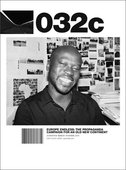 EUROPE ENDLESS: THE PROPAGANDA CAMPAIGN FOR AN OLD NEW CONTINENT
The summer edition of the O32C magazine is out now and it's all about Europe.. Topic is "Euope Endless". They ...
von simon am 27.06.2006
Nächster Artikel
Die Diskussion über das WM-Logo hat immer noch nicht ganz aufgehört, da kommt schon die nächste ...
von Heinrich am 13.06.2005
Vorheriger Artikel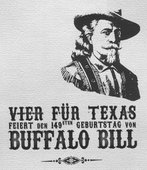 Party bei Vier für Texas
Wir waren gestern Abend bei Vier für Texas zur Party eingeladen, vielen Dank nochmal dafür! Das war ein sehr ...
von Boris am 11.06.2005