Die TYPO Berlin wird volljährig und dazu möchten wir erst einmal herzlichst gratulieren, schließlich haben wir ihre Teenagerjahre hautnah auf den vielen vergangenen Konferenzen miterlebt.
An dieser Stelle möchte ich auch auf einen sehr nostalgischen Beitrag von Jürgen Siebert auf dem fontblog verweisen. Mit der FUSE 95 wurde damals die Geburt der TYPO Berlin eingeleitet. Ein paar Impressionen von vor 18 Jahren gibt es zudem hier.
Die Subskriptionsphase wurde um 2 Woche verlängert bis 31. März 2013.
Außerdem verlosen wir 2 Tickets für die TYPO Berlin. Alles, was ihr dafür tun müsst, schickt uns eure Geburtstagswünsche per Mail mit dem Betreff »Happy Birthday, TYPO« an verlosung@slanted.de. Die schönsten & originellsten Geburtstagswünsche werden von uns am 25.03. gekürt und die Gewinner an dieser Stelle bekannt gegeben! Der Rechtsweg ist ausgeschlossen. Wer an der Verlosung teilnimmt, erklärt sich damit einverstanden, News von Slanted zu erhalten.
Die größte Grafikdesignkonferenz Europas im Herzen Berlins: 3 Tage Programm, 4 Bühnen, über 60 Sprecher, Vorträge, Präsentationen, Workshops, Networking, eine Party und 1000 weitere Teilnehmer – all das erwartet dich bei der TYPO Berlin 2013.
Mit: Julie K. Andersen · Lupi Asensio · Peter Bankov · Paul Barritt · Paul Barnes · Ann Bessemans · Nancy Birkhölzer · Erik van Blokland Alexander Branczyk · Dimitri Bruni · Anthony Burrill · Stephen Coles · David Demaree · Martina Flor · Ivo Gabrowitsch · Ken Garland Dominik Hafen · Lars Harmsen · Michael Johnson · Gesche Joost · Julia Kahl · Florian Kaps · Harry Keller · Mitya Kharshak · Andreas Koop Manuel Krebs · Henrik Kubel · Max Kuehne · Paul van der Laan · Svetlana Landl · Grzegorz Laszuk · Van Bo Le-Mentzel · Gerry Leonidas Martin Lorenz · Simon Manchipp · Daniel Mizielinski · Kate Moross · Sander Neijnens · Ashley John Pigford · Albert-Jan Pool · Mareike Roth · Oliver Saiz · Giuseppe Salerno · Andrea Schmidt · Bernhard Senn · Patrick Marc Sommer · Erik Spiekermann
· Roland Stieger · Tricia Treacy · Ferdinand Ulrich · Jacek Utko · Jessica Walsh · Honza Zamojski …
Verwandter Artikel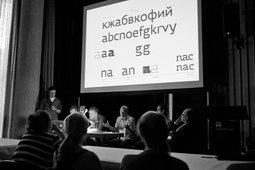 Live on stage
Die Premiere auf der Bühne der TYPO Berlin: Das offizielle FontFont TypeBoard kommentierte, lobte und kritisierte ...
Submitted by Selina Christ on 17.05.2013
in Typo Berlin
Nächster Artikel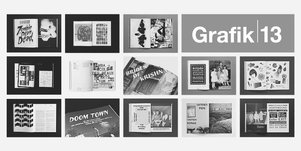 Nur noch wenige Tage, dann eröffnet die Grafik 13 in Zürich. Slanted ist mit großer Ausstellungsfläche ebenfalls ...
Submitted by Julia on 19.03.2013
in Design, Events, Exhibitions, Graphics
Vorheriger Artikel
Dodo präsentiert sein neues Magazine. Ein spannendes Projekt zum Entdecken. Welcome back to Dodo. The magazine ...
Submitted by Constanze on 18.03.2013