Designing Water's Future ist ein weltweiter Aufruf an Einzelne oder Gruppen von bis zu vier Studierenden, ganzheitliche Designlösungen zur Kommunikation des globalen Wasserproblems zu finden.
Designing Water's Future is aimed at generating exceptionally creative and original design thinking to raise awareness of the emerging global water crisis—and to do so in ways that inspire people to act. Reaching beyond all boundaries, the initiative seeks to reframe how we think about water, how we manage it, how we save it. It will address the design problem of the crisis, redefining the outdated, limited cultural mythologies that have become obstacles to progress on one of the world's gravest threats.
Offizielle Website mit vielen weiteren Informationen
Für uns Bewohner westlicher Industrieländer ist sauberes Wasser ein alltägliches Gut. Doch was viele nicht wissen: Wasser ist kein Menschenrecht. Zwar ist der Zugang zu Wasser festgeschrieben, nicht jedoch, ob dieses Wasser direkt im bewohnten Haus oder 10 Kilometer davon entfernt erhältlich ist. Doch nicht einmal das ist überall Realität, und viele der zukünftigen Wasser-Problemzonen erleben heute extremes Bevölkerungswachstum und dadurch einen vervielfachten Wasserverbrauch, auch durch erhöhte Lebensstandards für breite Bevölkerungsschichten in "Emerging Countries".
Viel mehr noch könnte über Wasser geschrieben werden - Wasser als Kriegsgrund, Wasserverbrauch für in Industrieländern verkauften Güter, die jedoch ursprünglich in wasserarmen Regionen angebaut werden (Baumwolle, Früchte, Fleisch, etc.), der ansteigende Wasserverbrauch in Ländern wie zum Beispiel China durch erhöhten Fleischkonsum, verschmutztes Wasser, und so weiter und so fort.
Redet mit euren Dozenten, vielleicht könnt ihr euren Wettbewerbsbeitrag ja als Studienarbeit anrechnen lassen. Wasser wird ein viel grösseres Problem als Öl in der Zukunft und es müssen sich möglichst viele Leute schon heute und nicht erst morgen damit beschäftigen.
Verwandter Artikel
Charity Mode-Projekt
"Pure Shirt" ist ein Charity Mode-Projekt, das von Finlandia Vodka initiiert wurde und sich für sauberes ...
Submitted by Tanja on 30.07.2007
Nächster Artikel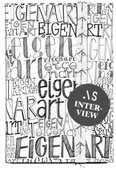 Diplomarbeit von Anja Kosak
Eigenart ist ein Näh- und Bastelanleitungsbuch und die Diplomarbeit von Anja Kosak. Sie hat dieses Sommersemester ...
Submitted by Tanja on 03.09.2008
Vorheriger Artikel

Pendant zu Ikiru Serif / Neuer Font beim dgv
Gerade neu erschienen: IkuruSans mit 10 Schnitten von Boris Dworschak. Since the release of the IkiruSerif font in ...
Submitted by Julia on 02.09.2008