T26 bringt eine Art Schriftbibliothek auf den Markt, die verschiedene handgemachte Schriften zur Verfügung stellt: SketchType™ Vol. 2. Eine Art Schriftbibliothek, weil es sich dabei nicht um skalierbare Schriften handelt sondern um Bilder, die auf transparentem Hintergrund ausgegeben werden.
Dies limitiert natürlich den Einsatz ein Stück weit, aber die 20 verschiedenen handgemachten Schriftillustrationen sind gut gelungen. SketchType™ Vol. 2 ist wie der Name schon sagt eine Erweiterung zum ersten Set von T26.
SketchType™ Vol. 2 kann für $ 249,- bei T26 erworben werden.
Pressetext:
Created by graphic designers for graphic designers, SketchType™ Vol. 2 makes it easy to incorporate the texture of hand-drawn lettering into any project without ever picking up a pencil.
SketchType™ Vol. 2 letters are cut out onto a transparent layer, ready for placement in your design. With 20 complete and original type sets to choose from, all you have to do is decide how to use them.
THE SKETCHTYPE DVD CONTAINS 20 original hand-drawn type sets in 60 files (300 dpi / transparent grayscale / Photoshop PSD format). Each set contains uppercase, lowercase, numerals, symbols & spanish characters.
Characters vary from 3 to 6 inches in height. Each PSD file contains one transparent layer with isolated characters. The PSD files are ready for editing in Adobe Photoshop, or placement in InDesign, Illustrator or other compatible image editing applications.
DVD ONLY: Due to the size of the image files, SketchType™ Vol. 2 is only available on a shipped DVD. When you purchase this set, you will be not be able to download the files.
IMPORTANT NOTE: These are NOT keyable fonts, they are raster images. Each character will need to be hand set.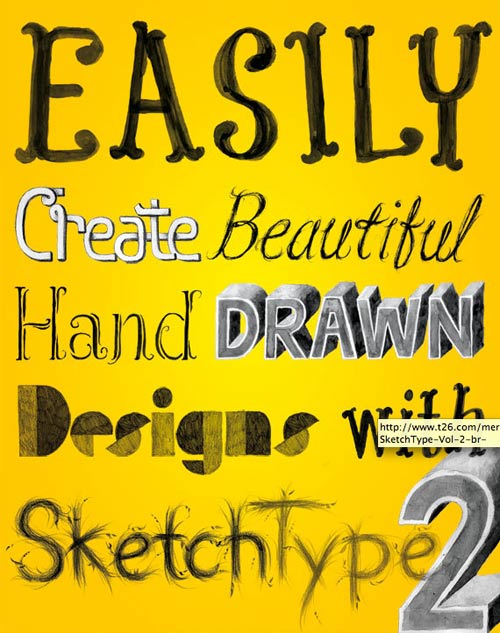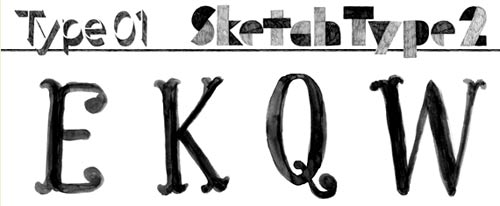 Verwandter Artikel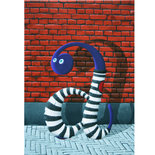 What happens if you take the shapes of the 26 letters of the alphabet and give them a different texture and ...
von Michiel van der Born am 02.03.2010
in Typografie
Nächster Artikel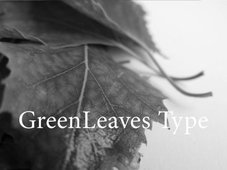 Eine handgemachte Schrift aus Birkenblättern von Vladimir Končar
Vladimir Končar, 31, lebt und arbeitet in Zagreb, Kroatien. Er ist "artistic dictator, information architect and ...
von Julia am 07.07.2010
Vorheriger Artikel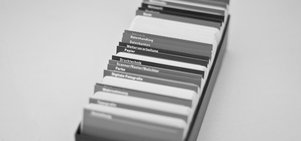 Prüfungswissen für Mediengestalter Digital und Print
Mit diesen 660 Lernkarten kann sich garantiert jeder angehende Gestalter durch die Prüfung schummeln – oder sich ...
von Julia am 06.07.2010