Verwandter Artikel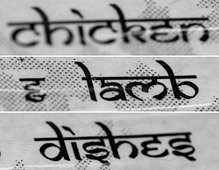 chicken & lamb dishes
Weiß jemand, wo man diese Schrift erwerben kann? Oder kennt jemand etwas sehr Ähnliches? Bei "What the font" usw. ...
Submitted by Boris on 11.02.2009
Nächster Artikel
Abschlussarbeit am Institute of Design Düsseldorf
"Zweitgedanken" handelt vom Zweifel in seinen verschiedenen Ausprägungen. Ich stelle mich und meine Arbeit sehr oft ...
Submitted by Julia on 14.01.2009