»Die Show wurde bisher von einer Viertelmillion Menschen gesehen. Ich habe hunderte Briefe von Besuchern bekommen, neun Zehntel davon waren Frauen, und ich hatte das Gefühl, ihnen hat die Show etwas gebracht.« (Stefan Sagmeister)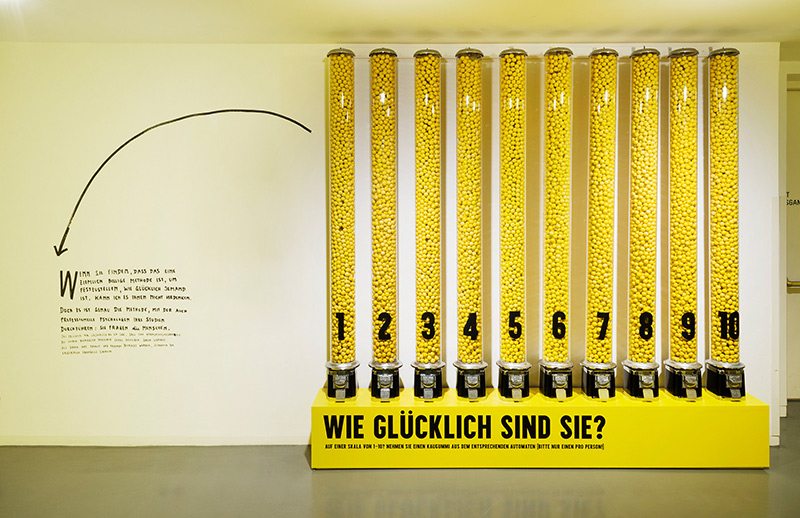 Auf der Suche nach dem Glück: Der in New York lebende Superstar des Grafikdesigns zeigt in The Happy Show die Resultate seiner zehn Jahre andauernden Untersuchung des Glücks. Im Jahr 2016 ist seine Erfolgsshow zum ersten Mal in Deutschland zu sehen, ab dem 23. April 2016 verwandelt er das Museum Angewandte Kunst in Frankfurt am Main in The Happy Show.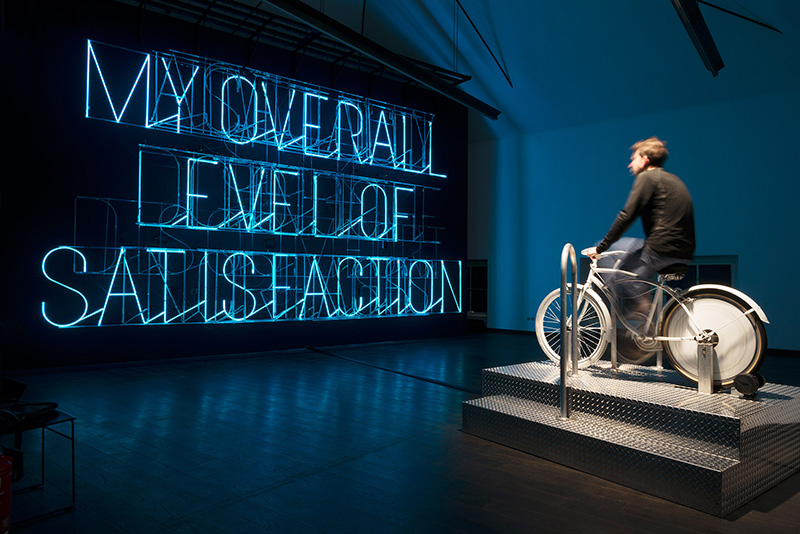 Mit feinem Humor und ironischer Distanz kommentiert er sich selbst und die Welt zum Thema, verziert fröhlich die Wände des Museums mit handschriftlichen Bemerkungen. Er verarbeitet sozialwissenschaftliche Daten der Glücksforschung bedeutender Historiker, Psychologen und Anthropologen in hochgradig emotionalen Infografiken, Skulpturen, Installationen und Filmen. Sagmeister zeigt Gestaltung als wichtigen gesellschaftlichen Faktor, weniger zur Verkaufsförderung, denn als Hilfe für das Verstehen einer Welt, die, wie an einem riesigen Gummiband befestigt, endlos beschleunigt wird.
The Happy Show wurde vom Institute of Contemporary Art der University of Pennsylvania organisiert und von der ehemaligen ICA-Direktorin Claudia Gould, derzeit Helen Goldsmith Menschel Director, The Jewish Museum, New York, kuratiert. Die überaus gefeierte Ausstellung wird nach Stationen in Nordamerika, Paris und aktuell im MAK Wien ab April 2016 im Frankfurter Museum Angewandte Kunst von Peter Zizka koordiniert.
Wo
Museum Angewandte Kunst
Schaumainkai 17
60594 Frankfurt
Wann
Ausstellungseröffnung: Freitag, 22. April 2016, 19 Uhr
Ausstellung: 23. April bis 25. September 2016
Öffnungszeiten: Di, Do bis So 10 bis18 Uhr, Mi 10 bis 20 Uhr
Mehr Informationen zur Ausstellung findet ihr hier.