Installation von Sounds of Silence und desres für 22 birds
noch bis Oktober 2010 zu den Ladenöffnungszeiten zu sehen bei
22birds / Designermöbel und mehr
Gladbacher Strasse 30
50672 Köln
Di-Fr 14-19H + Sa 12-18H
und nach Vereinbarung
Das Wort 'Wolkenkuckucksheim' stammt aus Aristophanes Komödie 'Die Vögel' und bezeichnet dort eine Stadt in den Wolken, die sich die Vögel als Zwischenreich gebaut haben. Heutzutage wird der Begriff ähnlich wie der des Luftschlosses verwendet. Eine schwebende Utopie, eine Sehnsucht nach Leichtigkeit, nach dem Recht gelegentlich in Träumen die Bodenhaftung zu verlieren.
Sounds of Silence schaffen für den Ausstellungsraum von 22birds eine Installation gleich einer begehbaren Szenerie. Wolkenähnliche Objekte, aus Drahtgitter geformt, hängen von der Decke und treiben auf den eintretenden Betrachter zu. Jede ist individuell in ihrer Form. Läge man auf einer Wiese an einem Sommernachmittag würde das Band der unterschiedlichen Assoziationen kaum abreißen.
Die Wolken hängen jedoch nicht bloß am Himmel, sie scheinen vielmehr Teil eines merkwürdigen Systems zu sein, das sich über Seilrollen in den hinteren Teil der Räumlichkeiten zieht und eine Spur von neonfarbenen Fluchten auf die Decke zeichnet.
An dessen Enden hängen gebündelt, eine Regenfeld markierend, Keramiktropfen in unterschiedlicher Höhe von der Decke. Über sie lassen sich mit Hilfe des Seilzugsystems die Höhen einzelner Wolken im vorderen Raum regulieren.
In der visuellen Flucht, auf der Rückwand des hinteren Raumes, hat Michaela Kessler vom desres design studio eine typografische Arbeit gestaltet, die die Installation fokussierend abrundet.
www.soundsofsilence.de
www.desres.de
www.22birds.com
Installation: Petra Eichler und Susanne Kessler (Sounds of Silence)
Typografie und künstlerische Mitarbeit: Michaela Kessler (desres design studio)
Licht Design: Gregor Knüppel
Mit freundlicher Unterstützung der Dorstener Drahtwerke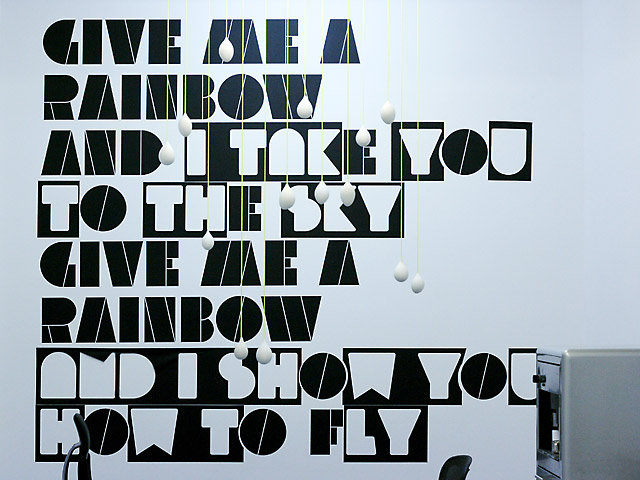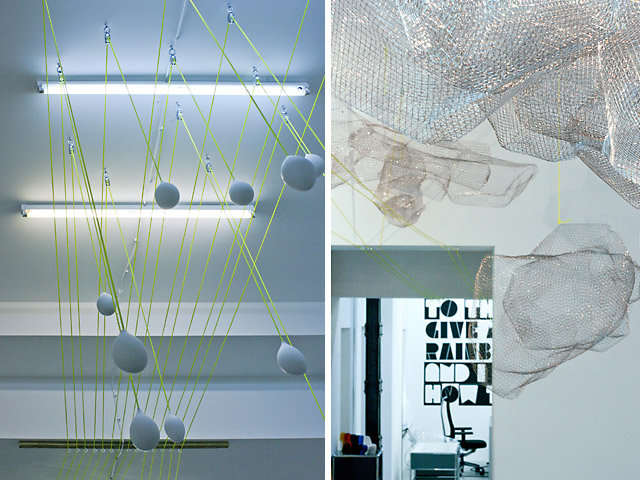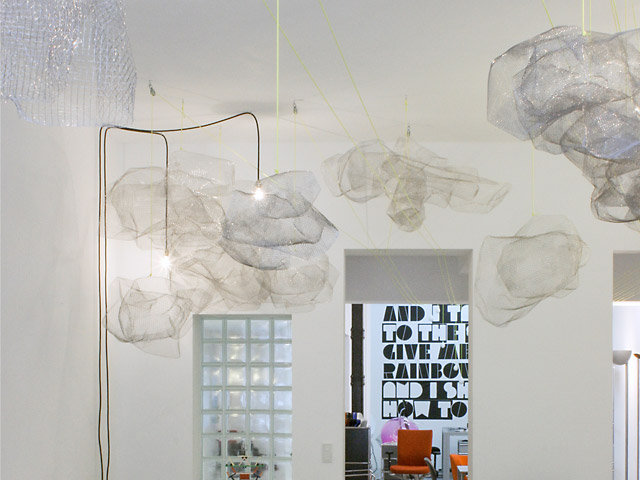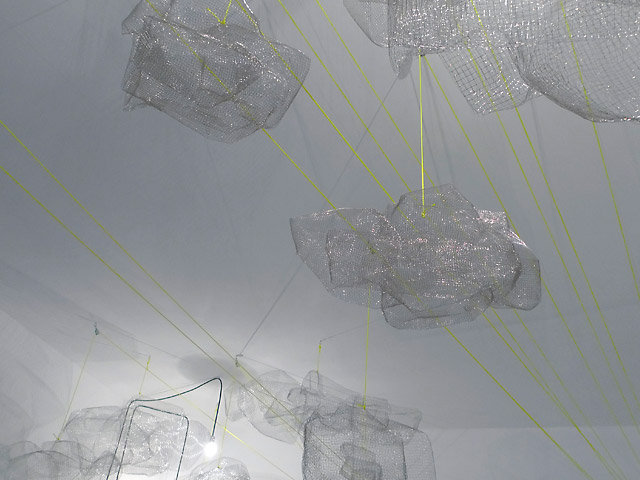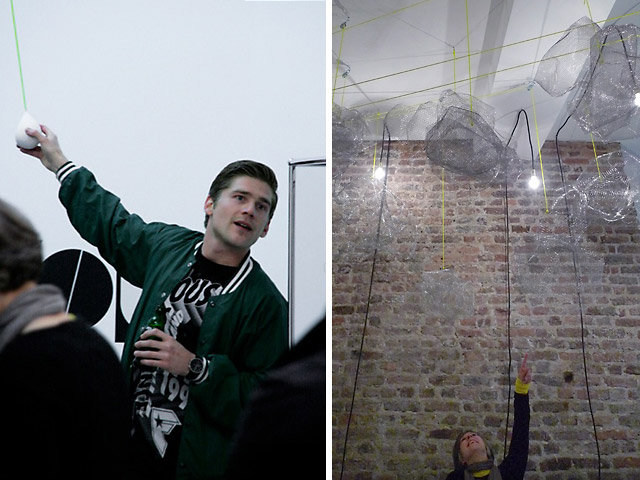 Verwandter Artikel
Manchmal dauert es etwas länger, bis man dazu kommt, ein Projekt vorzustellen. So ging es uns mit "This is a book ...
Submitted by Tanja on 18.05.2009
in Interviews, Books, Typefaces
Nächstes Portfolio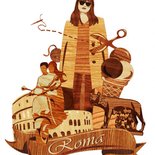 Doing and loving illustration, Anne Quadflieg lives in Hamburgs Sternschanze and is enjoying creative flows. Her ...
Submitted by Anne Quadflieg on 23.06.2010
in Illustration
Vorheriges Portfolio
Becoming, Büro für visuelle Kommunikation, hat den Katalog zur Ausstellung "Jupp Gauchel - Rhythm & Greens" ...
Submitted by bcmng on 09.06.2010