Vor ungefähr 100 Jahren begann die Zeit der Luxusfernreisen. Wohlhabende Bürger entdeckten ferne und exotische Länder: Indien, Marrakesh, Neuseeland, Australien, Afrika, Südamerika und die Südseeinseln … Das Transportmittel für die Upper Class waren Luxusliner, große und mit allem möglichen Komfort ausgestattete Dampfschiffe. Beworben wurden die Reisen mit farbenfrohen Plakaten die eindrucksvolle Motive der fernen Länder und die riesigen Schiffe abbildeten. Die meist als Lithografie produzierten Plakate wurden oft von hervorragenden Künstlern entworfen die zusammen mit den Bildmotiven auch die Plakatschrift gestalteten.
Die »Ahoy« ist die digitalisierte Version einer fetten Headline-Schrift wie sie um 1900 auf den Plakaten der großen Übersee-Reedereien eingesetzt wurde. Einige in der Vorlage fehlenden Buchstaben wurden behutsam ergänzt, so daß die reine Versalschrift nun auch deutsche Umlaute und die wichtigsten Satzzeichen sowie Ziffern enthält. Mit ihrem handgemachten Charakter und ihrem Retro-Charme eignet sich die »Ahoy« natürlich ganz besonders für Plakate aber zum Beispiel auch auch für Package-Design.
Neben der gefüllten regulären »Ahoy One« gibt es auch noch die »Ahoy Two« als Outline Version. Die Schrift läßt sich bei MyFonts.com (http://www.myfonts.com/fonts/librito/ahoy/) für 6,99 Euro erweben.
Verwandter Artikel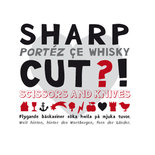 Die CUTZ ist eine echte Headlineschrift. Ausgangspunkt für die Entwicklung der Schrift war die Gestaltung eines ...
Submitted by Florian.Zietz on 27.11.2010
in Typography
Nächstes Portfolio
Dream of flying. Part of a poster series. www.ninadornbusch.com
Submitted by nd on 25.09.2014
in Graphics
Vorheriges Portfolio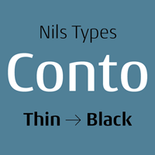 Conto - a clear and reduced sans serif typeface in eight weights (upright, italic). It is mainly designed for ...
Submitted by nilsthomsen on 18.09.2014
in Typography