Redesign des "Magazins zur offensiven Erweiterung des Fußballhorizonts" in Kooperation mit LWZ.
Der ballesterer zeichnet sich durch eine kritische Sichtweise auf das aktuelle Fußballgeschehen aus. Sowohl die zunehmende Kommerzialisierung wie auch das Zurückdrängen von Fans und Fankultur aus den Stadien werden laufend thematisiert. Die Qualitätsmerkmale des Magazins liegen in ausführlichen Schwerpunkten, Reportagen und Interviews.
Die traditionellen Stärken und die inhaltliche Fokussierung des ballesterer sollen mit dem Relaunch auch in seinem Erscheinungsbild sichtbarer gemacht werden. Unser Gestaltungsansatz besteht im wesentlichen aus dem Spiel mit Typografie, Raster und Linie. Nach dem Testen unzähliger Schriftarten fanden wir mit der "Grot10" von Playtype und der "Archive" von Colophon zwei Schriften die den Inhalten eine passende Formensprache geben. Auch die Heftstruktur wurde überarbeitet, der neue Einleitungs- und Schlussteil dienen als Klammer, die den weiträumigen Themenkern umschließt. Dabei verleiht die rauhe Oberfläche des Offsetpapiers dem Magazin einen prägnanten, haptischen Charakter.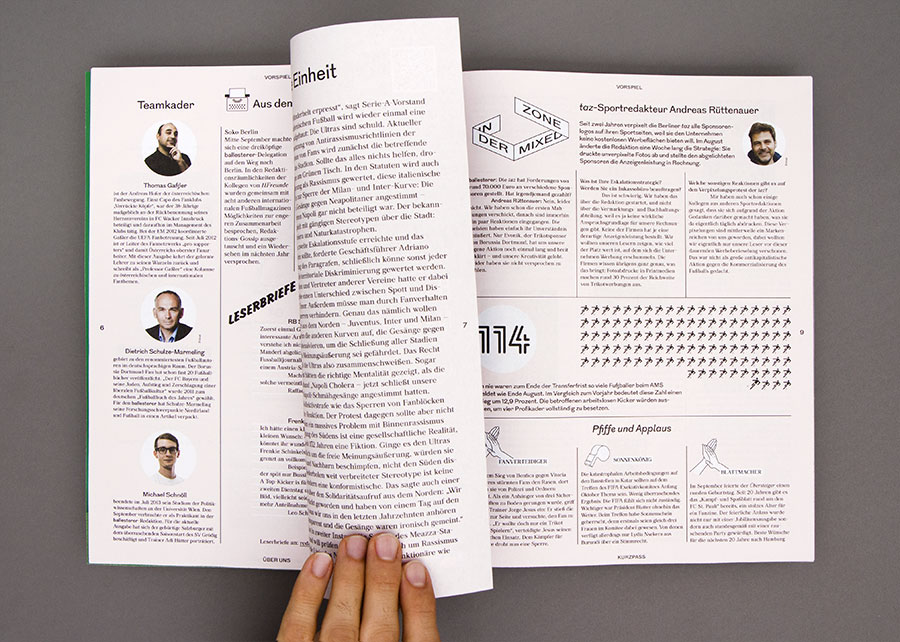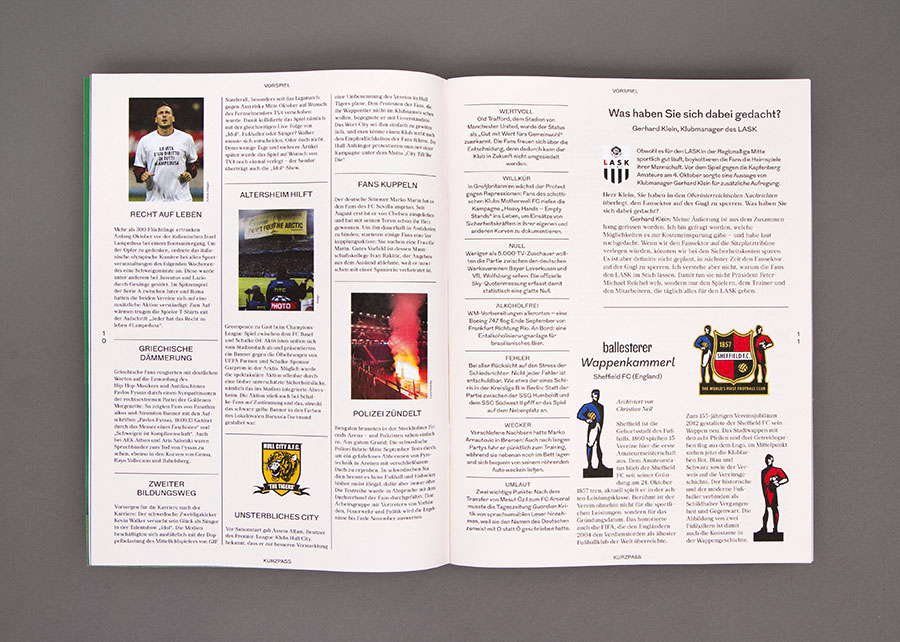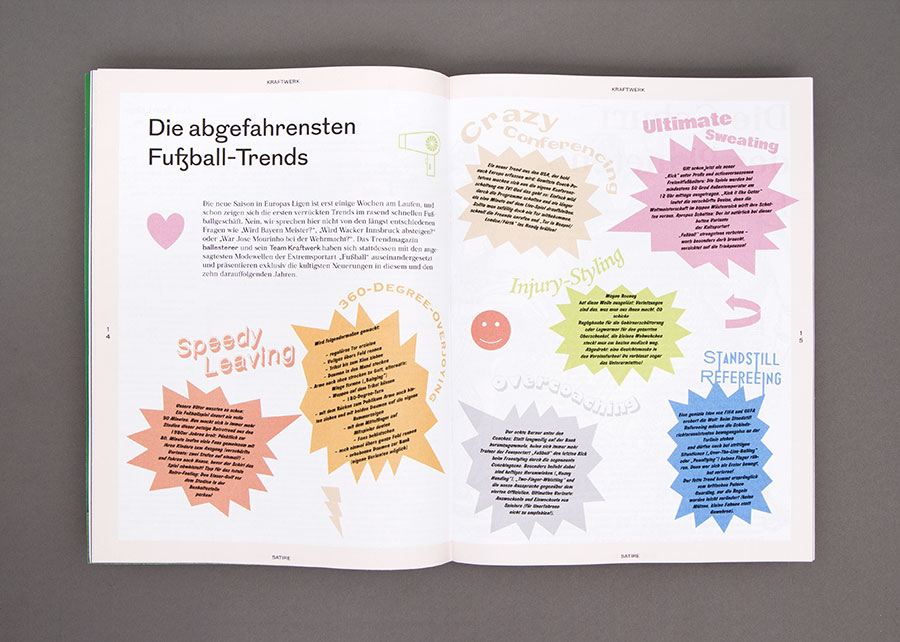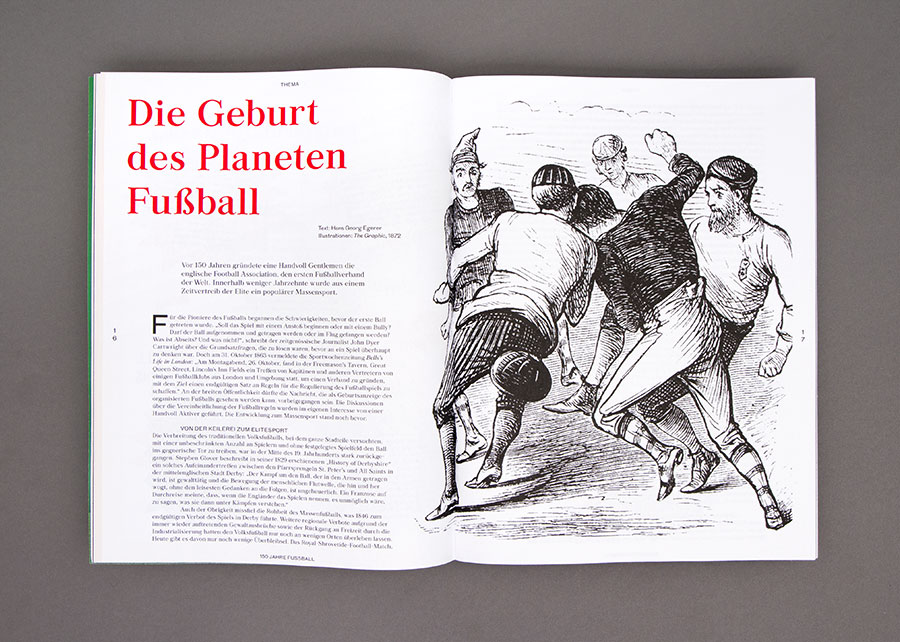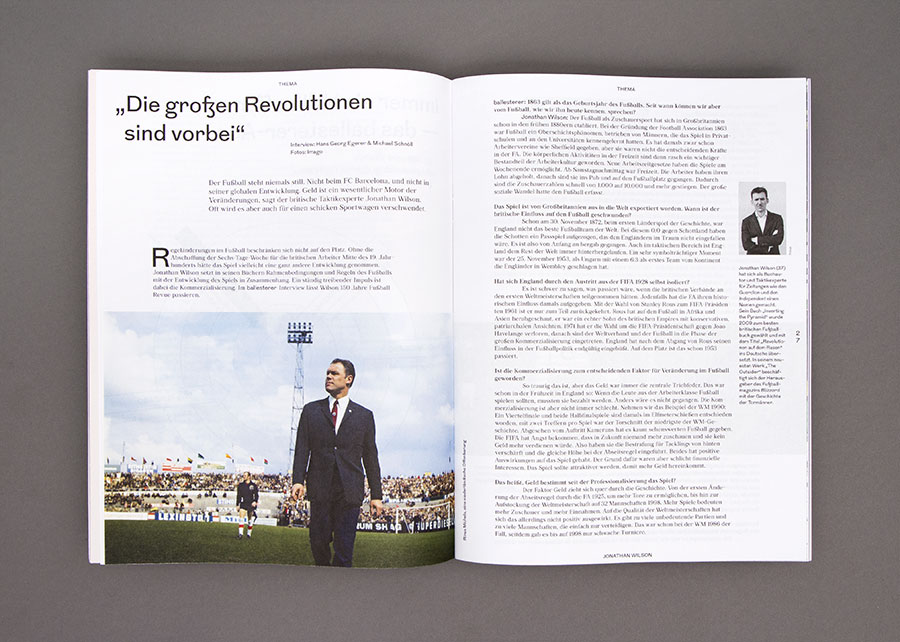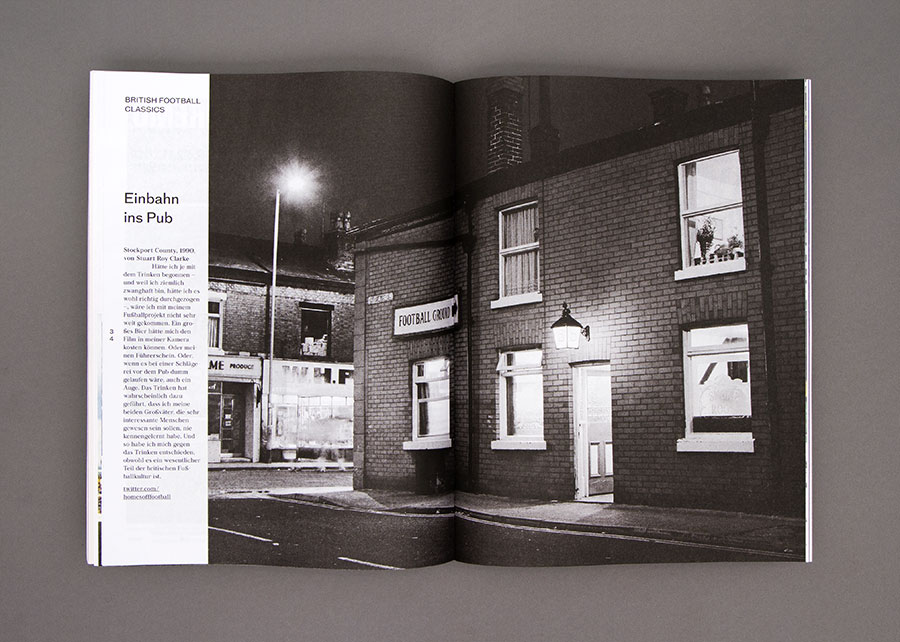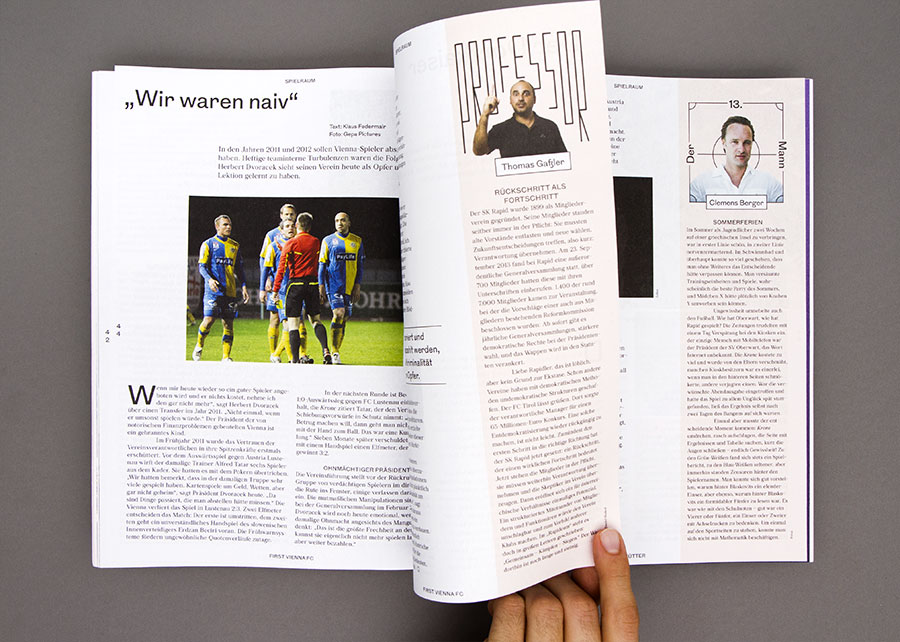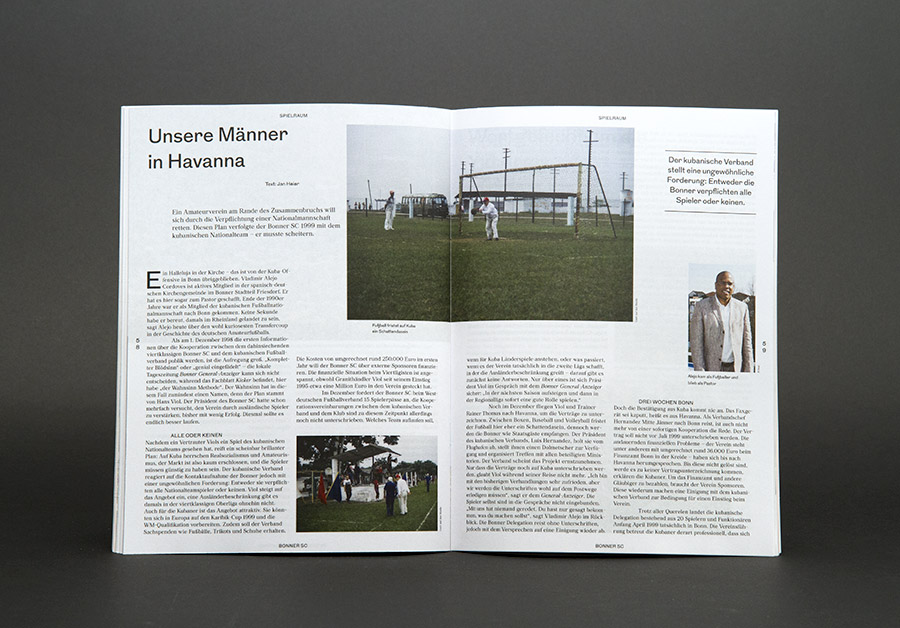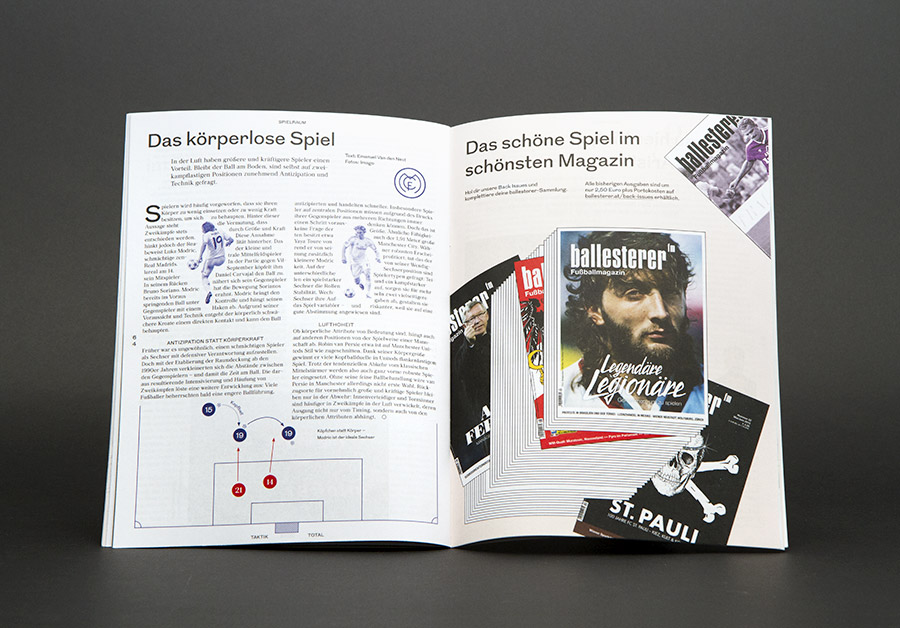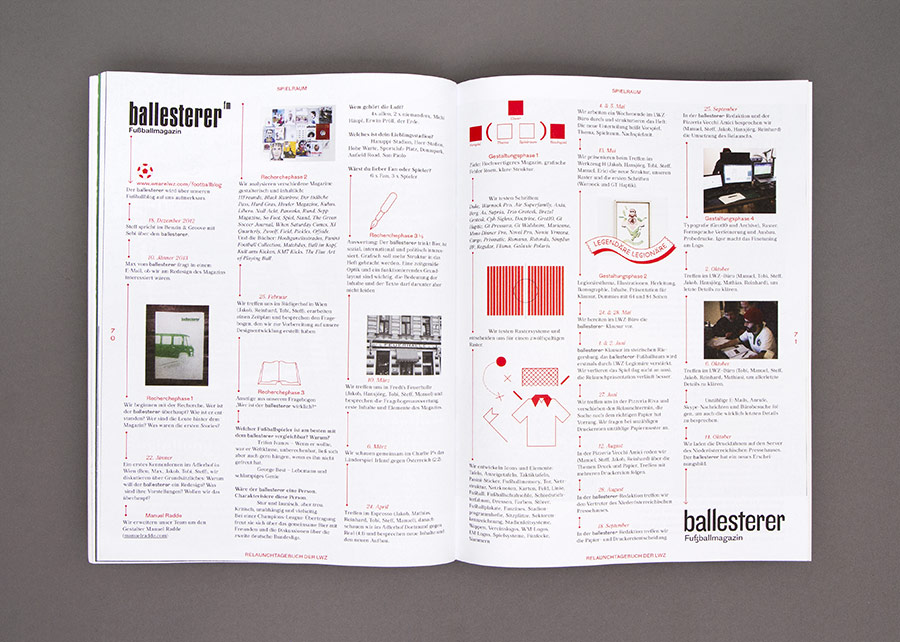 Verwandter Artikel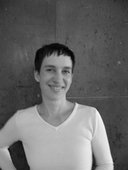 Ein Vortrag der Typo Berlin
Vielen Dank an André Rösler für den Bericht über Juli Gudehus Vortrag "Gedanken zu Redesign, schöne Beine und ein ...
Submitted by Angi on 25.05.2005
Nächstes Portfolio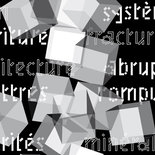 3 beautiful posters designed by Benoît Bodhuin just come out, printed with love in ​​silkscreen and using the ...
Submitted by Benoît Bodhuin on 15.11.2013
in Graphics
Vorheriges Portfolio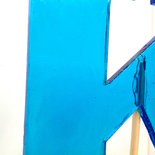 From a unique partnership between Fluor Studio and ESHTE (Escola Superior de Hotelaria e Turismo do ...
Submitted by rbonacho on 08.11.2013
in Design