Benoît Bodhuin startet mit seiner neuen Textschrift bb-book A ins Frühjahr 2017. Die Schrift ist bei VolcanoType erschienen und zeichnet sich durch kräftige, dreieckige Serifen und einer Bandbreite an Weiten und einem umgekehrten Strichstärkenkontrast aus. Ergänzend gibt es einen Display Schnitt, bb-book contrasted, welcher die Schriftfamilie vervollständigt. Einzelschnitte sind bereits ab 45,- Euro bei VolcanoType erhältlich.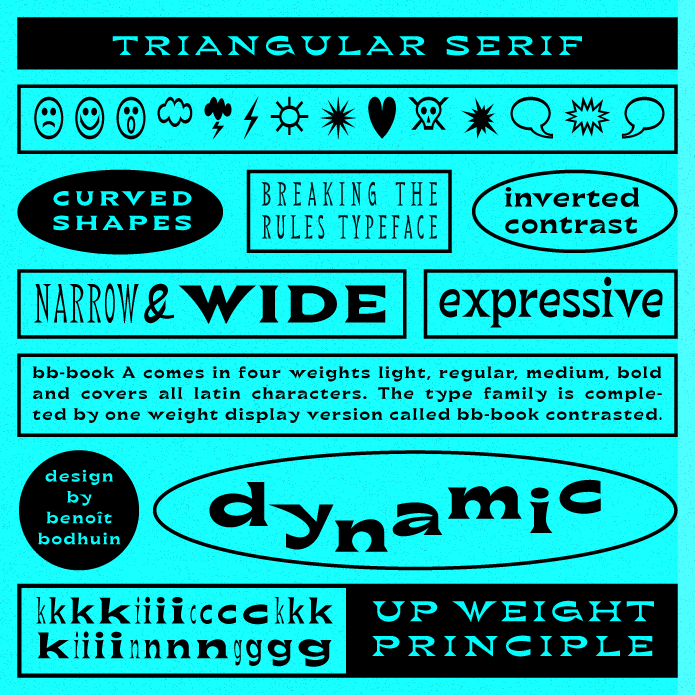 Benoît Bodhuin über bb-book A: "The light weight is really narrow on the one hand side, the bold weight is really wide on the other hand side. A kicking up weight principle. The inverted contrast of Benoît Bodhuin's bb-book A stands in the tradition of Roger Excoffon's Antique Olive."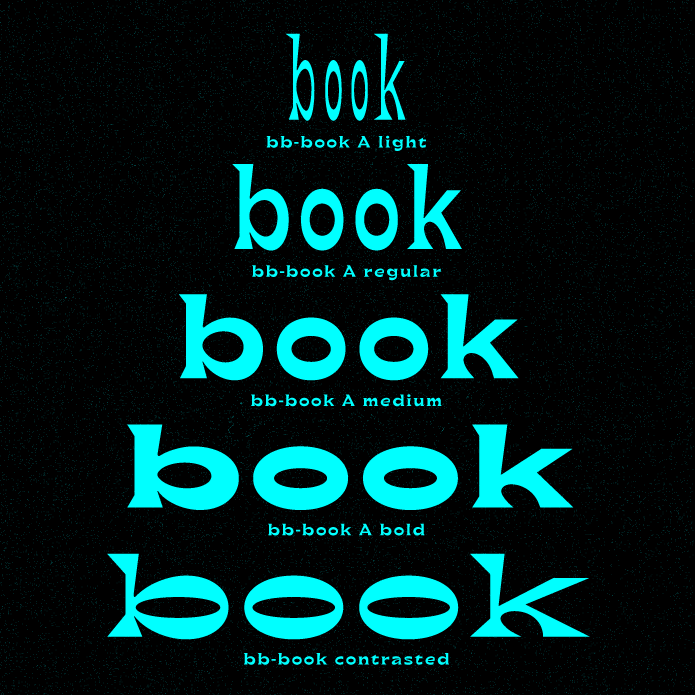 Slanted verlost 1 × die komplette Schriftfamilie bb-book A + den zusätzlichen Displayschnitt bb-book contrasted von VolcanoType im Gesamtwert von € 185,-. Um an der Verlosung teilzunehmen, schreibt eine Mail mit dem Betreff »VolcanoType bb-book« an verlosung@slanted.de. Die Verlosung endet am Dienstag, den 28.02.2017 um 11 Uhr. Wer an der Verlosung teilnimmt erklärt sich damit einverstanden, News von Slanted zu erhalten. Der Rechtsweg ist ausgeschlossen. Viel Glück!
bb-book A
Foundry: VolcanoType
Designer: Benoît Bodhuin
Veröffentlichung: Februar 2017
Format: OpenType
Schnitte: Light, Regular, Medium, Bold
Preis pro Schnitt: € 45,-
Preis Familie: € 140

bb-book contrasted
Foundry: VolcanoType
Designer: Benoît Bodhuin
Veröffentlichung: Februar 2017
Format: OpenType
Preis € 45,-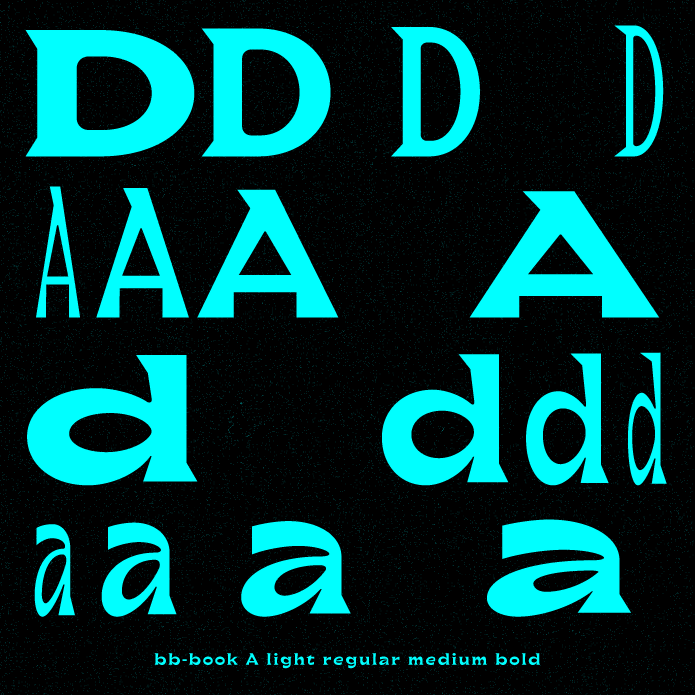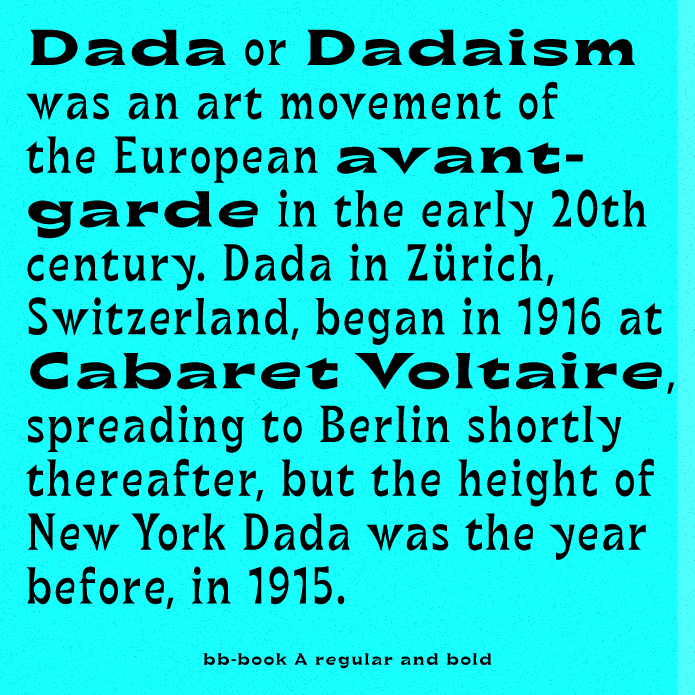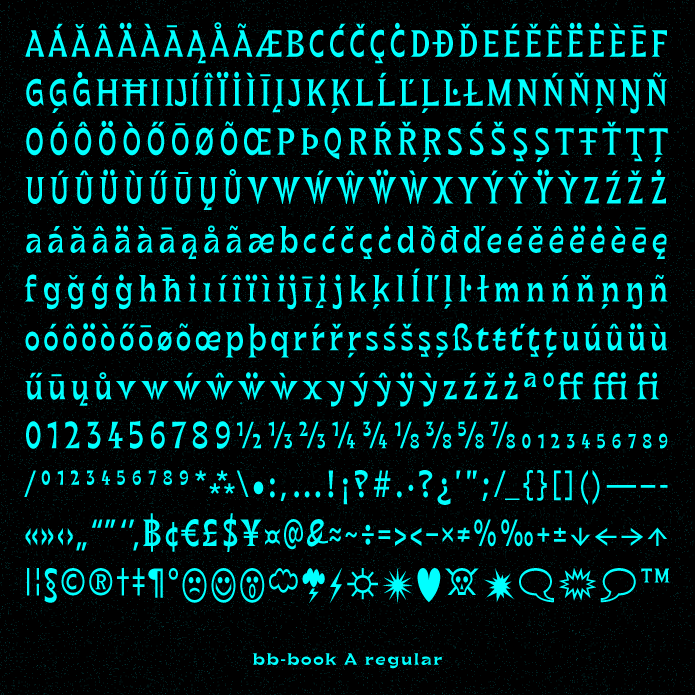 Verwandter Artikel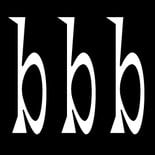 Expressive serif (triangular and curved) type kicking up weight, width and contrast — in 4 styles: light, regular, ...
Submitted by Benoît Bodhuin on 24.06.2016
Nächster Artikel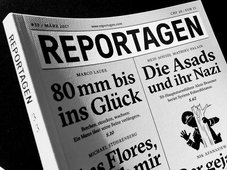 Band #33 von Reportagen ist da. Der Inhalt in Kürze: – 80 mm bis ins Glück. Brechen, strecken, wachsen: Ein ...
Submitted by Isabella on 23.02.2017
Vorheriger Artikel
TYPO Berlin, die größte Designkonferenz Europas, findet dieses Jahr unter dem Motto »wanderlust« vom 25. ...
Submitted by Julia on 20.02.2017