Letztes Jahr haben editude pictures den 54minütigen Dokumentarfilm "In The Belly Of A Whale" fertig gestellt, der unterschiedliche junge Berliner Kunstschaffende featured. Seit Kurzem haben sie nun endlich auch englische Untertitel am Start, um den Film einem noch größeren Publikum zugänglich zu machen.
Längst hat sich Berlin als eine der ersten Anlaufstellen für aufstrebende kreative Köpfe aus aller Herren Länder etabliert und ragt innerhalb Deutschlands Kunstszene deutlich heraus. Doch was zieht die junge Bohéme ausgerechnet in die Kulturmetropole an der Spree? Und welche Chancen und Gefahren birgt das bestehende Überangebot auf dem Kunstmarkt?

In 12 kurzen Episoden beleuchtet IN THE BELLY OF A WHALE die unterschiedlichsten Kunstschaffenden der Stadt – Urban Artists, Grafikdesigner, Fotografen, Galeristen – und versucht das einzigartige Lebensgefühl im Bauch des Wals Berlin festzuhalten.
editude pictures präsentiert
:
IN THE BELLY OF A WHALE

Ein Film von Andreas Lamoth und Frederic Leitzke

Mit Beiträgen von:
44flavours, KLUB7, Jan "Yaneq" Kage, Neonchocolate Gallery, Lukas Feireiss, Amos Fricke, Pisa73, Christian Rothenhagen, Ann Besier, Marleen Hoerig, Georg Roske & Jan-Kristof Lipp.

Mit Musik von:
Robot Koch, Oddisee, Factor, Suff Daddy, Baths, Plus, Eric Crusher ft. Chloe, Paul SG, Geotic, post-foetus, Tweak Sensei of the Jazoburbs und Mike Okay.
Laufzeit:
54 Minuten
Kapitel:

0:01-1:20 - Vorspann

1:21-8:33 - Berlin

8:34-12:42 - Lukas Feireiss

12:43-19:18 - 44flavours

19:19-23:09 - Jan "Yaneq" Kage

23:10-27:17 - Ann Besier

27:18-30:47 - Neonchocolate Gallery

30:48-33:02 - Amos Fricke

33:03-35:07 - Marleen Hoerig

35:08-38:06 - Pisa73

38:07-42:04 - Georg Roske & Jan-Kristof Lipp

42:05-46:11 - Christian Rothenhagen

46:12-50:07 - KLUB7

50:08-53:40 - Abspann

Berlin 2011


WINNER:
Webcuts.12 (Internet Film Fest Berlin) - Berlin Award
Verwandter Artikel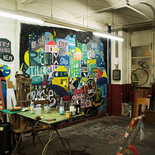 44flavours x KLUB7 - Step by Step from editude pictures on Vimeo. We did another painting session in the new ...
Submitted by 44flavours on 05.04.2011
in Illustration
Vorheriger Artikel
Nico Bats, Tobias Gebert und Sebastian Zimmer­hackl
Drei Kommunikationsdesigner aus Mainz thematisieren »Entscheidungen« in einem 80kg schweren Buchprojekt aus ...
Submitted by Julia on 21.02.2013
in Portfolio, Books, Design, Study Projects