Verwandter Artikel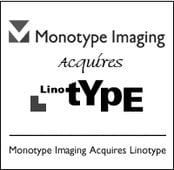 Move Unites Font Design and Technology Companies to Expand Global Offering into New Markets
"Monotype Imaging and Linotype are joining forces to pursue a common vision – to help customers improve global ...
Submitted by Boris on 02.08.2006
Nächster Artikel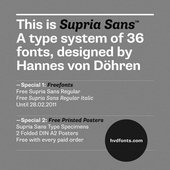 Eine neue Font-Family von HVD Fonts
Supria Sans™ ist eine neue, 36 Schnitte umfassende Schriftfamilie, gestaltet von Hannes von Döhren. Die exklusive ...
Submitted by Vreni on 31.01.2011
Vorheriger Artikel
Danke für eure Teilnahme an der Umfrage zu den inspirierendsten Locations und Persönlichkeiten in deutschen ...
Submitted by Julia on 31.01.2011