Ohne zu übertreiben können wir sagen, dass wir wohl kürzlich eines der schönsten Type-Specimen im Redaktions-Briefkasten hatten, das uns in den letzten Jahren erreichte: FRANK – Brass Stencil & Specimen. Es liegt schwer in der Hand und man kommt erst an die Information, zieht man das Booklet aus dem Schuber. Und dann klappt man es auf.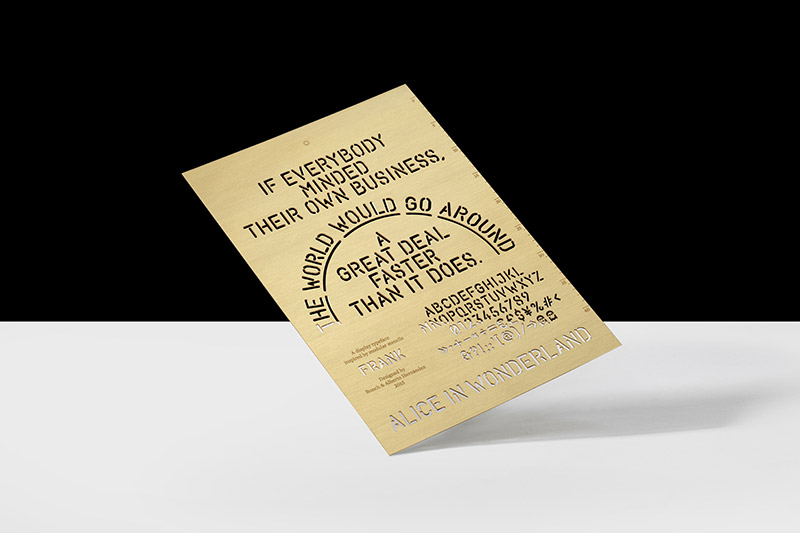 Links eine schwere Schablone, die modularen Schriftzeichen fein gelasert (oder gestanzt). Rechts in mintgrün, vorgestanzte Buchstaben, die ein gelbes Specimen-Booklet verdecken. Goldene Prägung, schwarz-weißer Druck. Limitiert auf 100 Stück.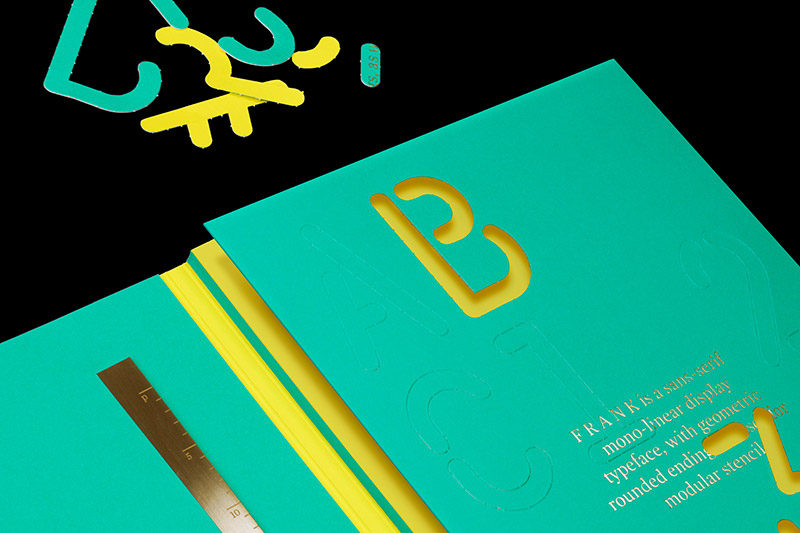 Eine Fotografie eines Pudels, das Erste, das man sieht. Seine Hundemarke: F wie FRANK.
Bunch und Alberto Hernández sind verantwortlich für dieses tolle Produkt, welches bei Milieu Grotesque veröffentlicht wurde. Und eigentlich geht es in erster Linie natürlich um FRANK, eine modulare Stencil-Schrift, für deren Veröffentlichung man sich eben mit dieser Präsentation etwas ganz Besonderes hat einfallen lassen.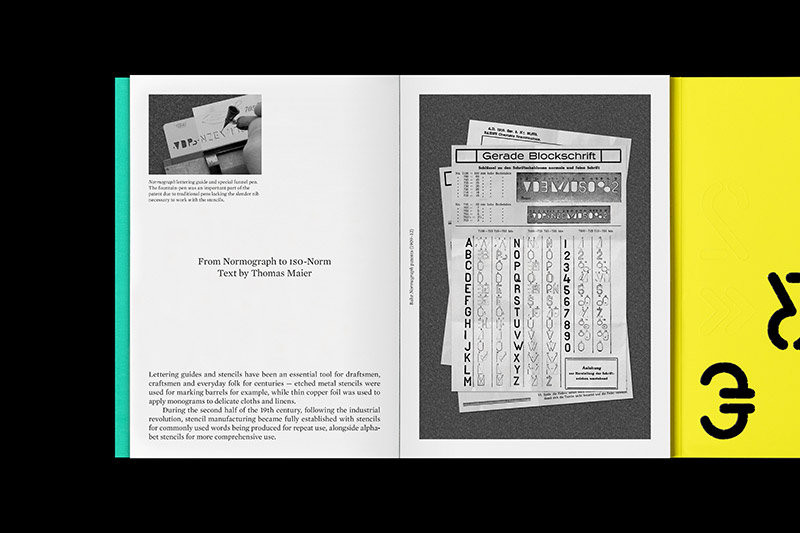 F R A N K was created especially for the rebranding of Cerovski, (a print production studio) in 2013, then developed into a commercial full character set by Milieu Grotesque. The sans-serif display typeface follows the formal tradition of lathe-milling, as used for modular stencils through a mono-linear, thick main stroke and geometric rounded endings. Following a talk by Assoc. Prof. Eric Kindel University of Reading), the team were encouraged to explore the subject of stencils further, and after a very positive response to the Cerovski rebrand they evolved F R A N K into a font for all to use and play with.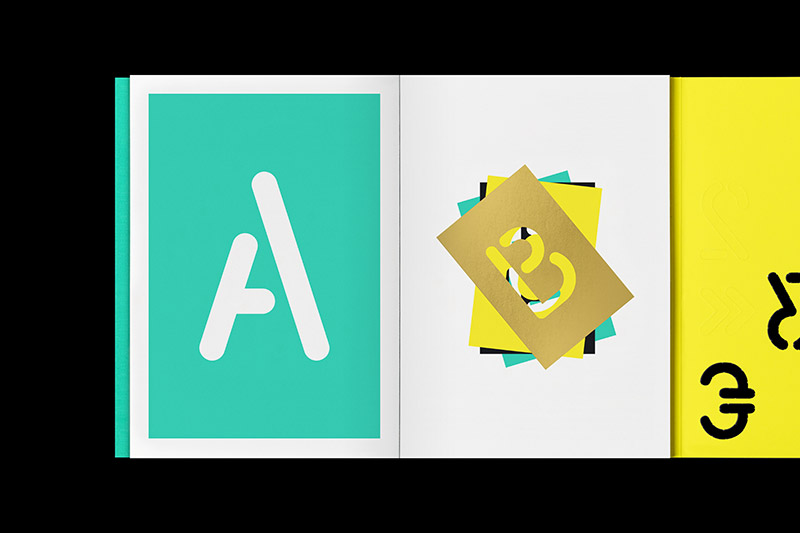 F R A N K has 207 glyphs including a set of alternative glyphs and additional arrows and it is available as OpenType (postscript flavoured) and Web Open Font formats exclusively via type foundry Milieu Grotesque. The team have launched a limited edition pack of 100 to accompany the 100 unique copies of the typeface purchased from Milieu Grotesque. The packs contain a 32-page specimen featuring an essay on the history of the stencil by Mag. art. Dr. phil. Thomas Maier, lecturer on typography and graphic design at the University of Art and Design in Linz (Austria), a brass stencil and the digital typeface itself. The specimens also feature embossings, perforations, foil blocking and textured paper to show the typeface at its best, making these very tactile and engaging.
Diese feine, limitierte Edition gibt es ausschließlich unter milieugrotesque.com/frank
FRANK
Foundry: Milieu Grotesque
Designer: Bunch & Alberto Hernández
Veröffentlichung: Oktober 2015
Format: OpenType, Web
Format Specimen: 17,6 x 25 cm
Umfang: 32 Seiten, Stencil, Gutschein
Ausführung: Schweizer Broschur,Offset
Preis: 99 CHF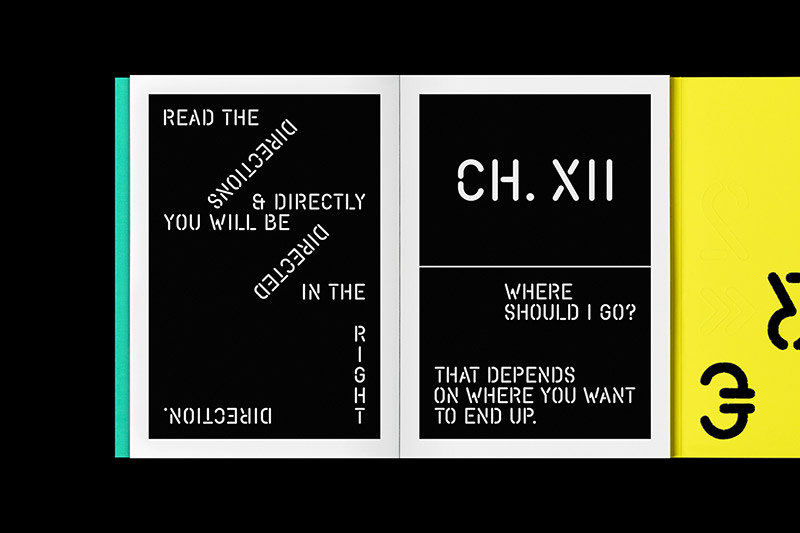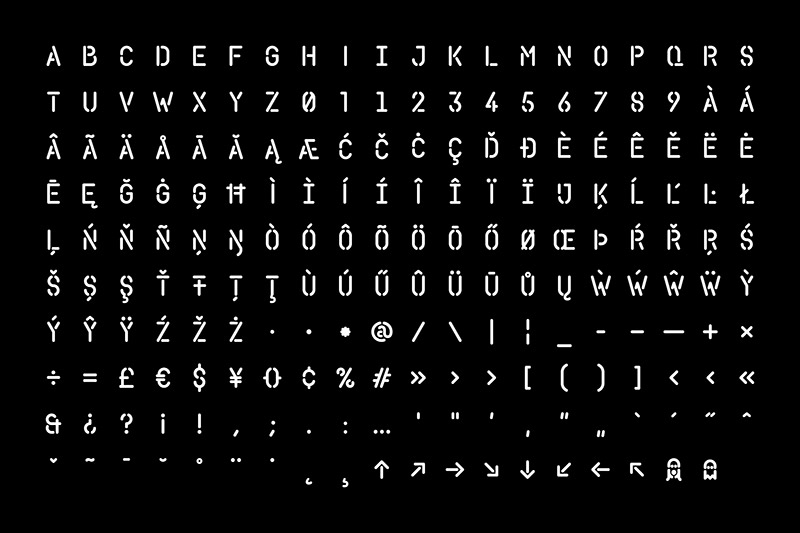 Verwandter Artikel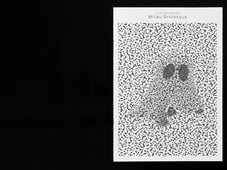 Milieu Grotesque
Milieu Grotesque präsentiert ihren neuen Type Specimen Catalogue, ein kollaboratives Projekt mit Illustration ...
Submitted by Constanze on 18.06.2013
Nächster Artikel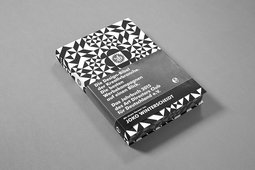 Katalog zum Wettbewerb
Im neuen ADC Jahrbuch 2015 gibt es die genialsten Ideen, kreativsten Kampagnen und digitale Innovationen mit einem ...
Submitted by Carlotta on 02.11.2015
in Books, Competitions, Design
Vorheriger Artikel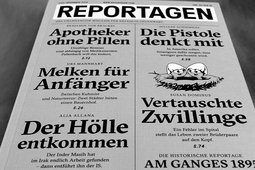 Band #25 von Reportagen ist da. Der Inhalt in Kürze: – Apotheker ohne Pillen. Unzählige Rentner sind abhängig ...
Submitted by Carlotta on 30.10.2015