Die innovative Schrift FS Joey, erschienen bei fontsmith.com wurde jetzt für den Print und Digitalen Gebrauch abgestimmt. Außerdem wurden ihre Schriftschnitte erweitert, von light bis heavy ist alles dabei.

About Joey
FS Joey is an inventive type. Originally designed for a new video-on-demand online service, its weights are finely tuned for use both on screen and in print. Consistency and strength in its geometric construction make Joey crisp and distinctive, while being remarkably relaxed in feel. Friendly and energetic, its letterforms are packed with surprising turns, making for an ideal corporate typeface. Their shapes will re-energise any identity, restoring freshness and vitality to your enterprise. Joey is formal, but he's here to party.
Formats
OpenType and TrueType for Windows and Mac
for more information about OpenType visit our support section
Designers
Fernando Mello
Jason Smith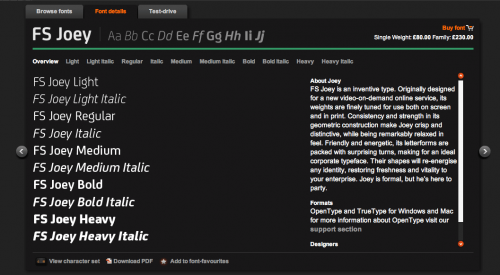 Verwandter Artikel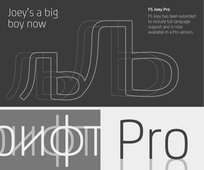 Fontsmith
Der bereits bekannte und beliebte Font der Foundry Fontsmith, FS Joey, ist grade frisch zur Pro Version erweitert ...
Submitted by Leon Howahr on 07.12.2012
Nächster Artikel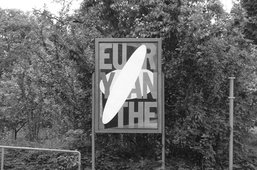 Euryanthe
Im Karlsruher Stadtraum gibt es leider nicht sehr oft wirklich interessante Plakate zu sehen – das sind wohl die ...
Submitted by flo on 28.05.2010
in Design 8 comments