Kürzlich erhielten wir folgende Email von I LIKE aus Stuttgart/Berlin, die einer Non-Profit-Organisation eine Mini-Werbekampagne inkl. Produktion und Gestaltung verschenken möchten – noch bis 19.01. kann man sich bewerben:
»Wir sind ein Designstudio aus Stuttgart+Berlin und verschenken für einen erfolgreichen Start ins Neue Jahr eine Mini-Werbekampagne. Wir haben die Frist vom 9.1. auf den 19.1. verlängert und die Bedingung "e.V." auf "non-profit" erweitert.
Hier also die neuen 2014 Facts: Wir spenden denen eine Mini-Werbekampagne, die Werbung nötig haben, aber das Budget im sabbatical ist. Einzige Bedingung: Non-Profit im Herzen.
Bis 19.01.2014 kann man uns Kandidaten vorschlagen.
Was beinhaltet die Mini-Werbekampagne?
1 Plakatdesign (A1) à 50 Stück
1 Einladungskartendesign (Postkarte) à 500 Stück
1 Pressemitteilung inklusive Text und Gestaltung, fertig für den Mailverteiler.
Alles versteht sich inklusive Druck, Text und superior design.
Rückfragen klären wir jederzeit per Mail, per Telefon (0179 46 34 372), oder beides.«
Verwandter Artikel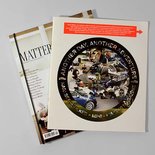 karlssonwilker's new collaboration with MINI and Matter Magazine is now available in print and online. ...
Submitted by karlssonwilker on 08.02.2012
in Design
Nächster Artikel
Bachelor Thesis von Katrin Brüggemann
Trotz der steigenden Anzahl von Fachliteratur, die sich mit im Westen ungeläufigen Schriftsystemen auseinandersetzt, ...
Submitted by Julia on 14.01.2014
Vorheriger Artikel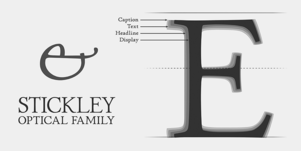 P22
Michael Stickley hat die nach ihm benannte Antiqua Stickley erweitert. Bei der Foundry P22 waren bereits zuvor ...
Submitted by Florian Fecher on 13.01.2014
in Typefaces