Eines der einflussreichsten Werke zur Farbtheorie gibt es jetzt als interaktive App für den iPad. Der Bauhaus-Lehrer Josef Albers schrieb und gestaltete "Interaction of Color" 1963 in Amerika. Albers praktische Übungen demonstrieren durch Farbtäuschung die Relativität und Instabilität von Farbe. Konzipiert als Handbuch und Lehrmittel für Künstler, Lehrer und Studenten, wurden seither mehr als eine Viertelmillion Exemplare verkauft. Die neue iPad App bringt Albers experimentellen Unterricht ins 21. Jahrhundert. Von 125 Originaltafeln sind 63 interaktiv umgesetzt. Der Benutzer wählt Farben aus einer Palette, platziert sie in das Design, verändert und optimiert die Farbauswahl. Wer will, kann alles gleich per Facebook und Twitter in die Welt verschicken. Die App umfasst den Volltext des Buches und, elegant integriert, zwei Stunden Videomaterial von Josef Albers im Studio und beim Unterricht, Interviews mit Albers-Studenten und zeitgenössischen Gestaltern. Das Gesamtkonzept ist von der Interactive-Agentur Potion.
Josef Albers (1888–1976) war einer der bekanntesten Lehrer des Bauhauses, verließ 1933 mit seiner jüdischen Ehefrau Deutschland und unterrichtete danach über viele Jahre an amerikanischen Hochschulen.
Tipp: Lesen Sie die umfangreiche Promotion-Webseite zur App und downloaden Sie im AppStore das kostenlose Probe-Kapitel von "Interaction of Color".
Interaction of Color
Autor: Josef Albers
Verlag: Yale University Press
Veröffentlichung: 2013
Sprache: Englisch
Download im AppStore
Preis: 8,99 Euro
(Bildquelle: Screenshot YUP / Potion Video)
Verwandter Artikel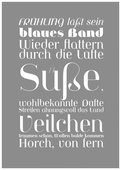 Displayschrift von Steve Mehallo
Bei der kalifornischen Schriftenschmiede PSYOPS im Vertrieb: Ein neues klassizistisches Bodoni Revival entworfen ...
Submitted by nora on 05.04.2009
Nächster Artikel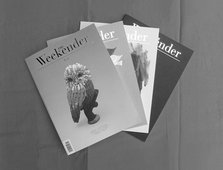 Diesen Sommer erschien die zehnte Ausgabe des Magazins The Weekender. The Weekender ist ein bildstarkes ...
Submitted by Constanze on 08.08.2013
in Design, Magazines, Photography
Vorheriger Artikel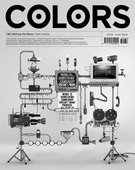 Das COLORS Magazine wirft in der 86. Ausgabe einen kritischen Blick hinter die Kulissen des modernen ...
Submitted by Julia on 07.08.2013
in Design, Magazines, Photography