Frisch erschienen bei intellect books ist das englischsprachige Buch "Media Poetry". Dieser Sammelband enthält eigentlich nur Texte, viele neue Gedichte rund um Medien.
Aus dem Klappentext:
The first international anthology to document a radically new poetry which takes language beyond the confines of the printed page into a non-linear world of digital interactivity and hyperlinkage.
The work of the poets discussed in this book challenges even the innovations of experimental poetics. It embraces new technologies to explore a new syntax made of linear and non-linear animation, hyperlinkage, interactivity, real-time text generation, spatiotemporal discontinuities, self-similarity, synthetic spaces, immateriality, diagrammatic relations, visual tempo, multiple simultaneities, and many other innovative procedures.
This new media poetry, although defined within the field of experimental poetics, departs radically from the avant-garde movements of the first half of the century, and the print-based approaches of the second half. Through an embrace of the vast possibilities made available through new media, the artists in this anthology have become the poetic pioneers for the next millennium.
'Kac's anthology displays a range of approaches toward literacy dynamism in Europe and the Americas across four decades.' - Chris Funkhouser, Electronic Book Review
Auszug aus dem Inhalt und der Einleitung: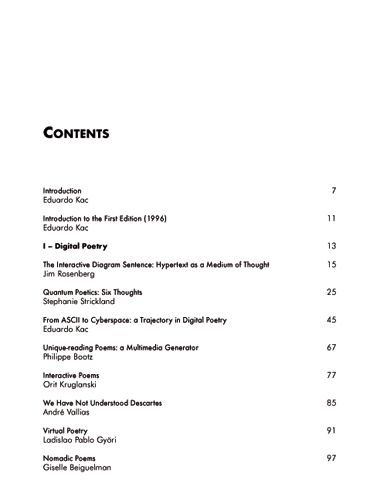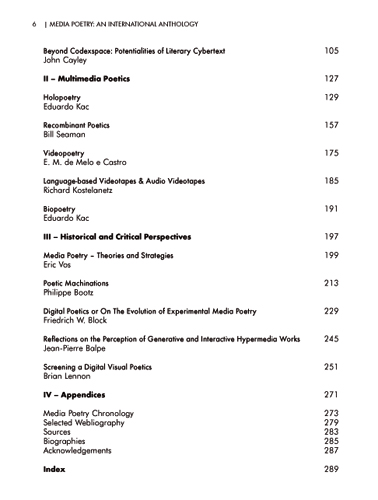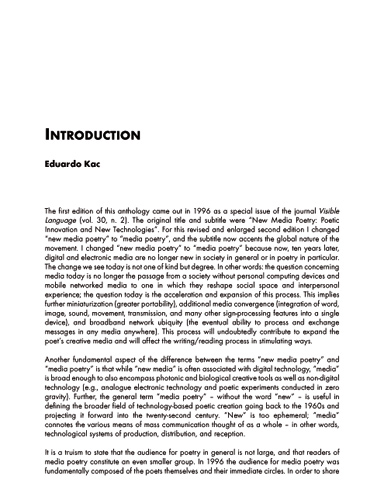 ISBN 9781841500300
Paperback 224 pages
Published Oktober 2007
Price £19.95
Verwandter Artikel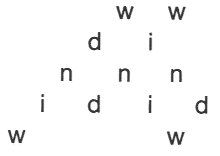 www.ubu.com
www.Ubu.com Eine genial Webseite fuer alle die sich fuer Concrete Poetry, Soundpoetry etc ... interessieren.
Submitted by Marit on 10.09.2004
in Webseiten
Nächster Artikel

;-)
Designer In Need "Jedes Jahr werden hunderte Designer von weltfremden Universitäten in das rauhe Berufsleben ...
Submitted by Boris on 29.10.2007
Vorheriger Artikel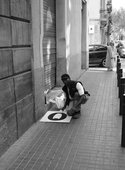 ein typo-arbeiter beim versäubern eines versal-o. das hotel ist in barcelona, ob die schriftwahl sich darauf ...
Submitted by flo on 29.10.2007
in Findings