Endlich ist sie fertig, die Schrift. Es gibt sie in 8 Schnitten (Regular, Semibold, Bold, ExtraBold; und das ganze in kursiv). Eskorte Pro wird über Rosetta vertrieben. Auf deren Seite könnt Ihr Euch die Schrift ansehen und ein Schriftmuster-PDF herunterladen.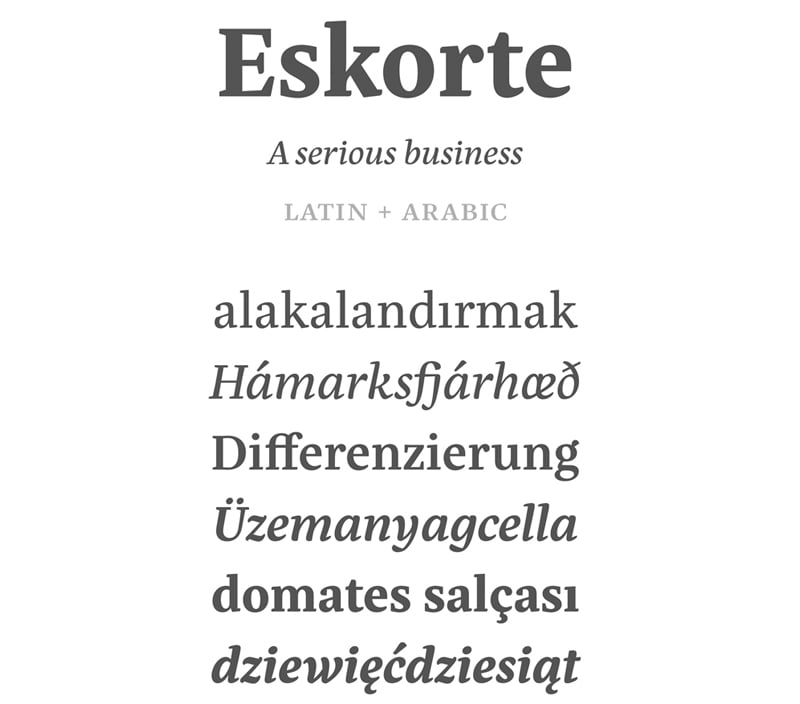 Pressetext: Eskorte is a hardworking Latin-Arabic type family with an uncomplicated, regular appearance that conveys a crisp, businesslike tone. Its compact range of styles has been designed for easy use by non-designers in offices of legal and academic institutions, and corporate environments. Eskorte supports Arabic, Farsi, Urdu, and over ninety languages using the Latin script. The various styles were designed together, resulting in a smooth, coherent style across the family. The italics take on livelier, more fluid forms that echo the design of the Arabic, allowing them to sit perfectly together, while the extrabold adds punch to official announcements and notices. Eskorte was developed as part of the master programm in typeface design at the University of Reading (UK). The Arabic was designed in consultation with Titus Nemeth.
More information about it and a PDF specimen to download you can find here.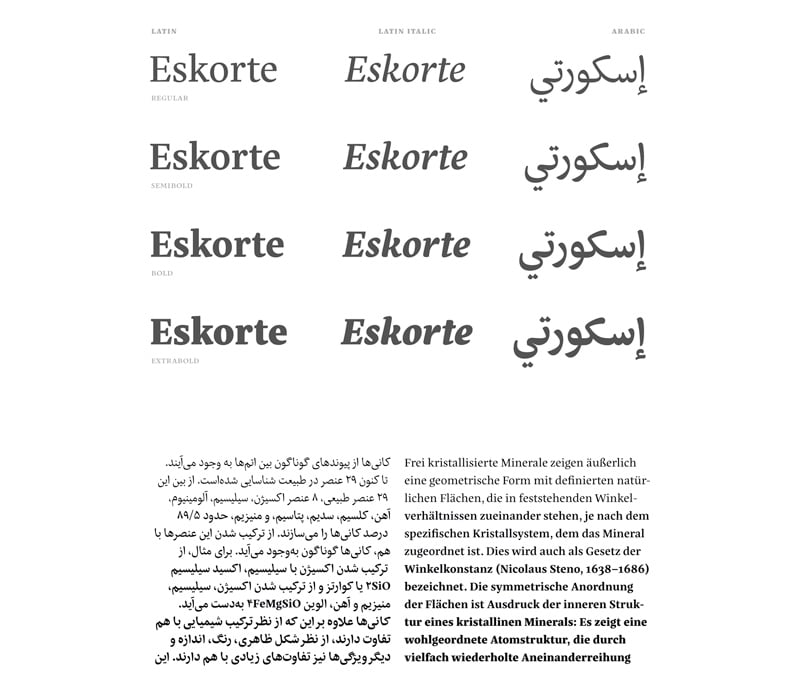 Eskorte Arabic/Latin
Foundry: rosettatype
Designer: Elena Schneider

Veröffentlichung: February 2013
Format: OpenType (cross-platform)

Schnitte: Regular, Semibold, Bold, ExtraBold; alle auch in kursiv
Preis: pro Schnitt Arabic: 69 Euro, Familie 218 Euro, pro Schnitt Latin: 48 Euro, Familie 288 Euro
Verwandter Artikel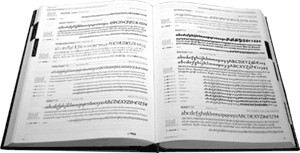 from LINOTYPE
Linotype's "Complete Typeface Catalog, A–Z" represents a new approach to specimen books for Linotype, taking a ...
Submitted by robertmichael on 11.02.2006
in Typefaces
Nächster Artikel
Directa Serif is a text type family designed to save space with the maximum redability. Because of its general forms ...
Submitted by Julia on 07.03.2013
Vorheriger Artikel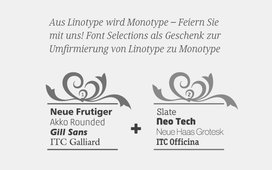 Die Linotype GmbH heißt ab sofort Monotype GmbH. Schon seit 2006 gehört die Linotype GmbH zu Monotype und für diese ...
Submitted by Constanze on 05.03.2013