Im aktuellen ZEIT-Magazin finden sich Abildungen der Buchstaben-Skulpturen von Ebon Heath. Plus ein kleines Interview mit ihm. Die Arbeiten sind beeindruckend und ich wüsste zu gerne, wie groß diese in Wirklichkeit sind. Leider haben sie das nirgendwo dazu geschrieben. Weitere Abbildungen findet ihr auf diesem Blog (von dem auch obiges Bild stammt.)
Verwandter Artikel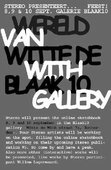 Supported by Stereo
Stereo will present the online sketchbook 8, 9 and 10 september in the Blaak10 gallery -Witte de With straat 7a, ...
Submitted by simon on 07.09.2006
in Exhibitions
Nächster Artikel
Eine neue Ära das Font-Managements bricht an!
Linotype und Slanted verlosen 5 Vollversionen des FontExplorer X Pro. Schickt uns im Zeitraum vom 06.01.09 0:00 Uhr ...
Submitted by Julia on 05.01.2009