Die Bostoner Foundry Font Bureau gibt die Veröffentlichung ihrer neuen Schriftfamilie Turnip bekannt, die von David Jonathan Ross gestaltet wurde. Sie ist mit insgesamt sechs Schnitten und den jeweils dazugehörigen Italics ausgestattet. Ebenfalls ist sie die erste Schrift des Font Bureaus, die gleichzeitig auch als Webfont veröffentlicht wird.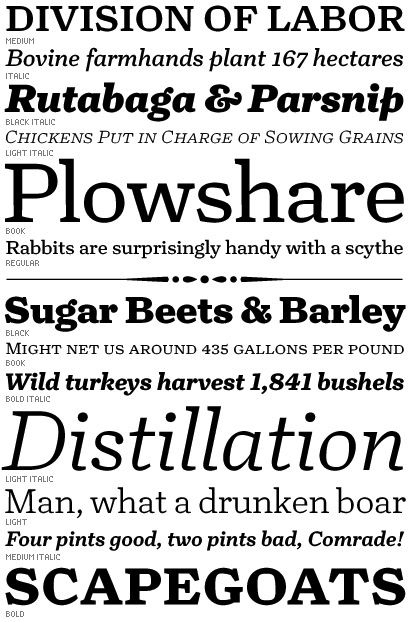 Pressetext: "An exploration in ruggedness" is one phrase that David Jonathan Ross uses to describe his new typeface Turnip. Inspired in part by a fondness for Bookman and similar oldstyle antiques, Ross crafted an energetic tension between squarish inner and round outer shapes to create an original, contemporary homage. "While many text serifs strive for evenness and elegance, I wanted text set in Turnip to have some bite." The design is rustic but not unrefined – a vigorous and charmingly readable face for body text.
Turnip comes in six weights from light to black, each with italics. The fonts are outfitted with extended language support and a host of OpenType layout features – including small caps, multiple figure styles, case-sensitive punctuation, arbitrary fractions, numeric & alphabetic superiors, stylistic alternates, plus a collection of ornaments and borders.
Turnip is also the first type family from Font Bureau to be released simultaneously for print and for web use through Webtype. Turnip's hardy features and wide stance made it a good candidate for translation to the screen. What makes the family particularly versatile for websites is the inclusion of Turnip RE (Reading Edge) fonts specially adapted for small sizes onscreen.
Whether you're looking for a rugged face for print or a robust design for web use – or want to coordinate both! – the Turnip family is ready for harvest. Dig in.
Turnip
Foundry: Font Bureau
Veröffentlichung: September 2012
Format: OTF, Web
Schnitte: Light, Book, Regular, Medium, Bold, and Black, plus zugehörige Italics.
Preis: 60 $ pro Schnitt, 540 $ für die gesamte Familie
Hier kann man sie kaufen!
Verwandter Artikel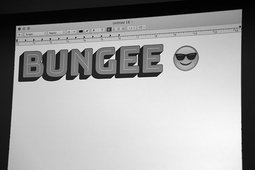 David Jonathan Ross ist Schriftgestalter bei The Font Bureau in Los Angeles und befasste sich in seinem Vortrag mit ...
Submitted by Julia on 12.05.2016
in Typefaces, Typo Berlin
Nächster Artikel
Erstmals entscheidet beim Plakatwettbewerb www.guteplakate.de auch eine Jury, wer Preisträger des Jahres 2012 werden ...
Submitted by Julia on 24.09.2012
in Competitions, Design, Graphics