This essay about the early days of digital type design was produced by Pixartprinting and written by Borys Kosmynka. We are going to release this awesome story in three parts. Please check the second part next Tuesday here on our blog at Facebook.
Type design and visual communication—or graphic design, as most people call it—are intertwined. Even though the need to express one's message in a brief and concise way has led to the birth of emojis or emoticons and a wide range of universally interpreted pictograms, letter shapes are still the fundamental medium for the message. It is truly essential for graphic designers to comprehend the basics of type design in the same way as it is for an auto mechanic to know what goes on in the combustion chamber of a car's engine.
How it all began
In the 1960s, there was something in the air. The transition from traditional cold metal typesetting (the name refers to setting the text after casting the individual types) to hot setting (in opposition—the text is set prior to casting the type) that was happening over prior decades resulted in rapid advancement of technology, and modernized systems started to come one right after another. For example, Intertype's first Fototypesetter (1956) machine, based on their casting device, used light to project prepared text from negative matrices onto film material. IBM's Selectric (1961) was a sophisticated typewriter that allowed for the rapid exchange of typefaces in the written document and more1). The first true digital system was introduced in 1966 when German inventor Dr. Ing. Rudolf Hell presented technology using cathode ray tubes (CRTs) to project images onto a screen, exposing predesigned typefaces onto a film negative. This device was called the Digiset and it could image 1,000 characters per second! The significance of this invention lay in the CRT bulb. A glyph was no longer a physical object stored in a matrix form of a metal cube or film negative. A character became a set of 2,000 pixels. That meant that the thought and concept of a designer became a string of ones and zeros!
Hermann Zapf and Gudrun Zapf-von Hesse – the first professional digital fonts
"The letter's indwelling wealth of form is a fresh, unending astonishment. As there are many splendid types of earlier centuries that we still gladly use in printing, it may perhaps be asked why new types are designed. Our time, however, sets the designer other tasks than did the past. A new type must, along with beauty and legibility, be adapted to the technical requirements of today, when high-speed presses and rotary presses have replaced the handpress, and machine-made paper supplanted the handmade sheet." (Manuale Typographicum, 1970 M.I.T. Press, Cambridge, MA, p. 3)

Marconi, designed by a great German calligrapher, typographer and typedesigner Hermann Zapf, is the first professional type design project in the digital environment—resulting in creating a string of data rather than a physical object.
The quote above comes from the preface of the Manuale Typographicum—a book by the first iconic designer showcased here. Hermann Zapf grew up in the troubled times of interwar Germany in the early twentieth century. Due to his beliefs and his father's political affiliations, Zapf could not pursue his dream career of becoming an electrical engineer. Thanks to this, the world can now appreciate his amazing calligraphic works and the first properly designed digital typeface—Marconi Roman. Zapf began a cooperation with Dr. In. Rudolf Hell GmbH in 1973. As he mentions in his book Alphabet Stories, at first, the design process was very time-consuming, as he had no experience with the different way of working. The letters were drawn with white paint on a black-coated raster sheet to reflect the pixels mentioned earlier. Although the first release was in 1973, the perfecting and updating the design went on until 1976. Furthermore, there were three more typefaces—Edison Roman, Digiset Vario, and Aurelia Roman. Zapf also consulted for the Rochester Institute of Technology in 1976/1977, introducing the first program of typography and type design for digital environments, supplemented with an advanced calligraphy course. Hist most iconic designs are Palatino and Optima and a broad range of calligraphic scripts with Zapfino as his prime example.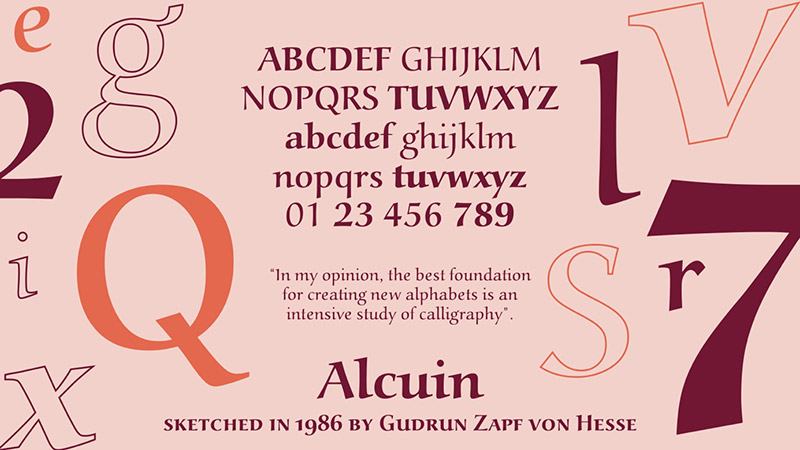 Alcuin typeface has a strong calligraphic character. Gudrun Zapf von Hesse was deeply engaged in this kind of craft. Alcuin was her first project that was meant for digital environment.
It is meaningful to separately mention Zapf's wife, Gudrun Zapf von Hesse. Not only was she a great designer, but one of the first women in the field of digital type design. Before she met Hermann, she taught lettering at the Städelschule in Frankfurt. Her first typeface, Diotima, was commissioned in 1951 by the Stempel AG type foundry. Zapf von Hesse actively participated in the early stages of digital type design, working on such projects as Alcuin (a text face closely related to the carolingian minuscule sketched in 1986) and Carmina (a calligraphic text typeface designed in 1987).
Gerard Unger – thinking about the process
Parallel to Zapf's Marconi, another designer from a younger generation began work on another typeface, one that leveraged the pixel grid of the CRT bulb. Gerard Unger, a Dutch type designer, developed the project Demos and its sans-serif counterpart Praxis. One of the concepts in this design was to address the deterioration of lettershapes at smaller sizes of reproduction by the phototypesetting machine. This idea resulted in low contrast of the thick and thin parts of the letters. Like Zapf, Unger underlines that calligraphy is what lies at the foundation of his design. Even if not directly reflected in the project it is "the movement of the hand controlled by the brain and the eye."2) Swift was another milestone project by Unger. It was an early digital design that addressed the issue of newsprint in the then-current technological circumstances. Paper production was much different and much less precise at the time, same as the capabilities of printing devices. Plus, the printing tech and the volume of the print was influenced by several factors such as humidity or plate deterioration. Two newspaper typefaces used at the time were Times New Roman and Excelsior, both designed in the 1930s; it was time for something fresh. Swift was meant to be resilient—its robust, wedge-shaped serifs are meant to resolve any doubts.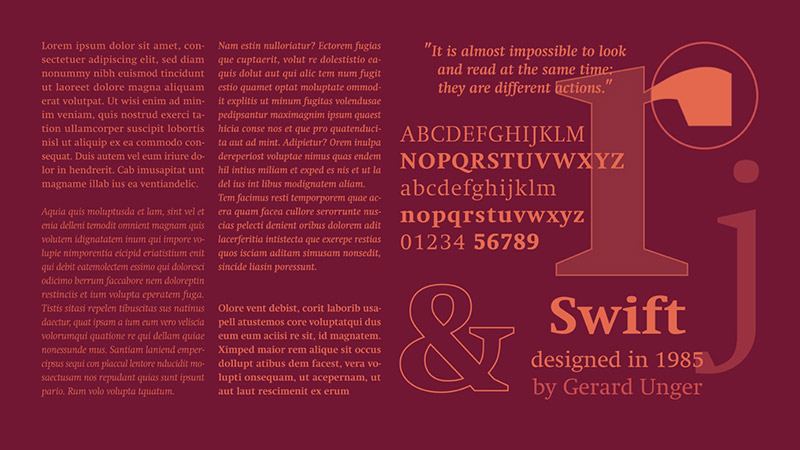 For around fifty years there was no proper development in newsprint typefaces and the two only available choices were Times New Roman and Excelsior. Swift, designed by Gerard Unger filled this niche also addressing the technological issues.
Verwandter Artikel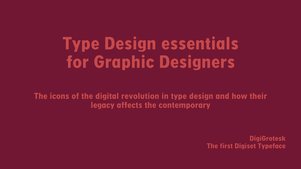 The Ikarus System to the Font Wars
This essay about the early days of digital type design was produced by Pixartprinting and written ...
Submitted by Isabella on 27.03.2018
in Design, Graphics, Miscellaneous
Nächster Artikel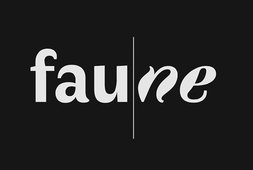 Free font designed by Alice Savoie 
The Centre national des arts plastiques (Cnap), a public establishment of the French Ministry of Culture, in ...
Submitted by Melina Vafiadis on 21.03.2018