As late August approached, I eagerly anticipated the return of TypeCon, held this year in Seattle, Washington. The eighteenth iteration of the conference, hosted by the Society of Typographic Aficionados, marked the first time since its inception that a host city had been revisited—suitably echoing this year's theme, "Resound."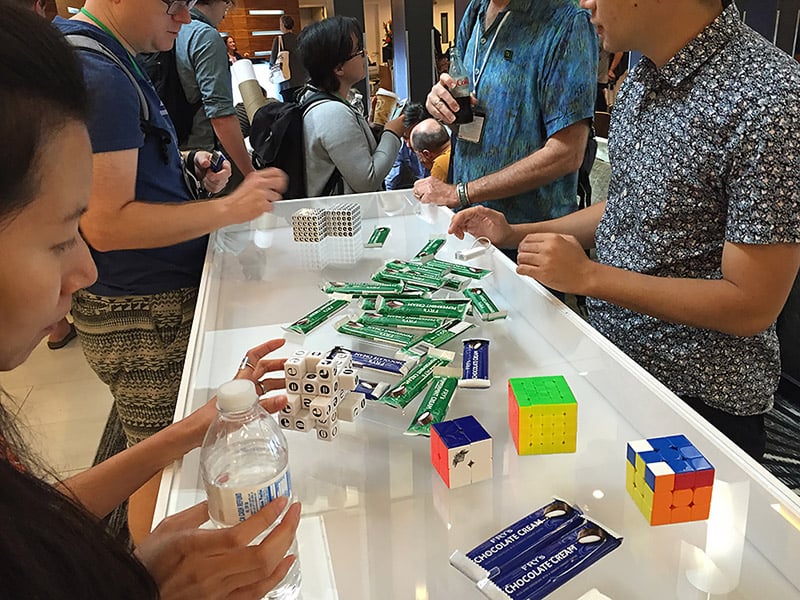 After I recovered from two initial shocks—the surprisingly steep elevation changes, and the lack of Starbucks' coffee flowing freely through the city streets—I settled in to the Crowne Plaza Hotel and attended a mixer for Type & Design Education Forum participants. Although this was my second TypeCon (my first was two years ago in Washington, D.C.), this was my first opportunity to attend (and present at) the Education Forum. With libations and hasty introductions out of the way, a large herd of type nerds migrated to the brand new Amazon Doppler Tower to hear Monotype's Nadine Chahine speak at the first keynote event of the conference.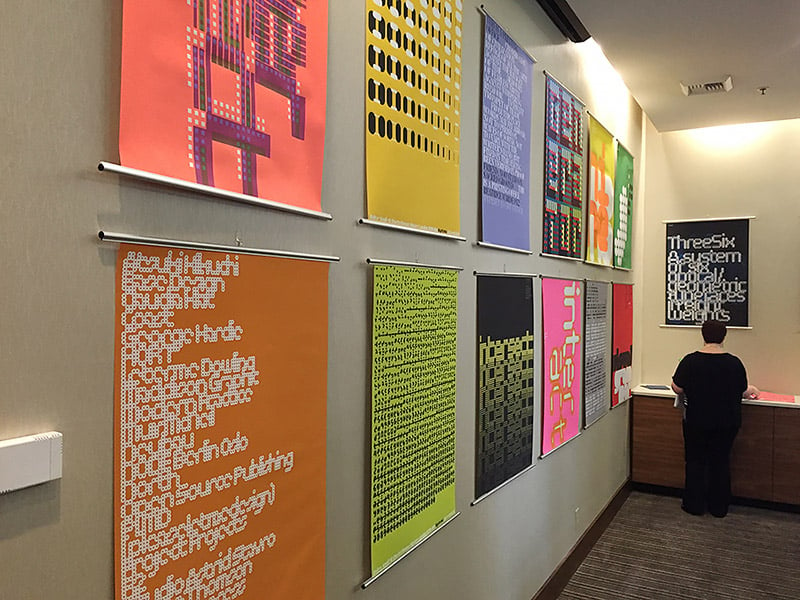 Nadine's talk was one that certainly took the theme of "Resound" to heart, as it caused lasting reverberations throughout the rest of the conference. In a talk lasting nearly two hours, she covered everything from her collaborations with Hermann Zapf and Adrian Frutiger, to the heated debate over "infillism" in type design—with a good measure of nasty ol' politics thrown in as well! Nadine is not one to shy away from topics that may spark debate, and here she certainly used her platform to electrify the audience and set a bold tone for the rest of TypeCon.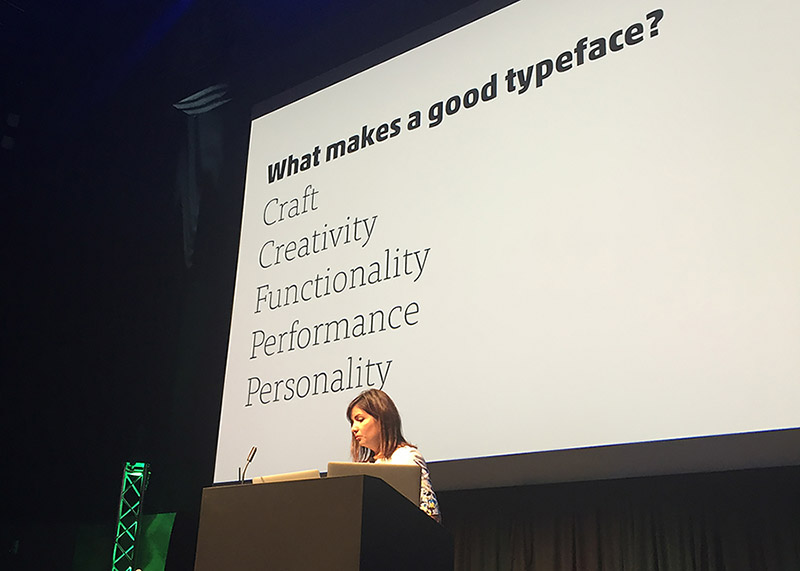 Thursday, August 25th
Thursday brought with it the Type & Design Education Forum, loads of pre-conference workshops, and an enlightening type walk around Seattle—courtesy of Paul Shaw. One new aspect of the 2016 Education Forum was the call for current or recent graduate students to present their master's thesis research. As a new professor, I found it enlightening to learn from researchers fresh out of school as well as veteran professional educators. Highlights from the day included Karen Cheng's leadoff talk on teamwork in undergraduate type design projects, Peter Bella's gestural exploration studies which guided his students through typographic history, and Jessica Meoni's lively guided tour through the history of radical fanzines.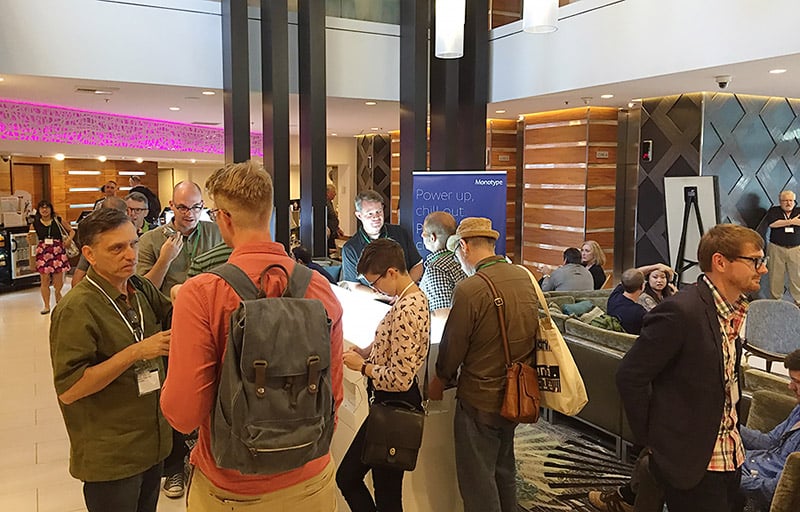 The TypeCon crowd is one that feels like a family. A couple of crotchety uncle types aside, it's a collegial group that's not afraid to welcome newcomers. This attitude is even more palpable within the Education Forum, which was run by Sharon Oiga and Guy Villa Jr. As a first-time presenter, I was pleased to share my thesis research (on international typeface design pedagogies) to such an optimistic and supportive group.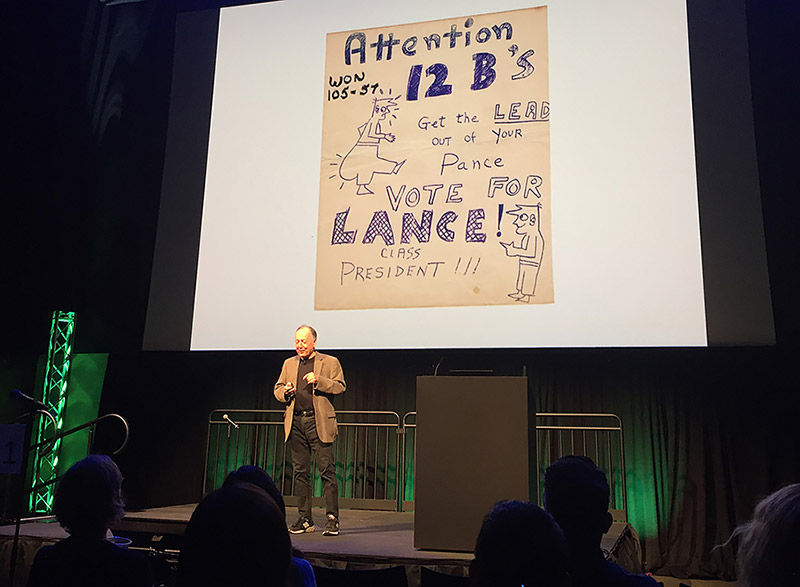 The day came to an end with another keynote talk at the Amazon Doppler Tower, this time featuring Lance Wyman, the designer behind the famed 1968 Mexico Olympic identity system. Lance charmed the audience with his self-deprecating humor, shared pictures from his schoolboy days and early ephemera, and revealed a body of work supremely rich in clear visual communication—with and without the use of typography.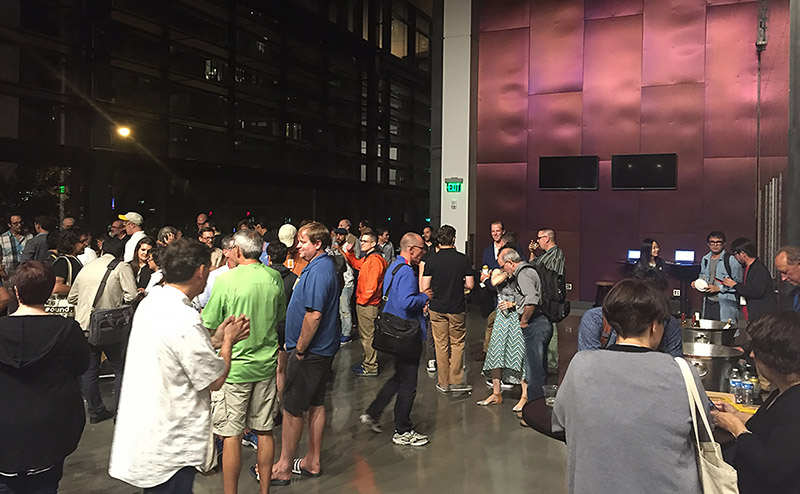 Friday, August 26th
The main conference got off to a colorful start with Mark van Wageningen's "Typewood" case study. In describing his project, which takes multi-colored digital typefaces into the realm of wood type for letterpress, Mark energetically declared, "Color will be the new italic! Color will be the new bold!" Douglas Thomas made us think twice about telling someone to "never use Futura!" Petra Dočekalová showed us the love and care put into the Typo9010 book project, which documents the history of Czech digital typefaces from 1990 to 2010, and Lucas Czarnecki capped off the morning session with a quick survey of type crafted for Hollywood remakes.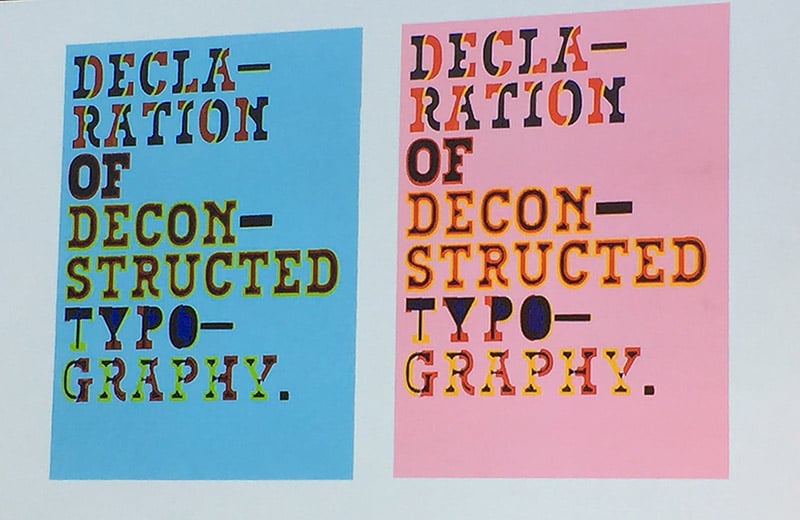 The afternoon featured Mamoun Sakkal, who shared some stunning examples of Square Kufic calligraphy, and Thomas Jockin, who spoke of building solid community structures around a shared love of type through his "Type Thursdays" events. Before it was time to party, however, the SOTA Catalyst Award was presented to Roxane Gataud, who currently lives and works in Paris. Roxane discussed the development of her passion for type through her recent projects—"Bely" and "Twinkl"—which show a visual maturity beyond her years. The SOTA Catalyst Award is awarded each year to a designer under the age of twenty-five who demonstrates a commitment to typographic excellence through their work.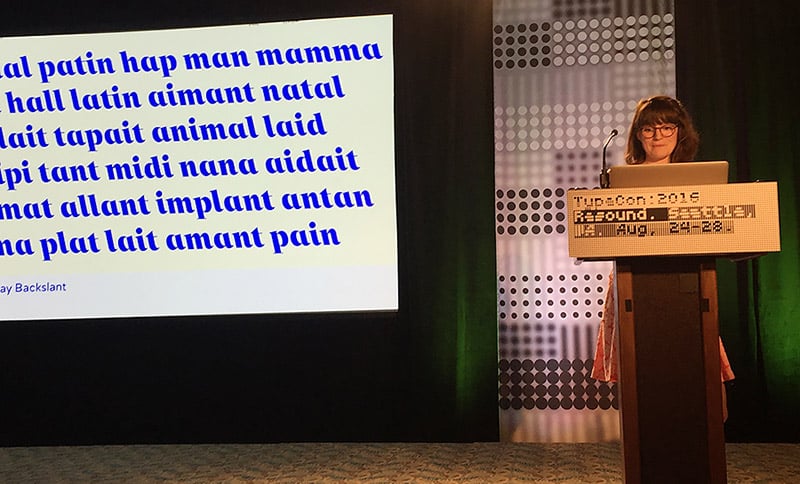 The evening transitioned to a new event for TypeCon, the SOTA Spacebar. This atypical mixer featured food and fun on the Crowne Plaza's patio pavilion, topped off with a scavenger hunt encouraging participants to meet as many of the "Who's-Who" in attendance as they could. Prizes from Adobe Typekit were handed out, and a special advanced screening of Briar Levit's upcoming documentary, Graphic Means, rounded out the night's events.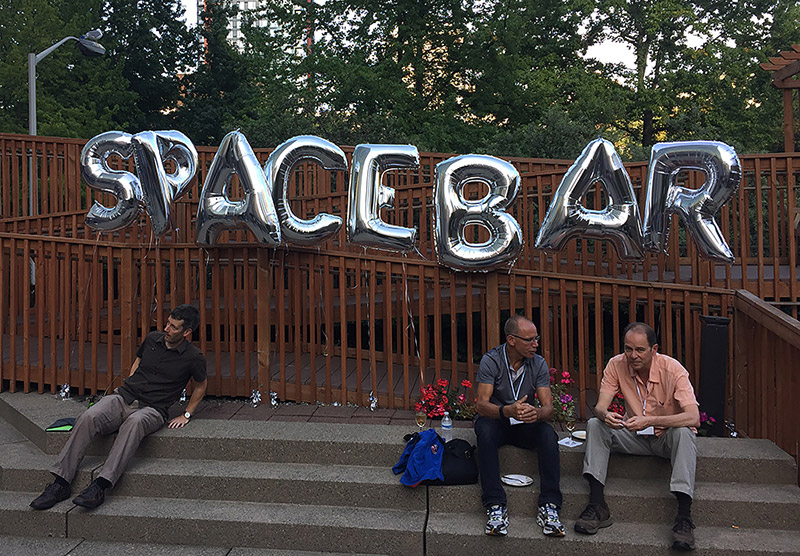 Saturday, August 27th
One of the recurring themes at this year's TypeCon was pre-digital design. Between Briar Levit's pictures of funky Varitype machines, and the panel discussion led by John D. Berry on the phototypesetting era of the 1970s, Saturday morning's session had a distinctly analog vibe. Two other talks that caught the attention of most were Ashley John Pigford and Tricia Treacy's recounting of their latest collaborative project, The Phonografik Collectivo, and a pumped-up Bruno Maag, who delivered a peppy presentation on the process of reading, and argued for new measurement and design standards which will better serve those who receive our bits of communication around the world.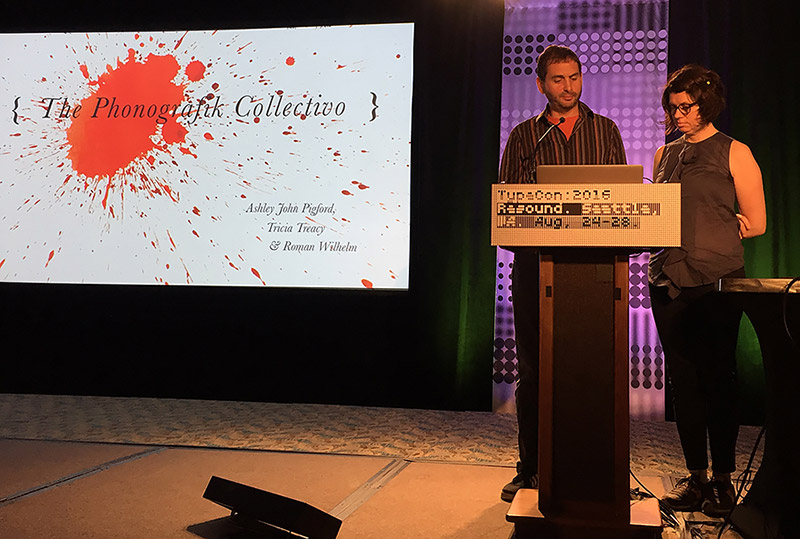 Nina Stössinger began the afternoon with a repeat of the talk she gave at Typographics earlier this summer, but her stage presence so beguiling that when Nina talks about type design, it doesn't matter if you've heard it before, it's always invigorating! JP Porter, the longtime master of all things audio/visual at TypeCon, finally stepped into the spotlight to share her extensive collection of Applied Color Label (ACL) soda bottles. Paul McNeil delivered one of the most enthusiastically received talks of the day, sharing his research on typography's contributions to the "search for the perfect language." Taking a deep dive into attempts at linguistic reform, far beyond merely experimental or speculative type, Paul asked tough questions like, "Is text itself always required as a form for languages to function?"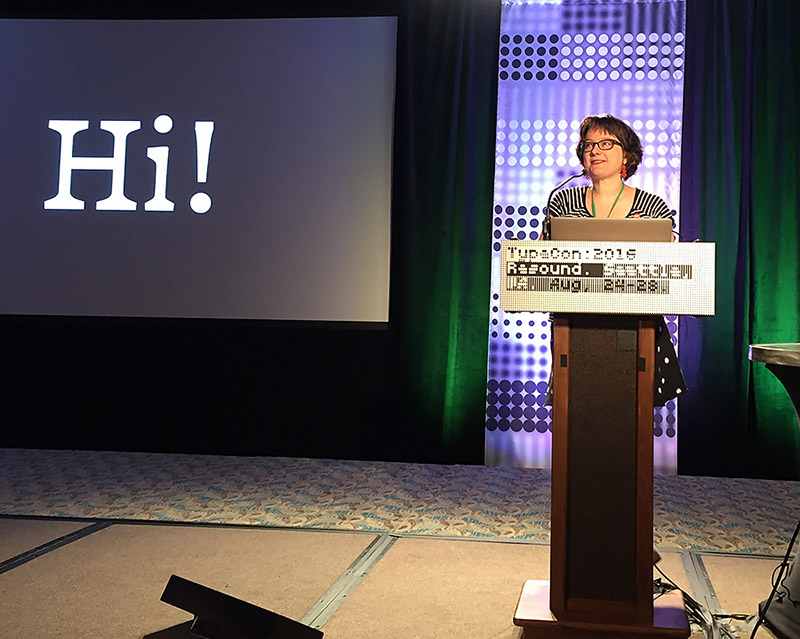 Saturday night brought with it two of TypeCon's most exciting events: the SOTA Typography Award presentation, and the Infamous Type Quiz. Dutch designer, Fred Smeijers, was this year's award recipient for his ongoing contributions to education and fine typographic practice, including his coveted books, Counterpunch and Type Now. Allen Haley took over hosting duties for the 2016 Type Quiz. As always, the event was a raucous rollercoaster ride through the darkest corners of type-nerdery. The subtleties of dingbats and Unicode sets might skew the public's perception of typographers towards the geeky, but with rowdy prize giveaways, photobooths, and an open bar, TypeCon reveals that they know how to let loose as well.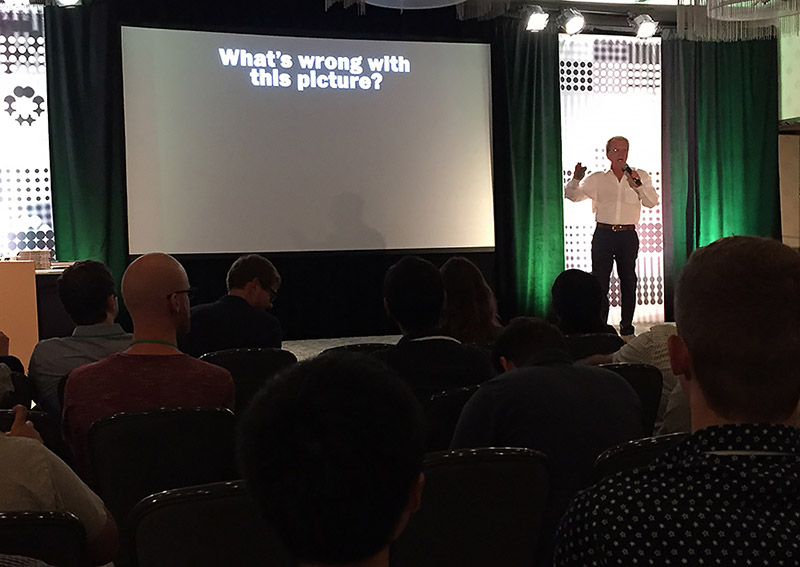 Sunday, August 28th
Determined to finish strong, Nick Sherman and Frank Grießhammer brought their quirky A-game to kick off the Sunday morning session. They talked (quite surprisingly) for nearly an hour about the history of Zapf Dingbats, and in the end, they made us all "love them very much." Mark Jamra, along with Neil Patel, shared some of the challenges facing designers wishing to create new scripts for emerging markets. Their case study for N'ko Type was a fascinating and nuanced journey, proving that it takes a lot of buy-in and cooperation across borders to bring these newer scripts to market. And Jill Bell had us reading between the lines a bit as she shared various projects she has designed for the Trump organization, leaving us with the takeaway, "If you're going to think anyways, think big!"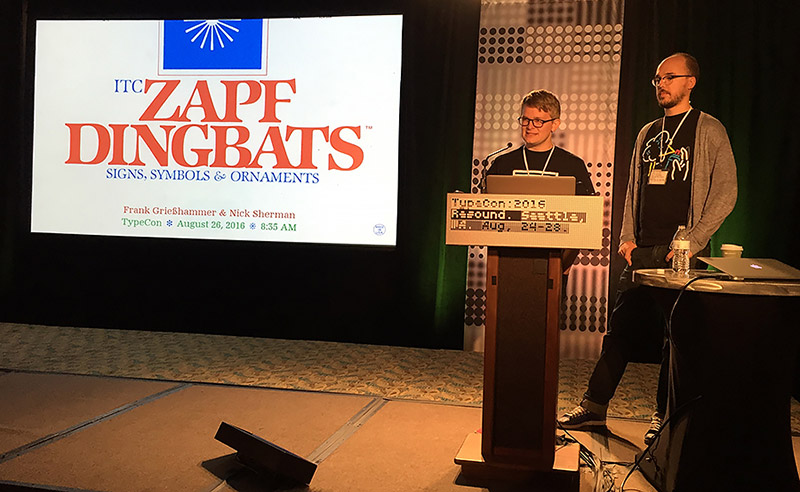 As I mentioned before, this was my second TypeCon, and I hope to return to many more. I covered the newer Typographics conference in New York City earlier this summer, and while I'm pleased that the number of typo-centric conferences is increasing in the United States, I'd have to differentiate the two in this way: if Typographics provides a 30,000-foot view of typographic design, then TypeCon dive-bombs the landscape with it's minutiae-level programming. Both feed the hearts and minds of type connoisseurs, but in different ways. TypeCon, while playing the role of the more seasoned older sibling, maintains its youthful swagger by refreshening the surroundings every year, and through the unbridled enthusiasm of its core base of attendees. (Newbs always welcome!)
Patrick Gosnell
Assistant Professor of Graphic Design at Austin Peay State University in Clarksville, Tennessee, USA
patrickgosnell@gmail.com
Twitter: @Patrick_Gosnell
patrickgosnell.com
Verwandter Artikel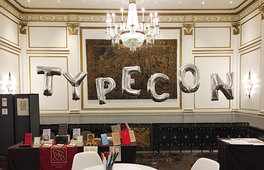 I have been (not so patiently) awaiting TypeCon ever since Boston was announced as the host city for 2017. Boston—a ...
Submitted by Isabella on 26.09.2017
Nächster Artikel
Die zweite Ausgabe von 41–43 entstand, wie schon das Erstlingswerk, im Rahmen der Indiecon Summer School, die Teil ...
Submitted by Isabella on 15.09.2016
Vorheriger Artikel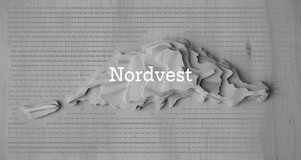 Heute stellen wir euch die neue Schrift von Nina Stössinger vor. »Nordvest« ist seit dem 1. September 2016 bei ...
Submitted by Katharina Sellier on 13.09.2016