Das brandneue Typodarium ist da und kann ab sofort bestellt werden! Wie in den letzten Jahren gibt es auch im Jahr 2012 wieder tägliche Typo-Inspiration mit 366 Schriften von 252 Designern aus über 32 Ländern.
Neu ist an dieser Ausgabe, dass die Einreichungen von einer hochkarätigen und kompetenten Jury ausgewählt wurden (Hubert Jocham, Roger Black, Yves Peters, Michel Chanaud, Christian Schwartz) und somit nur besonders hochwertige Schriften im Typodarium präsentiert werden. Damit wurde die Qualität deutlich verbessert, aber der Preis ist immer noch der alte!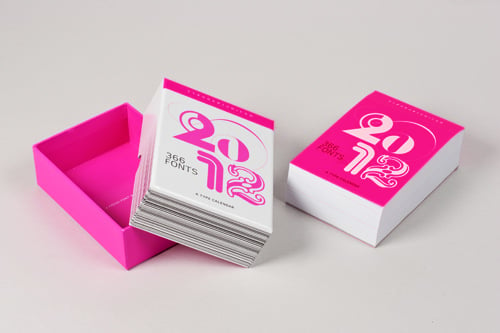 Typodarium 2012
The Daily Dose of Typography
Herausgeber: Lars Harmsen, Raban Ruddigkeit
Art Direction: Boris Kahl, MAGMA Brand Design
Verlag: Hermann Schmidt Mainz
Veröffentlichung: August 2011
Umfang: 366 Fonts von 252 Designern aus 32 Ländern, 384 Blatt
Format: 8,5 x 12 cm
Sprache: Englisch
Specials: Abreißkalender zum Aufstellen oder Hängen, zweiseitig bedruckt, schwarz und leuchtendes Magenta, verpackt in einer Sammelbox zum Archivieren der Schriftmuster
EAN: 4260172810272
Preis: 16,80 Euro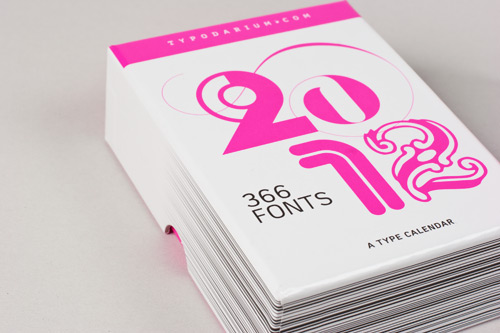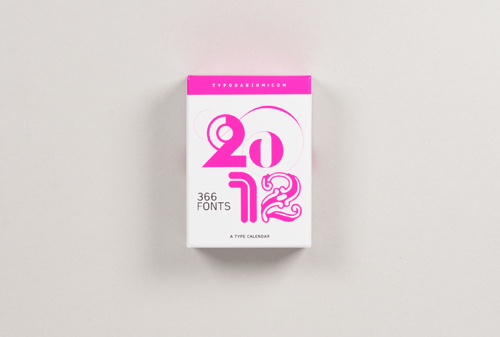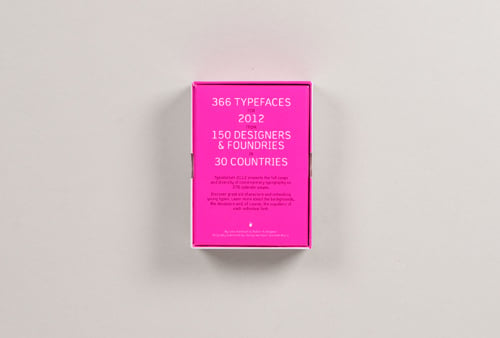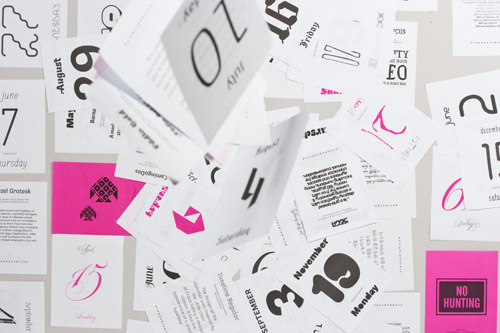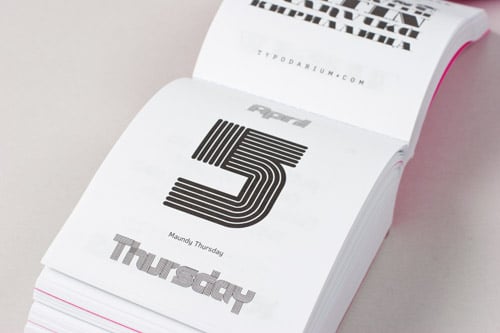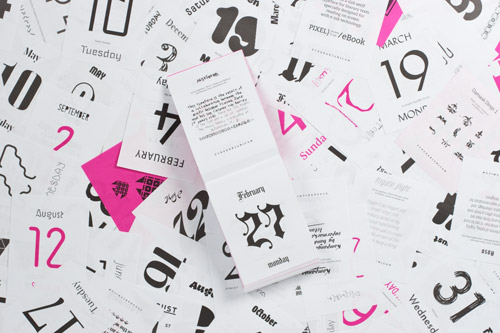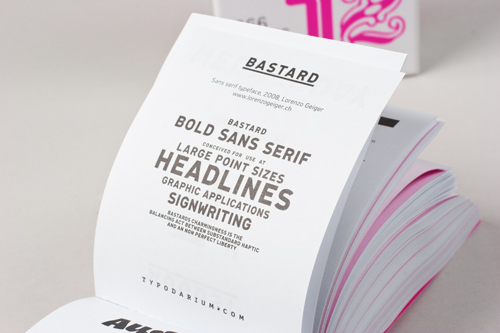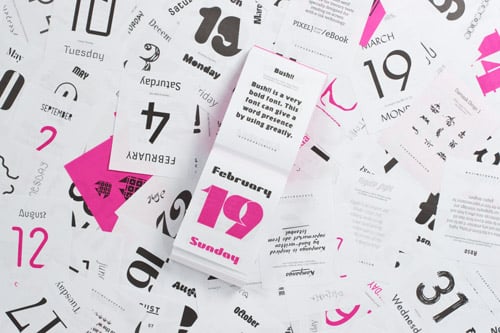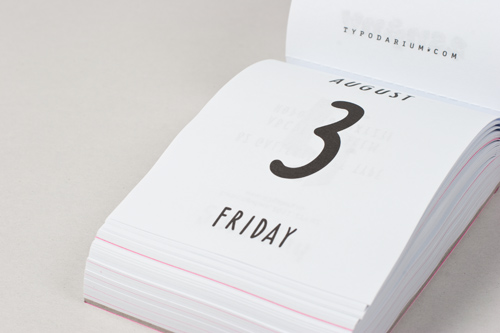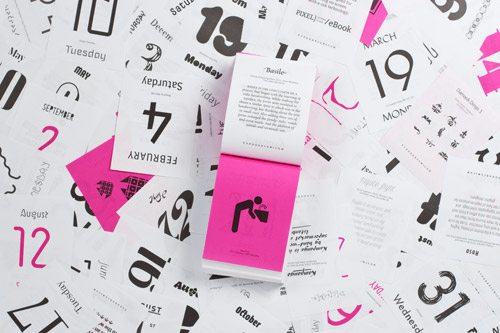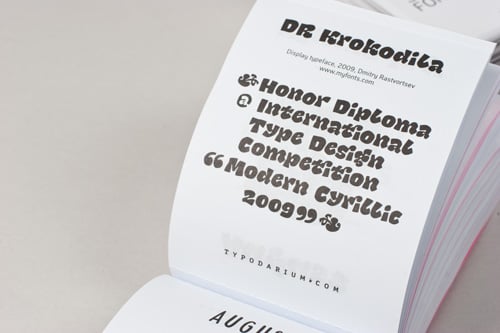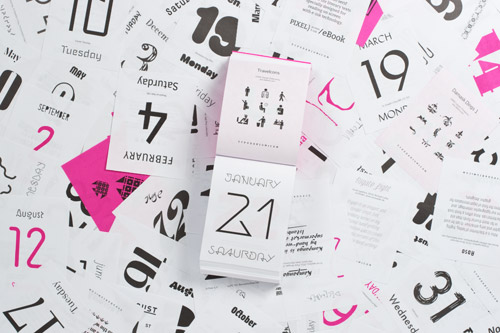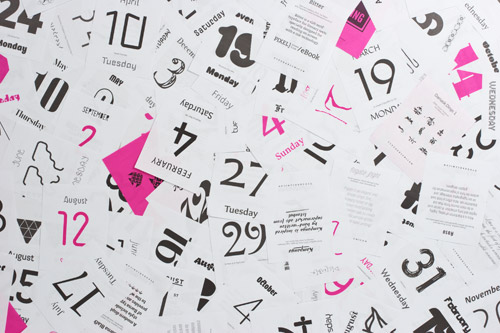 Mit Beiträgen von:
26Plus-Zeichen, 2Rebels, 34Projects, 4th February, Abclitera, Accident Grotesk, Alan Lima, Alderete F onts, Ale, Alexei Vanyashin, Ana Paula Megda, Andrijtype, Angelina Sánchez, Artill, Artytype Astype, Atelier Ursula Heilig Sgd, Aurum:media, Australian Type Foundry, Autobahn, Avoid Red Arrows, Baselab, Beate&Klaus, Bold Monday, Buchstabenmuseum Berlin, Buntype, Bureau des Affaires Typographiques, Candonga, Cape Arcona Type Foundry, Cashual Friday, Cgn Corporate, Choper Nawers Illustration & Design, Christian Groß, Christina Föllmer, Christoph Andrews, Ciladesign, Cocijotype, Conexus, Copperplate, Script, Calligraphy, Alternates, Typesenses, Corradine Fonts, Cort9, Cubo Fonts, Dani Montesinos Studio, Defalign, Diana Kettern, Die Gestalten Verlag, Elsner+Flake, Dmitry Rastvortsev, Doubletwo Studios, Dr.Minsky, Dstype, Durchzwei, Time:grafix, Dutchfonts, Emtype Foundry, Eps51, 29 Arabic Letters, Eurotypo, Evolution Process, F aberfonts, Fabrizio Schiavi Design, Facetype, Farbton, Kommunikation, Types and More, Felix Koutchinski Graphicdesign & Illustration, Fenotype, Font Bureau, Fontarte, Fontbit, Fontevrault, Fontfarm, Fontfont, Fontfuror, Fonts.info, Fontsmith, Fontstruct, Freefont, Friedrich Althausen, Fsdesign, Fsi, Furiosum, Garagefonts, Gerald Gallo, German Type Foundry (Gtf), Astype, Gesameyer, Giada Bettio, Glc Foundry, Golden Cosmos, Graphic Design Sweatshop, Grilli Type, Groupe Dejour, G-Type, Hackberry Font Foundry, Hannalog, Harald Geisler, Hatsumatsu, Hvd Fonts, Helen Hauert, Ramona Heiligensetzer, Benjamin Kivikoski, Hgo, House Industries, House42, Huerta Tipográfica, Idealphabet, Idealplus, Wildsmile Studios, Jack Curry Design, Jan Fromm, Jasper de Waard, Je, Jessica Hische, Jiwon Lee, Joebob Graphics, John Vargas Beltrán, Jotopia Visual Noise, Julia Chaitsyna, Juliasys, Just Another Foundry, Lafonts, Laspepas, Contemporary Tavern, Latinotype, Laurenz Feinig, Letterhead Studio, Letterwerk, Lian Types, Librito.de, Liebefonts, Linotype GmbH, Lorenzo Geiger, Ludwig Übele, Luisb, Lux Typographic + Design, M. Bulgrin Art & Design, Mad K een Design & Art Direction, Madebygregg, Maja Denzer, Make Type Not, War!, Mangelinckx, Manuel Viergutz, Mariela Monsalve, Angelina Sánchez, Mariela Muk, Monsalve, Mary Egorova, Milieu Grotesque, Miller Type Foundry, Mind Design, Miriam Krause, Mota Italic, Motypes, N/A, Nalindesign, Nouvelle Noire, Ogentroost, Olav Jünke, Francalma Nieddu, Thomas Waibel, Omar Carrera Knebel, Omtype, Outside The Line, P22, Pascal Béjean, Olivier Körner, Nicolas Ledoux, Pheist, Philipp Schmidt, Phospho,
Pintassilgoprints, Pixelstaub,Positype, Preusstype, Primetype, Profonts, Ps.Type, Rekord, Resistenza, Roulidiamond, Sardiez, Sauce.nl, Sayuri Bold, Schrifttype, Serge Rodionov, Sojuz, Sudtipos, Sugargliderz, T26, T4, Teeline Fonts, The Borsellinos, The Colour Grey, Threehouse, Tipo, Tour de Force Font Foundry, Type Mafia, Type Matters, Typedepot, Typejockeys, Typerepublic, Typetogether, Typocalypse, Typofonderie, Typomotion, Typoplant, Ugrdesign, United States Of The Art, Urw++, Veer.com, Vesturbær Fonts, Visiotypen, Volcano Type, vonSüden, Weisswert Visual Design, Wiescher-Design, Willerstorfer Font Foundry, Winnietan, Wir Gehen Schon Mal Vor, Ankako, LSDspace, Peter Brugger, Felix Stumpf, Xplicit, Yana Kutyina, Andrey Belonogov, Yawn, Yellow Design Studio, Your Own Font Foundry, Yoff, YouWorkForThem, Zetafonts, Zty 82, Escape 2010
Verwandter Artikel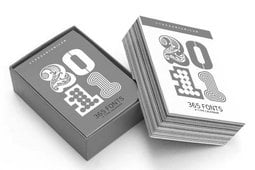 Your daily dose of Type
Das neue Typodarium ist da! Druckfrisch aus der Presse und mit 365 Tagen Typoinspiration für das kommende ...
Submitted by Julia on 30.07.2010
Nächster Artikel
Abschlussarbeit von Judith Cleve und Jana Davids an der Hochschule Niederrhein im Fachbereich Kommunikationsdesign
Die Abschlussarbeit tagedieb von Judith und Jana ist die Entwicklung und Realisierung eines Kommunikationskonzeptes ...
Submitted by Anja Neidhardt on 03.08.2011
in Interviews, Design, Study Projects, University 5 comments
Vorheriger Artikel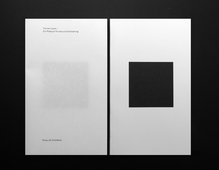 Ein Plädoyer für bewusste Gestaltung
Formen Lesen – Ein Plädoyer für bewusste Gestaltung beschäftigt sich mit grundlegenden Themen der Aufnahme, ...
Submitted by Anja Neidhardt on 01.08.2011