Vom 28. bis 30 Januar 2011 findet in Berlin an über 70 Veranstaltungsorten DAS Weekend statt. DAS steht für DIGITAL ART + SOUND und lädt zum Feiern und Präsentieren von digitaler Kunst- + Soundkultur in Berlin ein.
Die erste Veranstaltung dieser Art möchte die Aufmerksamkeit auf die vielen Künstler, Räume und Initiativen in Berlin lenken, welche mit großem Engagement und spannenden Ideen künstlerische Arbeit und Diskurs in den konvergierenden Bereichen zwischen digitaler Kunst, experimenteller Musik und Klang fördern.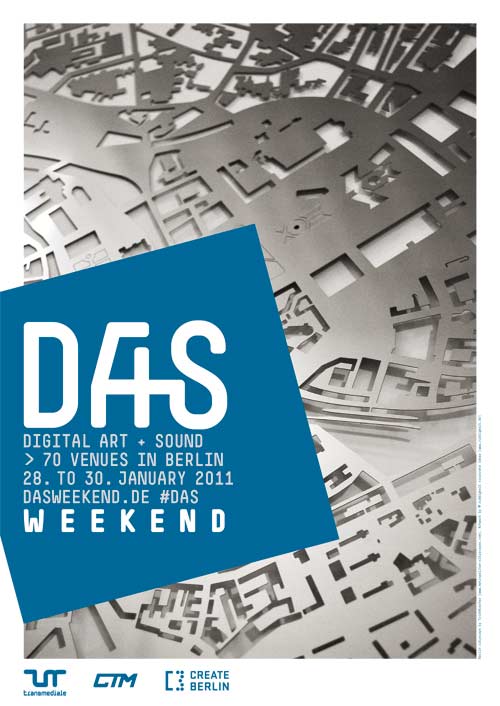 Offizieller Text ///
invitation and call for participation
DAS Weekend 2011
transmediale, CTM (club transmediale) and Create Berlin would like to invite you participate in the inaugural Digital Arts & Sound (DAS) Weekend, an event promoting digital and sound culture at project spaces, galleries, institutions and venues across Berlin.
when?
The event will run Friday 28 - Sunday 30 January 2011, the weekend before transmediale.11 & CTM.11 (Tuesday 1 - Sunday 6 February). It will also coincide with the Winter Lange Nacht der Museen. DAS Weekend will commence with Friday evening launches at participating venues and offer open exhibition spaces for the public to visit throughout the weekend. Of course exhibitions can run longer than the specified dates, continuing throughout and/or after the Festivals.
why?
transmediale, CTM and Create Berlin are crucially intertwined and also dependent on collaboration with the independent arts scene and have always felt that fostering this relation is key. Due to decreasing support and funding in the media, sound and digital arts sector, we are calling upon independent venues and platforms across Berlin to join together to showcase and promote new, original and thought-provoking works in this crucial realm of artistic expression. We aim to give exposure to partner venues through a distinct sound & digital art event.
how?
transmediale, CTM and Create Berlin are offering a platform and exposure for your venue and project. As a participant in DAS Weekend 2011, you will be promoted in marketing and promotional material including print collateral (listing, address and URL on event flyer), digital (listing, logo and hyper-link on the official DAS Weekend website, e-bulletins, social networking sites), and promotions (listings in third-party print and digital promotions).
please note:
Participants and project viability will be determined via the transmediale, CTM and Create Berlin curatorial teams. Please note we cannot offer financial, programming or production support for your venue or project beyond the forms of promotion mentioned above. Participating venues are also expected to contribute to the promotion and exposure of the event.
For the opportunity to take part in DAS Weekend 2011, send a brief proposal (a couple of paragraphs within an email is fine) to Michelle O'Brien on mo@transmediale.de with information on how your venue or organisation could be involved. As far as they may be known, please include names of potential artists and/or art works, projects and initiatives. Even if shows or projects are in a proposal stage, please indicate the viability and potential for realisation of the proposal.
We look forward to hearing from you and collaborating on DAS Weekend 2011
more information ///
create-berlin.de
facebook