Das Grafikbüro Des Signes in Paris hat das Erscheinungsbild des Festivals "Singapore in France" gestalten dürfen. Vor zwei Monaten hatten wir die Möglichkeit, unter anderem, mit Des Signes ein Studio-Interview während unserer Redaktionsreise in Paris führen können. Die Video-Interviews und vor allem unsere Slanted #25 werden schon bald erscheinen. Seid gespannt!
2015 wird gleichzeitig der 50. Jahrestag der Unabhängigkeit Singapurs und 50 Jahre diplomatischer Beziehungen zwischen Frankreich und Singapur gefeiert. "Singapore in France" würdigt diese Anlässe und feiert Kunst, Kultur und Tradition dieser modernen asiatischen Stadt. Das Institut français, das National Heritage Board und der National Arts Council, Singapurs haben das Festival ins Leben gerufen. Es wird im Palais de Tokyo eröffnet und zahlreiche Ausstellungen, Konzerte, Theateraufführungen und Performances umfassen.

Des Signes über das Erscheinungsbild:
"On that occasion, the Studio Des Signes created an identity to the image of Singapore: lively, teeming and modern. We can feel the festive nature of the festival, the multiculturalism of the country and the relationship between France and Singapore. The visual is organized around the name Singapore, written in English, Malay, Tamil and Chinese (the 4 official languages of the island), enhanced with multiple intermingling outlines making colors visually vibrate.
The vibration caused by this methodical accumulation evokes its cultural expansion, the city bubbling and reminds the importance of light in its architectural landscape. Far from the traditional representations of the Asian world, the visual identity is anchored in the contemporary world and points out the festive and lively aspects of the French Institute festival. Eureka font, created by Peter Bil'ak in 2001, a slab serif and sans serif monospaced, is used in both upper and lower case to energize the composition. For all versions, the word France is broken down and used as an articulation between the different lettering of the word Singapore, establishing a subtle and tenacious bonding between words from one end to the other of the world."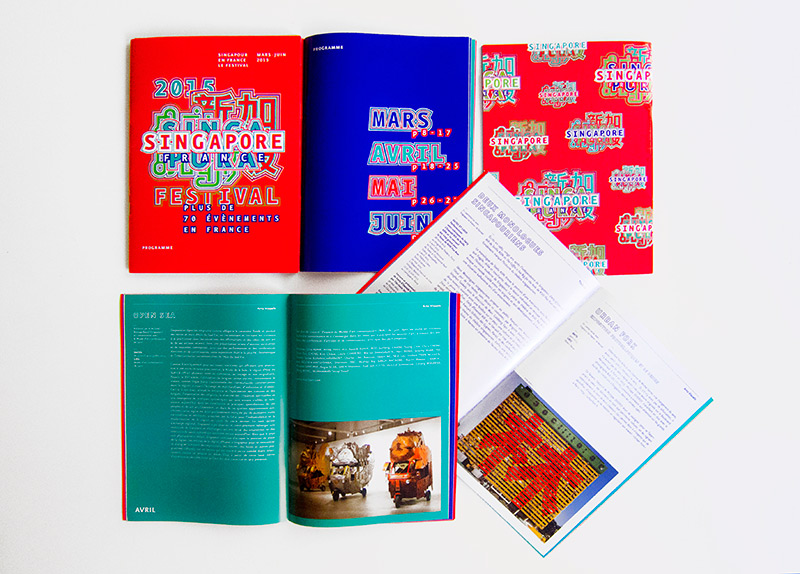 Singapore in France
Wann: 26. März – 30. Juni 2015
Wo: im Palais de Tokyo in Paris, Gare Saint-Sauveur in Lille, Musée d'art contemporain in Lyon, Théâtre des Abesses in Paris und weiteren Locations
Weitere Informationen zu Programm, Künstlern und Veranstaltungsorten unter singapour-lefestival.com