Vor einiger Zeit sind wir auf Typewood gestoßen, ein Schriftensystem von Novo Typo, das sich mit farbiger und überlagernder Typografie beschäftigt. Wie es zu dem Projekt gekommen ist und was das Besondere daran ist, schrieb uns Novo Typo folgendermaßen:
Recent developments in web browser techniques inspired Amsterdam-based (typo)graphic designers Novo Typo to do some research into multi-colored and multi-layered typography. Deconstructing the basic shapes of the letters led to Bixa, a digital multi-colored font family designed for the web. To understand the new techniques better it was necessary to research analog techniques. Bixa leaves the computer and transforms into an analog wooden typeface. Five complete sets of wooden multi-layered letters for letterpress where produced in collaboration with a Fablab. Reinventing the old letterpress technique using a hypermodern CNC router. With this material Novo Typo printed a series of posters, using an antique letterpress. Each letter exists of 4 colors and therewith of four printings. The posters function as a carrier for Novo Typo's vision, they form the Declaration of Deconstructed Typography.
The project will be exhibited at the Graphic Design Festival Breda. The Typewood exhibition shows the entire process: from type design, to the production of the wooden type with a hypermodern CNC milling technique, to the testing and printing of the type specimen on an antique letterpress.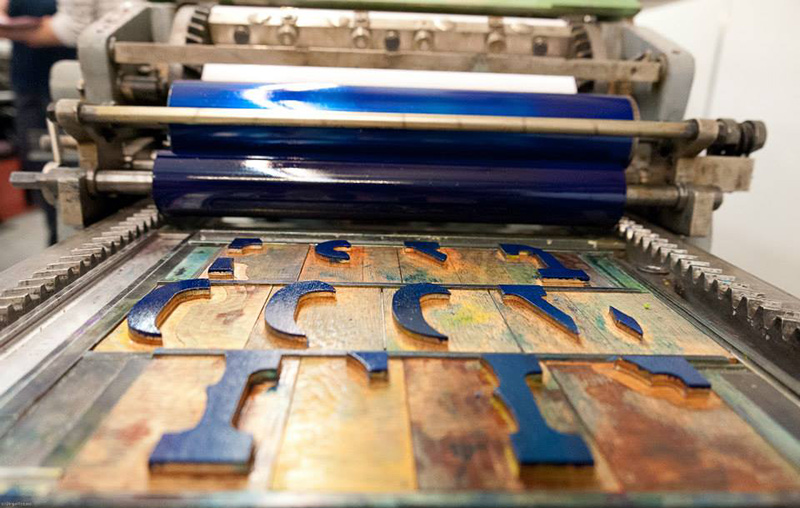 Typewood
Graphic Design Festival Breda
Where digital and analogue meet
Brandpunt
Reigerstraat 16
25.9.15–25.10.15
www.facebook.com
www.twitter.com/novotypo