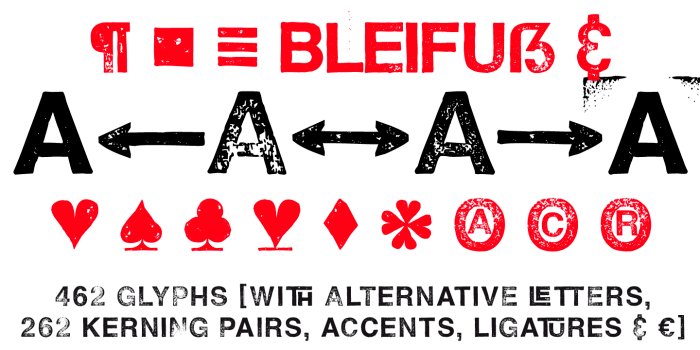 Con­cept | Characteristics
"Hand Stamp Swiss Rough Sans" is a rough and dirty sans-serif Font with authen­tic stamp look. Hand Stam­ped. A–Z (×4) and 0–9 (x 3) are each many dif­fe­rent forms. Is inten­ded to show the hand-made nature and the vibrancy of the dis­play font. The dif­fe­rent pres­sure (velo­city) of the stamp on paper crea­tes a live­li­ness in the typeface.
Stan­dard liga­tures like ae, oe, AE, OE, ff, fl, fi, fj, ffl, ffj, ffi, and more deco­ra­tive liga­tures like CT, LL, LI, LU, MM, OO, TH, TT, TU, UH and two Ver­sal Eszett (Capi­tal Let­ter Dou­ble S) give the Font more life and shows that des­pite their retro-looks works with modern Open­Type tech­no­logy (type love for ❤ and the word luck for ☘ … ).
Have fun with this font – Just Stamp It.
App­li­ca­tion Area
The dirty gro­tesk font would look good at head­lines. Edi­to­rial Design (Maga­zine or Fan­zine) or Web­de­sign (Head­line Web­font for your web­site), party flyer, movie pos­ter, music pos­ter, music covers or webbanner …

Tech­ni­cal Specifications
■ Font Name Hand Stamp Swiss Rough Sans
■ Font Weights Regu­lar
■ Fonts Cate­gory Dis­play for Head­line Size
■ For­mat OTF (Open­Type Font for Mac + Win)
■ Glyph cover­age 462
■ Lan­guage Sup­port Basic Latin/English let­ters, Cen­tral Europe, Bal­tic, Roma­nian
■ Spe­cials alter­na­tive let­ters, 2 sty­listic sets, con­text­ual alter­na­tive via Open­Type Fea­ture, 262 kerning pairs, stan­dard & deco­ra­tive liga­tures, ding­bats & sym­bols, accents & €
■ Design Date 2015
■ Type Desi­gner Manuel Vier­gutz
■ License Desktop license, Web license, App license, eBook license, Ser­ver license
DOWNLOAD | FONT | TYPEFACE | Hand Stamp Swiss Rough Sans
➡ http://www.myfonts.com/fonts/typographicdesign/hand-stamp-swiss-rough-sans/
YOUTUBE
➡ https://www.youtube.com/embed/z1PL_efZj4k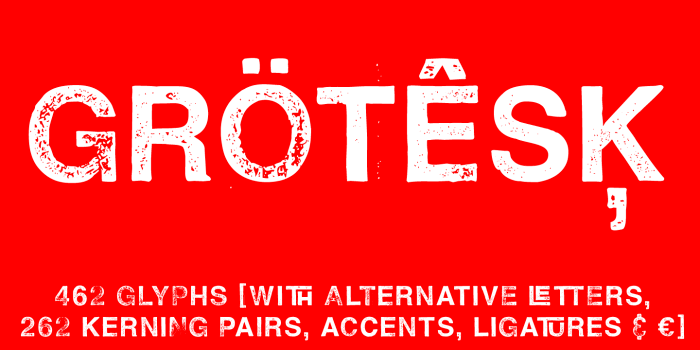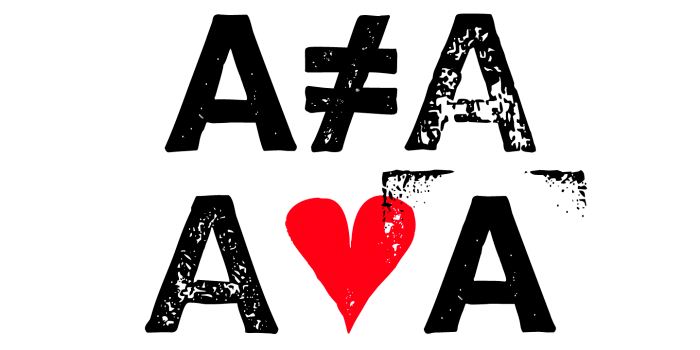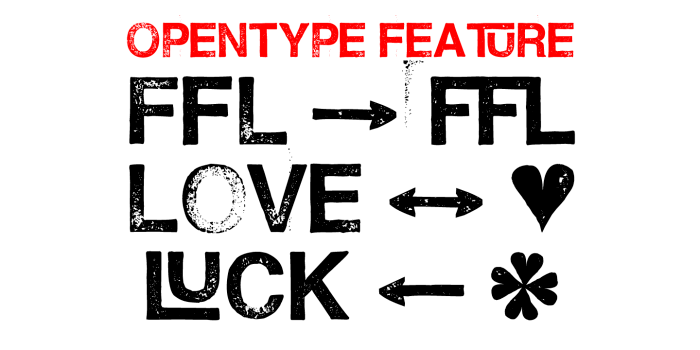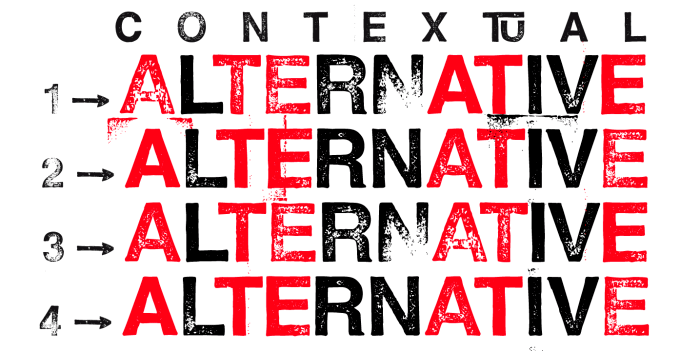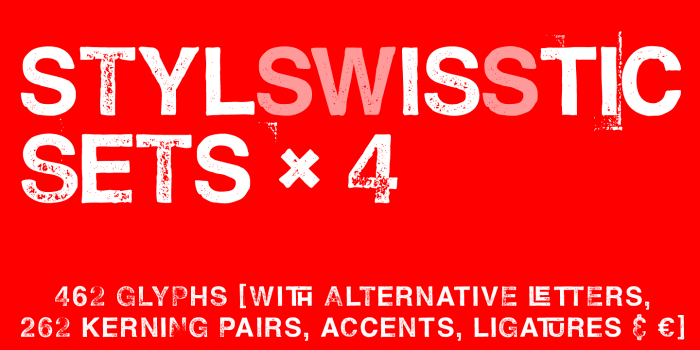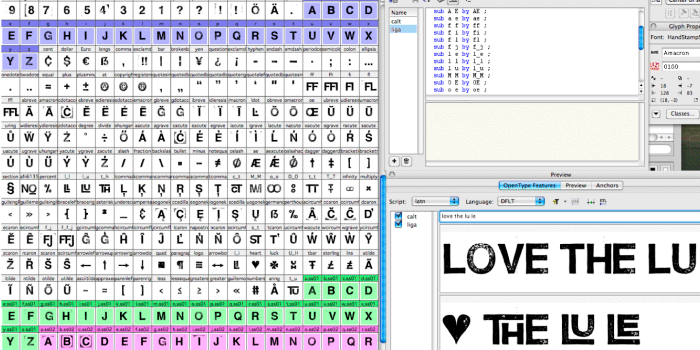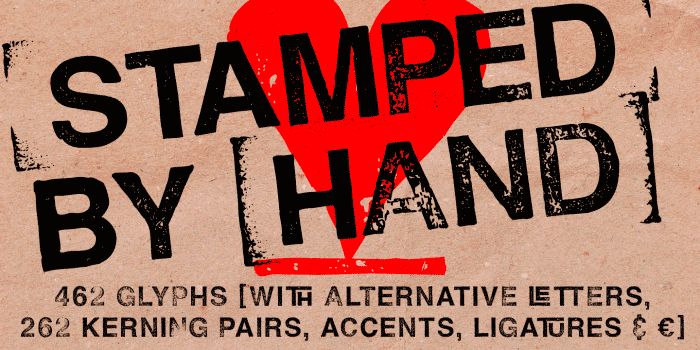 Verwandter Artikel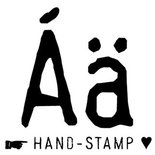 "Hand Stamp Gothic Rough" is based on real vin­tage rub­ber stamp let­ters from Ger­many. A ...
Submitted by Manuel Viergutz... on 23.05.2016
in Typography
Nächstes Portfolio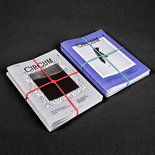 CIRCUM Magazin Im Rahmen ihrer Bachelorarbeit konzipierte Kathleen Raasch ein neuartiges Astrozine, das als ...
Submitted by Kathleen Raasch on 15.04.2015
in Graphics
Vorheriges Portfolio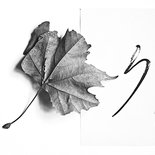 Illustrations realized in collaboration with the italian artist Laura Gianetti in 2009 for the italian cultural ...
Submitted by Andrea Nicolo' on 10.04.2015
in Illustration