Lipa is the name of the Slovenian national tree 'Linden'. The typeface Lipa Agate by Croatian designer Ermin Međedović, is part of a bigger type collection, comprising various type groups into one coherent system which Ermin developed over the past 10 years. Lipa Agate is the first to be released; a sans serif designed and engineered to be used in the smallest text sizes, best under 10pt, and in very bad printing conditions. It is perfect for phone books, classified ads, directories or any other job requiring economy without jeopardising legibility. To achieve this, Lipa Agate employs a range of tools, such as deep ink-traps, narrow proportions and a tall x-height.

Contemporary editorial design requires a high amount of flexibility to respond to various design situations in a consistent fashion. Lipa Agate — with its 3 levels of condensation, 4 weights and 2 sets of different x-heights, 'High' and 'Low', which share the same width — fulfils these requirements wonderfully. That's a total of 24 fonts! To make this clean and honest workhorse face complete, its large character set also includes small caps, arrows, info-numerals and much more.

Designed by Ermin Međedović.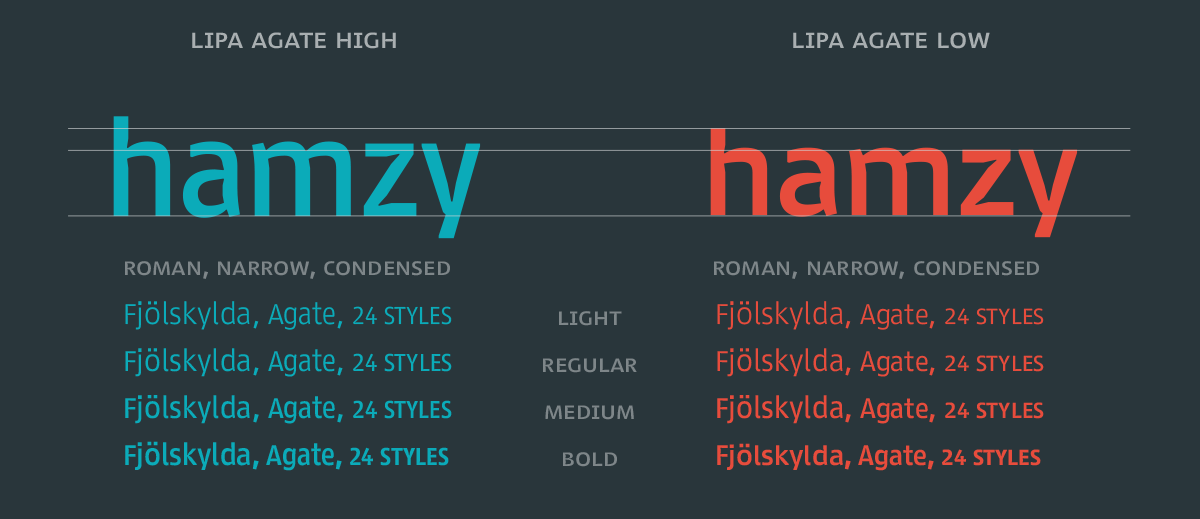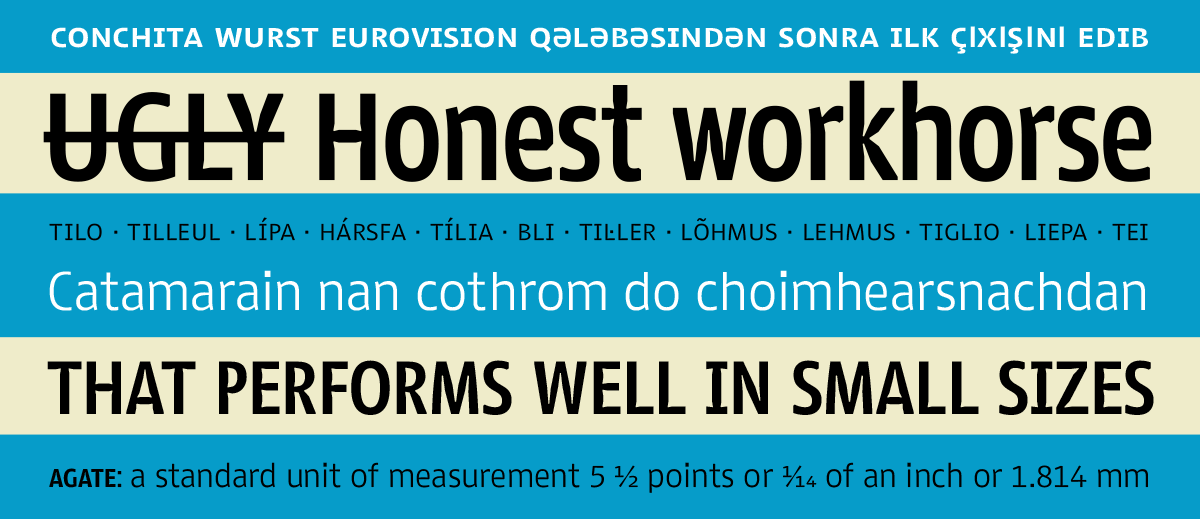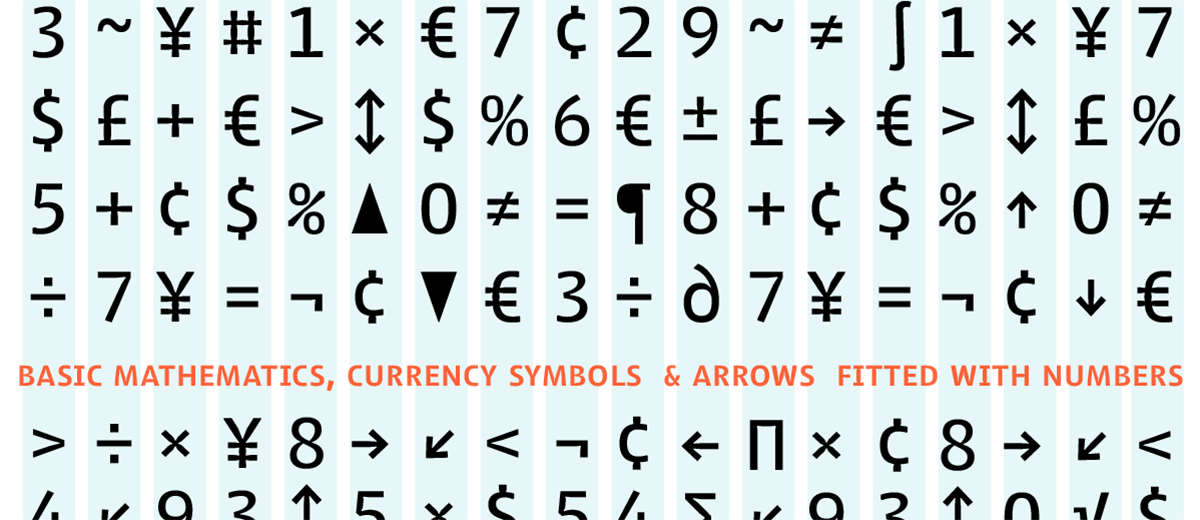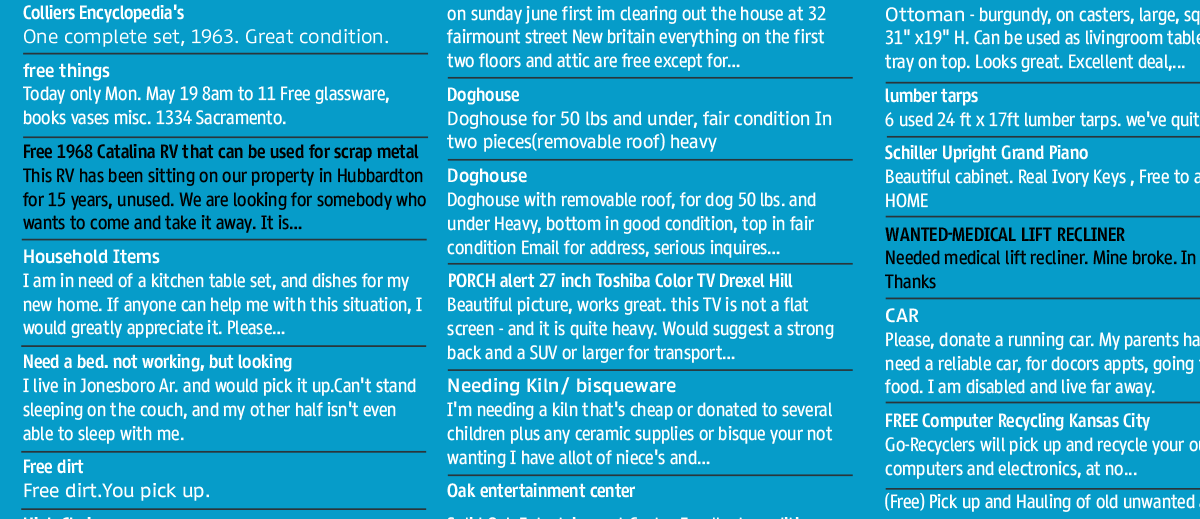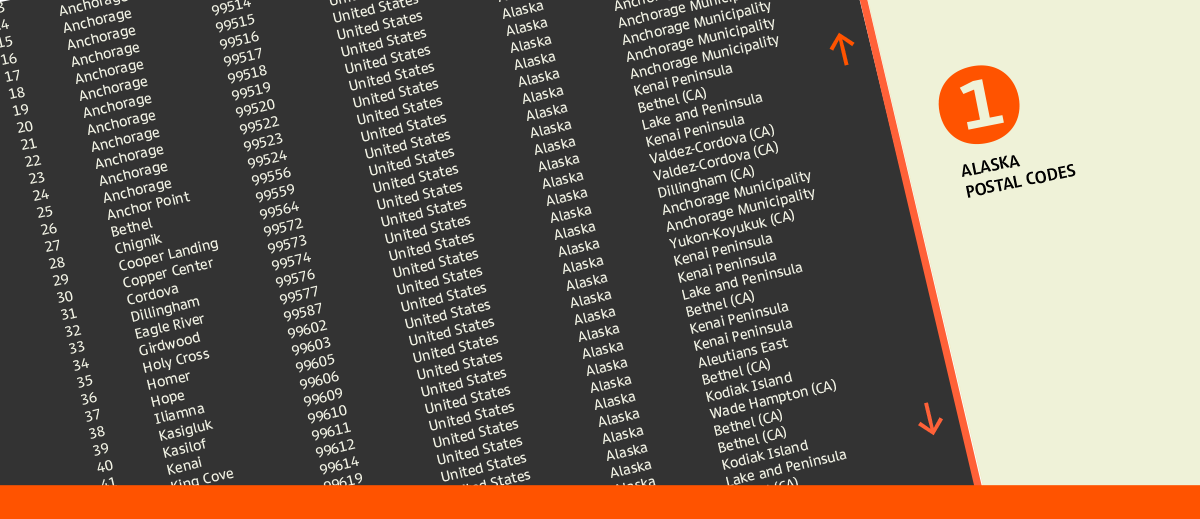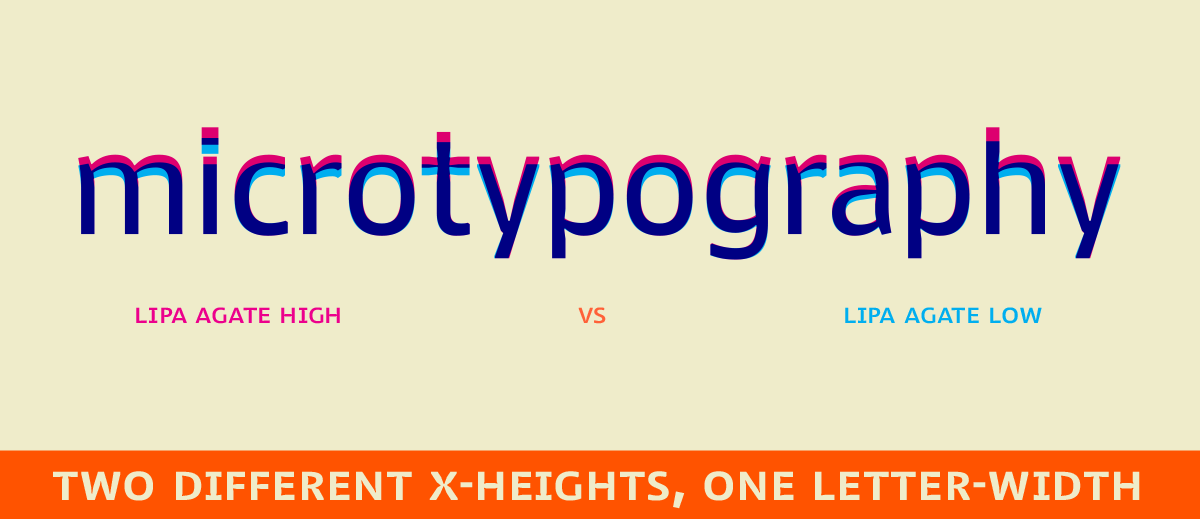 Lipa Agate High Ligh
Lipa Agate High Regular
Lipa Agate High Medium
Lipa Agate High Bold

Lipa Agate High Nar Light
Lipa Agate High Nar Regular
Lipa Agate High Nar Medium
Lipa Agate High Nar Bold
Lipa Agate High Cnd Light
Lipa Agate High Cnd Regular
Lipa Agate High Cnd Medium
Lipa Agate High Cnd Bold

Lipa Agate Low Light
Lipa Agate Low Regular
Lipa Agate Low Medium
Lipa Agate Low Bold

Lipa Agate Low Nar Light
Lipa Agate Low Nar Regular
Lipa Agate Low Nar Medium
Lipa Agate Low Nar Bold

Lipa Agate Low Cnd Light
Lipa Agate Low Cnd Regular
Lipa Agate Low Cnd Medium
Lipa Agate Low Cnd Bold

FOR MORE INFORMATION AND A PDF SPECIMEN, PLEASE VISIT OUR WEBSITE.
Verwandter Artikel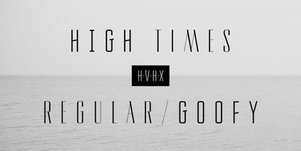 Gestalten Fonts präsentiert ihre neue Schrift High Times. High Times was originally created as a corporate ...
Submitted by Constanze on 04.07.2013
Nächstes Portfolio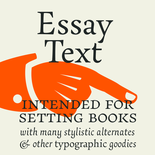 Essay is an elegant serif typeface intended for setting books, with many stylistic alternates and other typographic ...
Submitted by TypeTogether on 31.03.2015
in Typography
Vorheriges Portfolio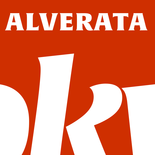 Gerard Unger's new typeface Alverata is a twenty-first-century typeface inspired by the shapes of Romanesque capitals ...
Submitted by TypeTogether on 31.03.2015
in Typography