Fantastische Wesen mit überdimensionalen Augen oder ganz ohne Sehorgane finden sich hier, Kreaturen, die nur aus Maul zu bestehen scheinen, durchsichtige Schattengeschöpfe und bizarre selbstleuchtende Gestalten, die irrlichtern in der ewigen Nacht – im Abyssal.
Meine Bachelorarbeit "Abyssal" befasst sich mit dem Lebensraum Wasser, den Ozeanen und der Tiefsee.
Die Tiefsee ist der mit Abstand größte Lebensraum der Erde, aber dennoch ist sie der am wenigsten bekannte Teil der Welt. Obwohl die Lebensbedingungen unwirtlich sind, existiert eine atemberaubende Vielfalt noch unbekannter Arten in den Tiefen der Ozeane.
Mit dieser verblüffenden Lebensvielfalt setzte ich mich in meinen Illustrationen auseinander. Durch Experimente mit Aquarellfarben und verschiedenen Materialien interpretierte ich artspezifische Eigenschaften der Wesen. Mein Buch fängt einen Mikrobruchteil dieser endlos scheinenden Tiefsee ein.
Medium: Hardcover-Buch
Format: 480 x 350mm
Umfang: 70 Seiten
Besonderheit: verkürzte transparente Seiten
____
The depths of the ocean form the planet's largest ecosystem, yet they are also the least familiar area of the world. Although the depths are inhospitable, they are home to a breathtaking diversity in life forms, some of which have yet to be identified. In my final project I concentrate on the illustrative portrayal of creatures that inhabit the deep.
____
www.annettehaack.de
www.behance.net/gallery/ABYSSAL/858071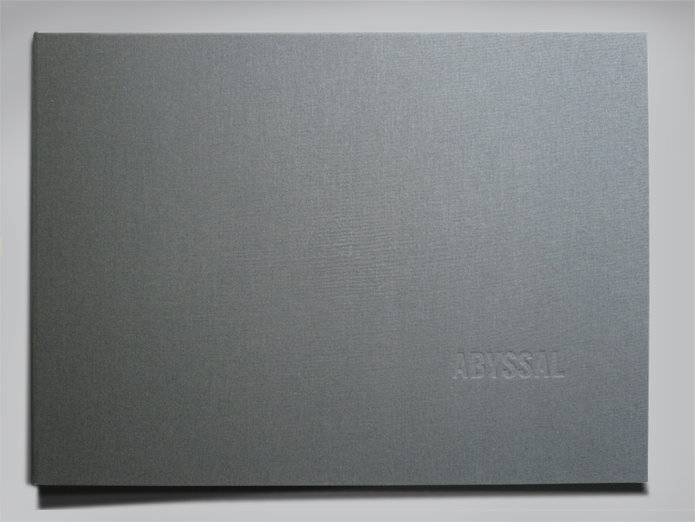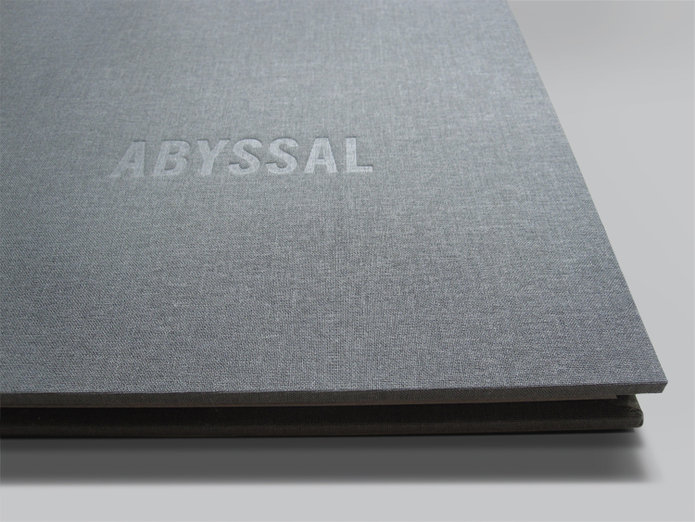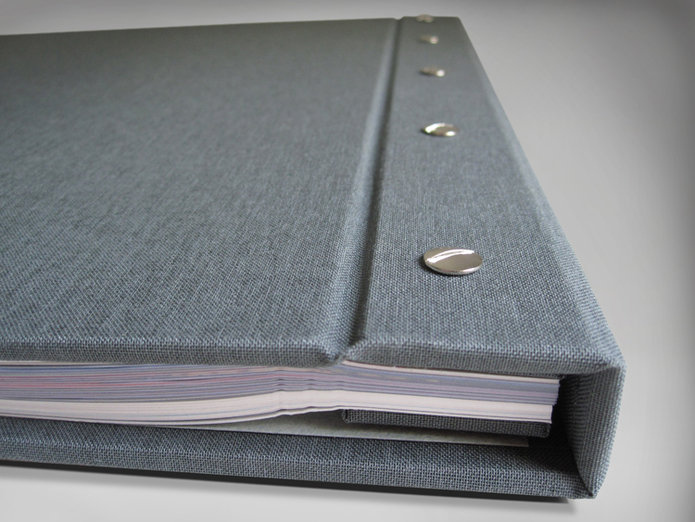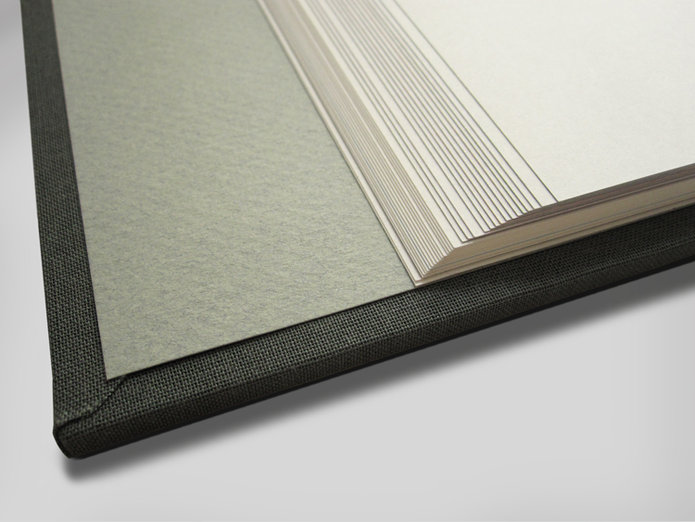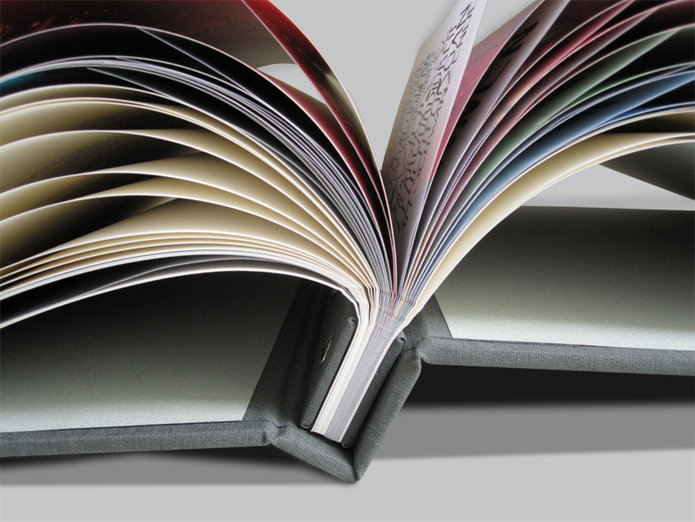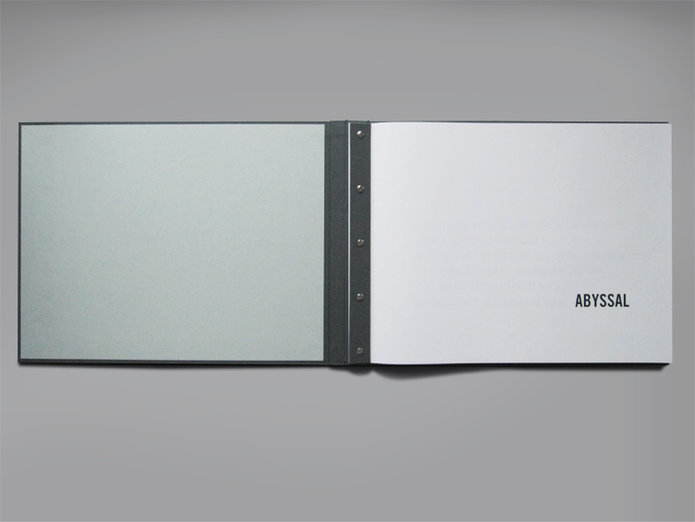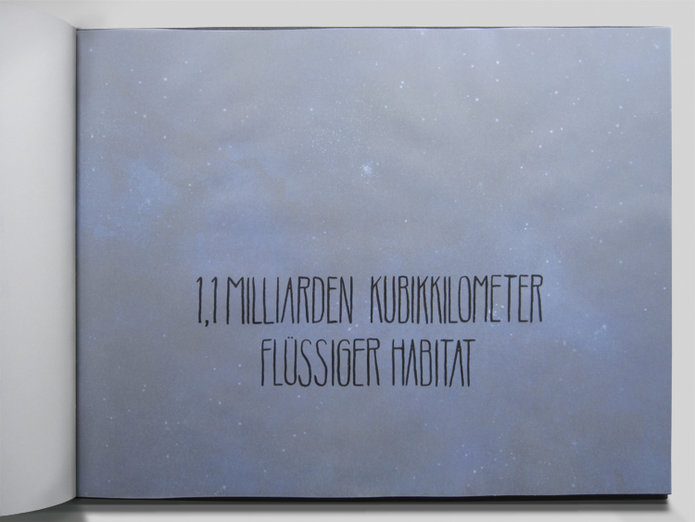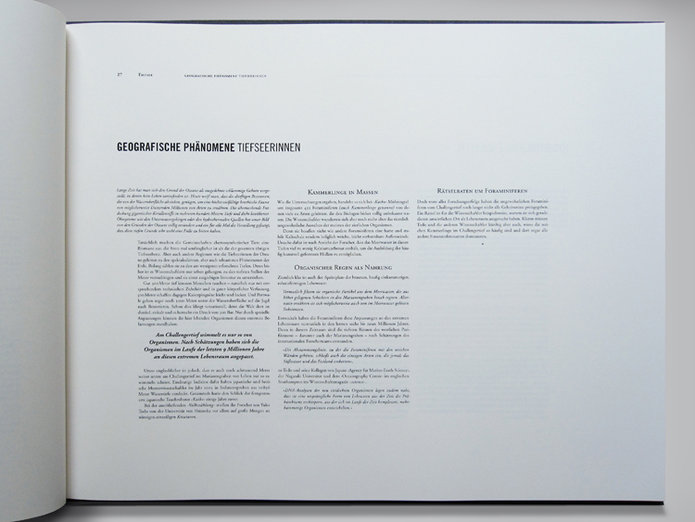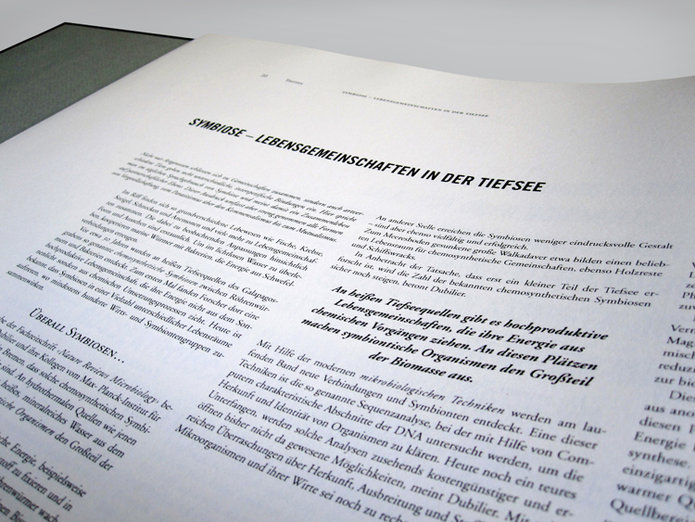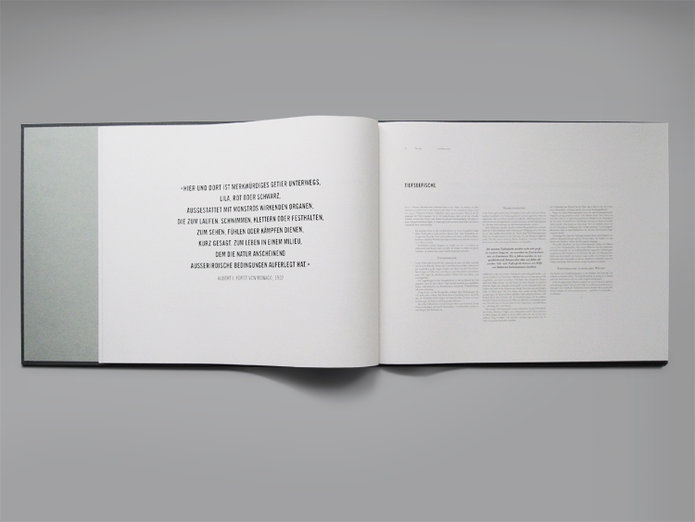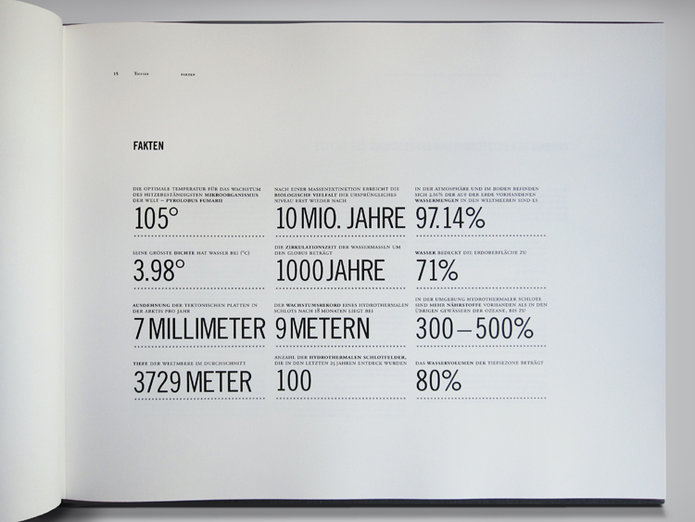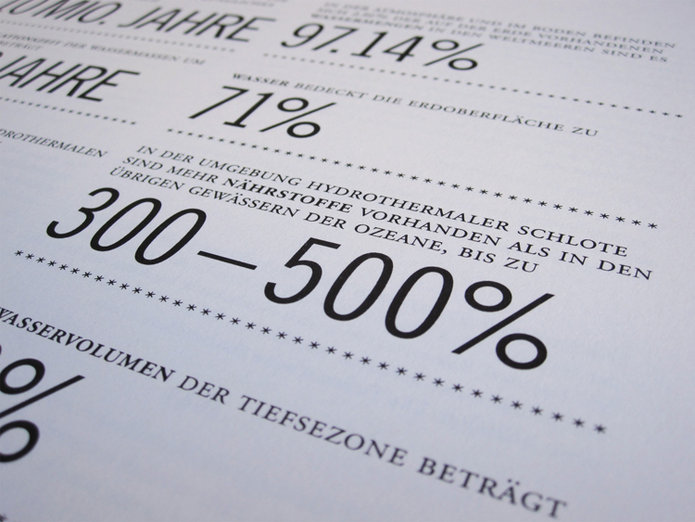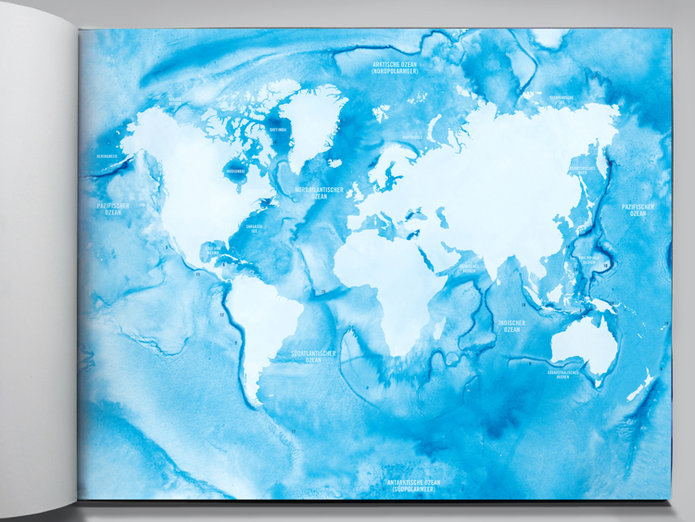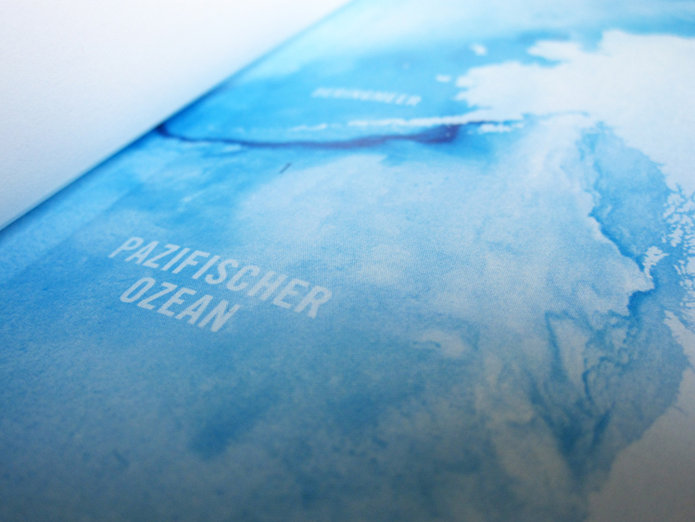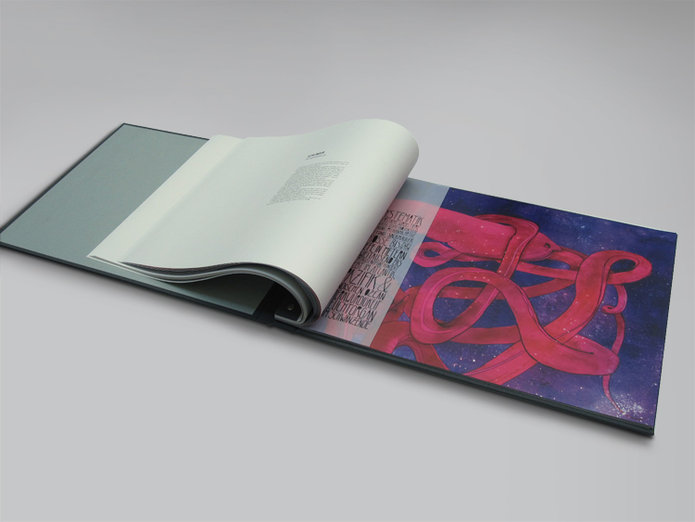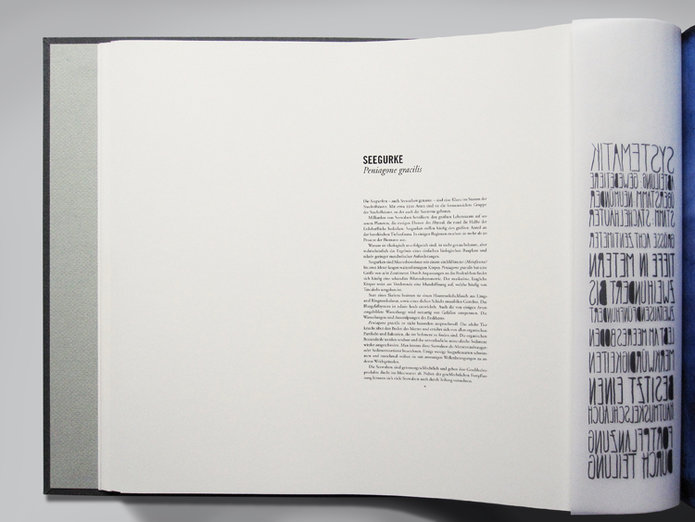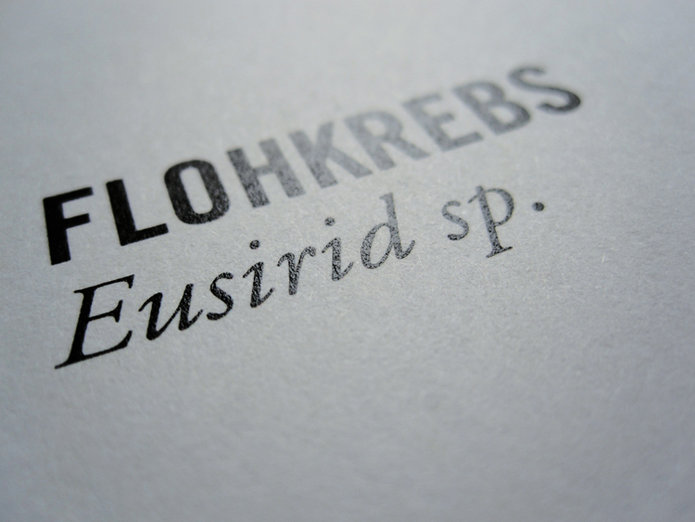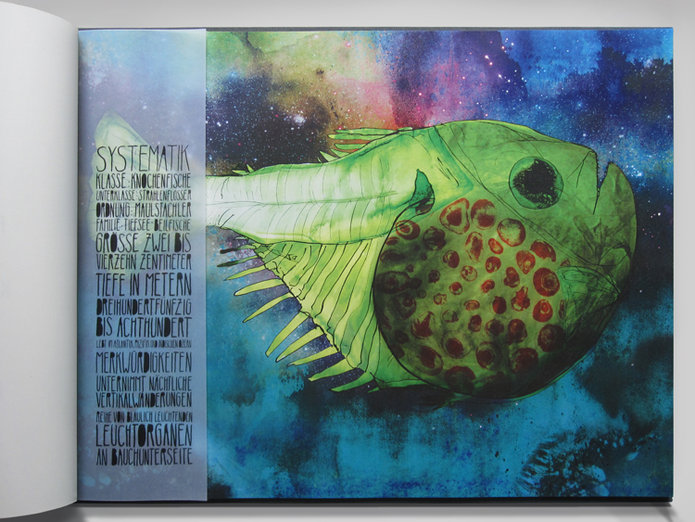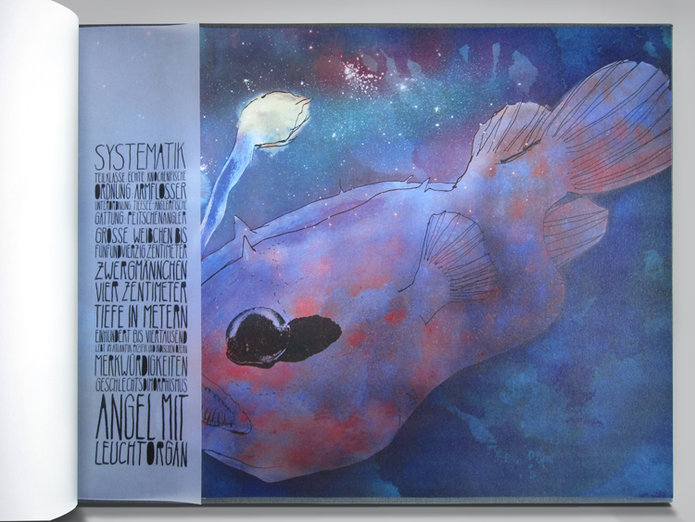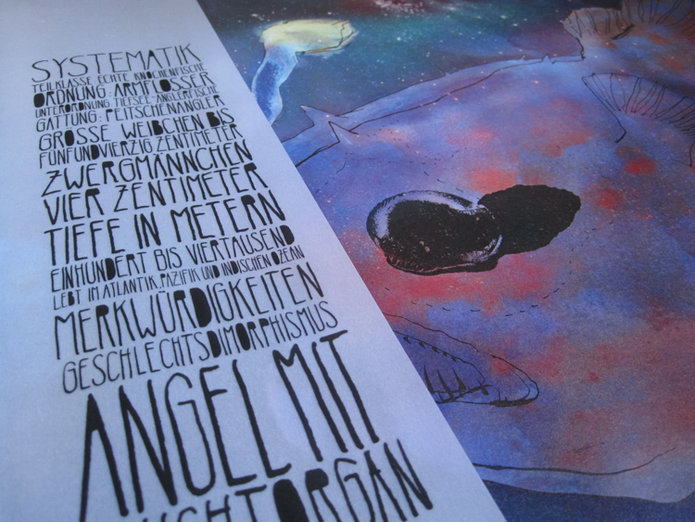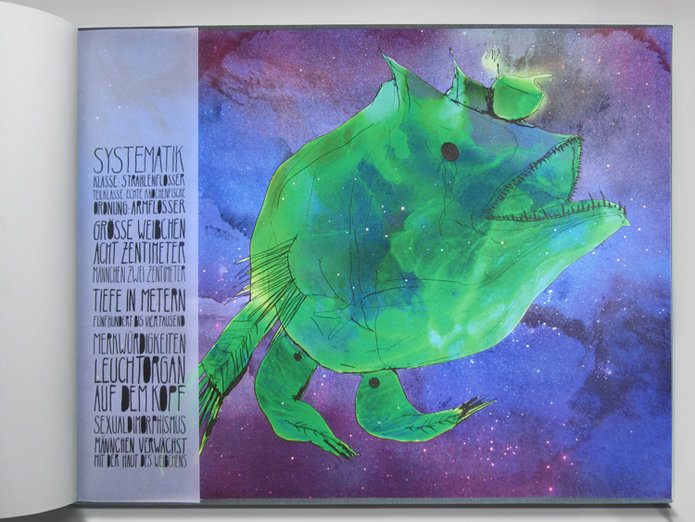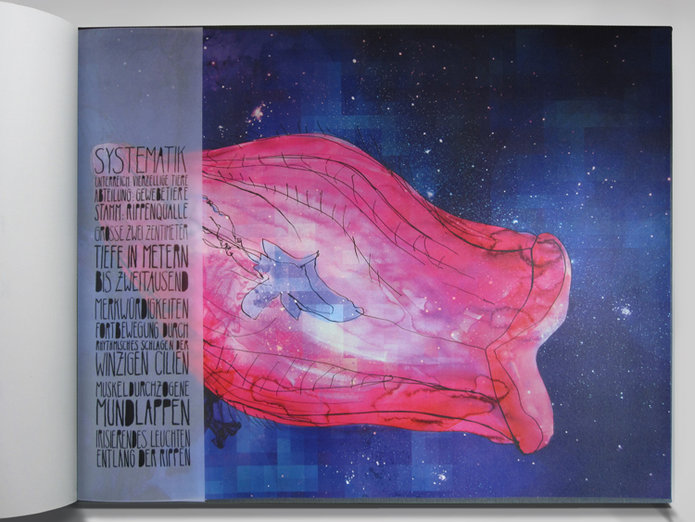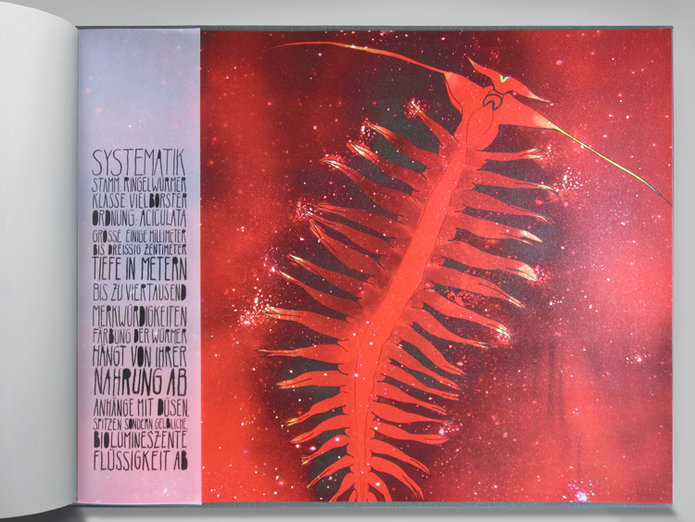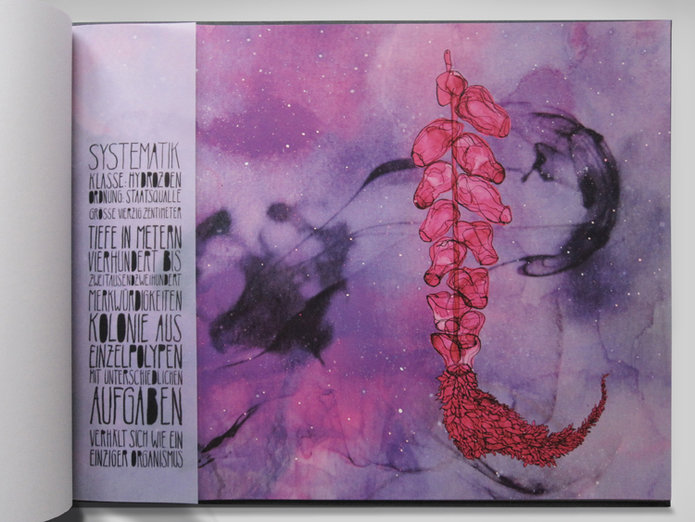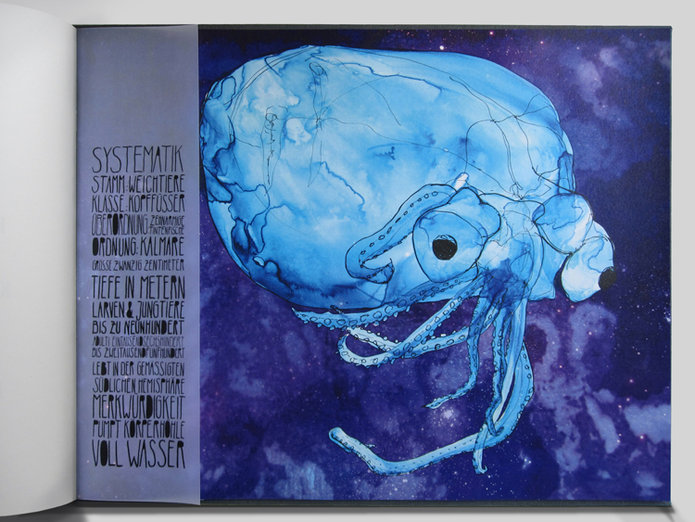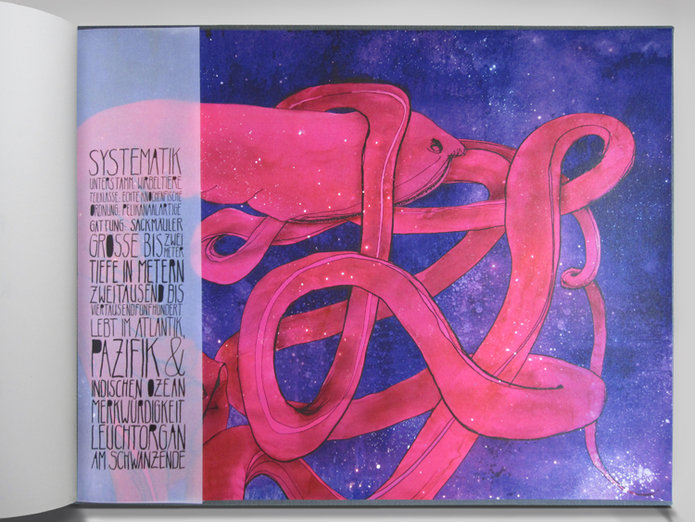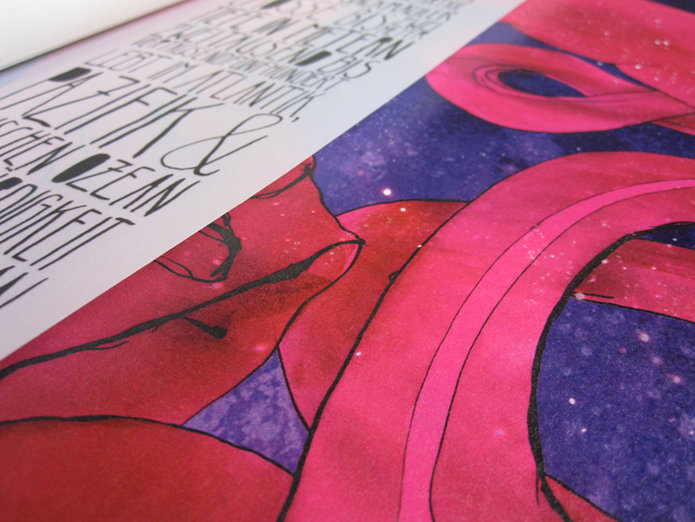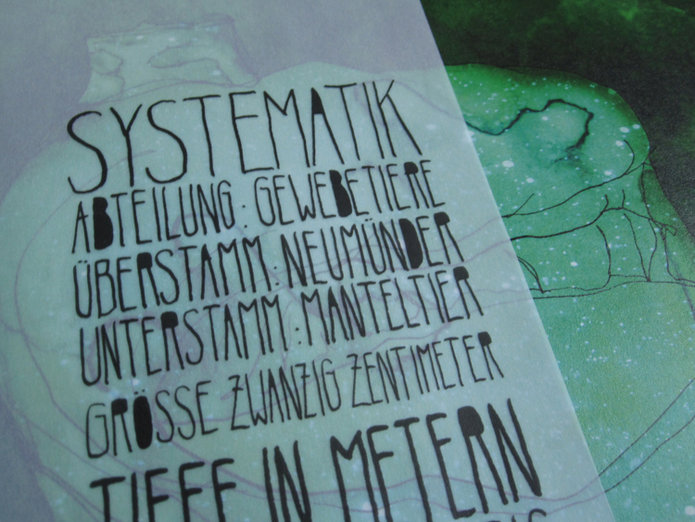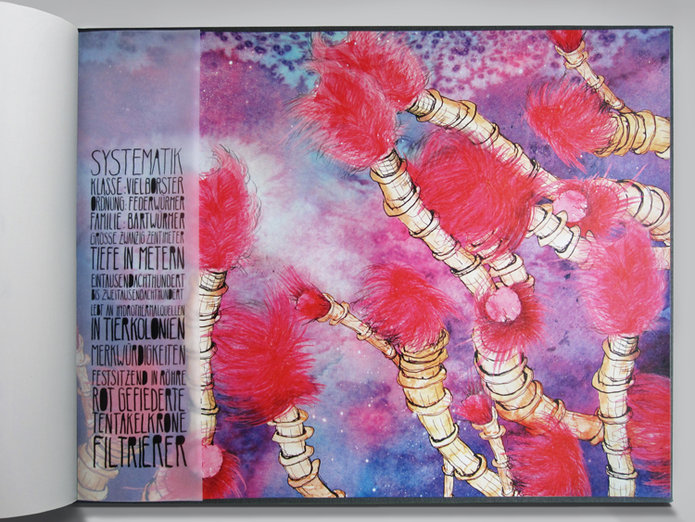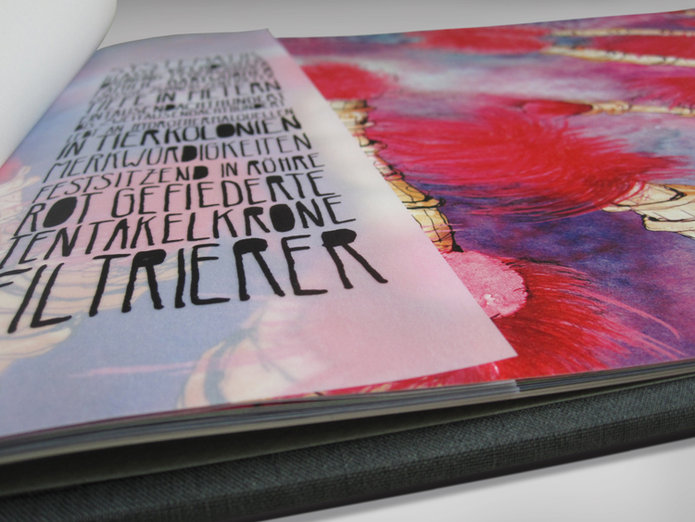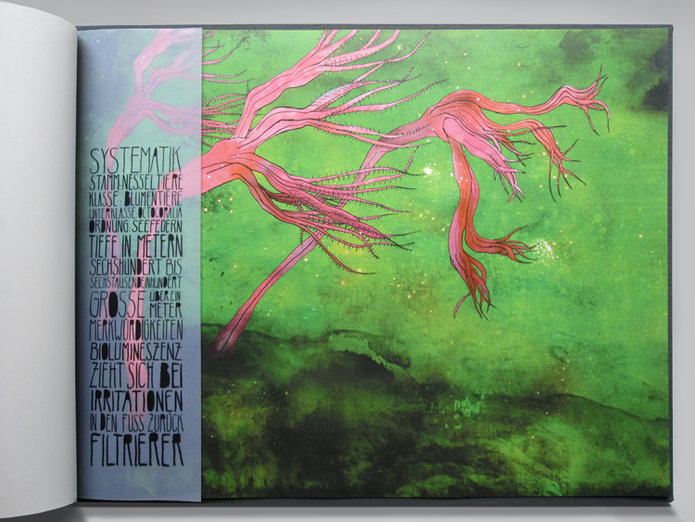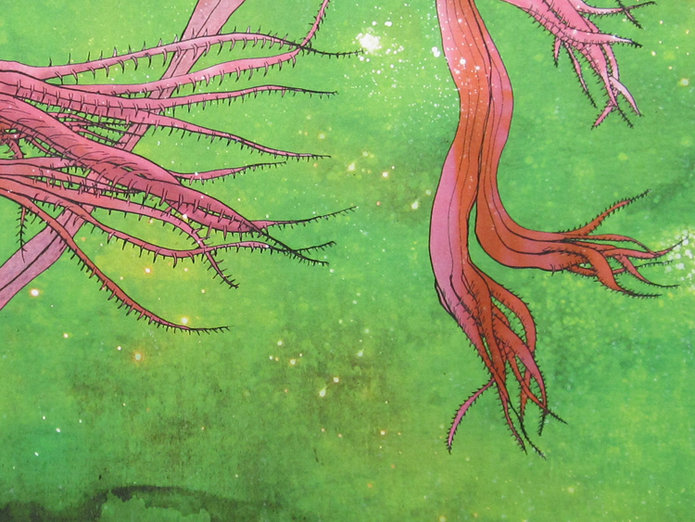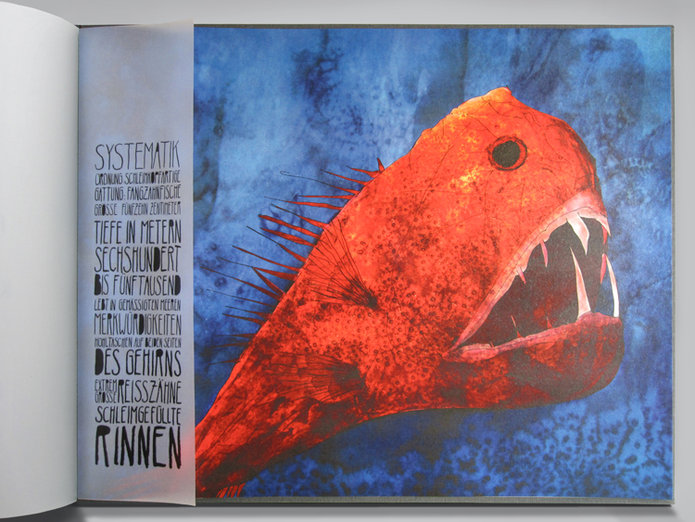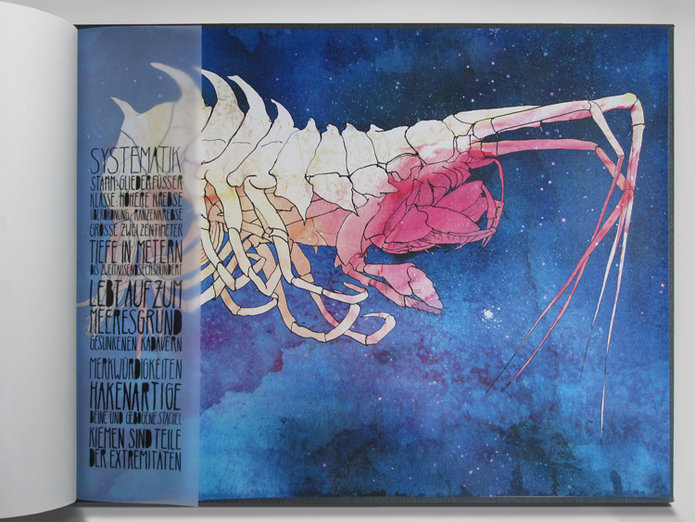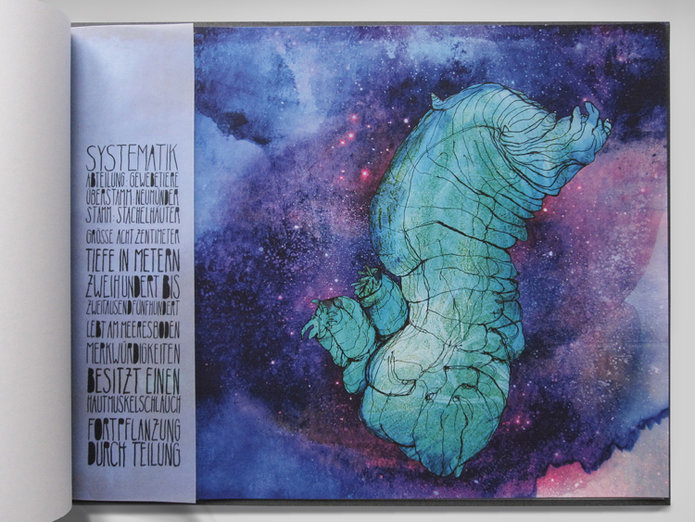 Verwandter Artikel
Oder die Kunst der Typo Bilder
Frohe Ostern. Zeit, Ostereier zu sammeln. Wer sucht mit? Wer hat solche ...
Submitted by lars on 21.03.2008
Nächstes Portfolio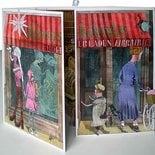 For the Buechergilde Gutenberg publishing house we made an advent calendar about typography and books. In an old ...
Submitted by Drushba Pankow on 14.12.2010
in Illustration
Vorheriges Portfolio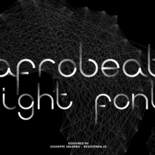 Inspiration The pounding tribal rhythms of Afrobeat music is expressed through this psychedelic brand new font, ...
Submitted by beppeartz on 11.12.2010
in Typography