Recent studies indicate that:
"Even if you don't give your baby that ubiquitous shape sorter, he or she will perceive different shapes on his or her own,
according to a new study."
ScienceDaily (Nov. 16, 2009)
"The brain's ability to understand shapes develops without the influence of immersion in simple, manufactured objects."
DNA (Nov. 14, 2009)
-
So what could its real function be?
-
One problem? one logical solution!
--------------------------------------
Shape sorter toys are a tool to teach children how to fit in society, reproduce established socially acceptable behaviours, laws and rules.
But what if one problem had a variety of solutions?
---------------------------------------------------------
What would happen if children were taught, from an early age, that there are several solutions to one problem, different paths to the same result?
Would it generate antisocial behaviour, threatening the order of society?
Would it create a generation of chaotic minds?
Or could it be the first step towards more understanding and open-minded people?
--
In my alternative prototype to the shape sorter toy the shapes are made out of soft material to allow them to fit any holes.
--
Verwandter Artikel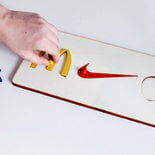 Bauhaus Revisited is based on the reinterpretation of a theory developed at Bauhaus in the early 20′s concerning the ...
Submitted by jesuismonreve on 29.05.2012
in Graphics
Nächstes Portfolio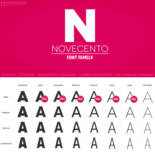 Novecento is an uppercase-only opentype font family of 32 styles, 471 glyphs, 12 Opentype features, diacritics for ...
Submitted by synthview on 27.09.2011
in Typography
Vorheriges Portfolio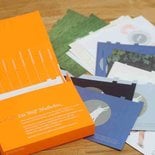 Die Wolf-MANUFAKTUR ist schon seit längerem ein Geheimtipp in der europäischen Veredelungsszene. Ganz aktuell hat ...
Submitted by wolf-gruppe on 22.09.2011
in Graphics