German graphic-designer and illustrator based in Stuttgart.
As appropriation is one of the basic elements of post-modern art and Hip Hop uses samples of, for instance, Soul or Funk this similarity sparked my interest and was my initial inspiration for the Final Project of my MA, in which I use screen shots of YouTube videos as source for my screen prints.
»Images and signs are consumed precisely because they are images and signs, regardless of questions of utility and value. This is thought to be evident in popular culture itself, where surface and style,... are said to be predominant at the expense of content, substance and meaning«. Strinati (1995, p. 207).
In my body of work I reflect this surface and style due to its strong influence on the consumer and in their identification and personality development. This is a not dis-similar approach to Warhol´s reflection of the consumer society of the 1960´s, but instead of newspapers and films, I am using the internet and YouTube as my source.
The title of my Final Project is Reality RMX while reality relates to the materialization of the virtual world of the internet by transferring video into print. RMX refers to the use of fragments from videos and to Hip Hop music.
I produce editions of screen prints, which have, even if they are products which reflect the production run of the mass-production of goods in the industry, a hand-made character and a unique connection to my person as the creator of these artworks.
Yves Findling
MA Illustration
Diplom-Designer (FH)
Mobile: 0049 (0) 179 778 30 85
design@yvesfindling.de
www.yvesfindling.de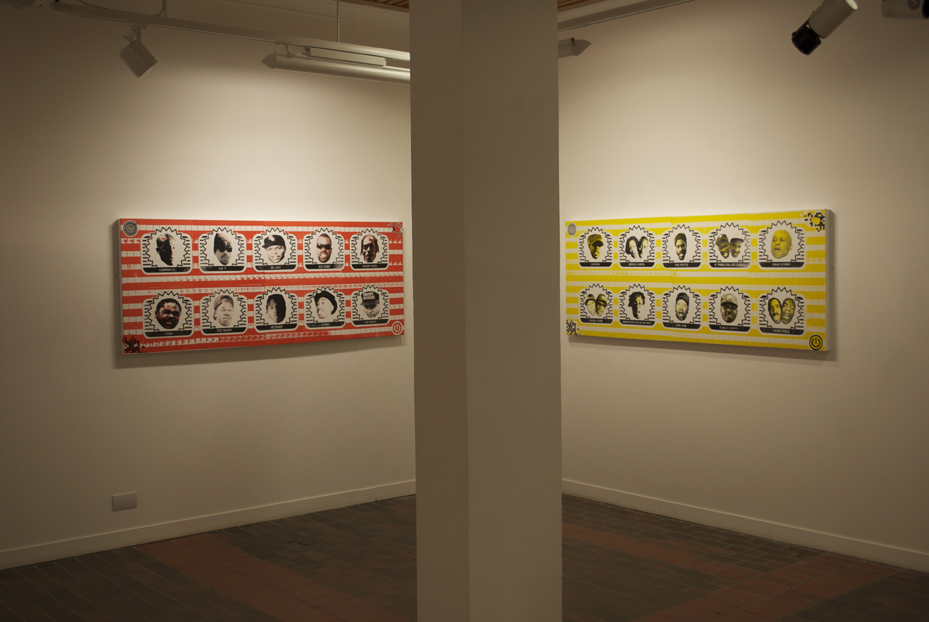 Reality RMX I & II in The Gallery at Arts University College at Bournemouth, UK.
The two major works on canvas (each 200 x 80 cm in size) reflect two opposed styles of Hip Hop, west-coast Gangsta Rap and east-coast Conscious Rap.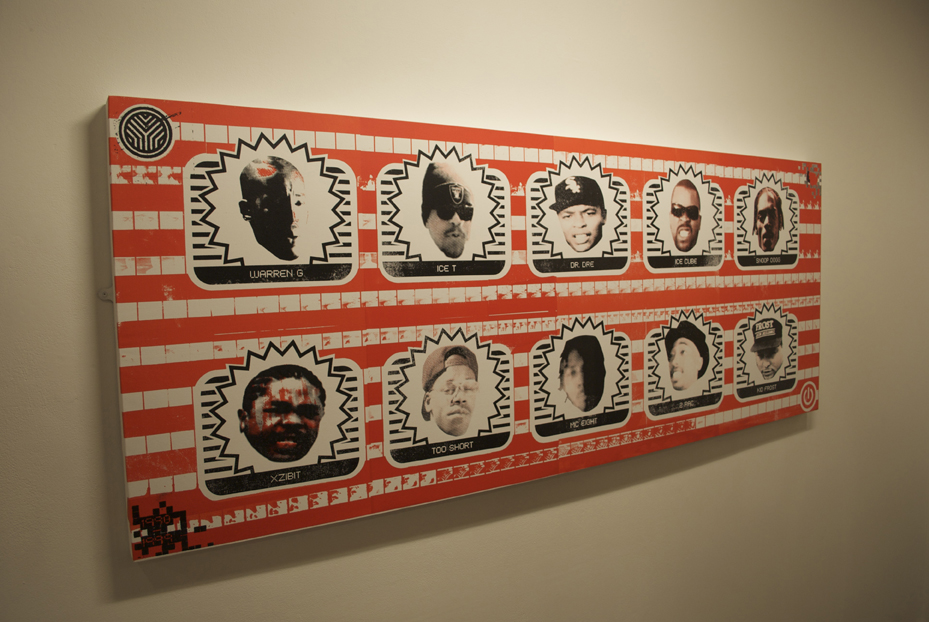 Reality RMX I – screen print on canvas (200 x 80 cm).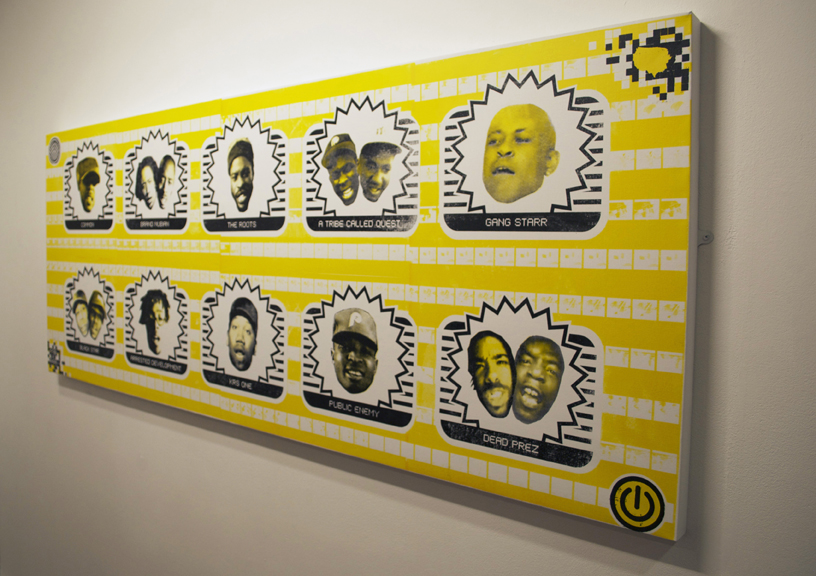 Reality RMX II – screen print on canvas (200 x 80 cm).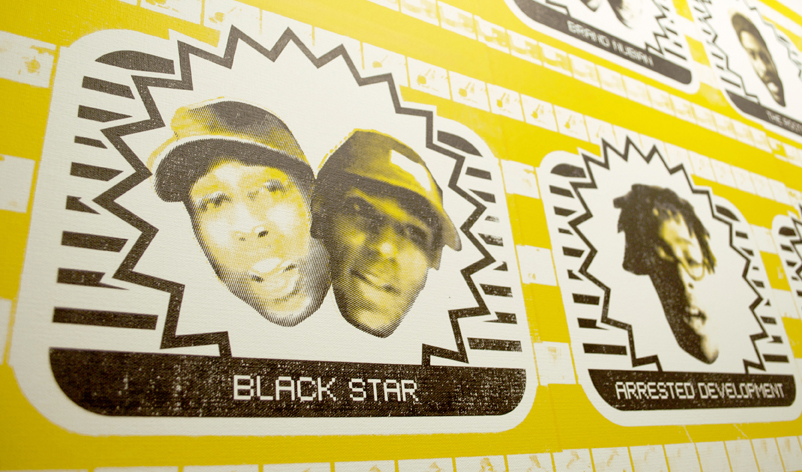 Reality RMX II detail.
Constantin Screen Prints
Another project, the Constantin series, is inspired by russian communist posters and 1920´s cartoons. I created "products for consumption" for example posters, postcards and T-shirts, to offer a wide range of items which can be purchased in my online-shop: www.yvesfindling.bigcartel.com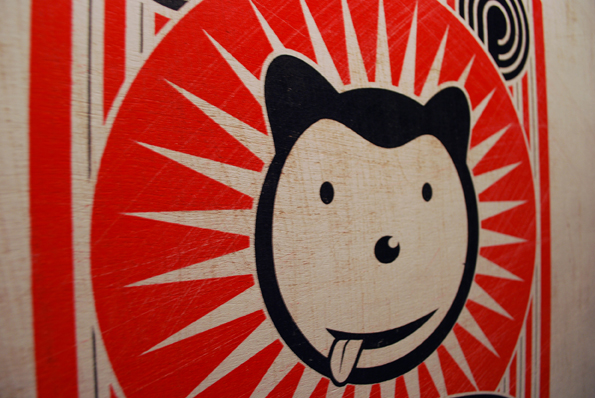 Screen print on wood board – Constantin series.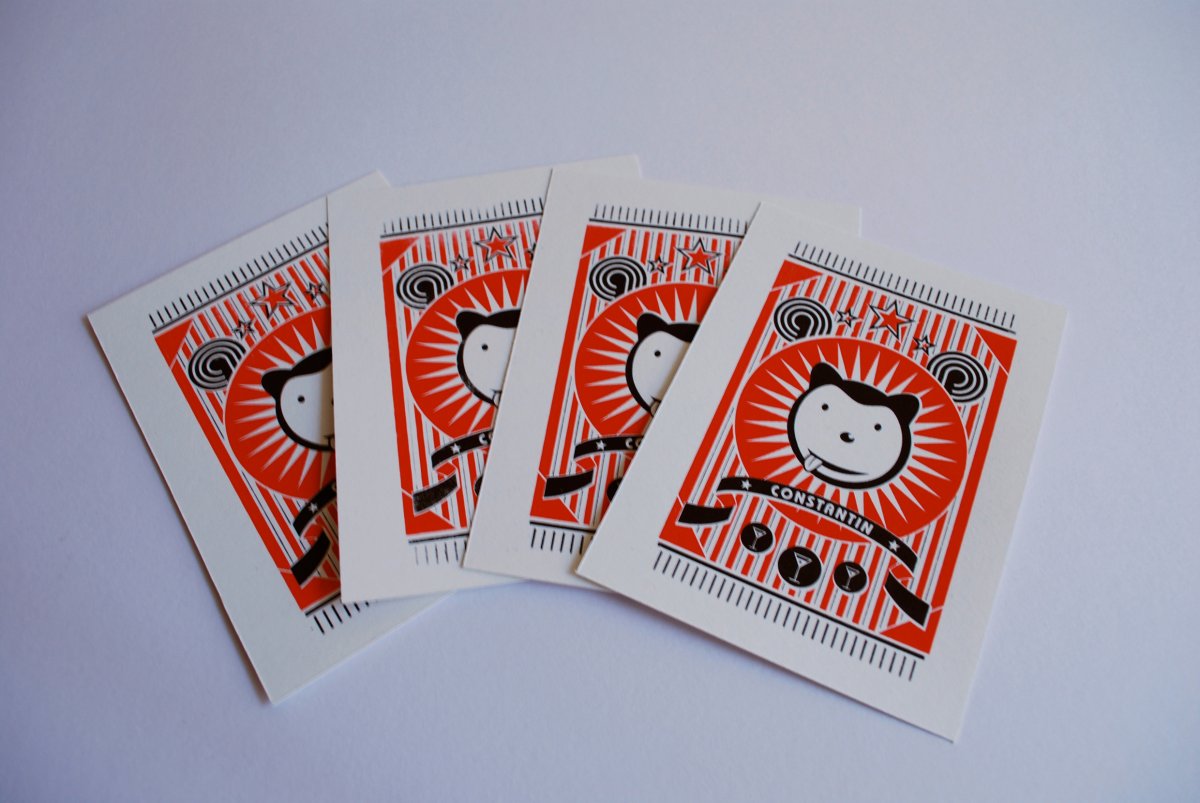 Screen print A6 on card board – Constantin series.
Maeckes Kids Poster - Tactile Design
Another emphasis of my body of work, beside screen prints, is the use of three-dimensional objects in the creation of illustrations and stop-motion animation. For the rap-artist Maeckes I created a poster illustrating the theme of his album Kids.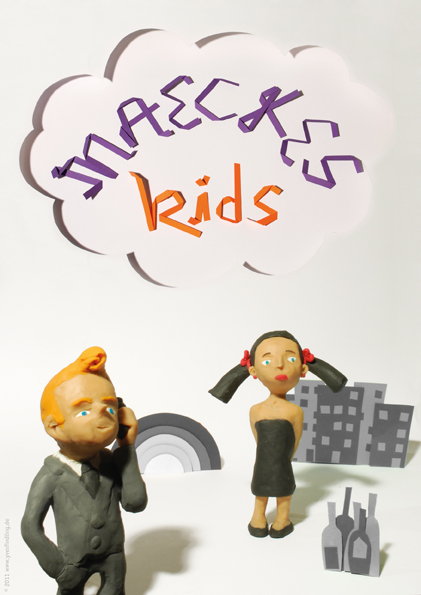 Maeckes Kids poster with plasticine figures and paper folded type.
Super Slut - Screen Print Series
During my studies of Illustration at the Arts University College at Bournemouth on the Masters Course, I set up an environment that simulates a working atmosphere which I am reproducing now in my Bureau of Art and Design in Stuttgart, Germany.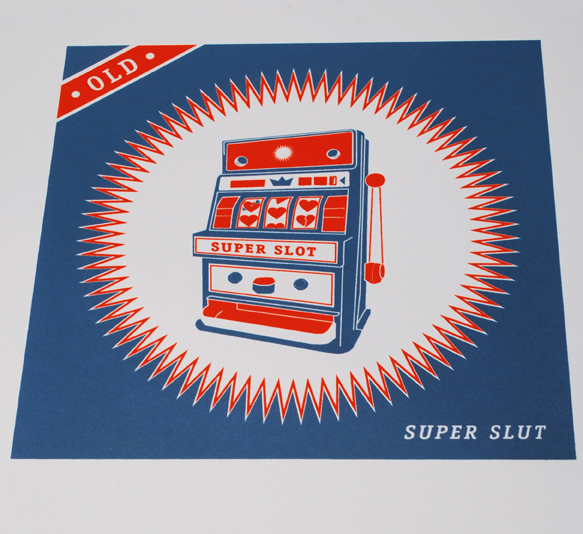 Super Slut screen print.
Verwandter Artikel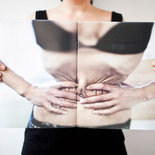 The Pro-ana community has turned anorexia (Ana) into its dogma. They venerate the illness giving meaning to their ...
Submitted by Laia Abril on 23.10.2012
in Photography
Nächstes Portfolio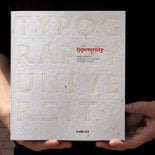 Wie steht es um den typografischen Nachwuchs in Deutschland? Wie gehen die Studierenden mit Typografie ...
Submitted by Patrick on 16.01.2012
in Typography
Vorheriges Portfolio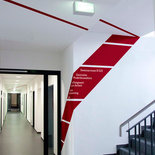 Richtungweisend auf dem Campus Millionen Menschen steigen täglich in die U-Bahn, nutzen Flughäfen oder kaufen ...
Submitted by kuhlfrenzel on 13.01.2012
in Design