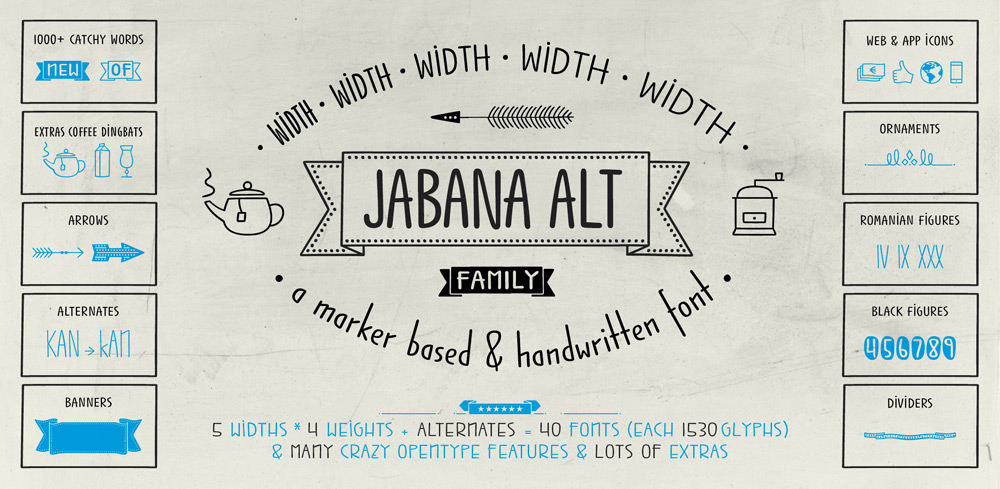 Jabana — 52 fonts for coffee and more

Inspired by having a "Schorle" at Hamburgs bars. Super compressed to extended letter shapes in 5 widths and 4 weights – smooth handwritten marker curves and especially a wide range of opentype features define the large character set of Jabana.
For more information scroll down ;) !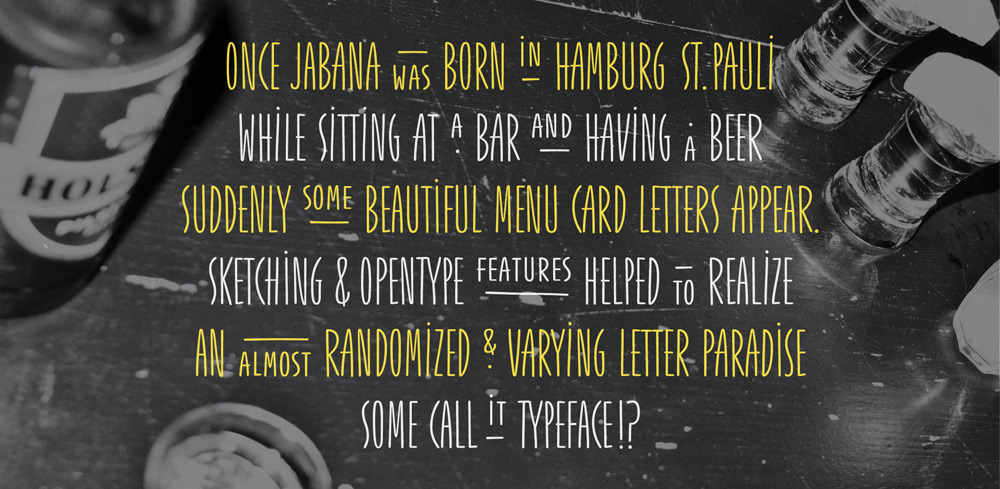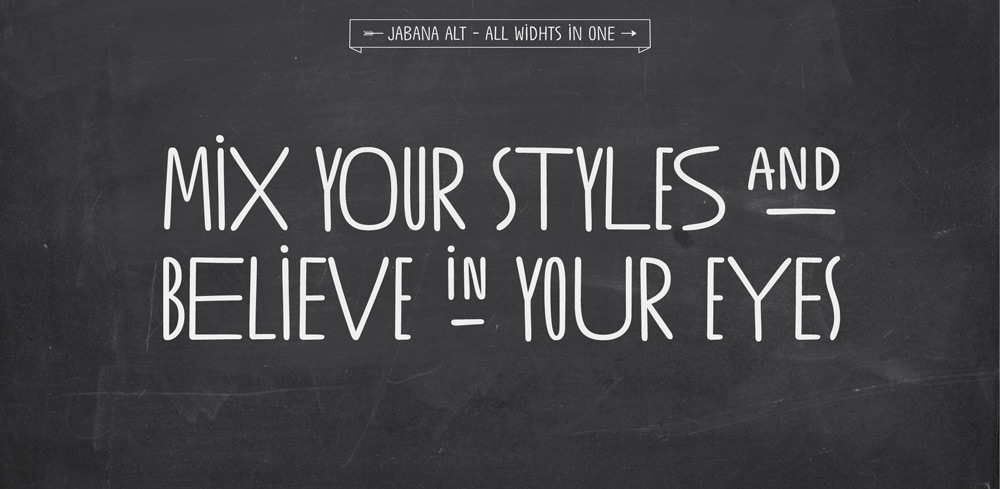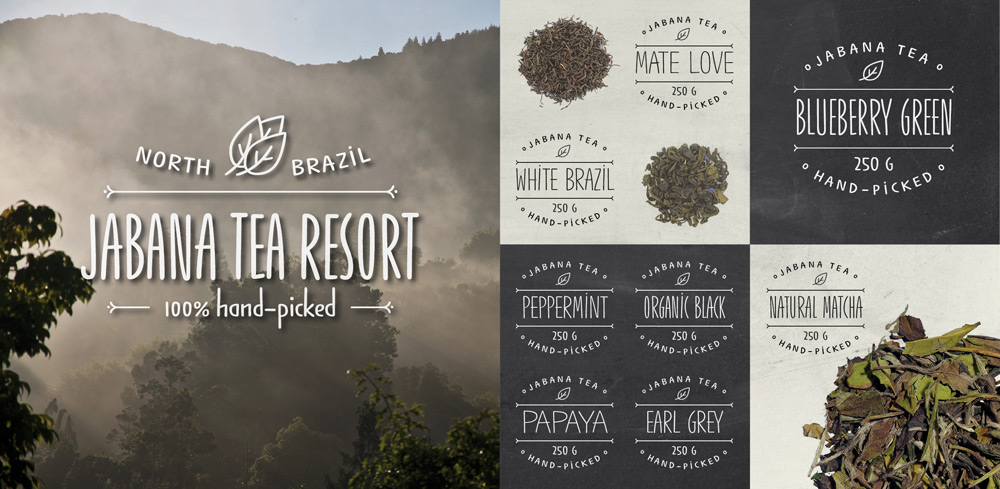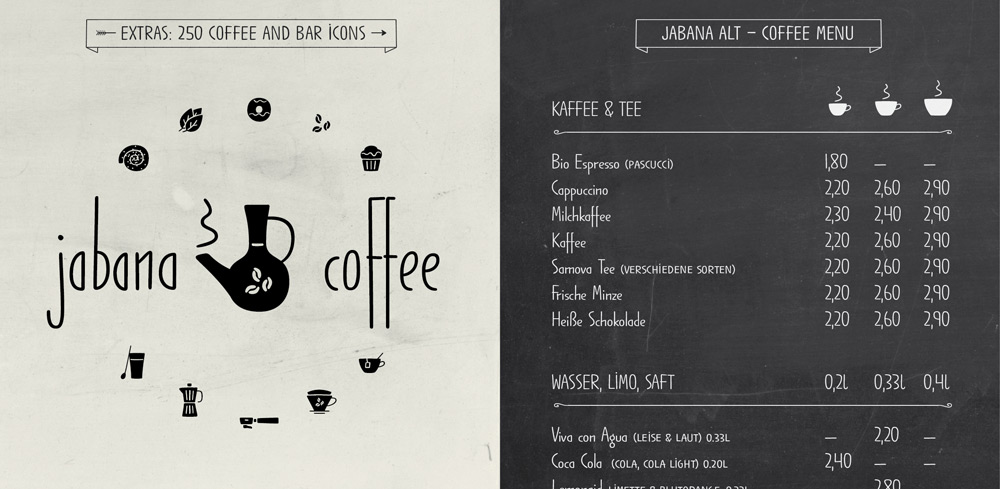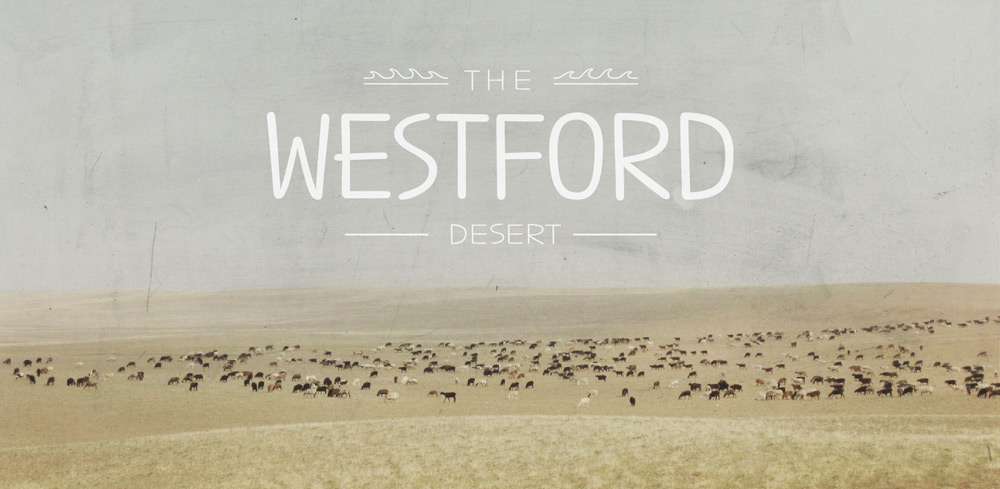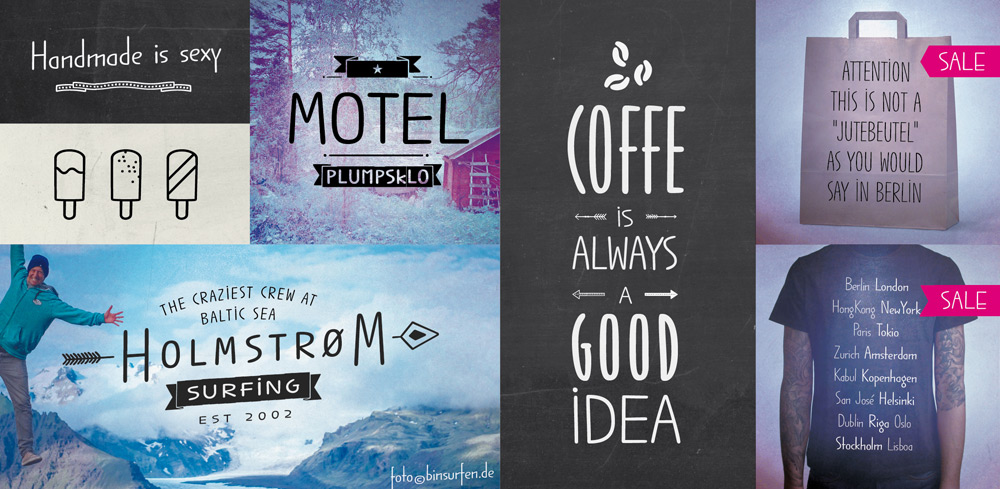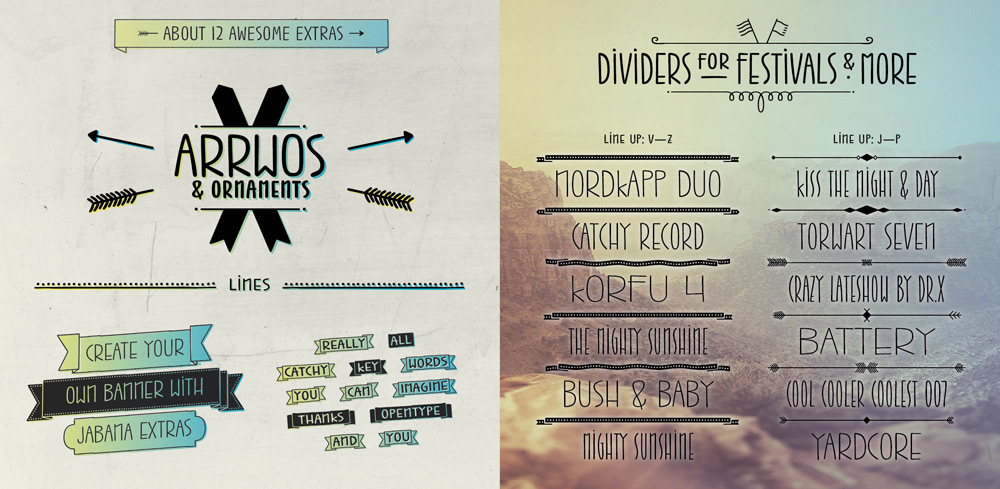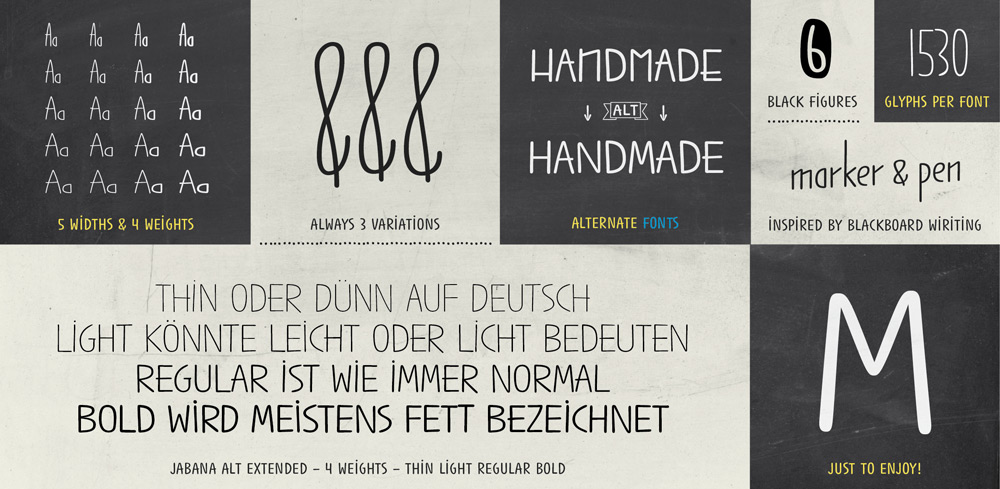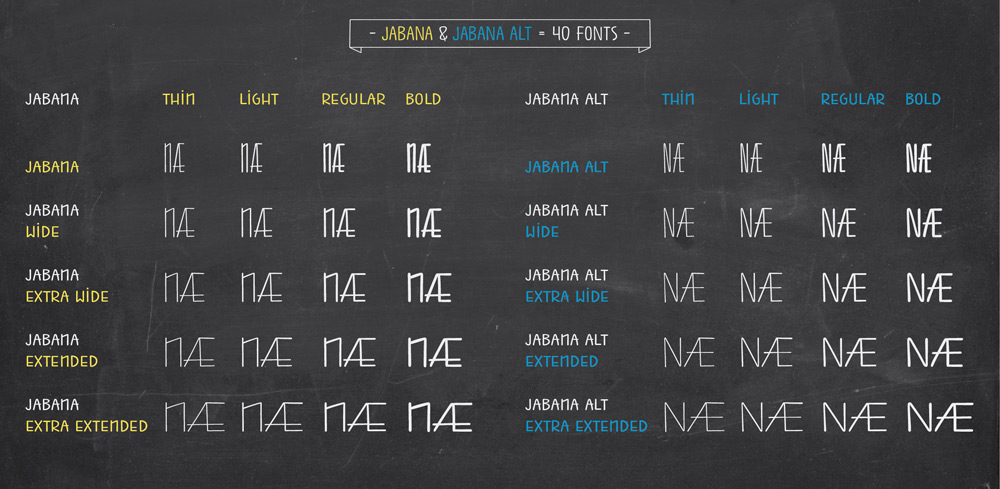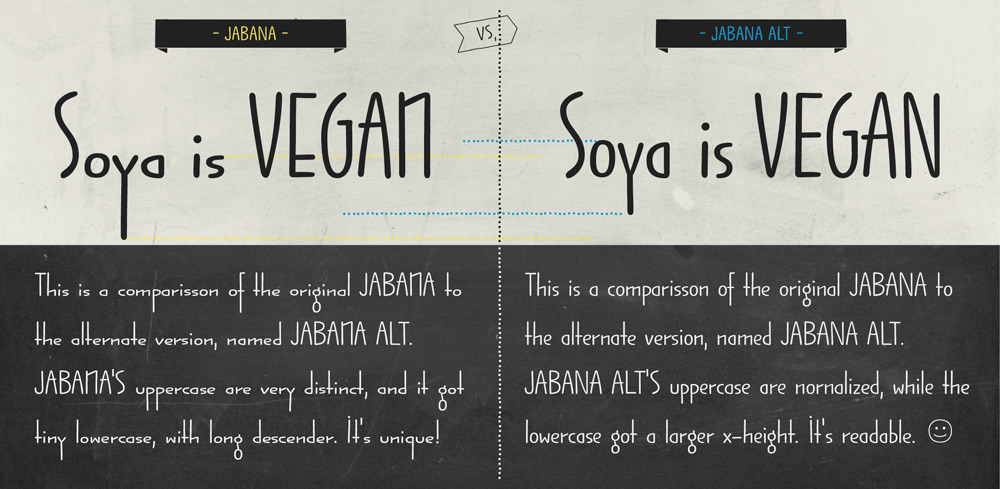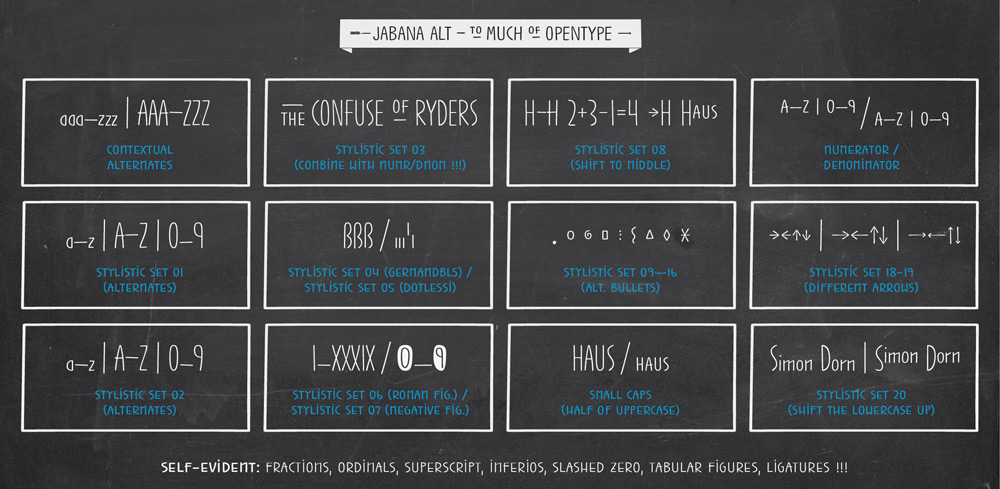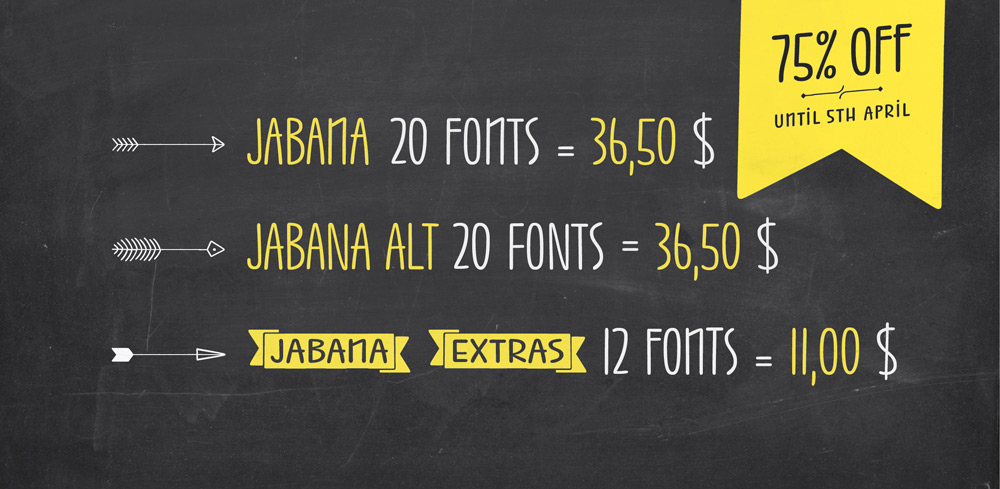 ———
Download 'Jabana-NilsThomsen-2015' Specimen for detailed & high resolution instructions!
———
Jabana — http://www.myfonts.com/fonts/nils-types/jabana/
Jabana Alt — http://www.myfonts.com/fonts/nils-types/jabana-alt/
Jabana Extras — http://www.myfonts.com/fonts/nils-types/jabana-extras/

Each letter and punctuation got three simple varieties of alternates. This gives a nice looking handwritten nature to the font. They will be randomly chosen by the contextual alternates feature or even by hand via stylistic set (ss01, ss02).

The whole characters for serious western european typography comes along Jabana.
Beside the standard accented letters, fractions, mathematical glyphs, superiors and inferiors you will find alternates, extra bullets, different arrows, negative figures and roman numerals.

Another reason for the amount of 1530 glyphs are the numerator and denominator letters which came from A-Z, punctuation and the extra bullets (ss09-16). They are meant to be used for decoration or distinction. Especially an opentype stylistic set gives an extra touch to it while putting a dot/line above denominators or underneath numerators (ss03+numr/dnom).

Jabana Alt is a much more standardized alternate version of Jabana.
The Jabana Alt fonts got normal uppercase proportions and a larger x-height for the lowercase.
Just in case ... If Jabana is too unique for your purpose take: Jabana Alt !

Extras! … If you need some awesome specials ... Jabana Extras will help you to realize a fast and good looking modern design ... You'll get crazy about it, because the Extras are combinable and flexibel in width. Just switch on the ligature feature (opentype) and type from 'a' to 'z' or 'A' to 'Z'.

Arrows, Banners, Lines, Ornaments, Divider and Web or Coffee Icons … Try it, learn it, love it!
Banner: Combine for example 'h' and 'm'. Continue to type, it will get wider! Switch to uppercase it will get black! Type another letter, e.g. 'g', it changes … A good thing! It also looks nice with all other handmade fonts!

Opentype: Yes it's true!
Nils used all 20 stylistic sets to put more specials into Jabana! But no worries, the PDF shows each feature and it's effect ... There are for example options to center the 'small caps' or 'lowercase' ... choose different bullets ... get lined numerator or denominator ... But if this is too complicated, the font is still nice enough!

———
If you get any question, let me know: www.nilsthomsen.com
———
Have fun!
Verwandter Artikel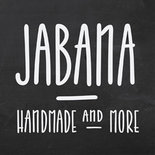 Jabana was developed in 2013 by Nils Thomsen to be his first release at MyFonts. Inspired by having a beer at ...
Submitted by nilsthomsen on 12.02.2014
in Typography
Nächstes Portfolio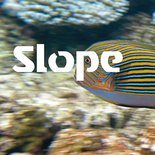 Slope Super Family Slope Sans und Slope Slab, 2014 via URW++ erschienen, sind Bestandteile einer Schriftfamilie die ...
Submitted by hans schumacher on 26.02.2015
in Typography
Vorheriges Portfolio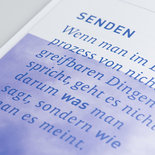 Im Zuge meiner Bachelor Arbeit beschäftigte ich mich mit der Frage, wie Designer die Kommunikation mit ihren Kunden ...
Submitted by S.Sleegers on 20.02.2015
in Design