Die HfG Offenbach lädt zum Rundgang 2013! Dieses Jahr wurde für die Gestaltung der Rundgangkommunikation und des Jahresberichts eine Neuinterpretation der »Kabel« von Rudolf Koch entworfen. Die Gestaltung der Grafik greift das Thema des Rundgangs auf, auf dem vom 5. bis 7. Juli am Campus und an einigen anderen Orten in Offenbach Arbeiten aus den unterschiedlichsten gestalterischen Disziplinen besichtigt werden können. Dieses Prinzip der Vielfalt an der HfG wird auch durch das Farbkonzept, bestehend aus fünf Sonderfarben, mitgetragen.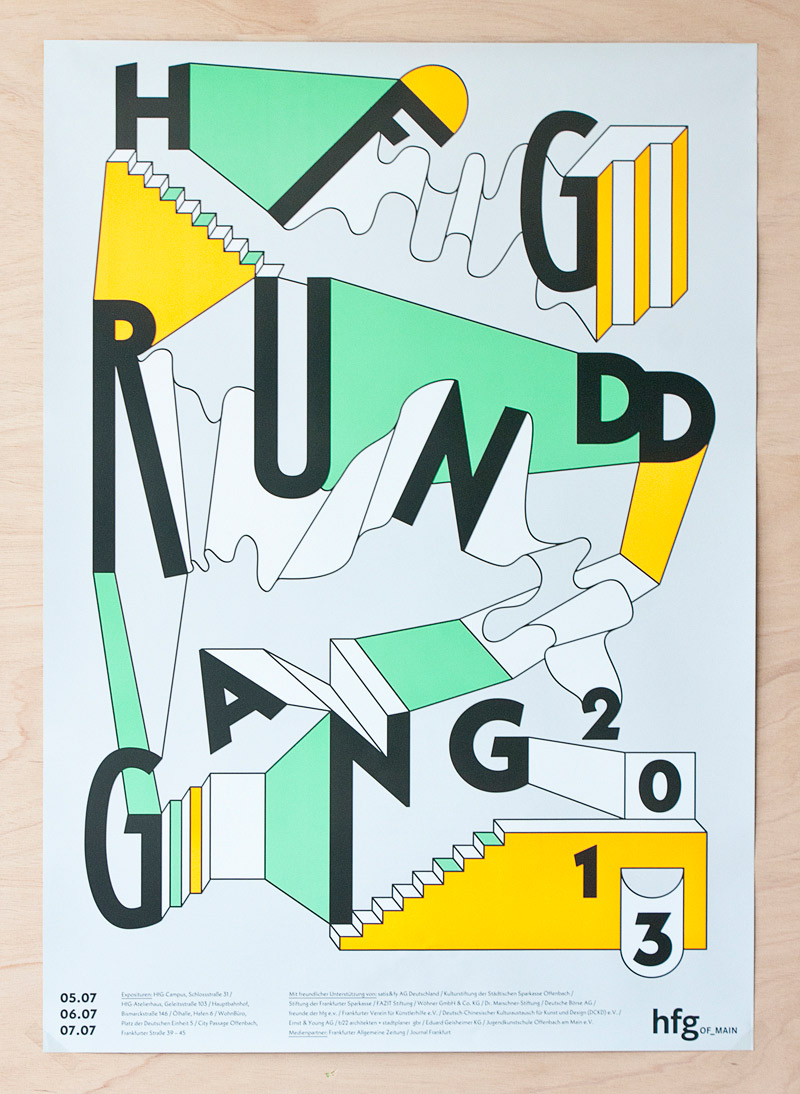 Der Titel dieses Jahresberichts lautet »Fertig!«
Feddisch!
Mann, brummt mir der Schädel!
Was genau war das denn?
Da wache ich schon wieder in meinem zu kleinen Zimmer auf und meine Freunde Fix und Fertig starren mich an wie zwei überglückliche tibetanische Mönche. Ich denke mir nur "irgendwie schön" und stehe mit beiden Beinen gleichzeitig auf.
Das mit dem falschen Bein riskiere ich erst gar nicht. Nun bin ich quitt mit dem Kreativlabor, das sich zu Beginn des Semesters – ganz zentral in meinem Kopf – ein leerstehendes Zimmer genommen hatte.
Ich schmeiß' die Gauner und Halunken, Schmarotzer und Penner da oben raus! Nächstes Jahr soll's schließlich wieder von vorne losgehen – und da tut doch so ein Tapetenwechsel ganz gut, denk ich mir.
Zum Ende hin ist das ja doch immer wie ein Trichter. Nach unten hin wird's immer enger und anstrengender. Umso schöner, wenn der Rundgang vorbei ist und man durch das besagte zu enge Trichterloch in die Ferien gespuckt wird.
Ich bin dann mal "Fertig!"
Gestaltung Rundgang / Jahresbericht 2013: Mario Hombeuel / Jan Münz
Text: Timo Lenzen
Betreuer / Prof. Sascha Lobe
www.janmuenz.de
www.mariohombeuel.de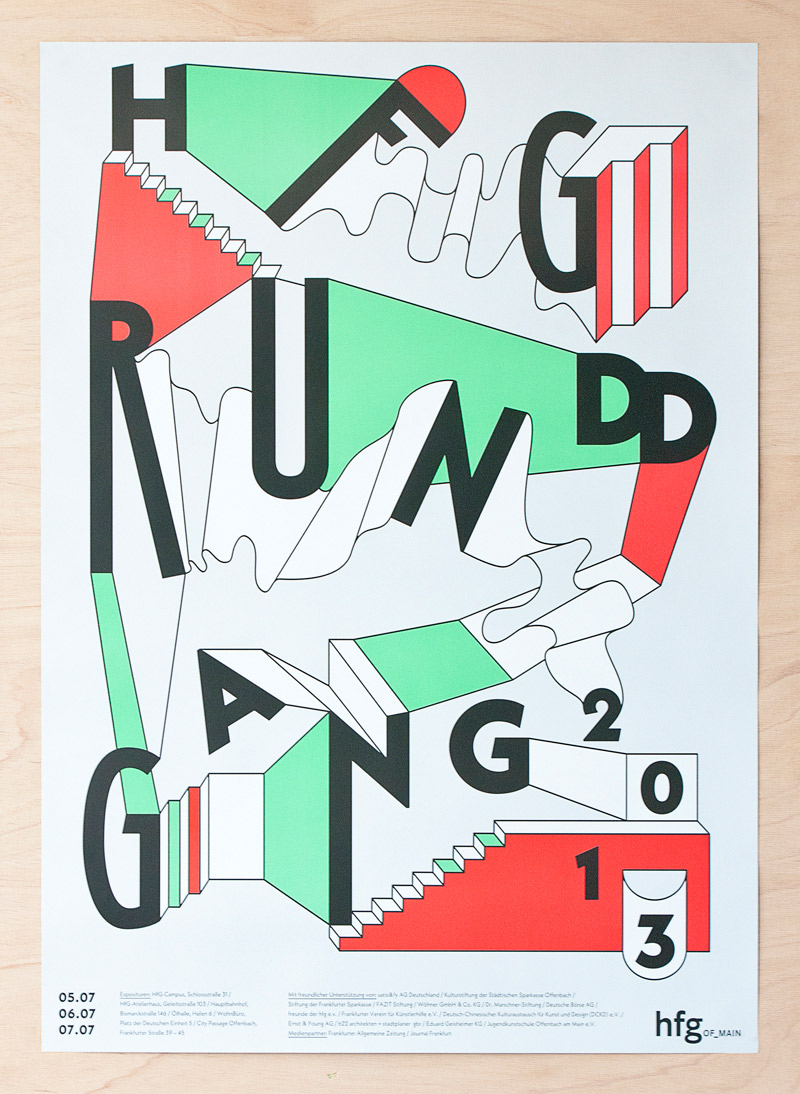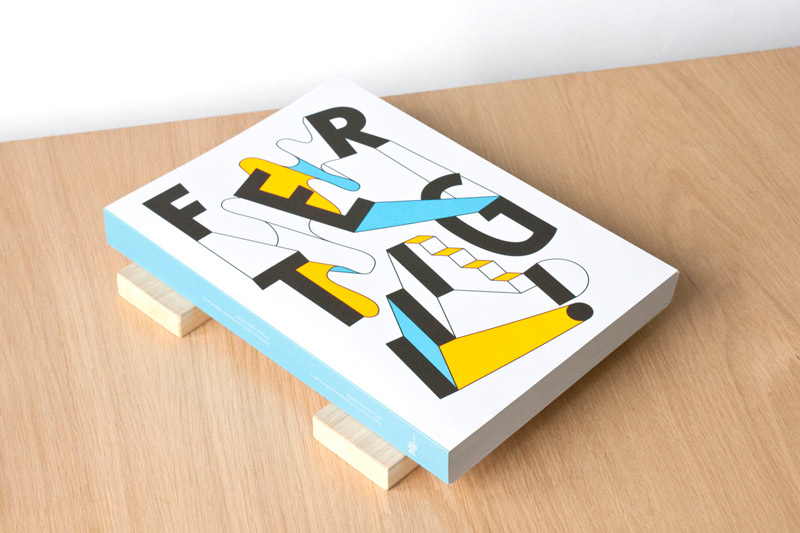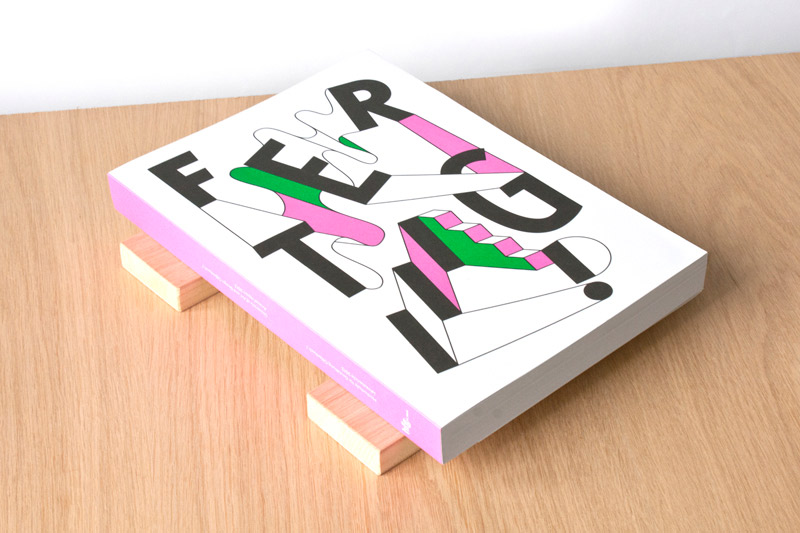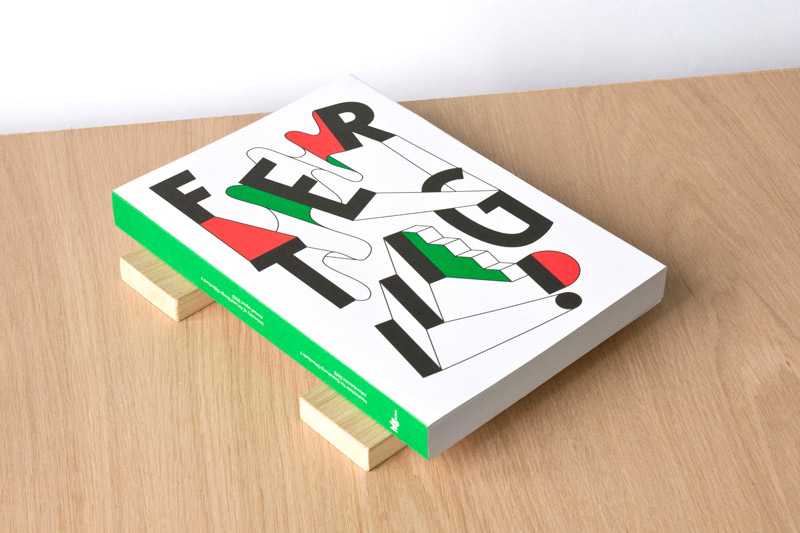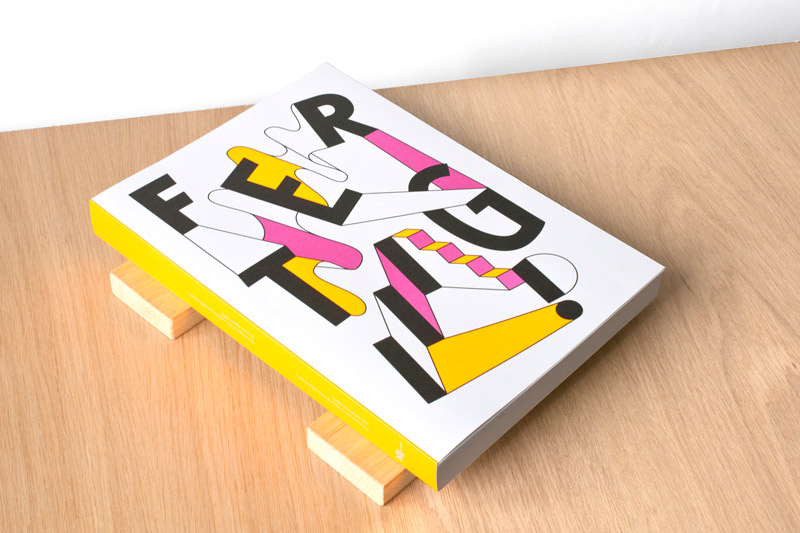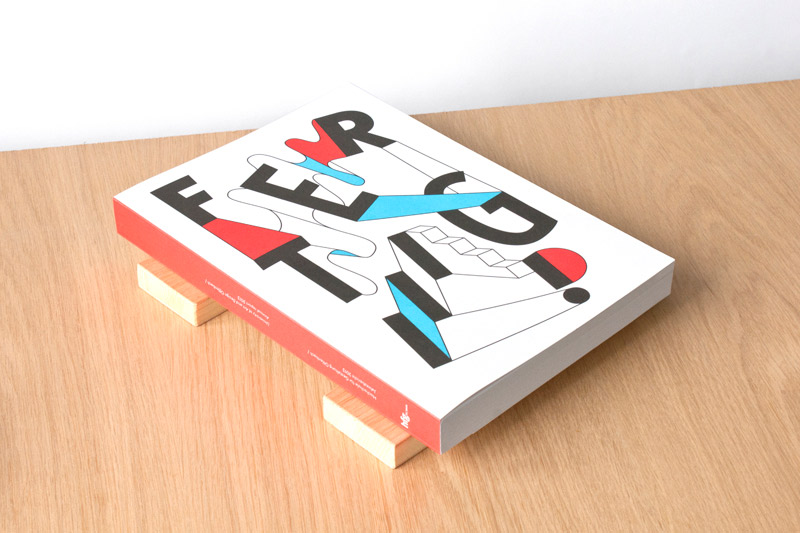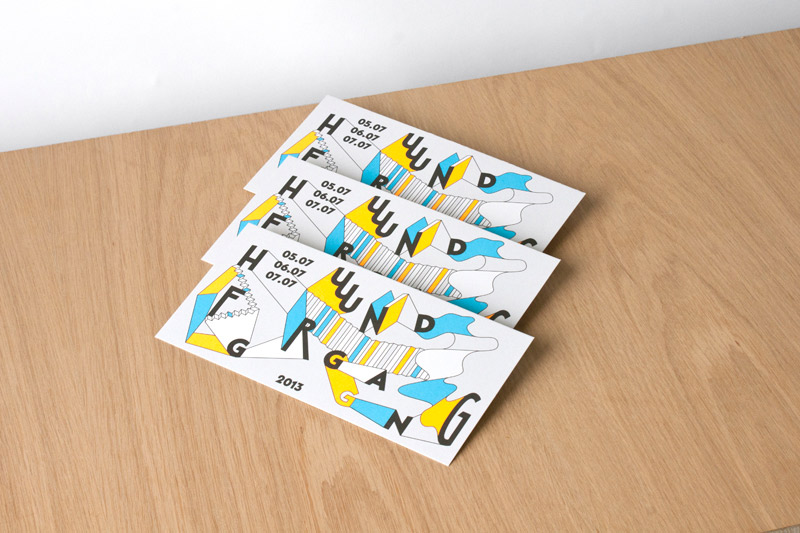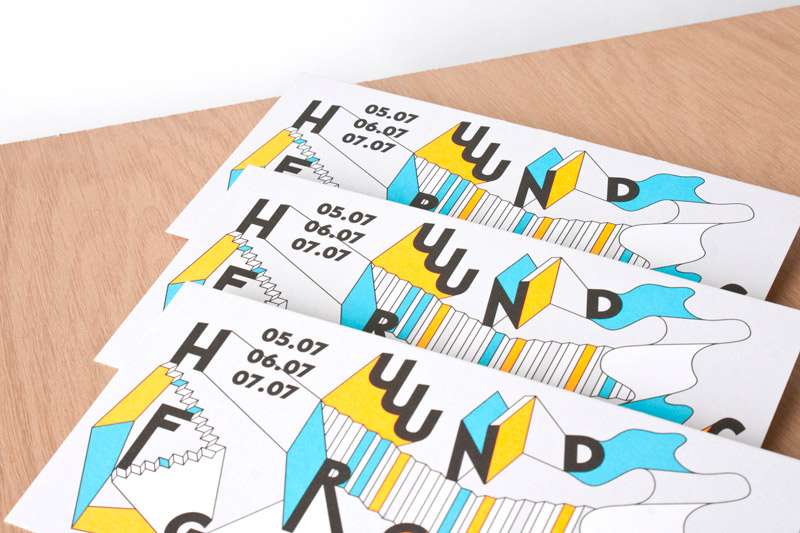 HfG Offenbach is opening its doors to the Rundgang 2013! This year Rudolf Koch's typeface "Kabel" was reinterpreted for the design of the Rundgang communication material and Annual Report. The graphic design takes up the theme of the Rundgang, during which works from a wide range of creative disciplines can be viewed from July 5 to 7 on the University campus and at selected other venues in Offenbach. This principle of diversity at the HfG is also reflected in the color concept, consisting of five special colors.
The Annual Report is entitled "Done!"
Done!
Boy, my head is throbbing!
What exactly was that?
I awaken yet again in my too-small room and my pals Tired and Exhausted stare at me
like two euphoric Tibetan monks. I simply think to myself "there's a certain beauty in that"
and get out of the end of the bed.
I'm not even going to risk getting up on the wrong side. Now I am even with the
creative lab, which at the start of the semester had occupied an entirely empty room –
right in the center of my head.
I throw out the tricksters and scoundrels, freeloaders and bums up there!
After all, I'm supposed to start with a clean sheet again next year –
and a bit of redecorating is a good idea, me thinks.
It's always the same toward the end – funnel-shaped. It always gets tighter and more
difficult as you go on. So it is all the better when the Rundgang is over
and you are spat through the said too-small funnel hole into the holidays.
So, I am "Done!"
Design Rundgang / Annual Report 2013: Mario Hombeuel / Jan Münz
Text: Timo Lenzen
Supervisor / Prof. Sascha Lobe
www.janmuenz.de
Verwandter Artikel

4. bis 8. Juli
Vom 4. bis 8. Juli lädt die Kunsthochschule Kassel zum einmal jährlich stattfindenden Rundgang ein, dem Höhepunkt ...
Submitted by Boris on 29.06.2007
Nächstes Portfolio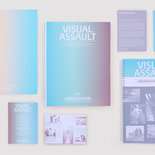 VISUAL ASSAULT is an independent, limited edition magazine on contemporary visual culture. the magazines concept is ...
Submitted by MrsBlack on 25.06.2013
in Design
Vorheriges Portfolio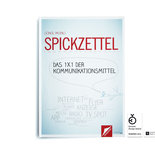 Schluss mit der Ansammlung von Merkzetteln und Haftnotizen! Die Grafik-Designerin Gönül Pasinli hat mit ...
Submitted by pasinli on 20.06.2013
in Graphics