Original und Remake - Qualitätsmerkmale gestern und heute
Nebenthema des Intermediate Projektes der Köln International School of Design: Filmanaylse anhand einer aufgestellten These von Horrorfilmoriginalen und ihren Remakes. ("Bei der Remakeproduktion muss die Attraktivlosigkeit einer bereits bekannten Geschichte durch genretypische Neuerungen mit einer Tendenz zum Extremen kompensiert werden. Im Genre Horror stehen dafür besonders Brutalität und Angsterzeugung als Qualitätsmerkmale.") Ausgehend von diesem Standpunkt wurden in der Arbeit die grundlegenden Unterschiede eines Horrorfilm-Remakes zum Original herausgearbeitet. Zudem wurde explizit untersucht, welche Maßstäbe bei der Produktion eines Horrorfilm-Remakes im Hinblick auf die Aspekte Angsterzeugung und Brutalität gelten.
Das Layout des Buches ist minimalistisch und konstruktivistisch, um mit der Gestaltung nicht vom wissenschaftlichen Aspekt der Arbeit abzulenken.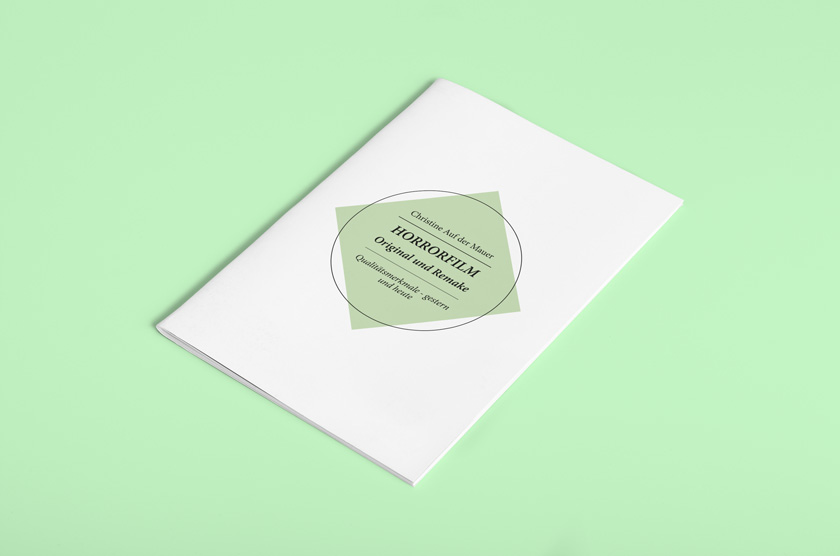 Original and Remake - quality characteristics now and then
For the Intermediate project at the Köln International School of Design, Christine A D M analyzed the creative aspects of horror film originals and their remakes. Starting from the point of view on the fundamental differences of horror movie remakes compared to their originals, it was explicitly investigated what standards apply in the production of a horror movie remake with regards to the aspects generating fear and brutality.
The book's layout as a whole is minimalist and constructivist in order for the design aspect to not deter from the scientific aspect of the work.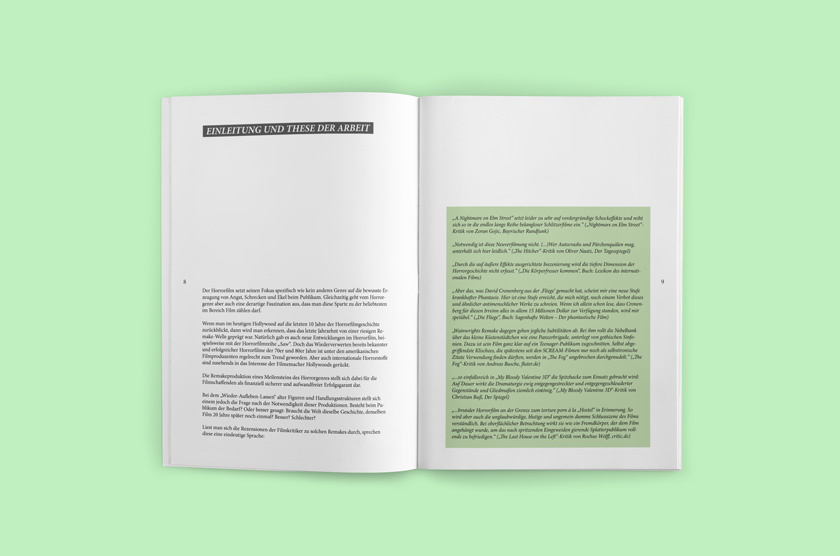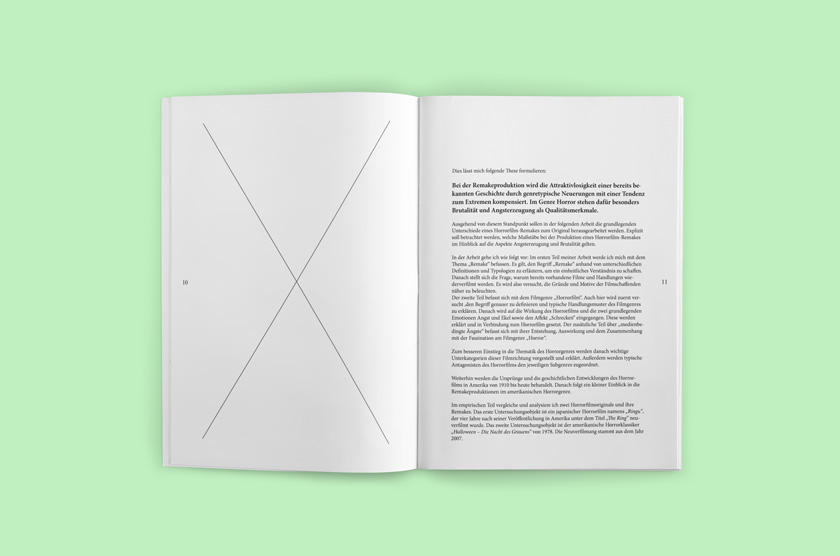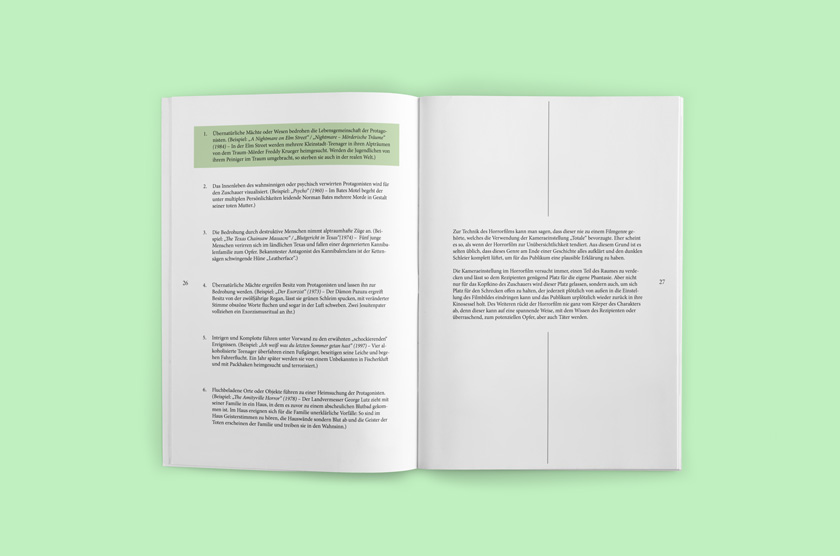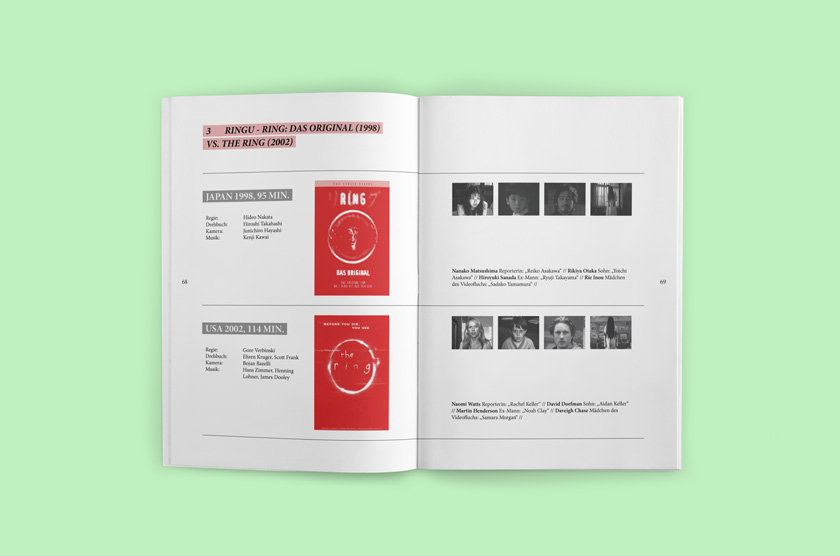 Horrorfilm | Original und Remake - Qualitätsmerkmale gestern und heute
144 Seiten, offene Bindung
More info on Christine A D M
+ https://www.behance.net/christineadm
Verwandter Artikel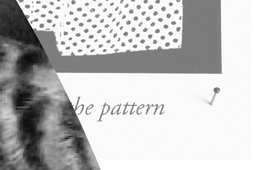 Macht mit beim Magazincover von OK Periodicals #3
Wer uns regelmäßig besucht, hat sicher den ein oder anderen Beitrag über die OK Parking Magazine aus den ...
Submitted by Julia on 24.09.2009
Nächstes Portfolio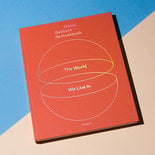 Daniel Gebhart de Koekkoek is a cranky Tyrolean, which sounds like a cliché but is actually the truth. In another ...
Submitted by Manuel Radde on 01.05.2014
in Design
Vorheriges Portfolio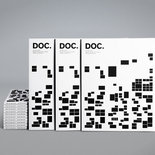 Alles erlaubt? Wir stellen Regeln auf, folgen ihnen, kreieren ein System. Raster, Satzspiegel, Textebenen. ...
Submitted by DOC. on 22.04.2014
in Design