Web-based diaries:
• Helvetia - swiss diary
• Over Cities - between Sofia and Havana
• Re-Istanbul - working in Istanbul
• Details of Piazza - the very begining of the diaries
I travel a lot – participate in some festivals, programs, projects and so on. There I can learn a lot more about the places I'm visiting and their inhabitants. I'm not just a tourist, I'm working and I'm doing something for the place, together with local people. Which is actually very important to me. It's good to know the people because it helps you to learn more about the place. People define a place, not the architecture, monuments or sightseeings.
– Conversation with Natalie Herrmann and Raycho Stanev, Lomography Magazine (Berlin)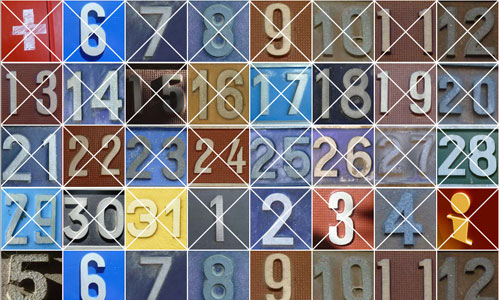 Helvetia is an interactive diary of my 30 days traveling in Switzerland. Pictures, sounds and notes that I collect during the journey.
– Helvetia exhibition, I push your button, Zug (Switzerland)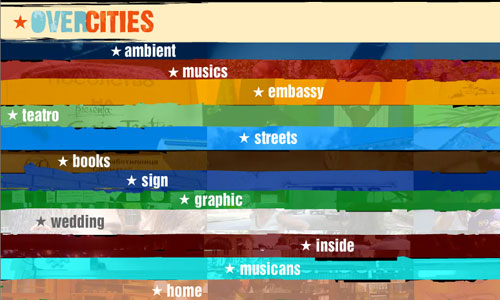 Over Cities is a interactive diary from Sofia and Havana. Sounds, videos and pictures mix in this interactive collage.
– ArtUp Media Art Collection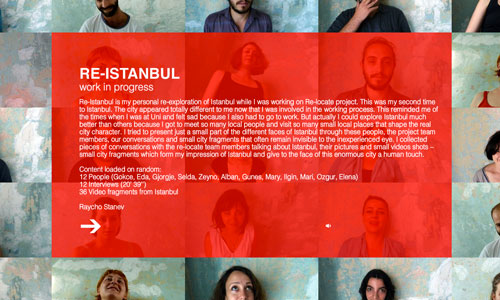 Re-Istanbul is an collection of conversations with the re-locate team members talking about Istanbul, their pictures and small videos shots – small city fragments which form my impression of Istanbul and give to the face of this enormous city a human touch.
– Apartment Project, Istanbul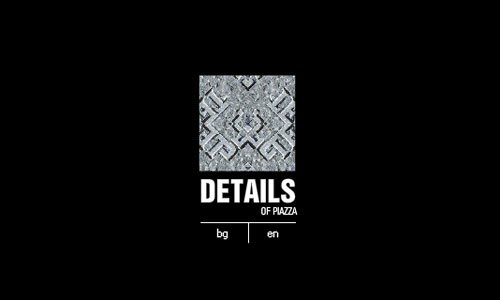 DETAILS OF PIAZZA – my first impressions from Italy – details of sounds and objects, this is actually what I perceived at first glance having arrived at the place. Everything had to happen really quickly; the challenge was to devise the project on the spot. The installation resembles a game – eight sounds and eight pictures (all gathered from the square) as main elements which placed together structure a kaleidoscope. The viewer can discover his/her own impression with one move of the mouse which brings about а change in the main pictures, on the one hand, and in the sound, on the other hand.
– Raycho Stanev, Vellano Arte 2007
Verwandter Artikel
Portugal Photography Special
Mit den Fotostrecken »Syrian Refugees in Istanbul« und »Underground in Tehran« von Daniel Rodrigues startet unsere ...
Submitted by Michael Schmidt on 04.07.2016
Nächstes Portfolio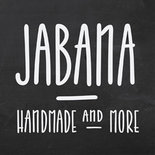 Jabana was developed in 2013 by Nils Thomsen to be his first release at MyFonts. Inspired by having a beer at ...
Submitted by nilsthomsen on 12.02.2014
in Typography
Vorheriges Portfolio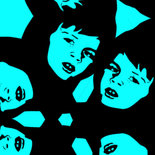 We've always been used the world wide web as a stage for our interactive installations about the memories from ...
Submitted by nagledna on 09.02.2014
in Interactive