On occasion of the release of Slanted Magazine #26 – New York, we published the limited NYC Special which is exclusively available in the Slanted Shop. The edition contains a Photo Essay by Jochen Sand and a limited type-stencil-set by the New York based type foundries Commercial Type, Village and XYZ-Type.
Also available as a bundle with Slanted Magazine #26 – New York at a preferential price.
Photo Essay – NYC Special
Jochen Sand is a German photographer who works for international clients since 1995. In September 2015, he accompanied the Slanted team on their way to New York to meet the young generation of designers, typographers and artists which witness and create the change of a megacity.
Many years ago Jochen Sand came to New York City as a young photographer already. Over there he discovered that hanging out on the roofs of Hell's Kitchen shooting fashion or ending up celebrating Mickey Rourke's birthday, was much more glamorous than giving a sexy light to doorhandles and kitchen cupboards.
New York is the city of superlatives – this inspiration and the collected experiences are very important to Jochen Sand's work. For Slanted, he caught the pulse of the city, the breath of the streets, and the life of those who live and survive in NYC.
Publisher & design: Slanted Publishers
Photography: Jochen Sand
Release: November 2015
Numbers of pages: 32 pages
Size: 16 x 24 cm
Language: English
Version: Loose print sheets with elastic band
Print: Onlineprinters

NYC Type-Stencils
We love Type! Commercial Type, XYZ Type and Village – three type publishers from New York – created a font exclusively for the Slanted NYC Special which is now waiting for use as a set of three colored type-stencils. Lasercut and engraved by deroberhammer on colored Colorplan paper by Römerturm.
Publisher & design: Slanted Publishers

Size: 16 x 24 cm
Bundle with 3 stencils
Paper: Colorplan (Römerturm Feinstpapier)
Lasercut & engraving: deroberhammer
Stencil 1 – Le Jeune Deck
Designer: Paul Barnes, Christian Schwartz, Greg Gazdowicz
Foundry: Commercial Type
Stencil 2 – Export Stencil
Typeface: Export Stencil
Designer: Jesse Ragan
Foundry: XYZ Type
Stencil 3 – Robledo Two
Designer: Chester Jenkins
Foundry: Village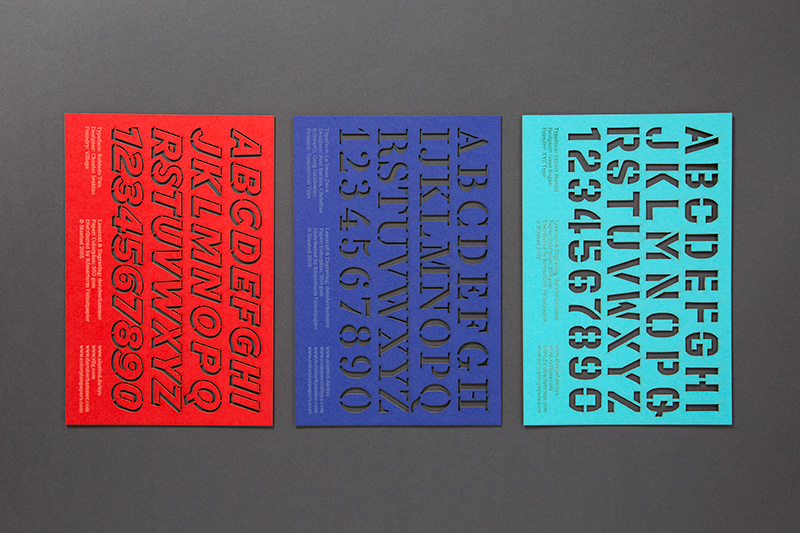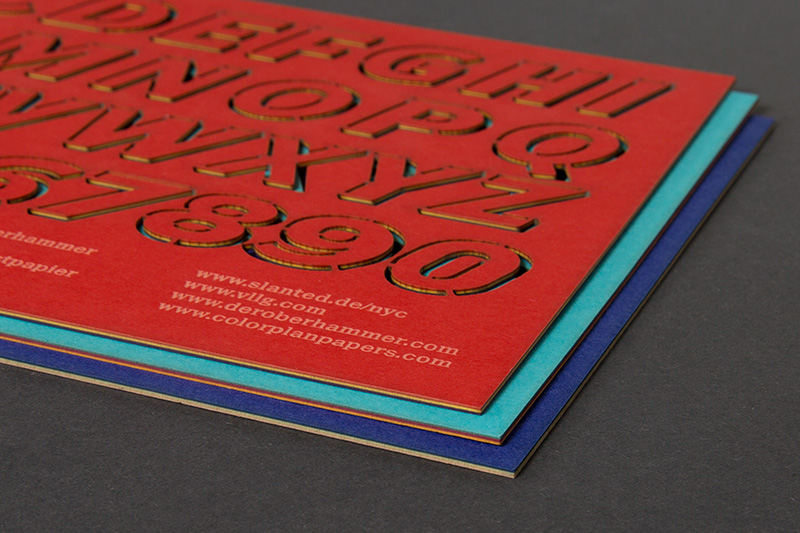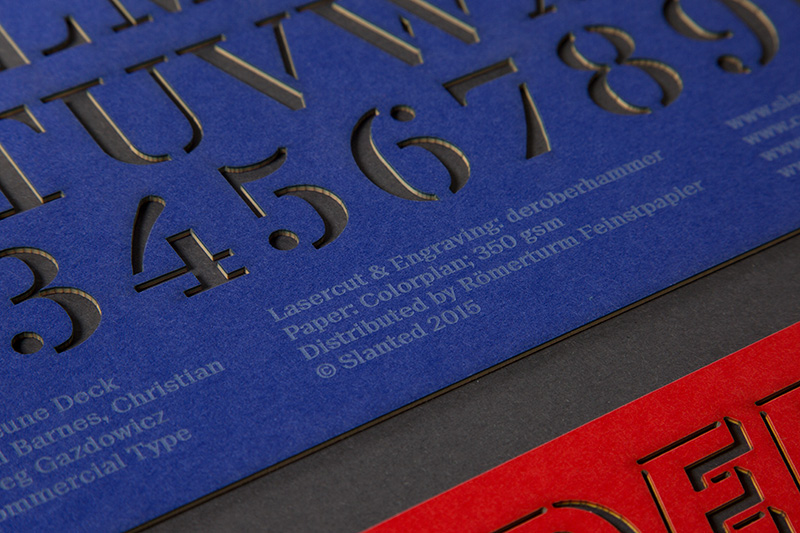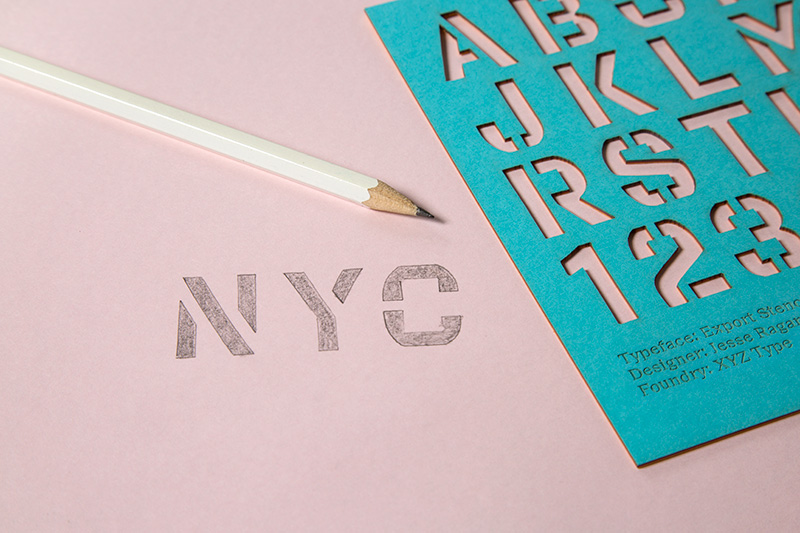 Anlässlich der Veröffentlichung des Slanted Magazins #26 – New York, erscheint das limitierte NYC Special, welches ausschließlich im Slanted Shop erhältlich ist. Die Edition besteht aus einem Foto-Essay von Jochen Sand und einem limitierten Typo-Schablonen-Set.
Photo Essay – NYC Special
Jochen Sand ist ein deutscher Fotograf, der seit 1995 für internationale Kunden arbeitet. Im September 2015 begleitete er die Slanted Redaktion auf ihre Reise nach New York, um dort die junge Generation jener Gestalter, Typografen und Künstler zu treffen, welche den Wandel der Millionenstadt miterleben und gestalten.
Viele Jahre zuvor war Jochen Sand als junger Fotograf bereits in New York City. Dort fand er heraus, dass es viel glamouröser war, auf den Dächern von Hell's Kitchen Mode zu fotografieren, oder mit Mickey Rourke Geburtstag zu feiern, als Türklinken oder Küchenschränken ein sexy Licht zu geben.
New York ist die Stadt der Superlative – diese Inspiration und gesammelte Erfahrungen spielen auch heute noch in Jochen Sands Arbeit eine tragende Rolle. Mit seiner Kamera fängt er im NYC Special anlässlich des Slanted Magazins #26 – New York den Puls der Stadt ein, den Atem der Straßen und das Leben derer, die in NYC (über-)leben.
Herausgeber & Design: Slanted Publishers

Fotografie: Jochen Sand
Veröffentlichung: November 2015

Umfang: 32 Seiten

Format: 16 x 24 cm

Sprache: Englisch

Ausführung: Ineinandergelegte Druckbogen mit Gummiband

Druck: diedruckerei.de
NYC Type-Stencils
We love Type! Commercial Type, XYZ Type und Village, drei Schriftenverlage aus New York, haben exklusiv für Slanted jeweils eine Schrift gestaltet, die als bunte Typo-Schablonen darauf warten, verwendet zu werden. Gelasert und graviert wurden sie von deroberhammer in die bunten Chlorplan-Papiere von Römerturm.
Herausgeber & Design: Slanted Publishers

Format: 16 x 24 cm
Bundle mit 3 Schablonen
Papier: Colorplan (Römerturm Feinstpapier)
Lasercut & Gravur: deroberhammer
Stencil 1 – Le Jeune Deck
Designer: Paul Barnes, Christian Schwartz, Greg Gazdowicz
Foundry: Commercial Type
Stencil 2 – Export Stencil
Typeface: Export Stencil
Designer: Jesse Ragan
Foundry: XYZ Type
Stencil 3 – Robledo Two
Designer: Chester Jenkins
Foundry: Village
SOLD OUT