Revolution oder Evolution? Steigen oder fallen? Freudenhaus oder Paradies? Cola oder Guarapo? Marlboro oder Cohiba? Bohnen oder Hummer? Freiheit oder Guantanamo? Trainingsanzug oder Krawatte? Internet oder Brieftaube? Salsa oder Rap? Old-Timer oder Turbo? Museum oder Zukunftslabor? Arbeit oder keine? Hoffnung oder Exil? Oder eine Mischung aus allem? Kuba ist anders als wir denken – viel komplizierter, tiefgründiger und voller Überraschungen. Grund genug, die 21. Ausgabe des Slanted Magazins einer Generation junger kubanischer Künstler und Designer zu widmen.
"Slanted #21: CUBA – The New Generation" präsentiert aktuelles Design, Fotografie, Illustration und Typografie aus Kuba. Besonderes Augenmerk wird dabei auf die kubanische Plakatkunst gelegt – viele Arbeiten wurden noch nie außerhalb Kubas präsentiert.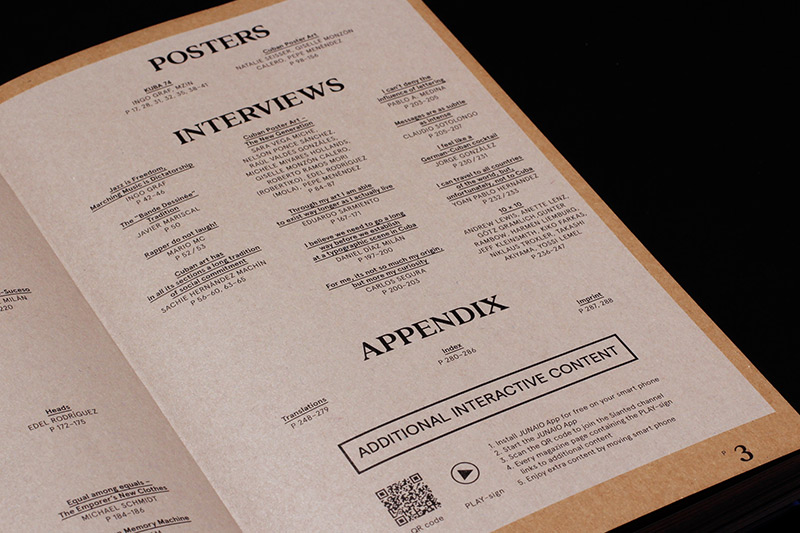 Noch nie hat ein Slanted Magazin so viele Essays und Reports präsentiert: "Chico & Rita – A film by Fernando Trueba and Javier Mariscal" und "Malecón Buena Vista" von Wolfgang Wick (DE), "Happiness" von Frank Wiedemann (DE), "Havana Today, Havana Cultura" by Randall Koral (FR), "Necessary Things" von Ernesto Oroza (US), "Posters as Bridges" von Carlos Zamora (US), "Design on an Island" von Pedro Contreras Suárez (CU), "Give Guantanamo Back to Cuba" von Jonathan M. Hansen (US), "Equal among equals – The Emporer's New Clothes" von Michael Schmidt (DE), "The Human Memory Machine" von Ian Lynam (JP) und "Cuba, mi amor" von Anna Berkenbusch (DE). Desweiteren sprachen wir mit Hartwig Runge (Ingo Graf, DE), Javier Mariscal (ES), Mario MC (CU), Sachie Hernández Machín (CU), Sara Vega Miche (CU), Nelson Ponce Sánchez (CU), Raúl Valdés González (Raupa, CU), Michele Miyares Hollands (CU), Giselle Monzón Calero (CU), Roberto Ramos Mori (CU), Edel Rodríguez Molano (Mola, CU), Pepe Menéndez (CU), Eduardo Sarmiento (US), Daniel Díaz Milán (CU), Carlos Segura (US), Pablo A. Medina (US), Claudio Sotolongo (CU), Jorge González (DE) und Yoan Pablo Hernández (DE). Im 10 × 10 Interview-Format stehen zehn internationale Plakatgestalter Rede und Antwort auf zehn Fragen zum Thema Plakatkunst. Mit Andrew Lewis (CA), Anette Lenz (FR), Götz Gramlich (DE), Gunter Rambow (DE), Harmen Liemburg (NL), Jeff Kleinsmith (US), Kiko Farkas (GR), Niklaus Troxler (CH), Takashi Akiyama (JP) und Yossi Lemel (IL).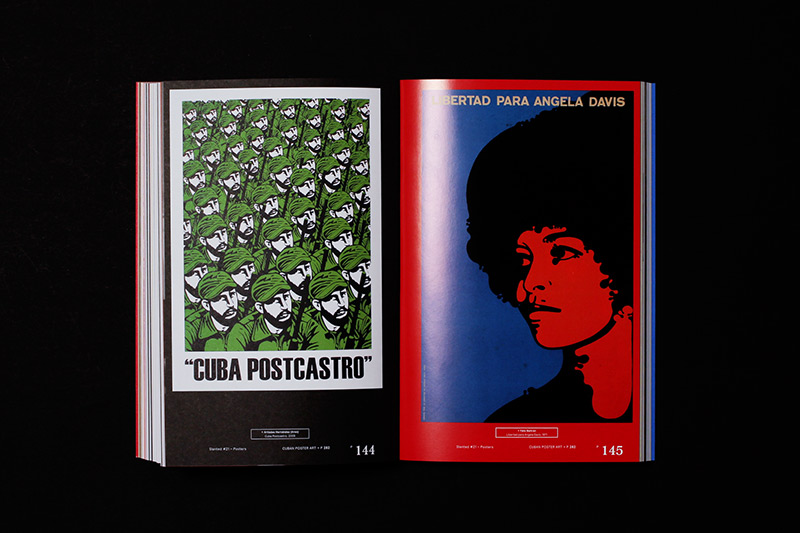 Mit der neuen Ausgabe gibt es einige Neuerungen
a) Die erste Ausgabe 2013 erscheint erstmals in neuem Format (16 x 24 cm) und neuem Umfang (320 Seiten) und erscheint ab sofort 2 x jährlich im Frühjahr und Herbst.
b) Dank dem vorausgegangenen, erfolgreichen Crowdfunding, ist diese Ausgabe zweisprachig Englisch/Spanisch.
c) Slanted ist nun auch interaktiv erlebbar: Mit der kostenlosen Augmented Reality App Junaio können zahlreiche Extras entdeckt werden.
d) Das zusätzliche Booklet "Contemporary Typefaces" präsentiert die interessantesten Schriften der letzten sechs Monate: Agmena (Linotype Originals), Aleksei (Fatype), Classic Grotesque (Monotype), Conspired Lovers (HaraldGeisler.com), Daphne (TypeManufactur), Gemma (Mota Italic), Irma Text Narrow (Typotheque), Lettera-Txt (Lineto.com), Lupa Sans Pro (Volcano Type/MyFonts), Macula (Bold Monday), MeM (26+), Paris Pro (Moshik Nadav Typography), Publico Banner (Commercial Type) und Worthe Numerals (House Industries).
e) Slanted #21 ist gleichzeitig die Bachelorthesis von Falko Gerlinghoff und Markus Lange, Studenten der Burg Giebichenstein Kunsthochschule Halle.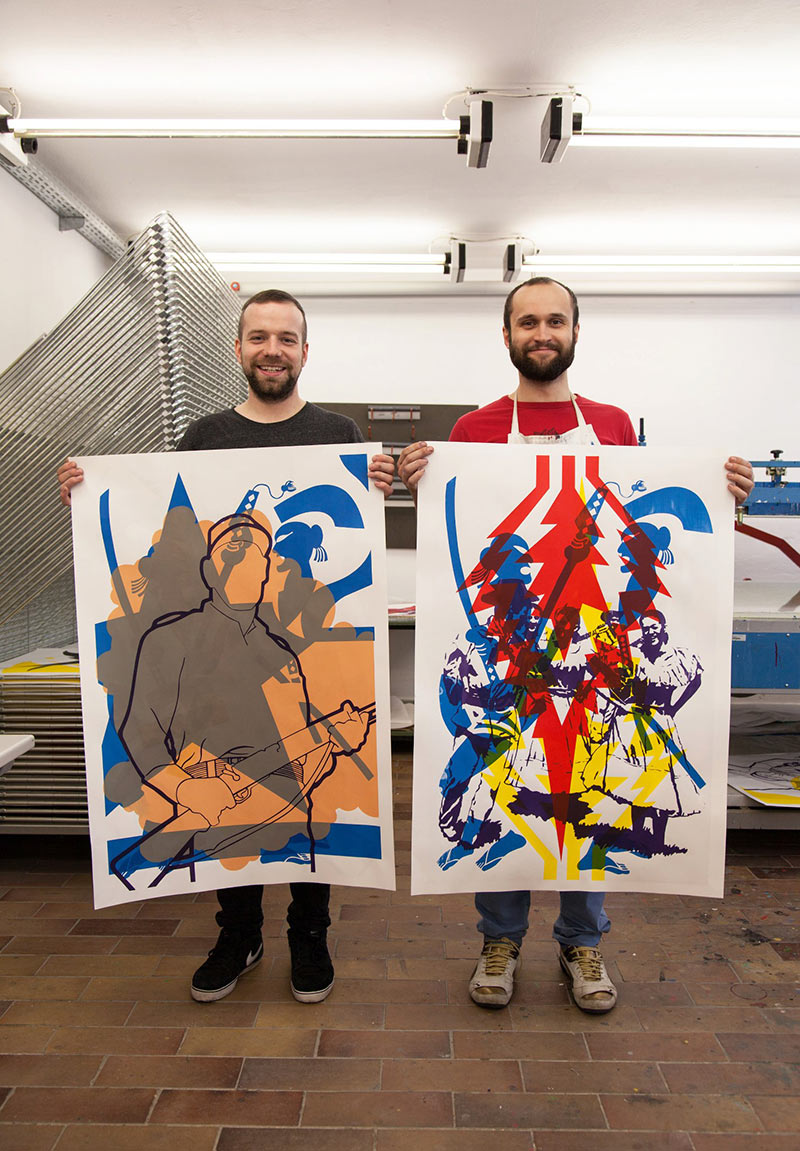 Slanted Magazin #21:
CUBA – The New Generation
Frühjahr/Sommer
320 Seiten
16 x 24 cm
Englisch/Spanisch
www.slanted.de/cuba
www.facebook.com/slantedcubanposterart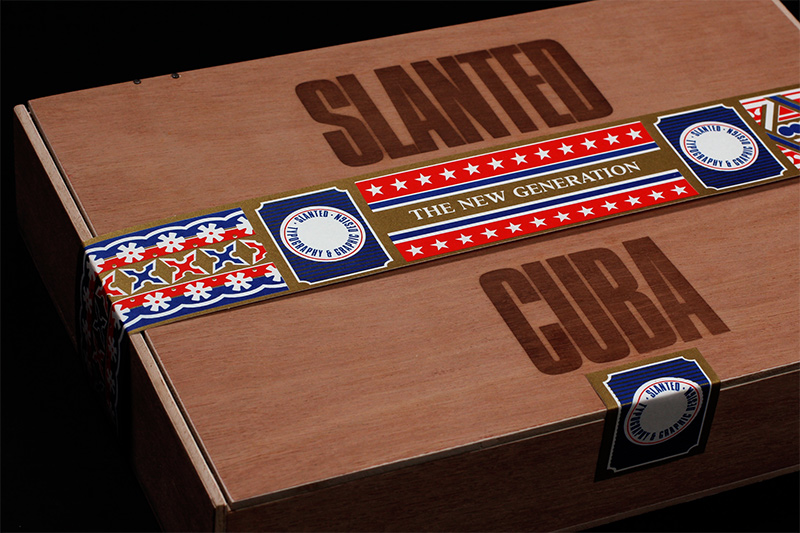 Für wahre Sammler gibt es zum ersten Mal eine exklusive Edition des Slanted Magazins #21, limitiert auf 50 Stück. Die Echtholz-Zigarrenbox beinhaltet neben dem Magazin ein Set Siebdruckkarten (8 Stück), ein Set hochwertiger Fotoprints (8 Stück), ein Original Bleisatzdruck con Wolfgang Wick sowie die CD "Gilles Peterson presents Havana Cultura: The Search Continues". Zur Limited Edition –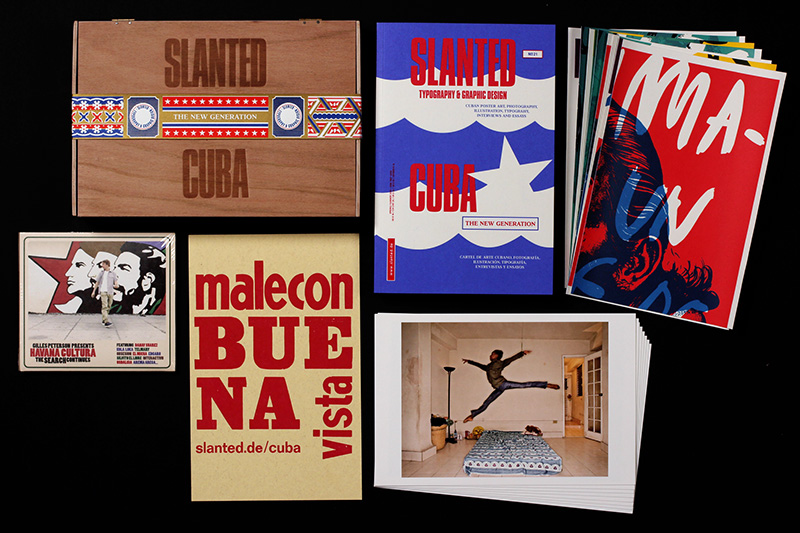 Slanted Magazin #21:
CUBA – The New Generation
Limited Edition
Echtholz-Zigarrenbox
Slanted Magazin #21
Siebdruck-Kartenset (8-teilig)
Fotodrucke (8-teilig)
Bleisatz-Druck
CD "Gilles Peterson present Havana Cultura: The Search Continues"
Limitiert auf 50 Stück

Weitere Impressionen der Cuba-Ausgabe: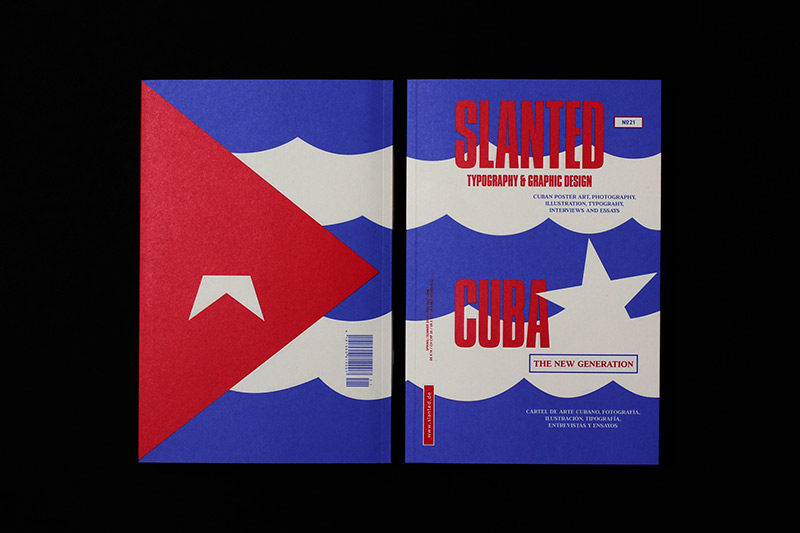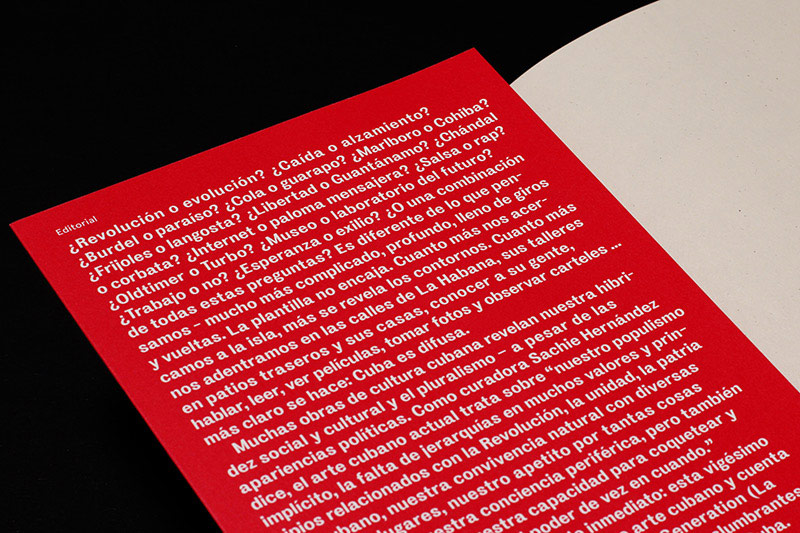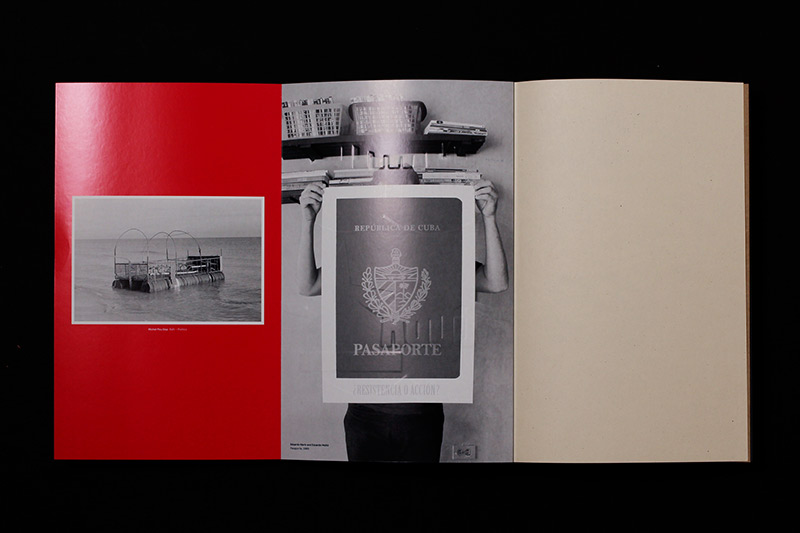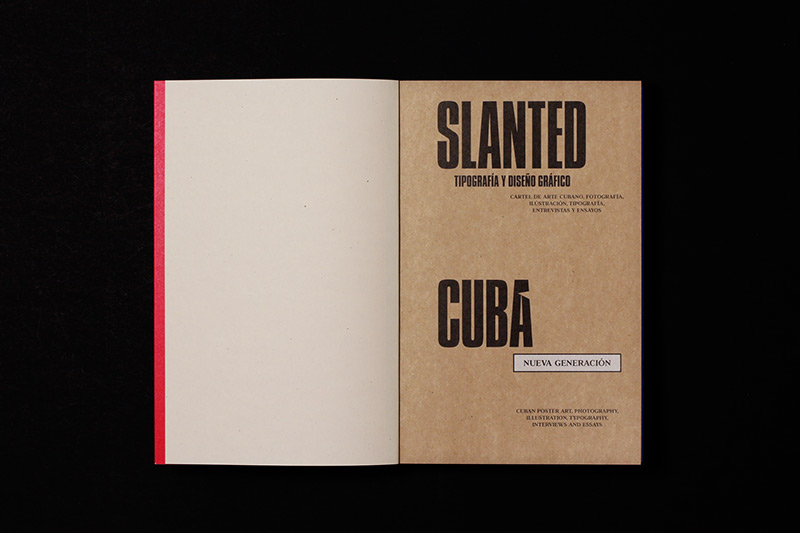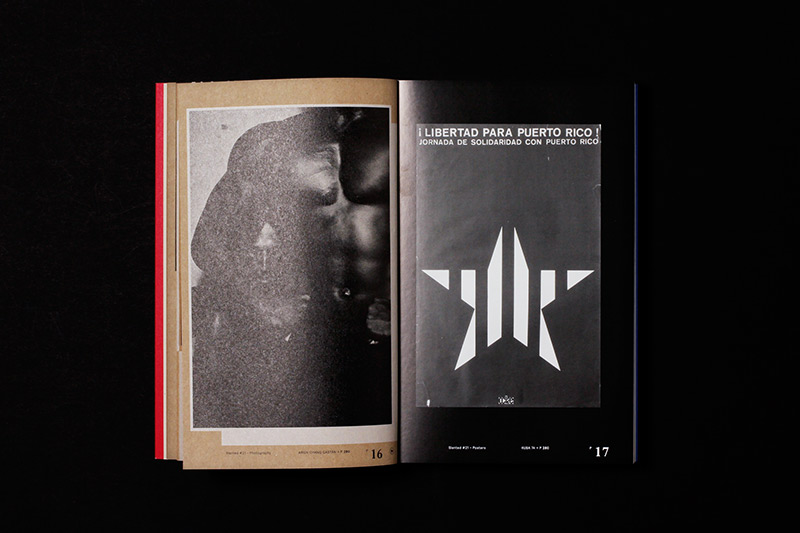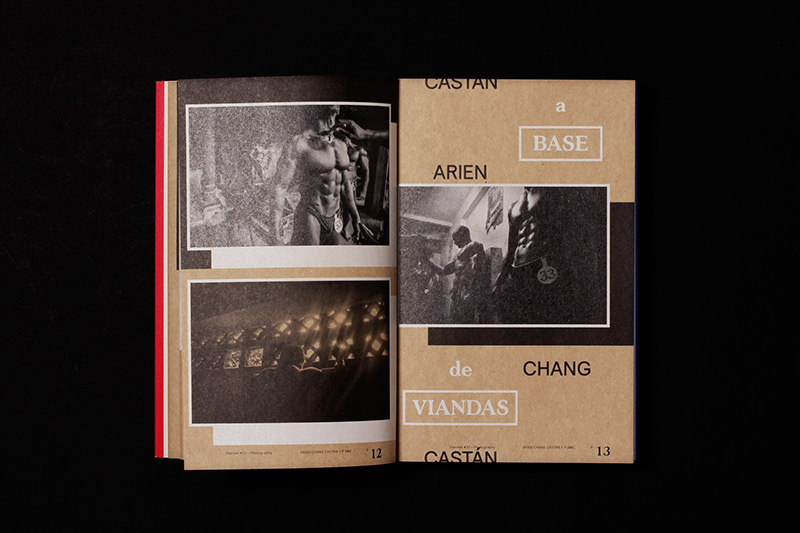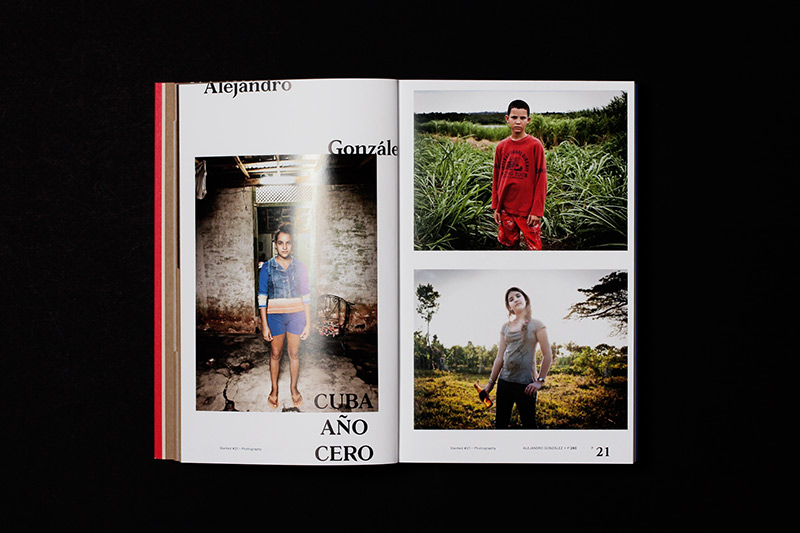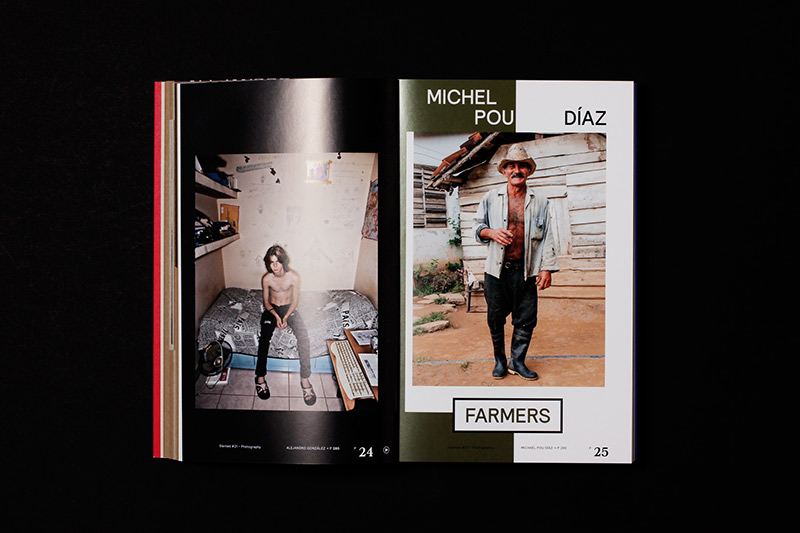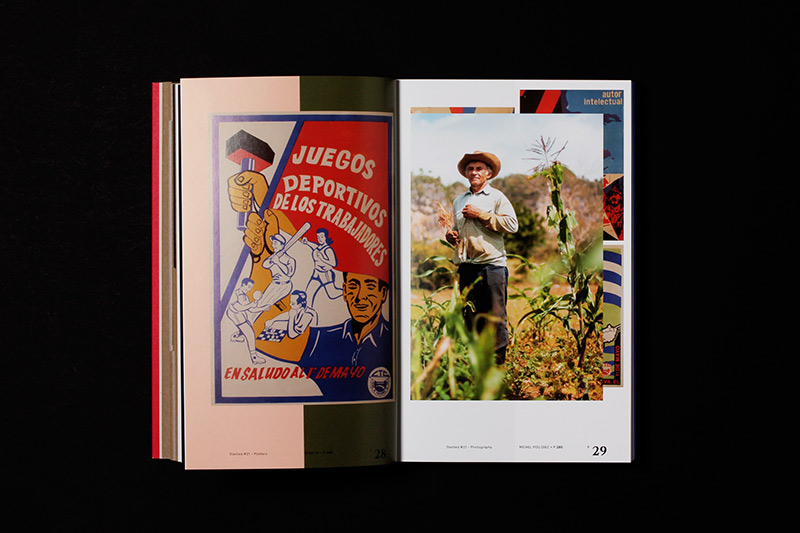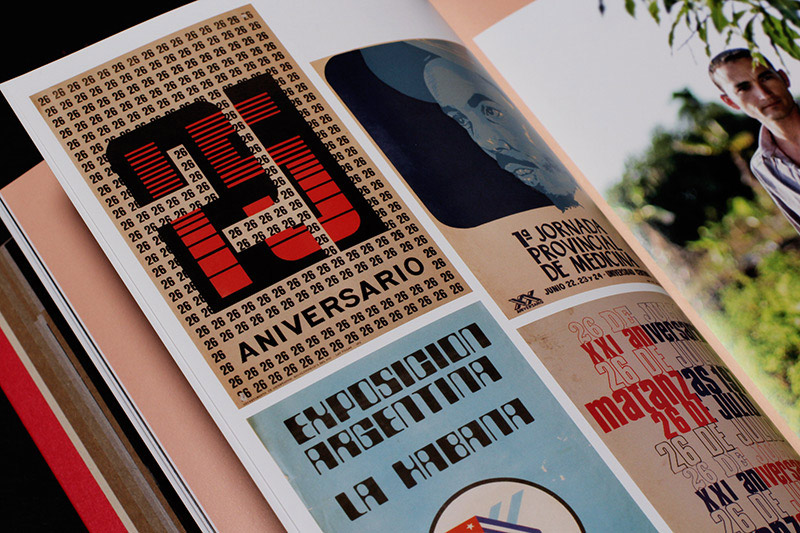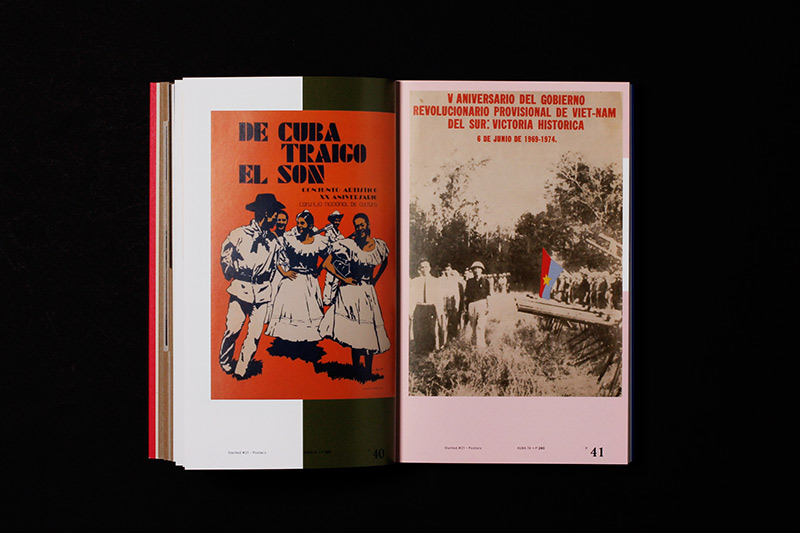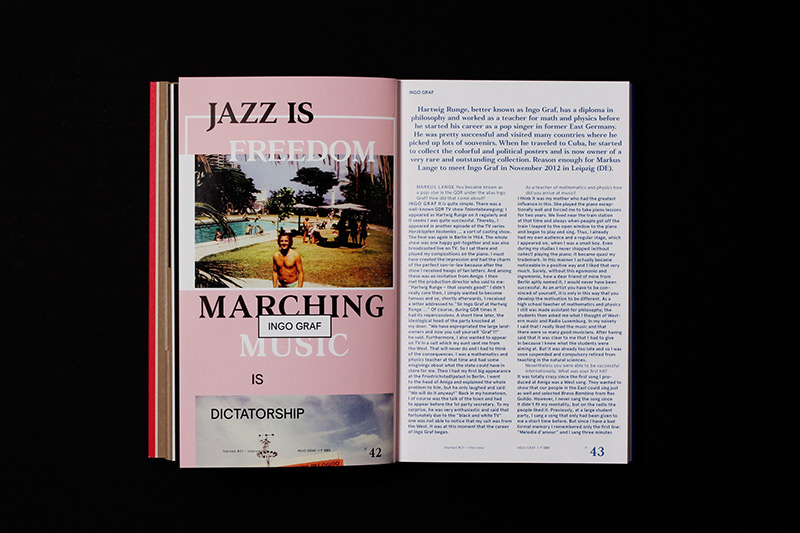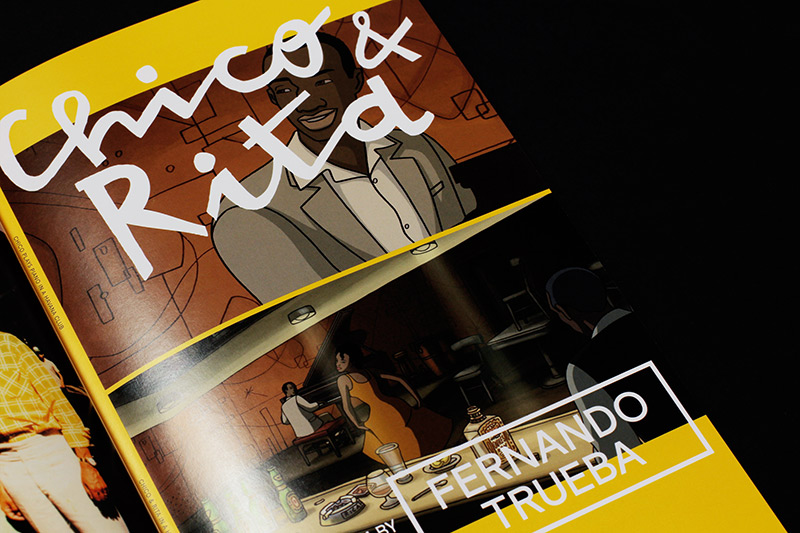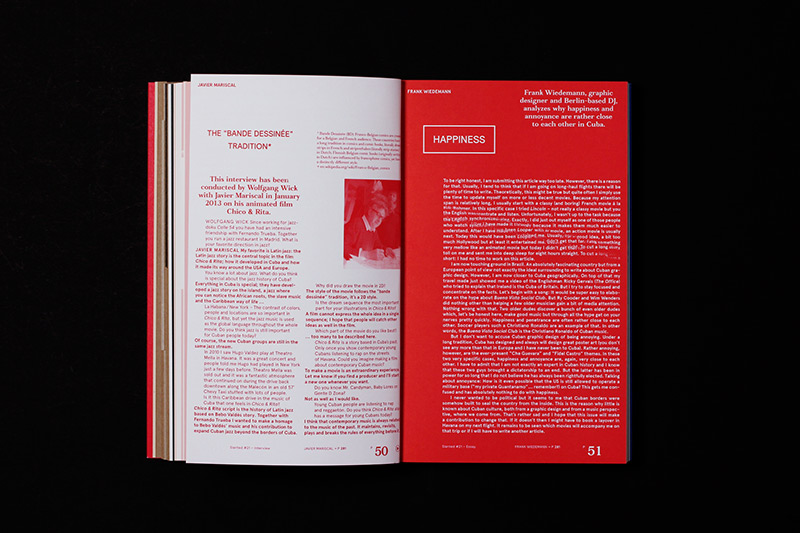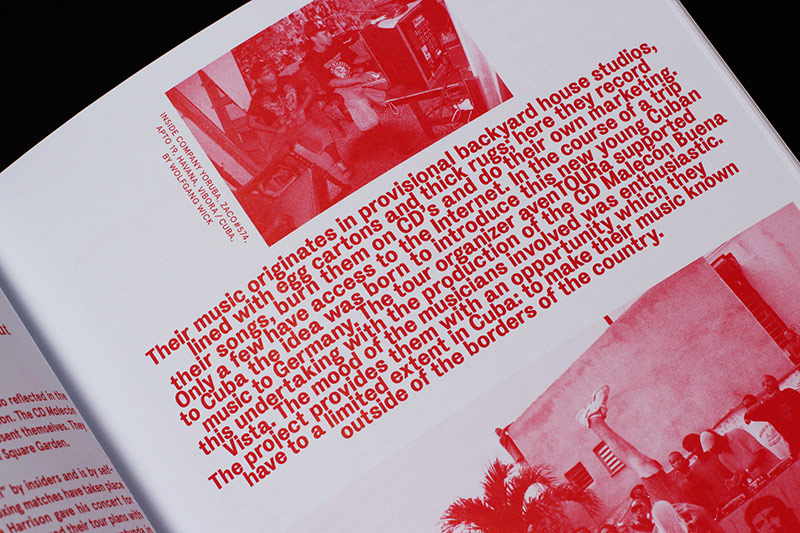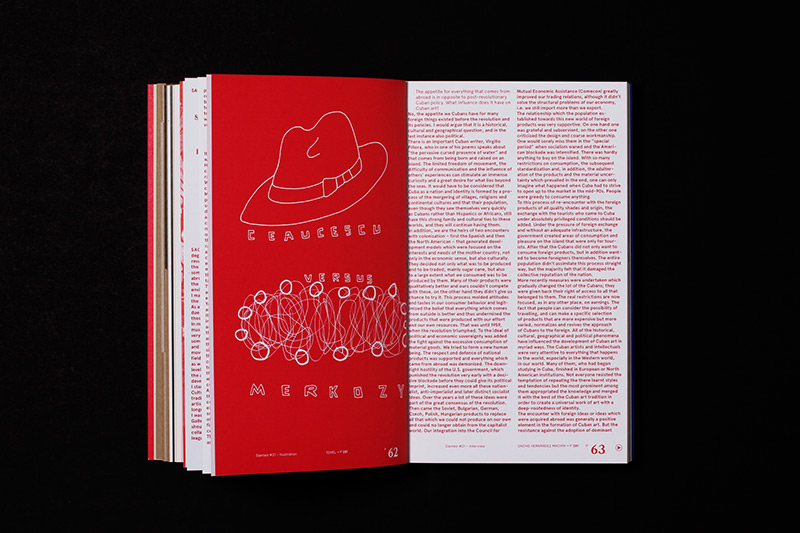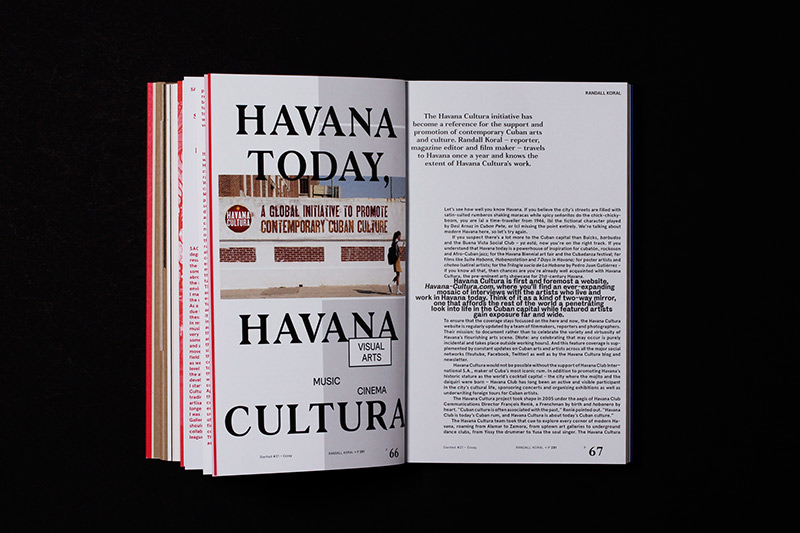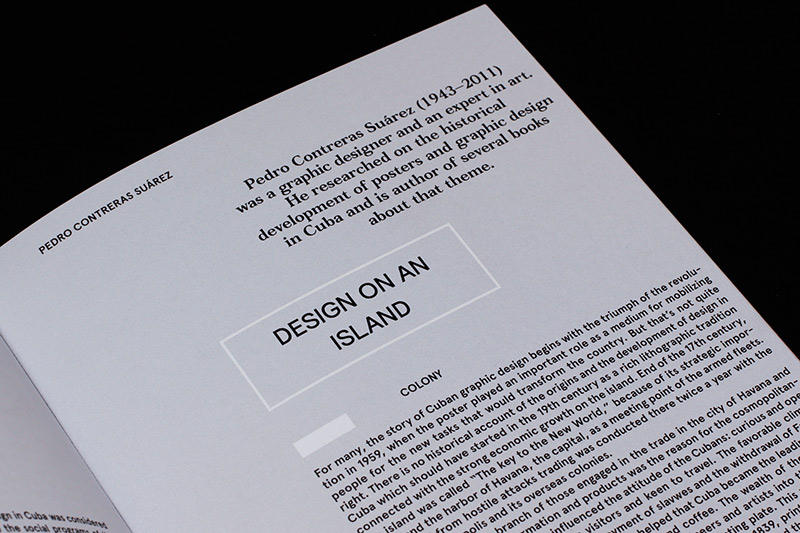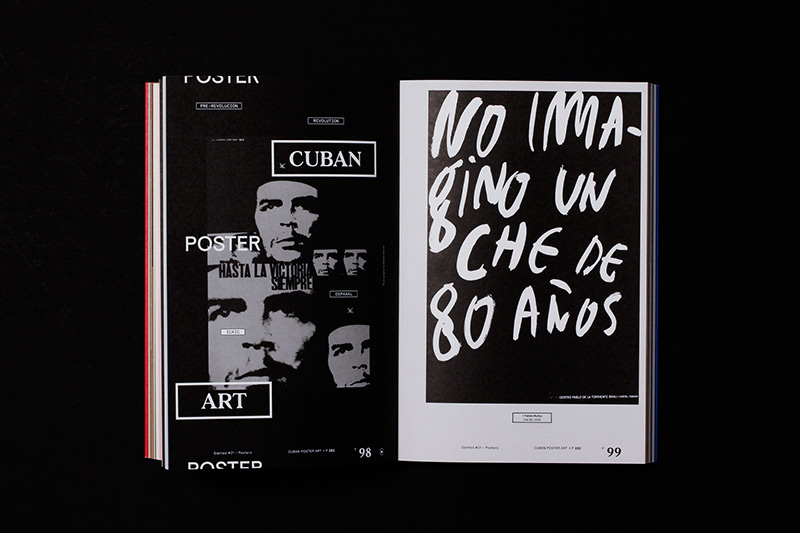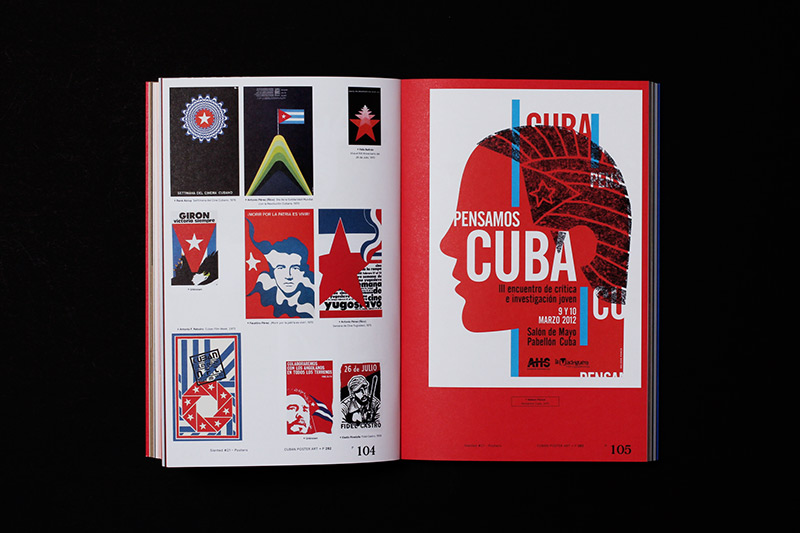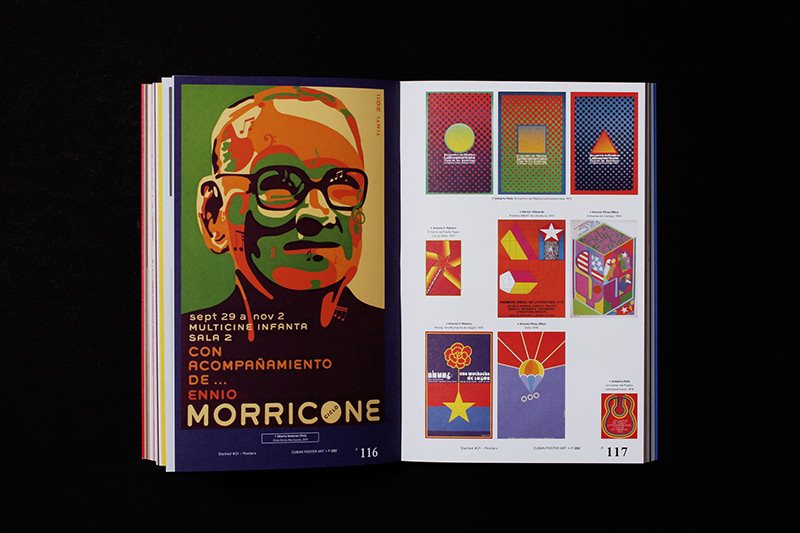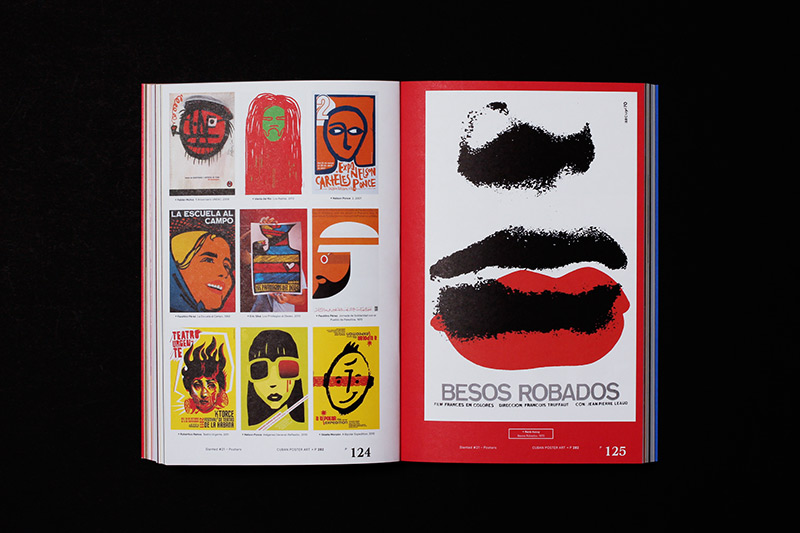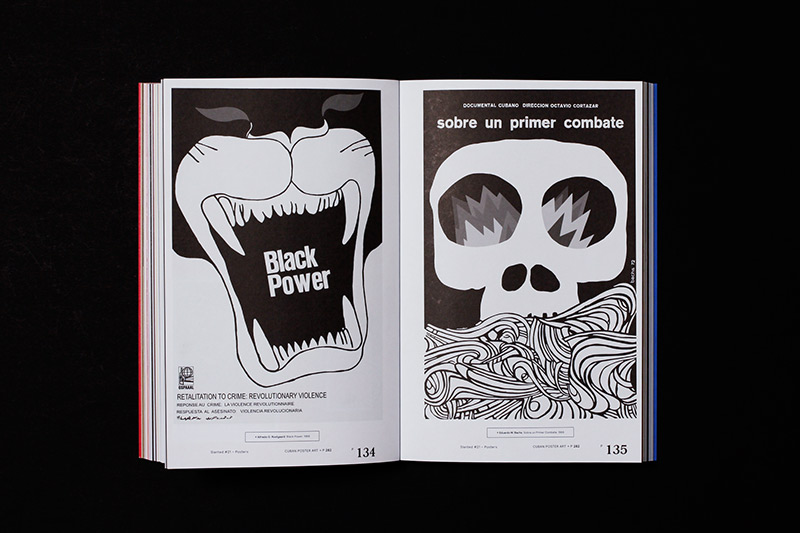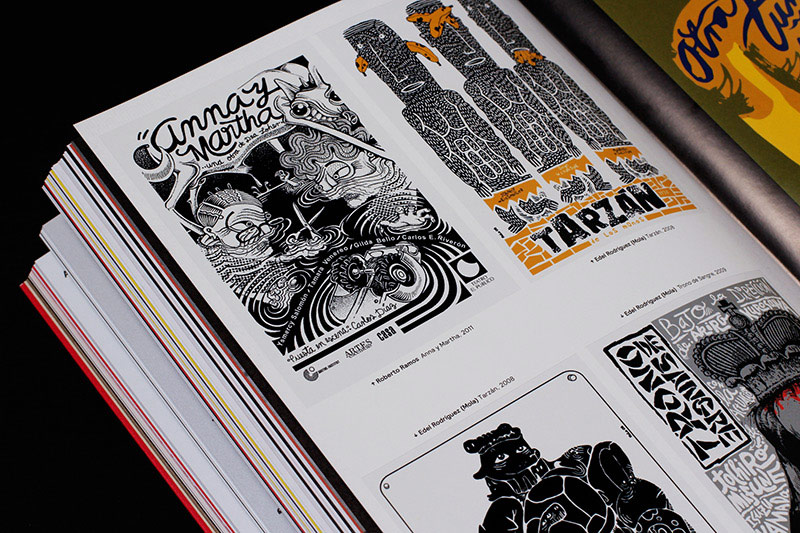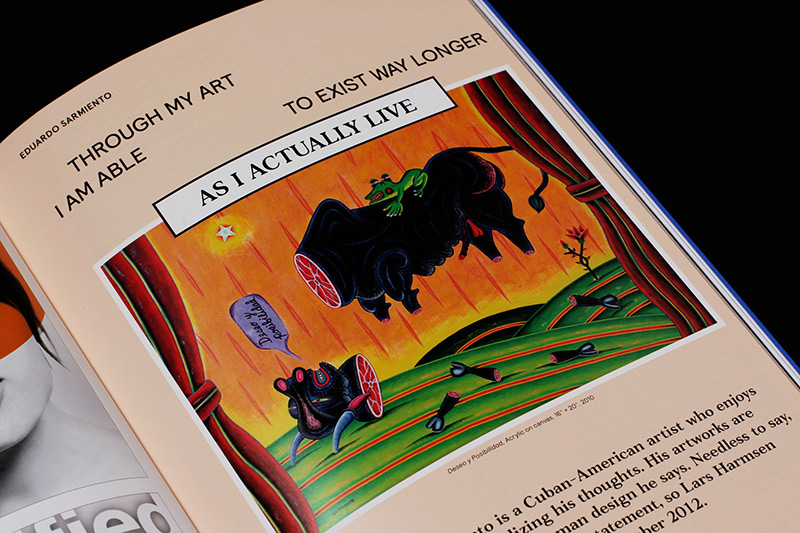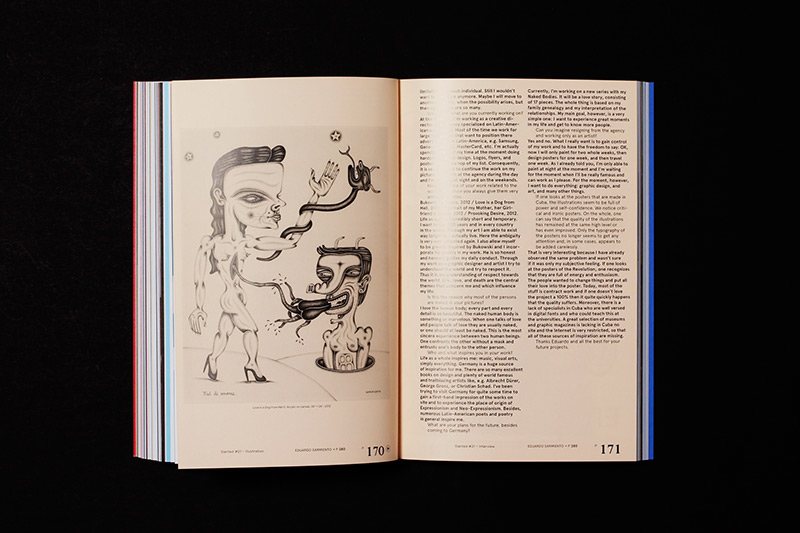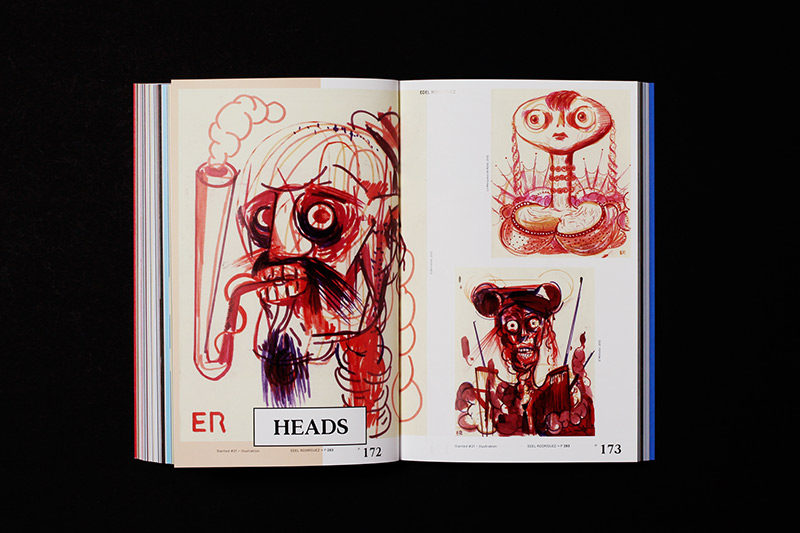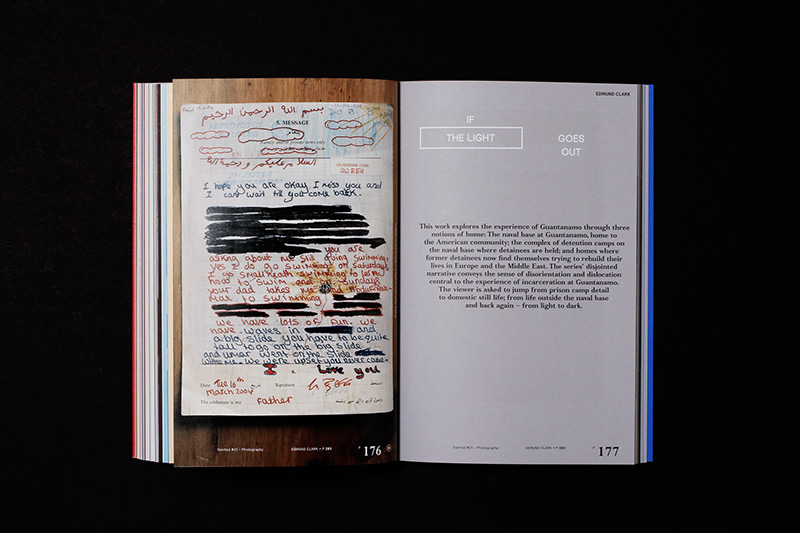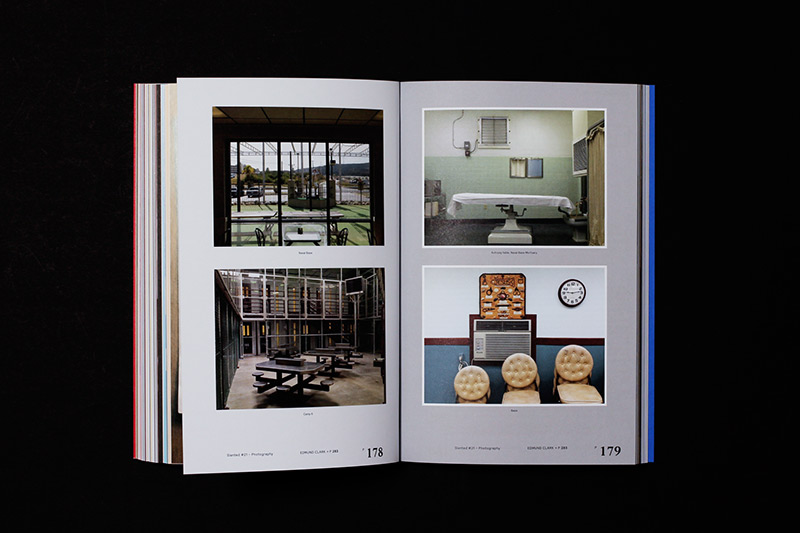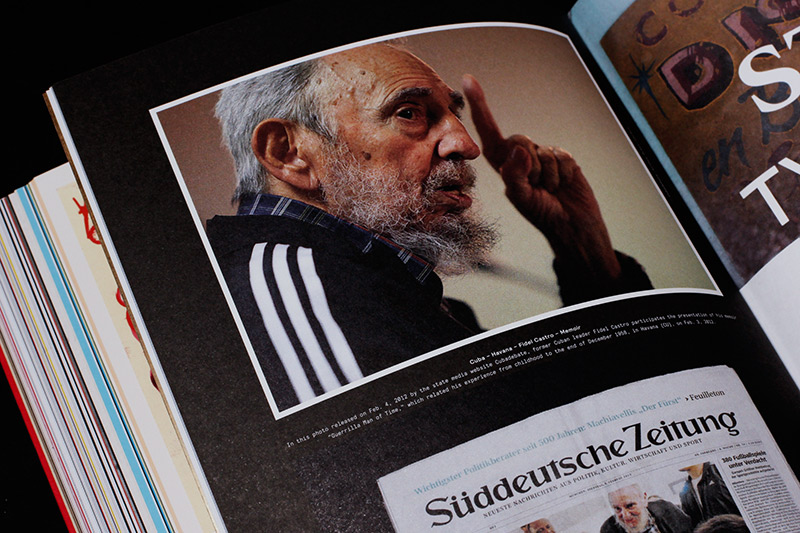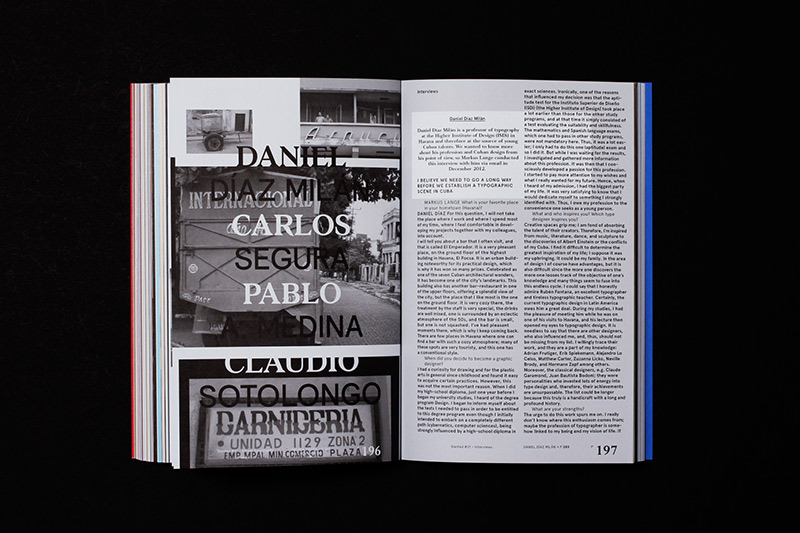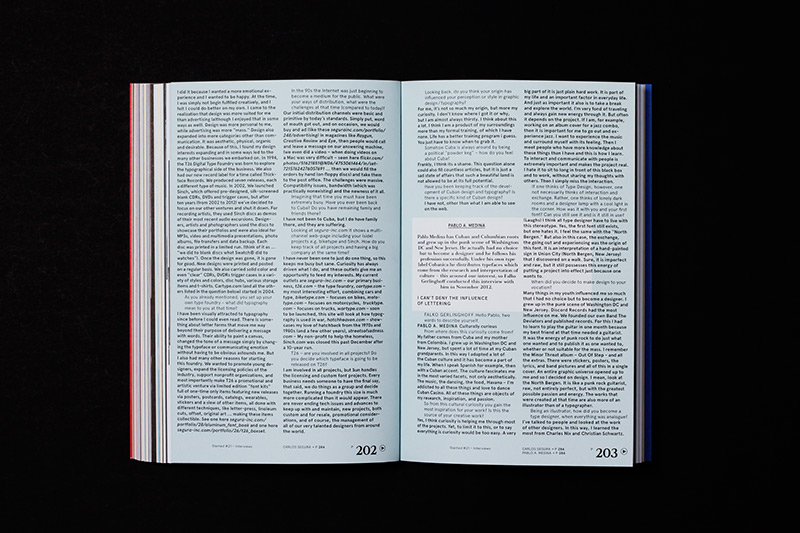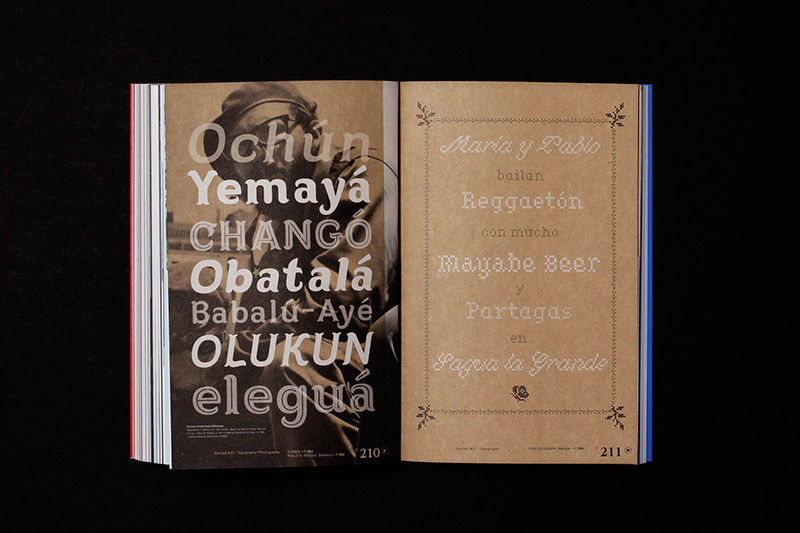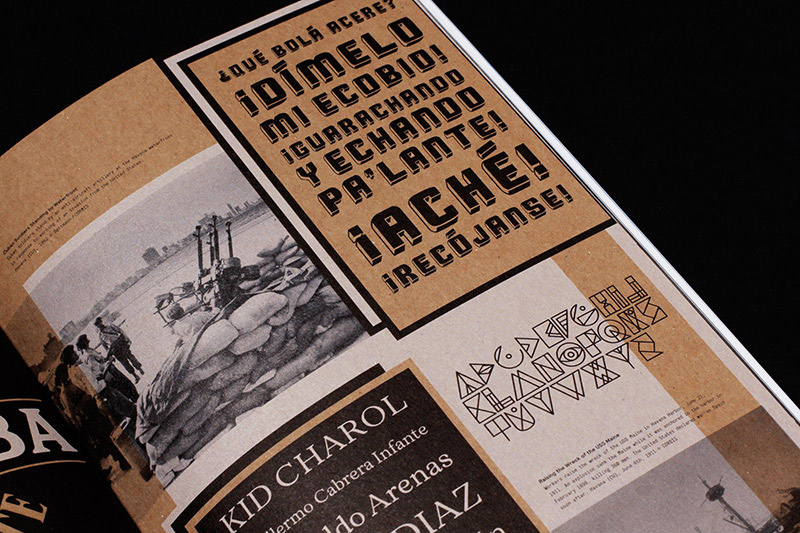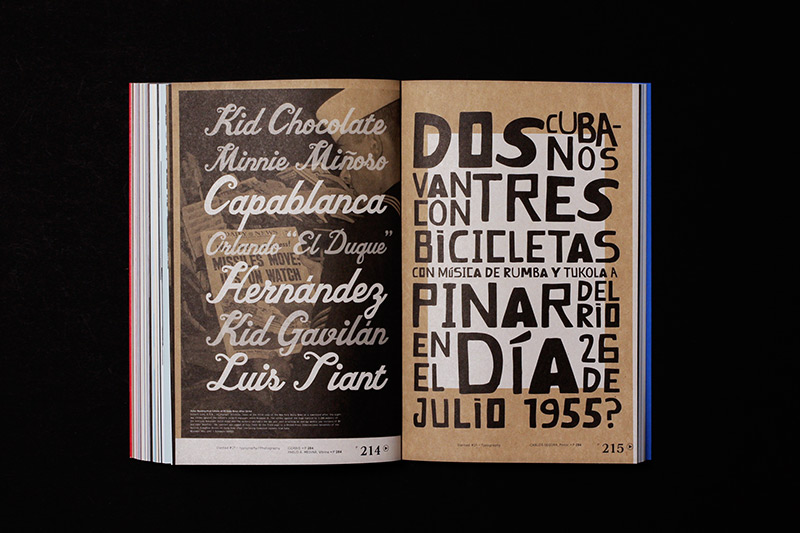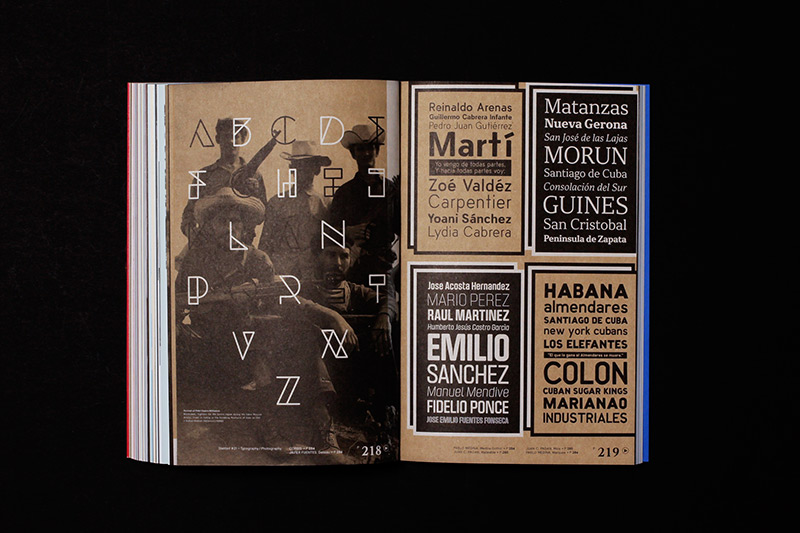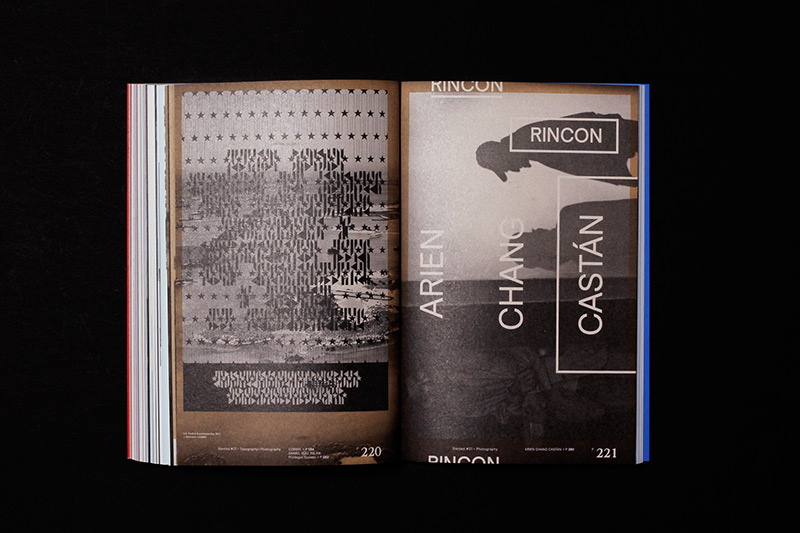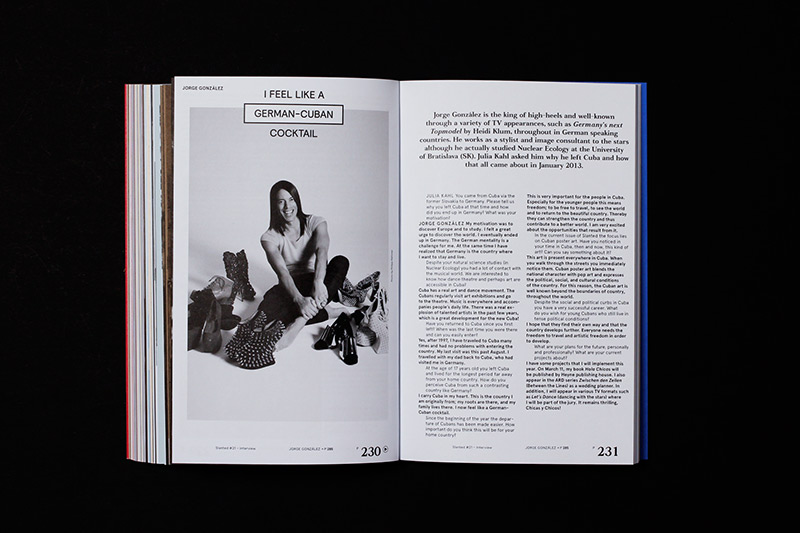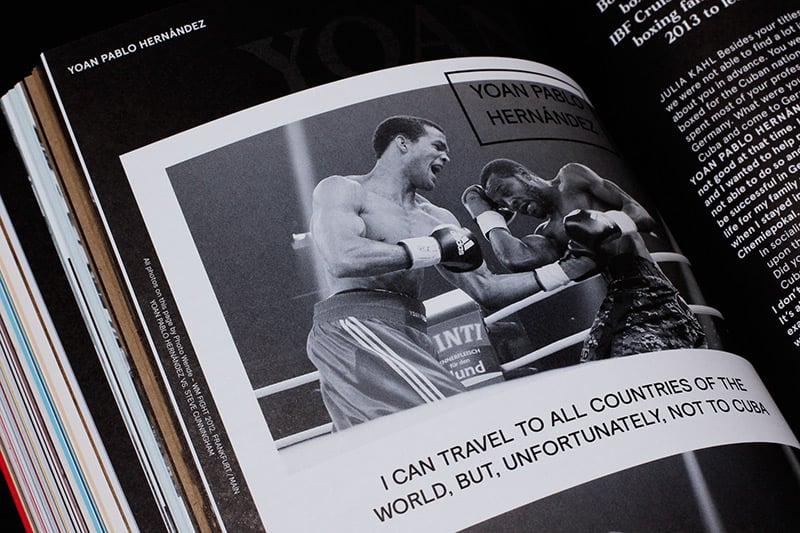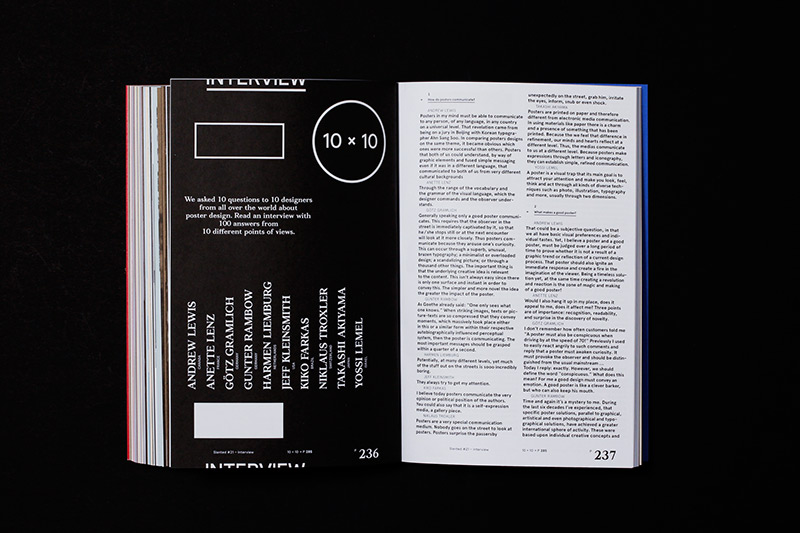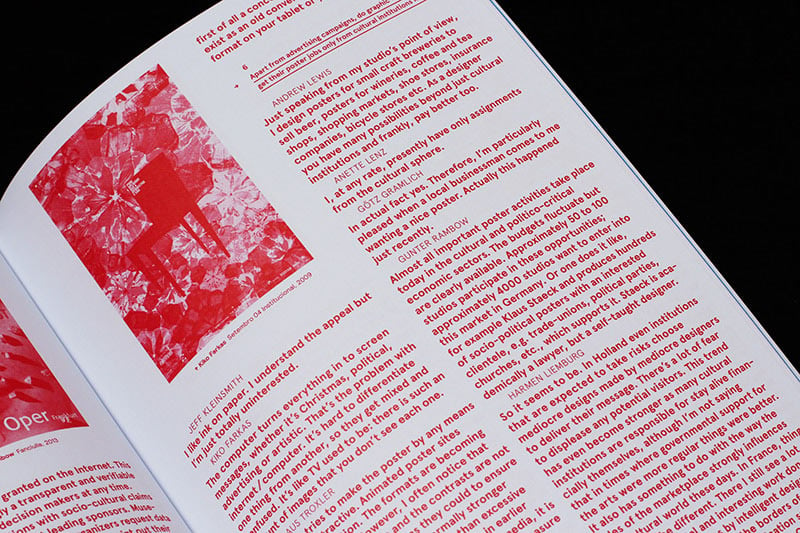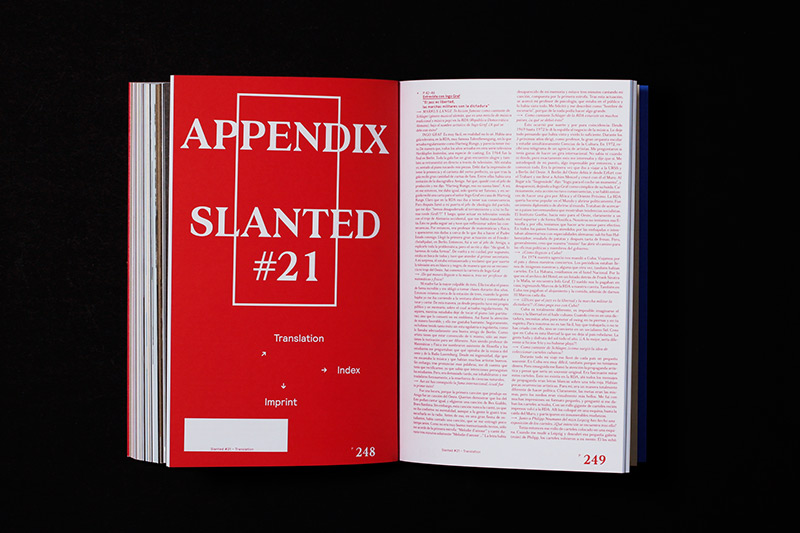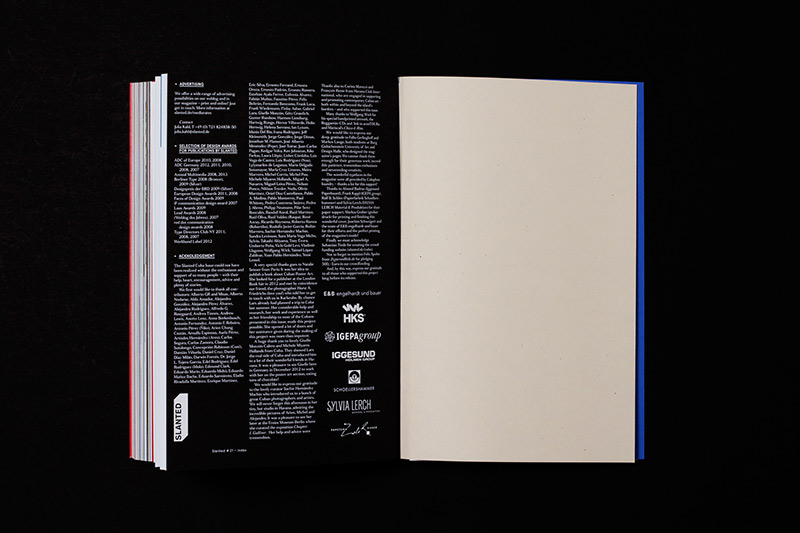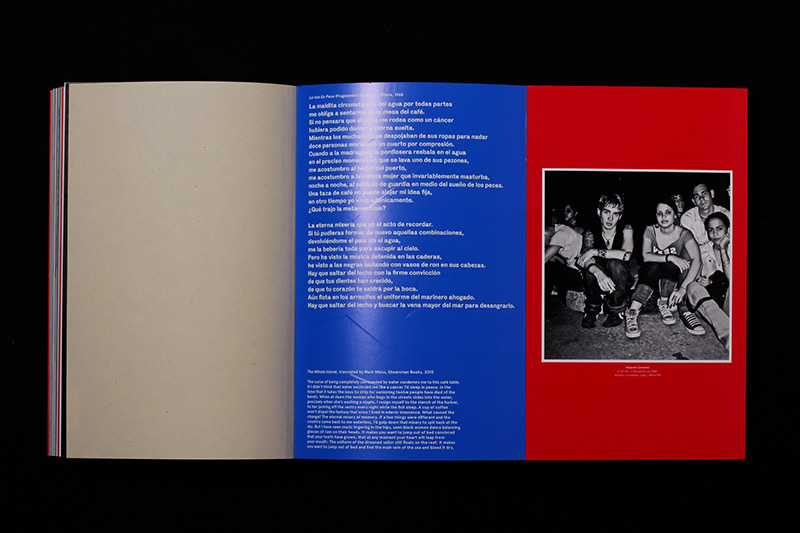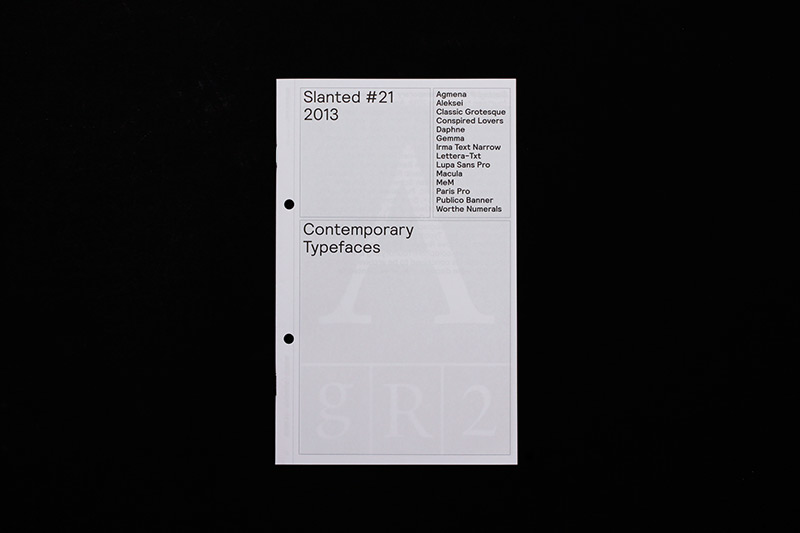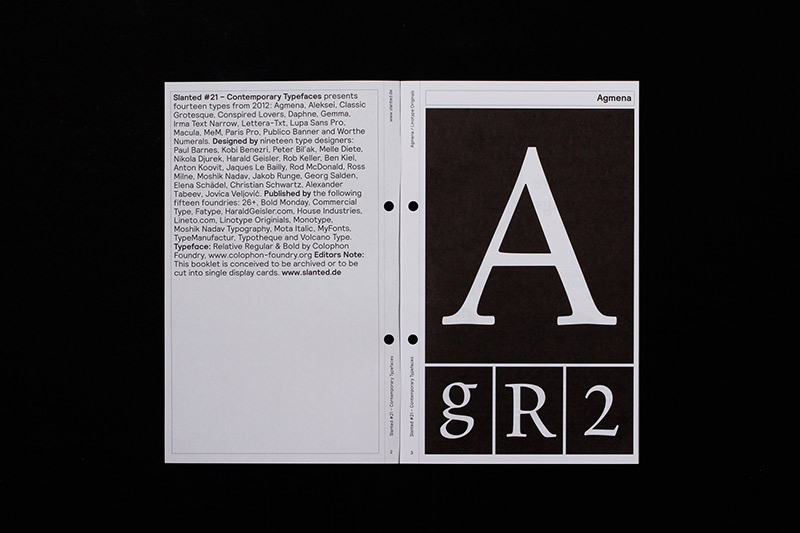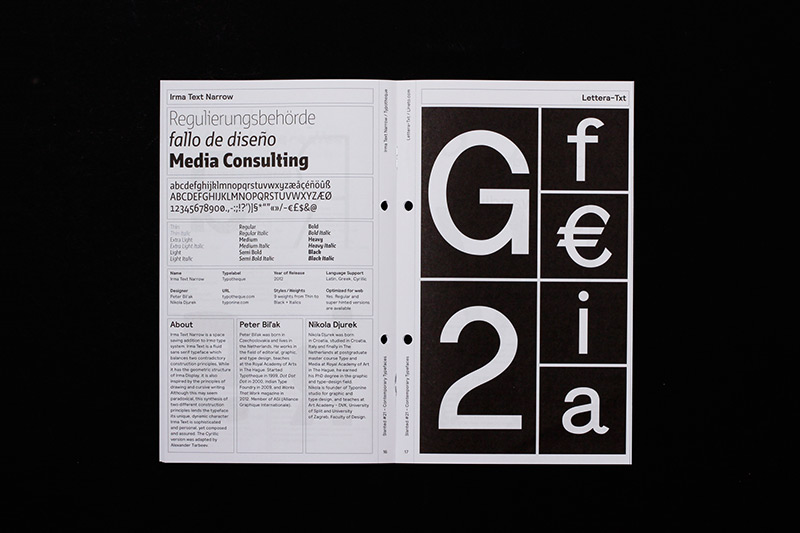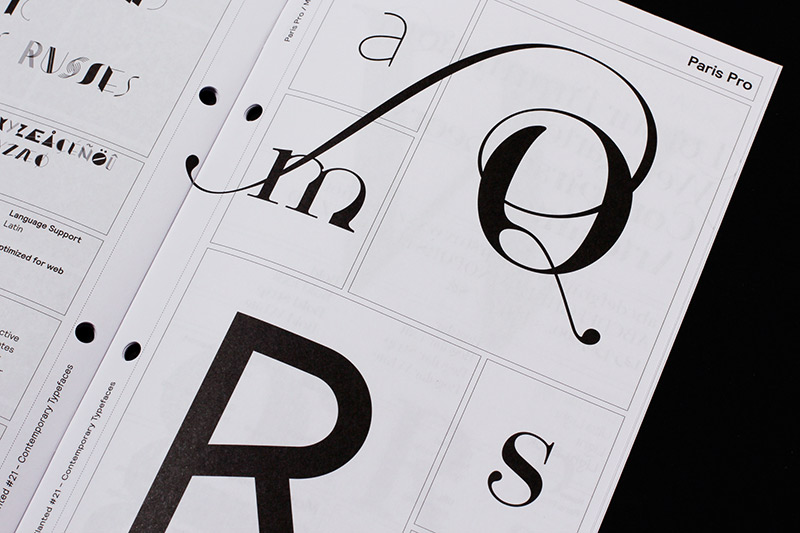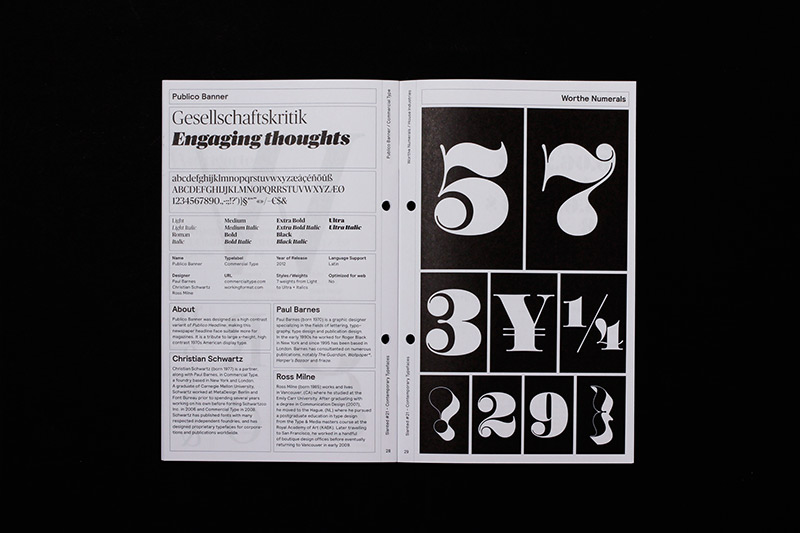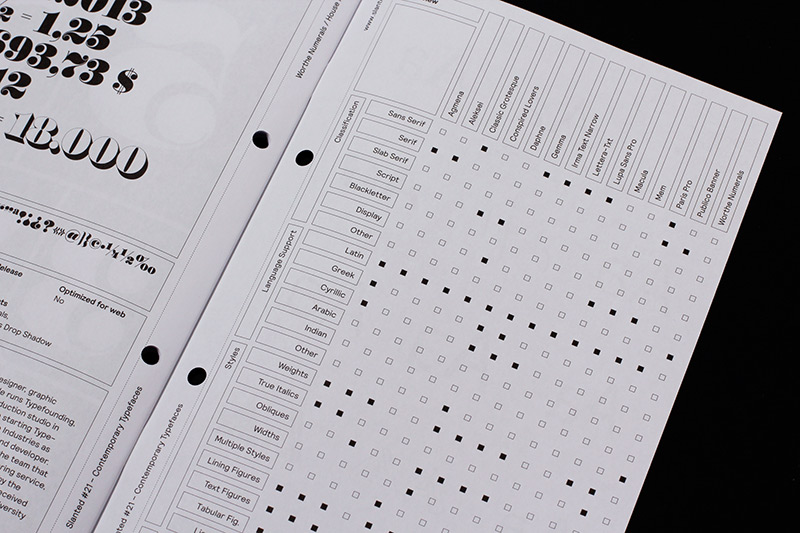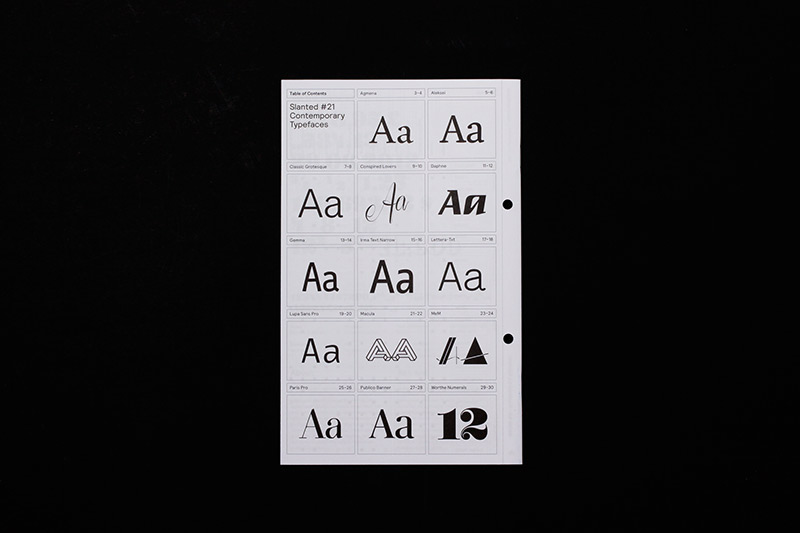 Teilnehmer:
Alberto GR and Misas, Alberto Nodarse, Aldo Amador, Alejandro González, Alejandro Pérez Álvarez, Alejandro Rodríguez, Alfredo G. Rostgaard, Andrea Tinnes, Andrew Lewis, Anette Lenz, Anna Berkenbusch, Antonio Fernandez, Antonio F. Reboiro, Antonio Pérez (Ñiko), Arien Chang Castán, Arnulfo Espinosa, Asela Pérez, Artísdes Hernández (Ares), Carlos Segura, Carlos Zamora, Charles Moseley, Claudio Sotolongo, Concepción Robinson (Coni), Damián Viñuela, Daniel Cruz, Daniel Diaz Milán, Darwin Fornés, Dr. Jorge L. Tejero García, Edel Rodríguez, Edel Rodríguez (Mola), Edmund Clark, Eduardo Marín, Eduardo Moltó, Eduardo Muñoz Bachs, Eduardo Sarmiento, Eladio Rivadulla Martínez, Enrique Martínez, Eric Silva, Ernesto Ferrand, Ernesto Oroza, Ernesto Padrón, Ernesto Romero, Esteban Ayala Ferrer, Eufemia Álvarez, Fabián Muñoz, Faustino Pérez, Félix Beltrán, Fernando Bencomo, Frank Luca, Frank Wiedemann, Gabriel Lara, Giselle Monzón, Götz Gramlich, Gunter Rambow, Harmen Liemburg, Hartwig Runge, Héctor Villaverde, Heike Hertwig, Helena Serrano, Ian Lynam, Idania Del Río, Ingo Graf, Ivana Rodríguez, Jeff Kleinsmith, Jorge González, Jorge Dimas, Jonathan M. Hansen, José Alberto Menéndez (Pepe), José Toirac, Juan Carlos Pagan, Kedgar Volta, Ken Johnston, Kiko Farkas, Laura Llópiz, Lisbet Córdoba, Luis Vega de Castro, Luis R. Noa, Lylymarlen de Leganza, Mario Delgado Sotomayor, Marla Cruz Linares, Meira Marrero, Michel Corría, Michel Pou, Michele Miyares Hollands, Miguel A. Navarro, Miguel Leiva Pérez, Natalie Seisser, Nelson Ponce, Niklaus Troxler, Nudo, Luis Rodríguez (Noa), Olivio Martínez, Oniel Díaz Castellanos, Pablo A. Medina, Pablo Monterrey, Paul Whitney, Pedro J. Abreu, Philipp Neumann, Pilar Senz Roncalés, Randall Koral, Raúl Martínez, Raúl Oliva, Raúl Valdes (Raupa), René Azcuy, Ricardo Reymena, Roberto Ramos (Robertiko), Rodolfo Javier García, Roilán Marrero, Rolo Lyly, Sachie Hernández Machín, Sandra Levinson, Sara María Vega Miche, Sylvio, Takashi Akiyama, Tony Évora, Umberto Peña, Vicki Gold Levi, Vladimir Llaguno, Wolfgang Wick, Yaimel López Zaldívar, Yoan Pablo Hernández, Yossi Lemel.
Sponsoren:
Corbis, www.corbis.com
E&B engelhardt und bauer, www.ebdruck.de
Emigre, www.emigre.com
FREYTAG & PETERSEN GmbH & Co. KG, www.igepagroup.com
Gruber Druck und Medien GmbH, www.gruber-druck.de
Havana Club International, www.havana-club.com
HKS Farben, www.hks-farben.de
Iggesund Paperboard, www.iggesund.com
metaio GmbH, www.metaio.com
Papeterie Zuber Riede, www.zuberrieder.net
Schoellershammer Papierfabrik, www.schoellershammer.de
Sylvia Lerch MATERIAL & Produktion, www.sylvialerch.de
Unterstützer aus Crowdfunding (Fan-Package aufwärts):
Alina Stauffer, Boris Kahl, David Gallo, Edel Rodríguez, Elizabeth Anderson, Felix Spohn (ZigarrenWelt.de) Jean Baptiste Brucena (Gengiskhan Production), Ina Heumann, Jakub Chrobok (Zweimaster), Marcel Kurz, Maxime Bonenfant-Brothers, Michael Konitzer, Milada Hartlova, Nancy Ruzow-Ortega (Ruzow Graphics Inc.), Nora Gummert-Hauser, Paul Schilperoord (Oggetti Design), Pita David (Art of Awesomeness), Raymond Adrian (Raymond Gems Adrian), Ronny Schmidt, Velazco Santiago, Yassin Baggar (Fatype).
Anzeigenkunden:
100 beste plakate e. V., www.100-beste-plakate.de
Art, Book, Magazine, www.artbookmagazine.com
avenTOURa GmbH, www.aventoura.de
brand eins Verlag GmbH & Co. oHG, www.brandeins.de
cxi Konferenz, www.cxi-konferenz.org
Fachhochschule Mainz, www.fh-mainz.de
Fachhochschule Nordwestschweiz, www.fhnw.ch/hgk
Grid Magazin, www.grid-magazin.de
Hochschule RheinMain, www.hs-rm.de
Hochschule Würzburg-Schweinfurt, www.gestaltung.fh-wuerzburg.de
ingoFonts, www.ingofonts.com
Museum für Druckkunst Leipzig, www.druckkunst-museum.de
see conference, www.see-conference.org

Verwandter Artikel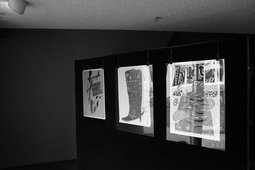 KUBA–Eine neue Generation
Mit einem sehr persönlichen und aufschlussreichen Vortrag über die erst kürzlich erschienene Slanted Ausgabe ...
Submitted by Constanze on 16.05.2013
Nächster Artikel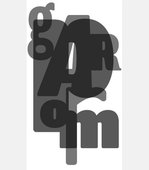 Zuzana Licko
Emigre stellt eine neue Schrift vor. Pressetext: Program is a type designer's typeface. It's about the craft of ...
Submitted by Constanze on 05.04.2013
Vorheriger Artikel
Die ed[ition]. cetera aus Leipzig präsentiert Francis Neniks neuestes Werk. Nach dem hier bereits vorgestellten ...
Submitted by Constanze on 04.04.2013