»as long as you're hassling won't you be sure to give blessings« Die 149te Ausgabe des Fanzines Trust aus Bremen bringt Licht in Mythen der moderneren Musikgeschichte: Straight Edge, D.I.Y. (für Do-It-Yourself) Punk Ethics – Begriffe, die mit dem Label Dischord (aus Washington, D.C.) verbunden werden, das 2010 dreissig Jahre alt wurde. In der komplett Schwarz-Weiss gehaltenen Ausgabe kommen mit Jeff Nelson (einer der Labelgründer), Jason Farrell und Cynthia Connolly auch assoziierte Designer und Fotografen zu Wort.
»wir sind hier nicht in Seattle, Dirk« Dischord Records ist in seinem Erscheinungsbild vielleicht nicht so kohärent wie Factory Records, aber ähnlich wie Factory ging es daraus hervor den musikalischen output einer lokalen Community an die Öffentlichkeit zu bringen (die später dann auch ähnlich umfassend in Buch und Film dokumentiert wurde). In der Beecher Street wurde das Paradigma von Sex and Drugs and Rock'n Roll vielleicht gründlicher in Frage gestellt »I don't smoke. I don't drink. I don't fuck. At least I can fucking think.« Irgendwie nicht ungestraft; Ian MacKaye, Labelgründer und Mitglied von Fugazi, musste wenigstens einmal die eigene Todesmeldung aus dem wikipedia-Eintrag entfernen, nachdem eine Zeitung dies irrtümlich in die Welt gesetzt hatte …
Zitate: Die Erde | Hassle (auf KCH KCH KCH), Tocotronic | Wir sind hier nicht in Seattle, Dirk (auf Digital ist besser)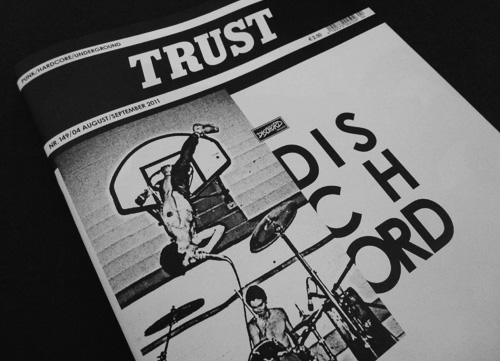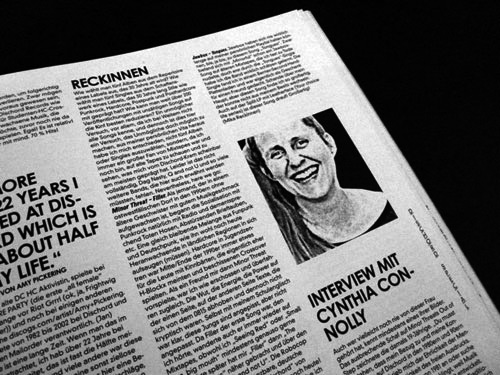 ReckInnen: nicht die Überschrift für das Interview mit C. Connolly …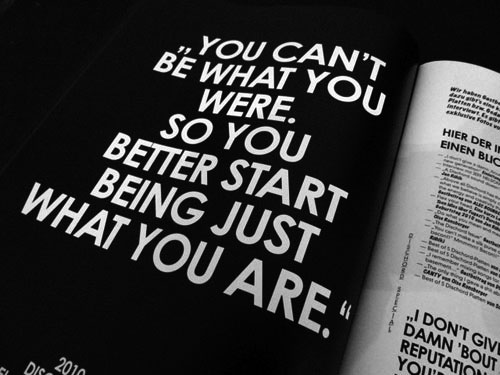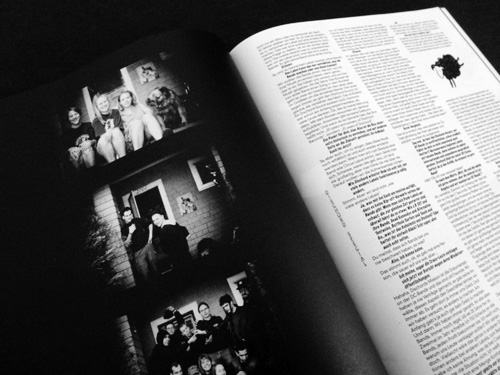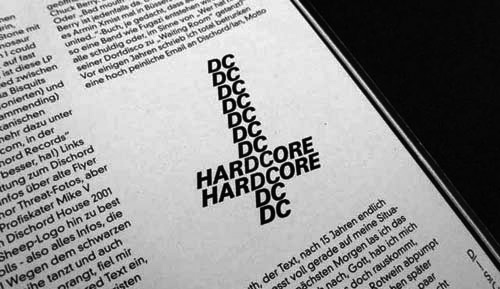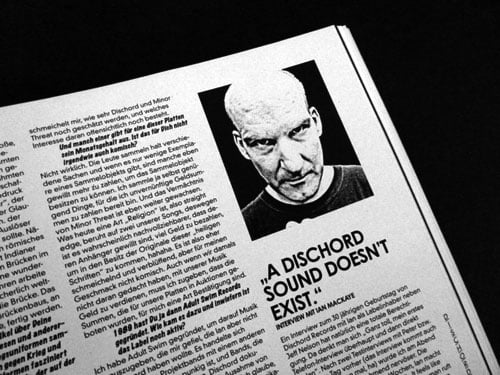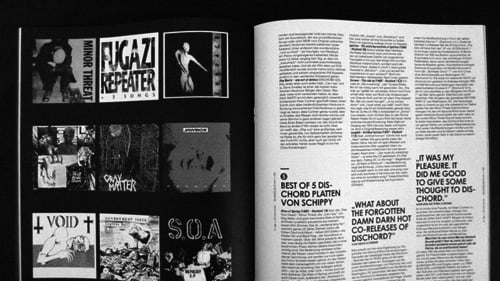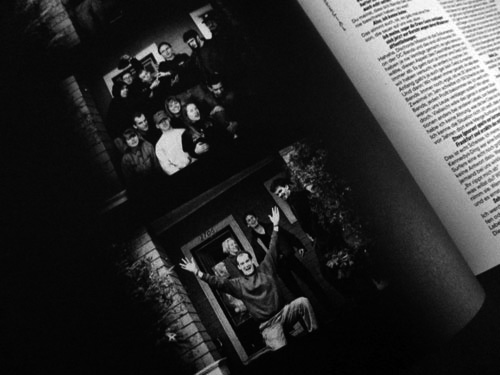 Verwandter Artikel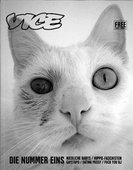 ...is taking over the planet
Das legendäre Vice Magazin gibt es nun endlich auch in Deutschland! Die deutsche Ausgabe des trashigen Free-Mags ...
Submitted by Angi on 02.08.2005
Nächster Artikel
11. bis 13. November 2011
In etwas über einem Monat finden die 13. Tage der Typografie unter dem Motto »Glück« endlich statt. Wir haben die ...
Submitted by Julia on 04.10.2011
Vorheriger Artikel
Masterthesis von Martina Armbruster an der Hochschule für Technik, Wirtschaft und Gestaltung (HTWG) in Konstanz
Martina Armbruster hat sich kein einfaches Projekt für ihre Masterthesis ausgesucht. Sie wollte herausfinden, wie ...
Submitted by Hanna on 30.09.2011