Tägliche Typo-Inspiration bringt das Typodarium, der erste Abreißkalender mit 365 unterschiedlichen Schriften - Brotschriften und Typospielereien, Zeichensätze und Satzzeichen, alte Meister und junge Wilde, Lieblingsschriften aus aller Welt an Ihrer Wand. Auf der Vorderseite klassisch-funktional das Datum, auf der Rückseite Hintergründe und Details, Entwerfer und Bezugsquelle. So wird jeder Tag zum Typotag und manches Kalenderblatt zum Font-Einkaufszettel.
Der Typokalender wurde zusammen mit dem in Berlin lebenden Gestalter Raban Ruddigkeit konzipiert und entworfen und ist Magmas erste Publikation bei dem renommierten Mainzer Verlag Hermann Schmidt. Mitwirkende Fontdesigner und Labels dieses Kalenders sind: 2Rebels, Avoid Red Arrows, bp Foundry, Caketype, Canada Type, Cape Arcona, Christian Schwartz, Coma AG, Cubanica, ds Type, Dutch Design, Dutchfonts, eps51, Fontbureau, Fontfarm, Fontfont, Fountain, Hubert Jocham, Hula+Hula, Kenn Munk, Lazydogs, Lieberungewoehnlich, Lion&Bee, Magma Brand Design / VolcanoType, Mark Simonson, Martina Hartmann, p22, Parachute, Peter Brugger, Pfadfinderei, Primetype, Smeltery, Sparkytype, Subtitude, Subcommunication, Typecuts, Type Off, Type Together, Typetype, Typonauten, Typotheque, Underware, urw++, Verena Gerlach, Xplicit, Yanone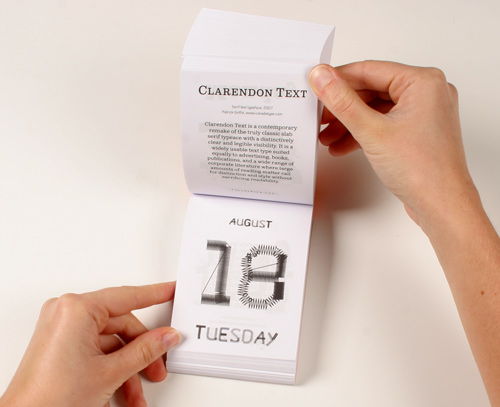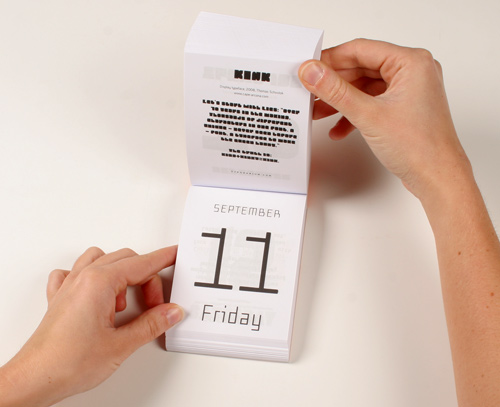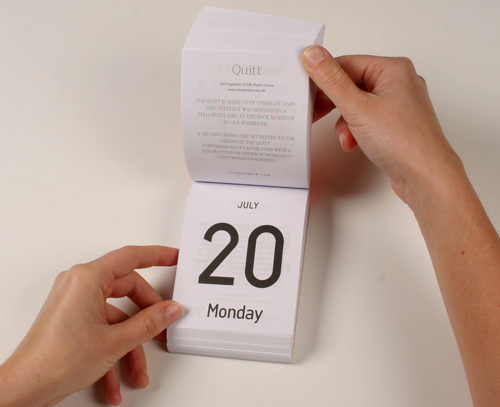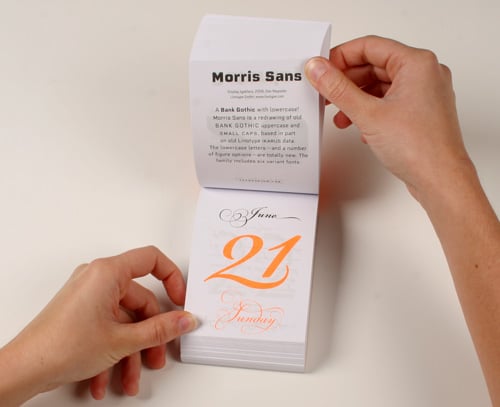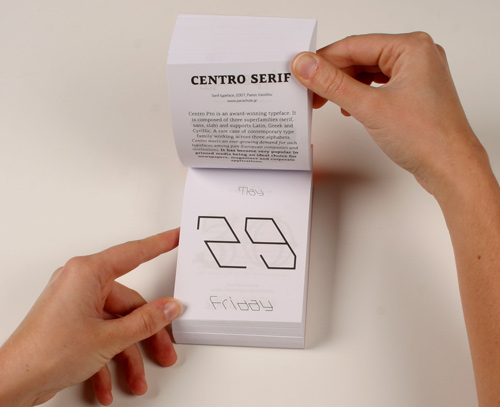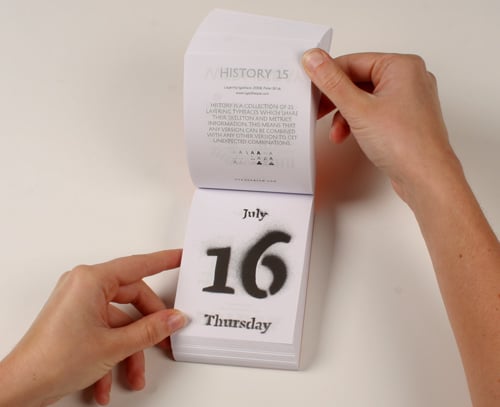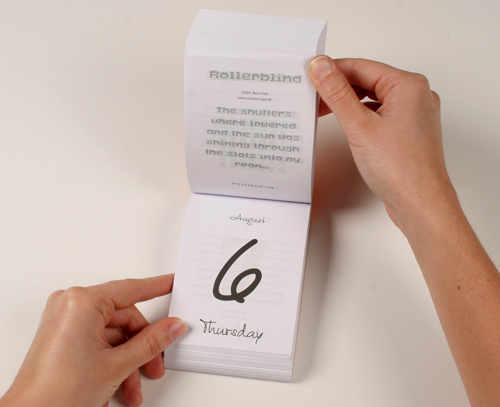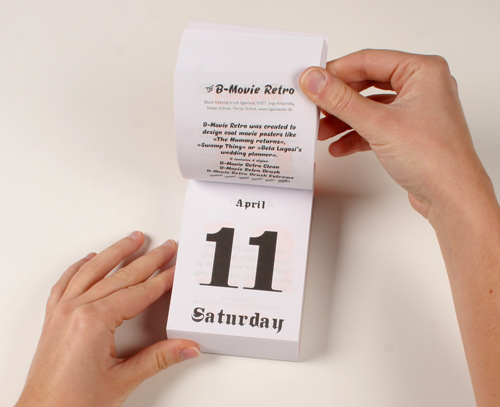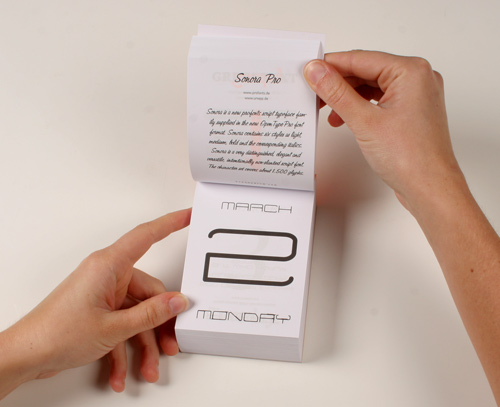 Typodarium 2009 / A Calendar for 2009
365 Fonts by 50 Foundries and Designers.
368 Pages, Format 8,5 x 12 cm
Abreißkalenderblock mit gestanzter Rückwand zum Aufhängen oder Aufstellen
Gestaltung: Boris Kahl
EAN 4260172810050
Buy now for only 16,80 €
Typodarium
Verwandter Artikel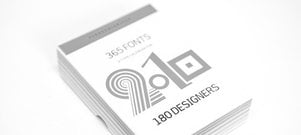 The daily dose of type
Nach dem Erfolg von Typodarium 2009, ist es nun wieder geschafft: Das Typodarium geht in die zweite ...
Submitted by Julia on 13.10.2009
in Design, Miscellaneous, Type Foundries, Typefaces 26 comments
Nächster Artikel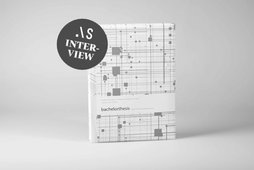 Diplomarbeit von Sandra Teschow und Sophie Ketterer
Jeder von uns musste sich während der Schulzeit durch so manches große Werk der Literatur kämpfen. Verstanden hat ...
Submitted by jott on 04.11.2008
Vorheriger Artikel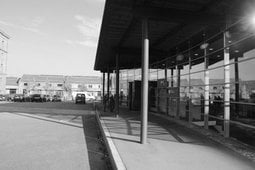 Eine kleine Foto-Reportage
Nicht in der Reithalle wie die Creative Paper in München, sondern im Reithaus in Ludwigsburg fand vom 23. bis 25. ...
Submitted by Tanja on 03.11.2008