Werben auf slanted.de
und im Slanted Magazin
Durch zahlreiche Medienpartnerschaften, Kooperationen und Verlinkungen ist Slanted im Bereich Design auf internationaler Ebene präsent.
Parallel zum Weblog existiert seit 2005 das vielfach ausgezeichnete Typografie-und Designmagazin Slanted, welches zwei Mal jährlich erscheint und die Bereiche Typografie, Gestaltung, Illustration und Fotografie verbindet. Es widmet sich den Themen ausführlicher und intensiver. Sowohl das Blog als auch das Magazin fördern und fordern als Experimentierfeld die Auseinandersetzung mit diesen Bereichen.
Die Slanted Mediadaten 2016/2017 können Sie hier als PDF herunterladen. Alle zuvor veröffentlichten Mediadaten verlieren damit ihre Gültigkeit.
Sprechen Sie uns an, wir erstellen Ihnen gerne ein auf Sie zugeschnittenes Angebot!
Kontakt
Julia Kahl
T+49 (0)721 851 482 68
julia.kahl@slanted.de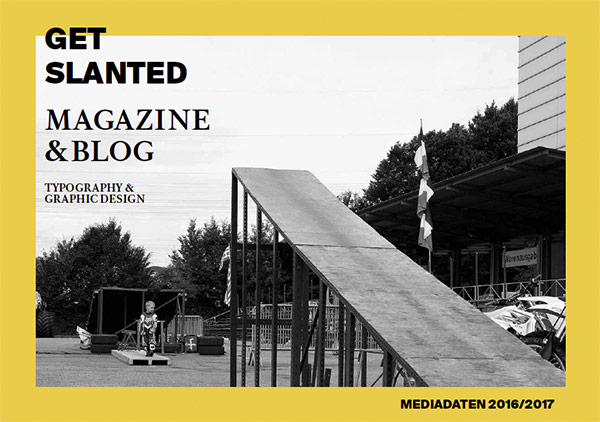 Advertise on slanted.de
and in Slanted magazine
Slanted is represented internationally through many media cooperations and linkings.
The typography magazine Slanted, in existence since 2005 and complementing the weblog, is published biannually and combines the sectors typography, layout, illustration and photography. It attends to the topics in greater detail and more intensive. Both blog and magazine encourage and call for a debate on these subjects as an experimental field.
Download the Slanted media rates 2016/2017 in English.
All media rates that have been published before are now invalid.
Just ask and we will develop a fitted offer!
Contact
Julia Kahl
T+49 (0)721 851 482 68
julia.kahl@slanted.de