Auf nach Berlin... Ende April gibts dort Typo-Total! Die 15 FontFont-Austellung FiFFteen eröffnet am 28. April (Donnerstag) in den Treptowers in Berlin; damit läuft sie zwei Wochen parallel zum Designmai (6-15.Mai) und der TYPO-Konferenz. Vorher war die Ausstellung in London und Manchester zu sehen.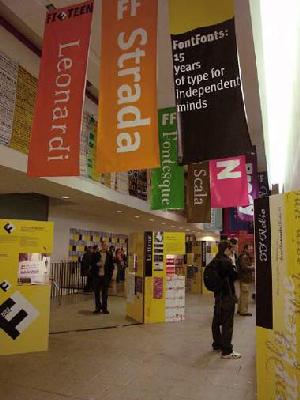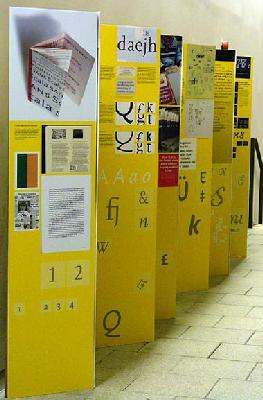 Hier noch der Pressetext zu den Ausstellungen in England:
FontFont: Pioneering type design
Since FontFont was founded in 1990 by Erik Spiekermann and Neville Brody, FontShop International's typeface library has been exploring unknown territorities in typography. From the outset, the library covered both extremes of the typographic spectrum: practical and useful new text typefaces with an "edge" for editorial design, corporate design and signage; and weird and wonderful letterforms for the adventurous and the restless.
Fonts for independent minds
When you wander through this exhibition, many of these fonts may seem familiar to you. That's not just because you see them all around you in print and other media. It's also because the ideas in them are now common property.
Many FontFonts were more than just a set of well-designed letters. There were "intelligent fonts" which by combining glyphs from different alphabets, made it possible to layer or link characters or create more interesting word images. Some FontFonts even have inbuilt scripts for varying letterforms on-the-fly.
FontFont pioneered the development of certain genres in type design that are now taken for granted: legible sanserifs; complex mega families with sans and serif variants; typefaces based on hand-writing and "found" lettering. You will find descriptions of the individual typefaces in the exhibition brochure.
15 years on, 3500-plus fonts later with hundreds of new releases every year, FontFont is still setting standards, pushing limits and influencing new generations. This exhibition is a celebration of those achievements and the talented designers who make it possible.
Curated by Erik Spiekermann and Jan Middendorp.
FUSE
Conceived and designed for FontShop International by Neville Brody and Jon Wozencroft, this award-winning experimental typographic publication was published between 1991 and 2000 with FUSE 18 the last in that series.
Each limited edition features experimental fonts on diskette created by leading designers such as David Carson, Tobias Frere-Jones, Rick Valicenti, Tibor Kalman, Neville Brody and many more. The set included 4 or 5 full-color posters by the designers showing the fonts in use, and an additional editorial poster by Jon Wozencroft discussing the theme of the issue. Themes included such diverse topics as Disinformation, Genetics, Propaganda, Pornography, Religion and Superstition.
This unique publication intended to incite, inspire and challenge and, in Neville's words, "embrace the emotion, the risk and the complexities of everyday life."
Curated by Neville Brody.
FiFFteen: FUSE/FontFonts. 15 years of type for independent minds
Venue:
The London College of Communication (formerly The London College of Printing) at Elephant and Castle
16 November to 17 December. 10-5.30 weekdays, 10-4 Saturdays
FSI, FontShop International is staging an exhibition to celebrate 15 years of its FontFont type library and the relationships and inspirations which have made it possible. The exhibition will also feature FUSE, a seminal publication on experimental typography published by FSI between the years 1991 and 2000 which was instigated and edited by London designer Neville Brody.
Both FontFont typefaces and FUSE have won world-wide recognition as major innovative forces in contempory typography and collected many prizes over the years. Combining old and new media to create a colourful mix of images and sound, the exhibition illustrates the methods, technologies and inspiration behind the fonts.
"FiFFteen" reveals some of the tricks of the type trade and shows how type is used in ways never imagined by its creators.
Currently over 3000 fonts and growing, FontFonts have had a profound influence on type design since their debut in 1990 with classics like FF Meta, FF Scala, FF DIN, FF Blur, FF Trixie etc.
FontFont and Fuse were breeding grounds for new initiatives. Of the 150-plus international type designers involved, many published their first faces with FUSE or FontFont and went on to form their own foundries: Rian Hughes, Jeremy Tankard and Jonathan Barnbrook in the UK, and elsewhere Jean-François Porchez, Max Kisman, Luc(as) de Groot, Peter Bil'ak, Nick Shinn, Fred Smeijers and many more.
Erik Spiekermann (FSI founder and type designer) and Jan Middendorp (designer-writer and author of the acclaimed book "Dutch Type") have curated the FontFont section, and Neville Brody is the FUSE curator. The exhibition kicks off at the The London College of Communication (formerly The London College of Printing) at Elephant and Castle from 16 November to 17 December and will move to Manchester Metropolitan University in February. Later, it will travel to various parts of Europe and America. There is an accompanying booklet to the exhibition, followed next year by a full-colour guide to the FontFont universe.
Verwandter Artikel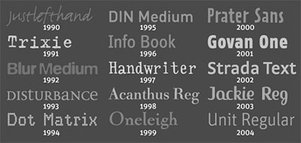 Gib dir 15 Fonts für 150 Euro!
Fontshop feiert das 15-jährige Bestehen ihrer weg-weisenden Schriftkollektionen FontFont und FUSE. Wer mitfeiern ...
Submitted by Angi on 28.04.2005
Nächster Artikel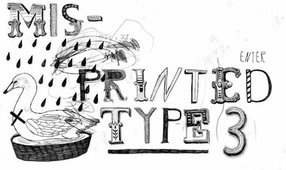 Brasilien grüsst.
Hinter Misprintedtype steckt Eduardo Recife aus Brasilien, Belo Horizonte. Wer aus einer Stadt stammt welche einen ...
Submitted by lars on 29.01.2005
Vorheriger Artikel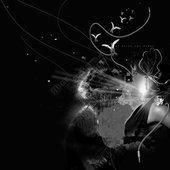 Skills to Pay the Bills
Nigel Evans Dennis hat Talent. Sehr viel Talent! Farbenfroh. Reich. Humorvoll. Aus dieser Zeit. Explosiv. THIS GUY ...
Submitted by lars on 28.01.2005
in Design 4 comments