Raban Ruddigkeit hat mir gerade einen Tip zu dem typografischen Musikvideo "Four Letter Words" gegeben.
Four Letter Words from Rob Seward on Vimeo.
Rob Seward schreibt zum Video:
"Four Letter Words consists of four units, each capable of displaying all 26 letters of the alphabet with an arrangement of fluorescent lights.
The piece displays an algorithmically generated word sequence, derived from a word association database developed by the University of South Florida between 1976 and 1998. The algorithms take into account word meaning, rhyme, letter sequencing, and association.
The algorithm's tendency towards scatological or "dark" subject matter is influenced by a variety of language and perception studies, especially Elliot McGinnies' 1949 study "Emotionality and Perceptual Defense."
While the piece was conceived with idea of displaying algorithmically generated lists, it was designed with flexibility and expandability in mind. The individual units can be connected ad-infinitum, and are theoretically capable of displaying any length of text. While Four Letter Words deals with a specific range of content, the technology can be easily expanded for future textual experiments".
Verwandter Artikel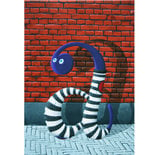 What happens if you take the shapes of the 26 letters of the alphabet and give them a different texture and ...
Submitted by Michiel van der Born on 02.03.2010
in Typography
Nächster Artikel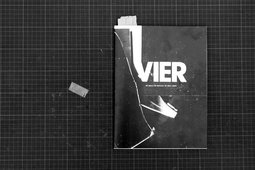 Das Magazin der Hochschule für Künste Bremen
Relativ frisch erschienen ist die neunte Ausgabe des Magazins »Vier« der Hochschule für Künste in Bremen. In ...
Submitted by Flipp on 31.03.2010
Vorheriger Artikel
Limitierte Poster Collection von K-Swiss
Was hat Grafikdesign mit Turnschuhen zu tun?! Die kalifornische Sports Company K-Swiss kooperierte anlässlich des ...
Submitted by Julia on 30.03.2010