On occasion of the release of Slanted Magazine #27 – Portugal, a limited Special Edition has been released which is exclusively available in the Slanted Shop. The edition contains a screen printed tote bag, a photo essay by photographer Daniel Sommer, a set of tiny posters related to Portuguese music (University of Arts and Design Karlsruhe), and custom made pencils by Viarco, the oldest pencil factory of Portugal.
Publisher & design: Slanted Publishers
Release: May 2016
Edition of 200
Price: 19 Euro
Also available as a bundle with Slanted Magazine #27 – Portugal at a preferential price.
Tote Bag – Saudade, the love that remains

Saudade is a typical word in Portuguese that claims no direct translation in English. In Portuguese, "Tenho saudades tuas" translates as "I have (feel) saudade of you" meaning "I miss you," but carries a much stronger tone. Saudade was once described as "the love that remains" after someone is gone. Saudade is the recollection of feelings, experiences, places or events that once brought excitement, pleasure, well-being, which now triggers the senses and makes one live again.
Lettering: Bruno Rodrigues
Size: 38 x 42 cm
Material: Cotton
Version: long handles (70 cm)
Print: Silkscreen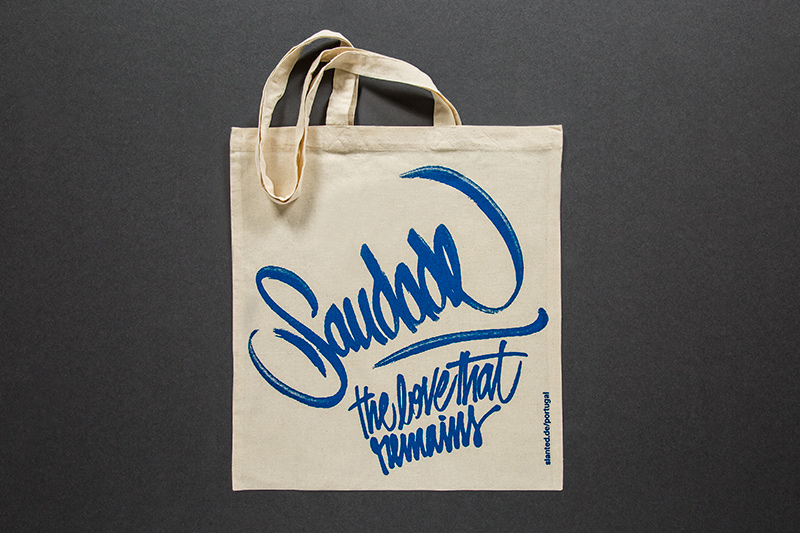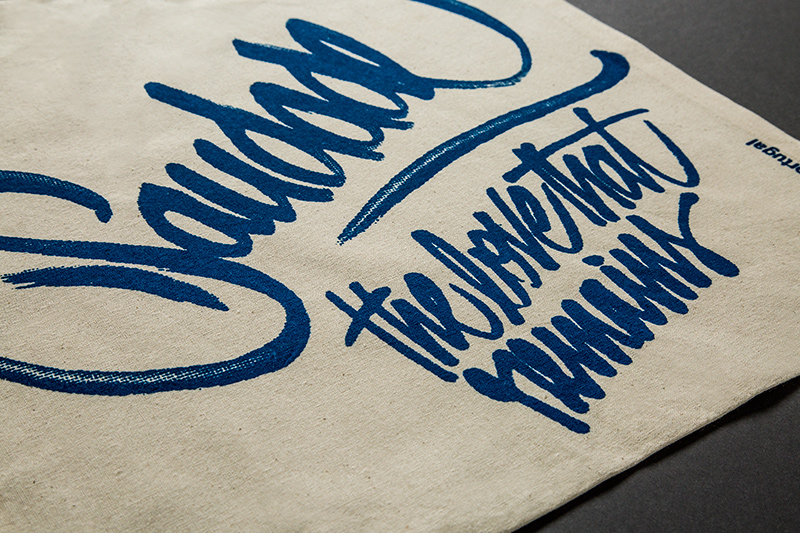 Photo Essay – Portugal
Photographer Daniel Sommer has built up his portfolio concentrating on sports and sports personality portraits. In February 2016 he accompanied the Slanted team on their trip to Portugal to capture the mood of Portugal at night. From the rough sea to the unusual appearance of common sights and wild nature – Portugal at night has a mystical aura.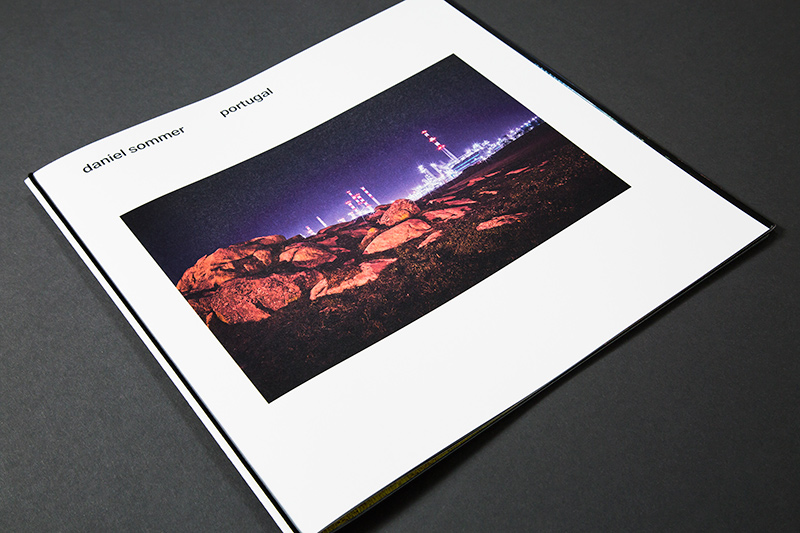 Photography: Daniel Sommer
Volume: 32 pages
Size: 29,7 x 29,7 cm
Language: English
Version: Loose print sheets with elastic band
Print: Druckerei Vogl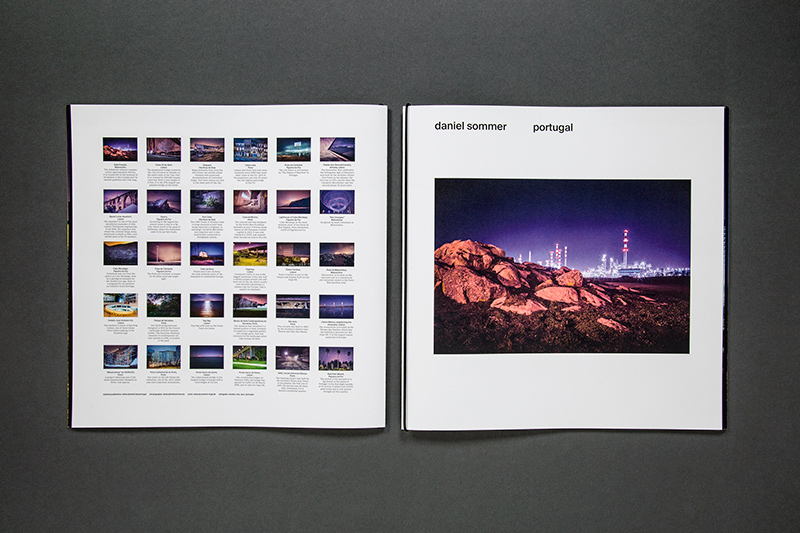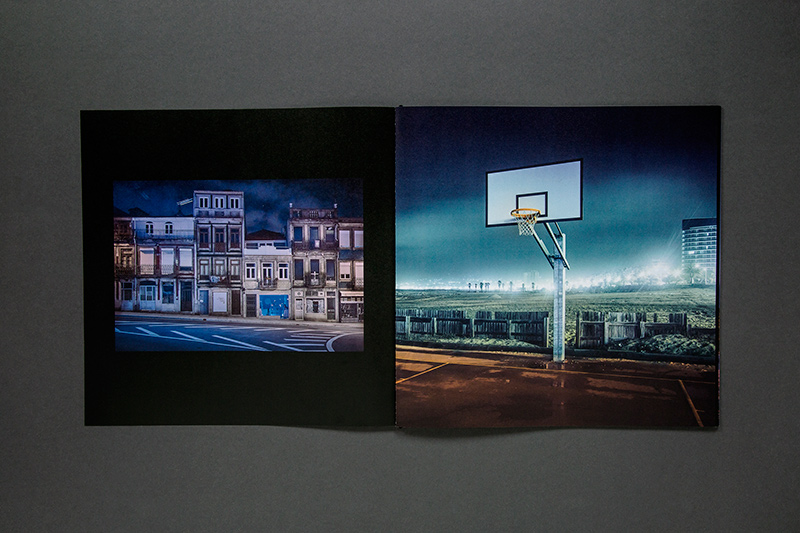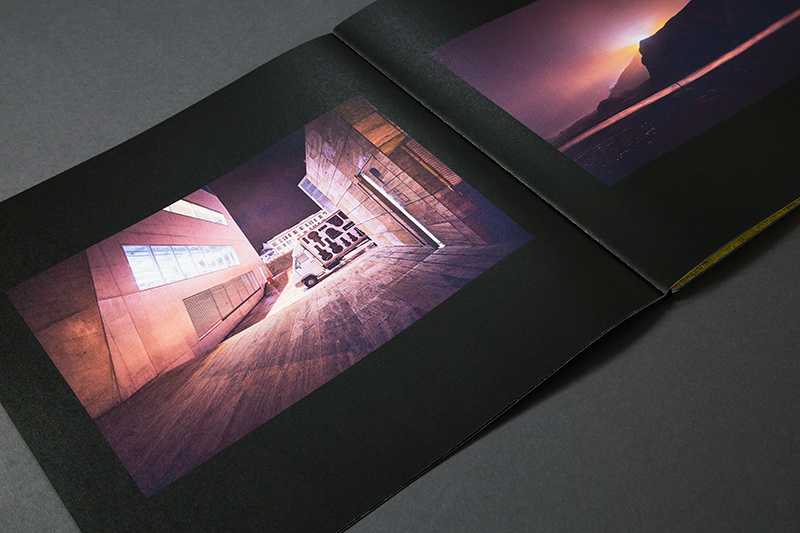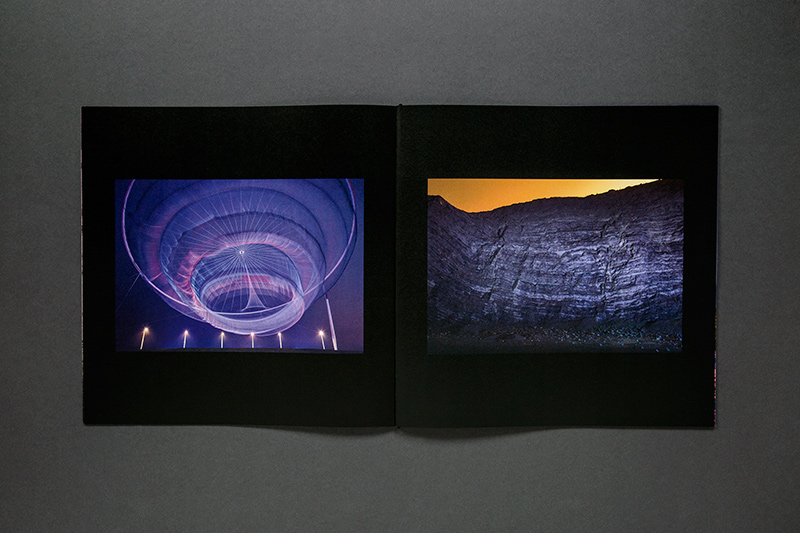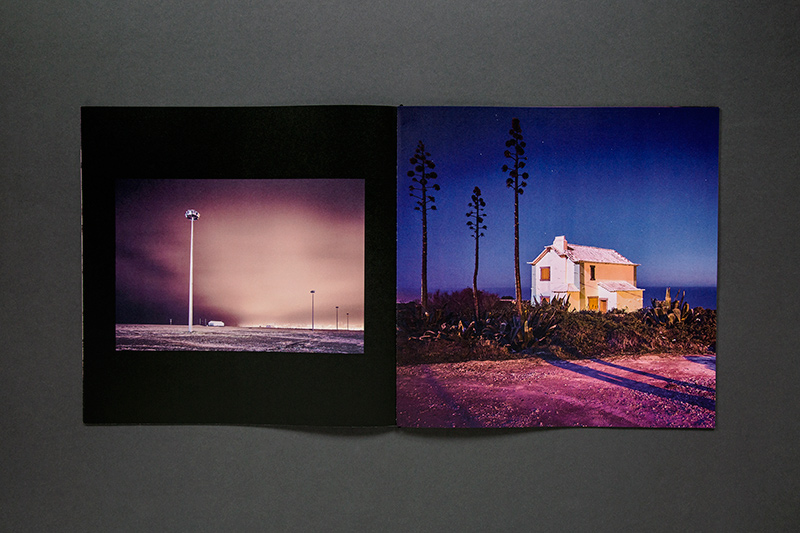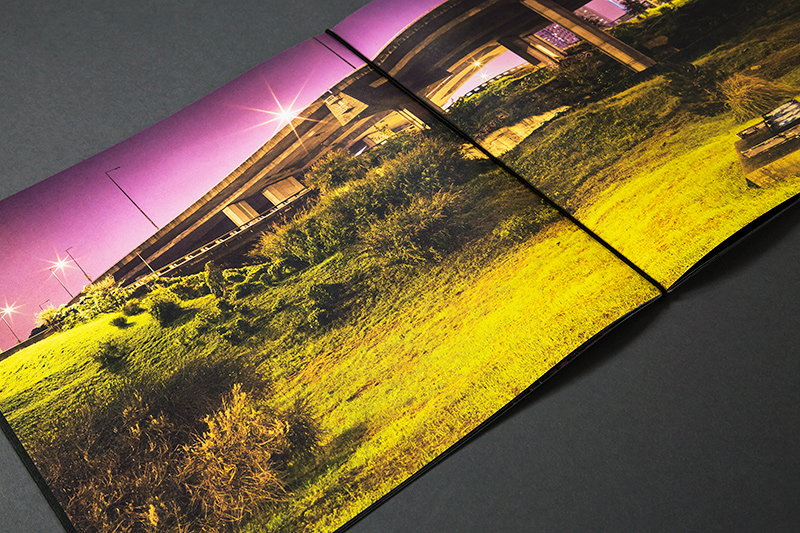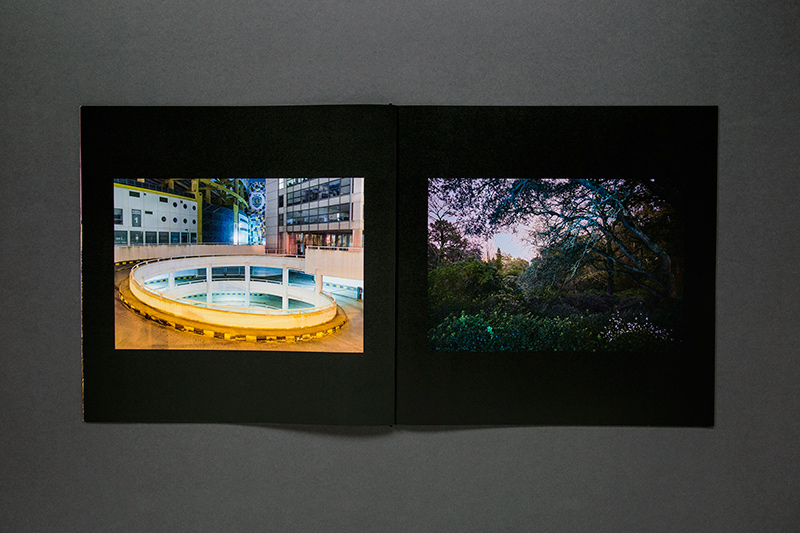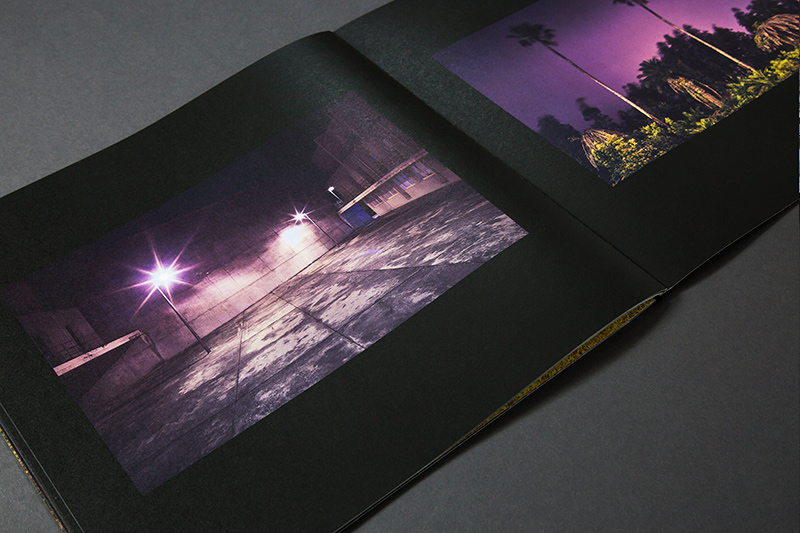 Tiny Posters – Visual Soundtrack
Music and graphics are two different kinds of media, auditory, and visual. But they always come together and one cannot think about the one without thinking about the other. Can we explain music through images only? In the seminar Tiny Posters at the University of Arts and Design Karlsruhe, four students have approached this subject and searched for Portuguese musicians whose work they wanted to approach visually.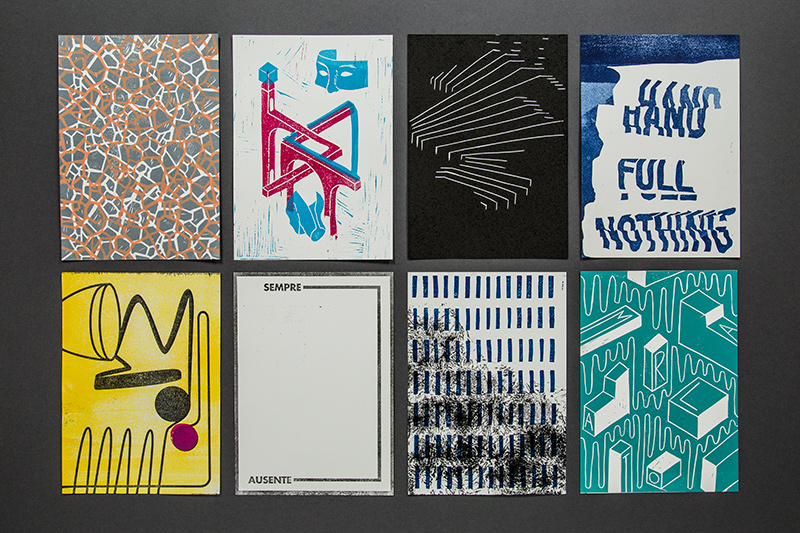 For every musician they printed six posters for six of their songs in various techniques such as linocut, or nyloprint. A selection of these posters can be found in this set, which was produced on the university's own printing-press "Black Betty" in an edition of 200 copies. A visual soundtrack exclusively sampled for Slanted Portugal!
Supervisor: Juliane Hohlbaum
Design: Lisa Walter, Selina Zwaller, Klara-Sophie Neubauer, Desiree Kabis
Format: 16 x 24 cm
Volume: set of 8 tiny posters
Techniques: linocut, photopolymer, wrapping film, riso (folder)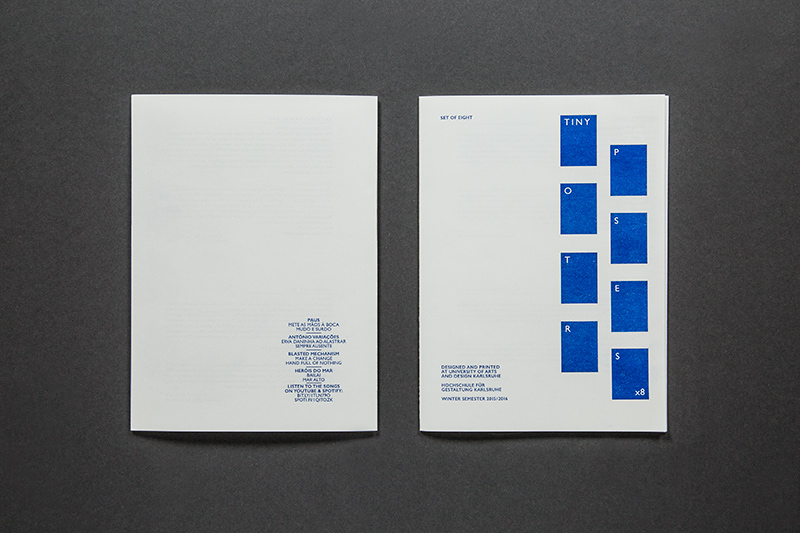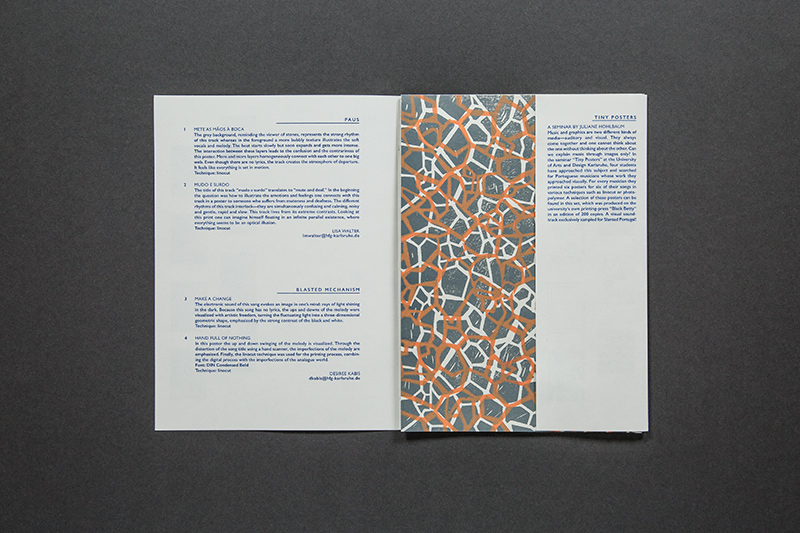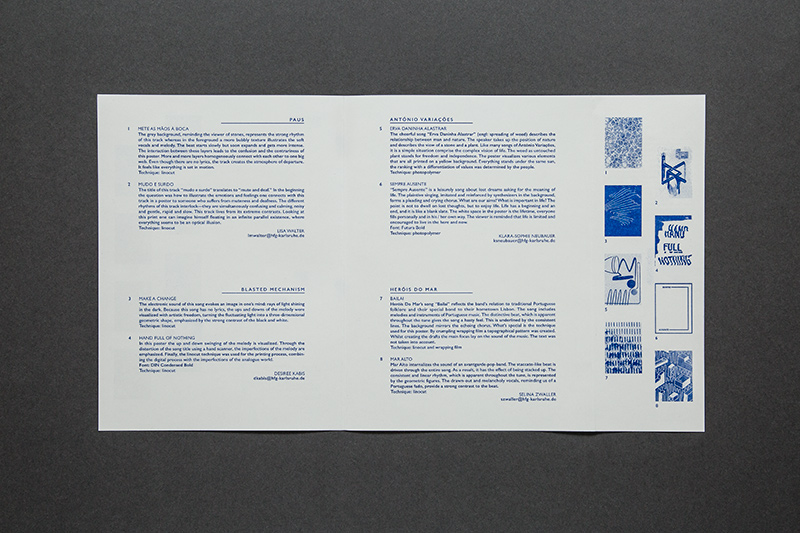 PAUS
METE AS MÃOS À BOCA
The grey background, reminding the viewer of stones, represents the strong rhythm of this track whereas in the foreground a more bubbly texture illustrates the soft vocals and melody. The beat starts slowly but soon expands and gets more intense. The interaction between these layers leads to the confusion and the contrariness of this poster. More and more layers homogeneously connect with each other to one big web. Even though there are no lyrics, the track creates the atmosphere of departure. It feels like everything is set in motion. Technique: linocut
MUDO E SURDO
The title of this track "mudo e surd" translates to "mute and deaf." In the beginning the question was how to illustrate the emotions and feelings one connects with this track in a poster to someone who suffers from muteness and deafness. The different rhythms of this track interlock—they are simultaneously confusing and calming, noisy and gentle, rapid and slow. This track lives from its extreme contrasts. Looking at this print one can imagine himself floating in an infinite parallel existence, where everything seems to be an optical illusion. Technique: linocut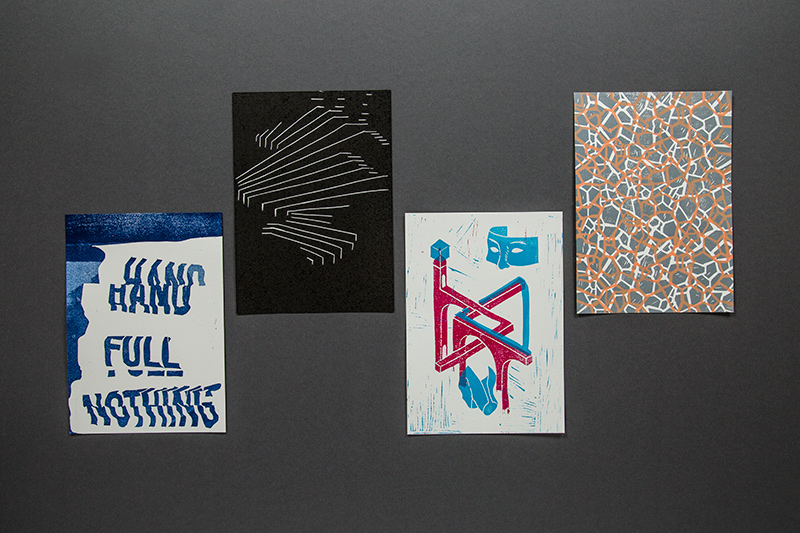 BLASTED MECHANISM
MAKE A CHANGE
The electronic sound of this song evokes an image in one's mind: rays of light shining in the dark. Because this song has no lyrics, the ups and downs of the melody were visualized with artistic freedom, turning the fluctuating light into a three-dimensional geometric shape, emphasized by the strong contrast of the black and white. Technique: linocut
HAND FULL OF NOTHING
In this poster the up and down swinging of the melody is visualized. Through the distortion of the song title using a hand scanner, the imperfections of the melody are emphasized. Finally, the linocut technique was used for the printing process, combining the digital process with the imperfections of the analogue world. Technique: linocut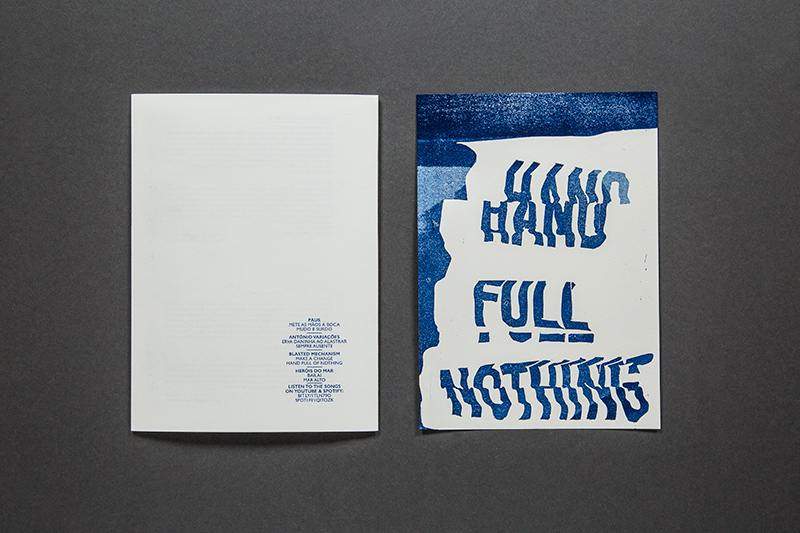 ANTÓNIO VARIAÇÕES
ERVA DANINHA ALASTRAR
The cheerful Song "Erva Danish Alastrar" (engl: spreading of weed) describes the relationship between man and nature. The speaker takes up the position of nature and describes the view of a stone and a plant. Like many songs of António Variações, it is a simple situation comprise the complex vision of life. The weed as untouched plant stands for freedom and independence. The poster visualizes various elements that are all printed on a yellow background. Everything stands under the same sun, the ranking with a differentiation of values was determined by the people. Technique: photopolymer
SEMPRE AUSENTE
"Semipro Ausente" is a leisurely song about lost dreams asking for the meaning of life. The plaintive singing, imitated and reinforced by synthesizers in the background, forms a pleading and crying chorus. What are our aims? What is important in life? The point is not to dwell on lost thoughts, but to enjoy life. Life has a beginning and an end, and it is like a blank slate. The white space in the poster is the lifetime, everyone fills personally and in his / her own way. The viewer is reminded that life is limited and encouraged to live in the here and now. Font: Futura Bold / Technique: photopolymer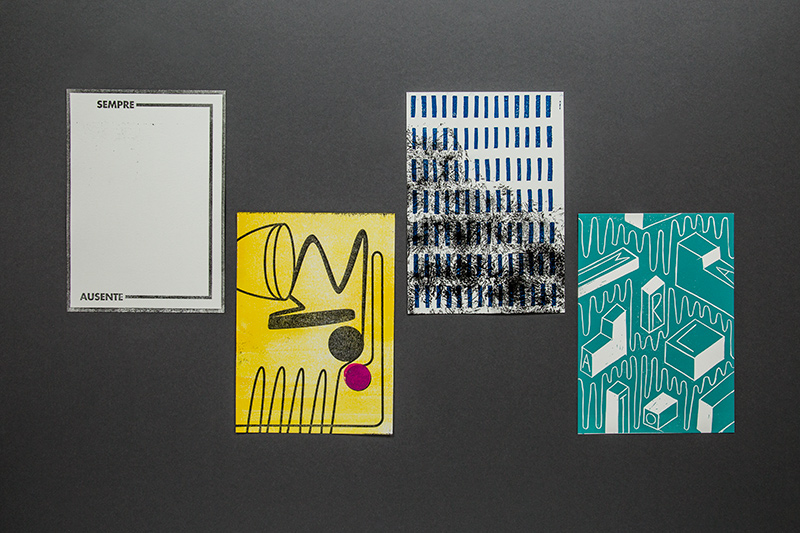 HERÓIS DO MAR
BAILAI
Heróis Do Mar's song "Bailai" reflects the band's relation to traditional Portuguese folklore and their special bond to their hometown Lisbon. The song includes melodies and instruments of Portuguese music. The distinctive beat, which is apparent throughout the tune gives the song a hasty feel. This is underlined by the consistent lines. The background mirrors the echoing chorus. What's special is the technique used for this poster. By crumpling wrapping film a topographical pattern was created. Whilst creating the drafts the main focus lay on the sound of the music. The text was not taken into account. Technique: linocut and wrapping film
MAR ALTO
Mar Alto internalizes the sound of an avantgarde-pop-band. The staccato-like beat is driven through the entire song. As a result, it has the effect of being stacked up. The consistent and linear rhythm, which is apparent throughout the tune, is represented by the geometric figures. The drawn-out and melancholy vocals, reminding us of a Portuguese fado, provide a strong contrast to the beat. Technique: linocut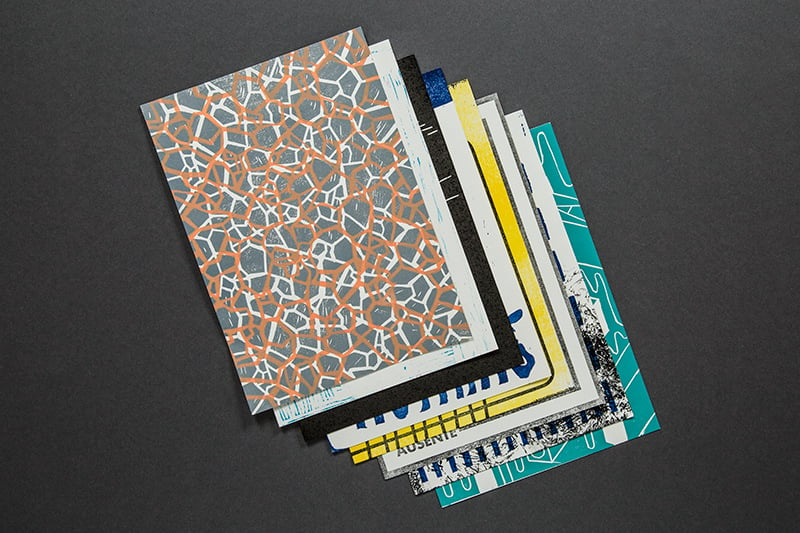 Pencils – Mudam-se os tempos, mudam-se as vontades.
The national poet Luís Vaz de Camões (1524–1580) once said these words, which can be translated to "Times change, wills change." Change is visible all over the country, and only because of the strong will of the Portuguese, and the boundless will of José Vieira owner of the oldest pencil factory Portugal's, places like Viarco are still alive. They manufactured these wonderful pencils for the special edition and with this share their approach and heritage with the Slanted readers worldwide.
Get an insight look into the oldest factory of Portugal online and in Slanted Magazine #27 – Portugal, p. 61–73.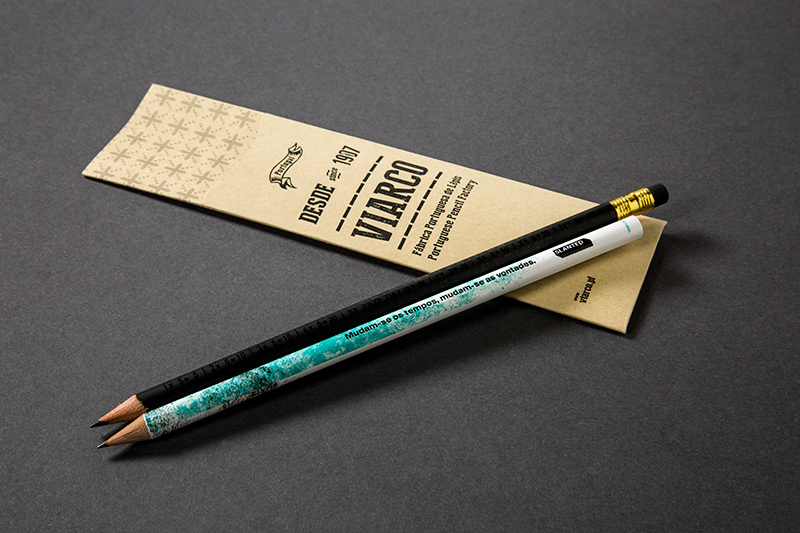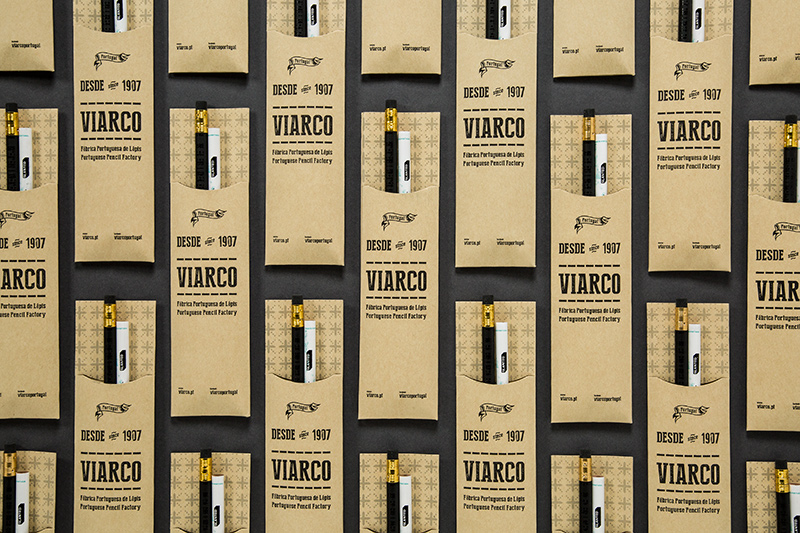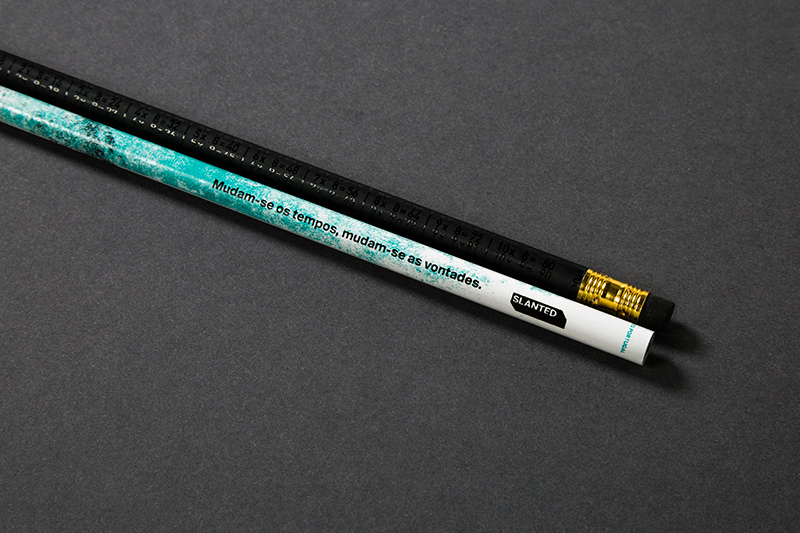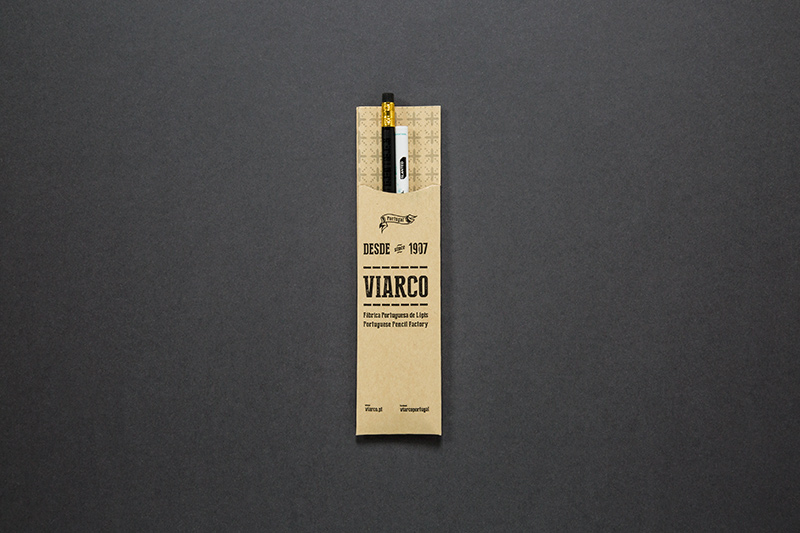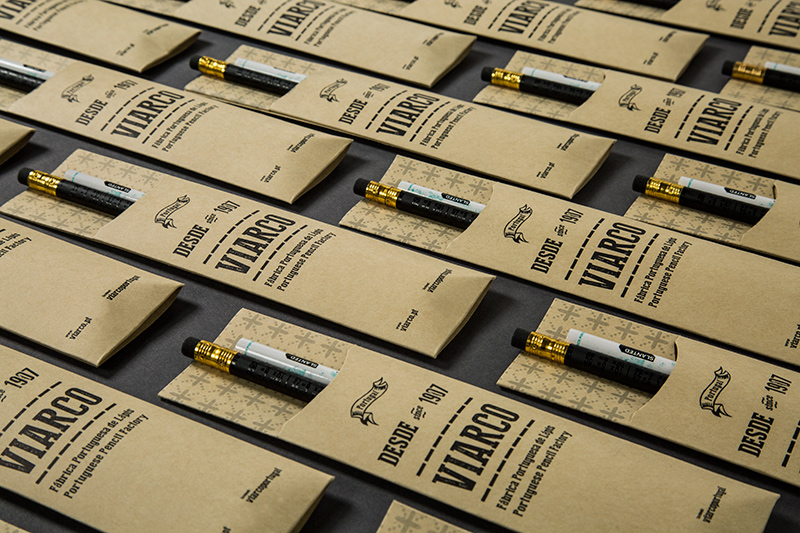 Anlässlich der Veröffentlichung des Slanted Magazins #27 – Portugal, erscheint eine limitierte Sonderedition, die exklusiv im Slanted Shop erhältlich ist. Die Edition beinhaltet eine von Hand gesiebdruckte Stofftasche, einen fotografischen Essay vom Fotografen Daniel Sommer, ein »visueller Soundtrack« in Form eines Mini-Poster-Sets, welches auf portugiesischer Musik basiert (Hochschule für Gestaltung Karlsruhe) und speziell für Slanted angefertigte Bleistifte von Viarco, der ältesten Bleistiftfabriks Portugals.
Herausgeber und Design: Slanted Publishers
Veröffentlichung: Mai 2016
Edition: 200 Stück
Preis: 19 Euro
Stofftasche – Saudade, the love that remains
Saudade ist ein typisches Wort im Portugiesischen und hat keine direkte Übersetzung im Deutschen. »Tenho saudades tuas« aus dem Portugiesischen wird übersetzt als »Ich habe das Gefühl von Saudade für Dich« und bedeutet »Ich vermisse Dich«, aber mit einem viel stärkeren Klang. Saudade wurde einst beschrieben als "die Liebe, die bleibt", nachdem jemand fortgegangen ist. Saudade ist eine Erinnerung an Gefühle, Erfahrungen, Orten oder Ereignissen, die einst Aufregung, Vergnügen und Wohlbefinden brachten und nun diese Empfindungen wieder auslösen und jemanden lebendig machen.
Schriftzug: Bruno Rodrigues
Größe: 38 × 42 cm
Material: Baumwolle
Ausführung: Lange Henkel (70 cm)
Druck: Siebdruck
Photo Essay – Portugal
Das Portfolio des Fotografens Daniel Sommer konzentriert sich auf Sportmotive und Portraits von Sportlern. Im Februar 2016 begleitete er das Slanted-Team auf Redaktionsreise durch Portugal, um die nächtliche Atmosphäre Portugals mit seiner Kamera einzufangen. Vom rauen Meer über das ungewöhnliche Aussehen bekannter Sehenswürdigkeiten und die wilde Natur – Portugal besitzt eine mystische Aura bei Nacht.
Fotografie: Daniel Sommer
Umfang: 32 pages
Größe: 29,7 × 29,7 cm
Sprache: English
Ausführung: Lose bedruckte Bogen mit Gummiband
Druck: Druckerei Vogl
Tiny Posters – Visueller Soundtrack
Musik und Grafik sind eigentlich zwei recht unterschiedliche Medien, das eine auditiv, das andere visuell. Doch sie treffen immer wieder aufeinander und sind kaum auseinander zu denken. Doch kann man Musik nur durch Bilder erklären? Im Seminar »Tiny Posters« an der Hochschule für Gestaltung in Karlsruhe haben sich vier Studentinnen diesem Thema genähert. Parallel zur Slanted Ausgabe Portugal suchten sie nach portugiesischen Musikern, deren Arbeit sie sich visuell nähern wollten. So entstanden zu jedem Musiker 6 Poster zu 6 seiner Lieder in verschiedenen Hochdrucktechniken. Eine Auswahl der Poster finden sich in diesem Set, welches auf der hochschuleigenen Hochdruckpresse »Black Betty« produziert wurde. Der Soundtrack zur Slanted Ausgabe.
Bleistifte – Mudam-se os tempos, mudam-se as vontades.
Der Nationalpoet Luís Vaz de Camões (1524–1580) sagte einst diese Worte, die übersetzt »Zeiten ändern sich, der Wille ändert sich« heißen. Veränderungen sind im ganzen Land sichtbar – oft wegen des starken Willens eines Einzelnen, wie beispielsweise José Vieira, Besitzer der ältesten Bleistiftfabriks Portugals, der Orte wie Viarco am Leben hält. Viarco produzierte diese Bleistifte für Slanted, und transportiert damit eine Haltung und ein Erbe über die Landesgrenzen hinaus.
Einblicke in die älteste Bleistiftfabrik Portugals gibt es online und im Slanted Magazin #27 – Portugal, Seite 69–71.
Buy: € 19,00

including Tax 7%

, excluding shipping costs