Das neue Typodarium ist da! Druckfrisch aus der Presse und mit 365 Tagen Typoinspiration für das kommende Jahr 2011. Bereits zum dritten Mal haben Typedesigner und Foundries aus aller Welt ihre neusten Schriften eingereicht und damit ein Kalenderblatt gestaltet. Welchen Font benutze ich heute? Ein Blick ins Typodarium hilft.
Tägliche Typo-Inspiration mit 365 Fonts von 180 Foundries und Gestaltern aus 30 Ländern im Typodarium 2011, dem ersten Typo-Abreißkalender! Entdecke erfrischende Typen, gestandene Charaktere, Brotschriften, Spielereien und die gesamte Vielfalt des aktuellen Typedesigns. Auf der Vorderseite groß, dekorativ und lesbar Datum, Wochentag und die Feiertage aller 30 Länder, auf der Rückseite die Hintergründe, die Gestalter und natürlich die Bezugsquelle des Fonts.
»Zu schade zum Wegwerfen«, fanden diejenigen, bei denen sich die Blätter des aktuellen Typodariums in den Schreibtischschubladen tummeln. Also kommt das neue Typodarium 2011 auch wieder in einer Sammelbox verpackt zu Ihnen!
Nachdem die vergangenen Typodarien 2009 und 2010 nach kürzester Zeit vergriffen waren, sollte man jetzt gleich zugreifen und sich sein Exemplar sichern!
Typodarium 2011
The Daily Dose of Typography
Herausgeber: Lars Harmsen, Raban Ruddigkeit
Gestaltung: Boris Kahl
Verlag: Hermann Schmidt Mainz
Abreißkalender zum Aufstellen oder Hängen
mit 365 Fonts von 180 Foundries und Designern
aus 30 Ländern und allen Feiertagen dieser Länder
384 Blatt, zweiseitig bedruckt,
schwarz und leuchtendes Cyan
Format 8,5 x 12 cm
Verpackt in einer Sammelbox
zum Archivieren der Schriftmuster
EAN 4260172810159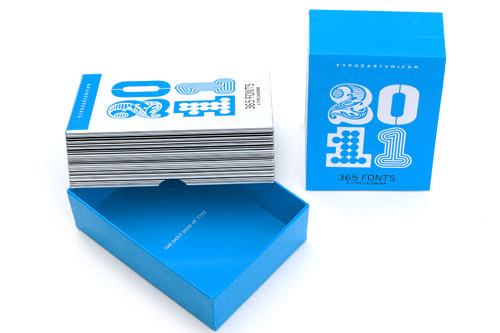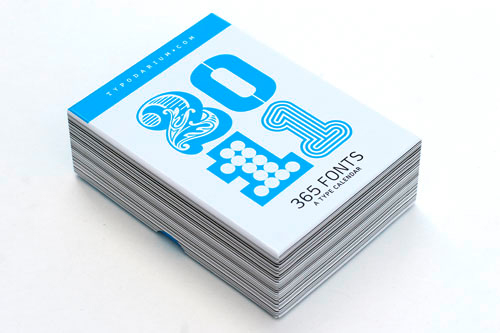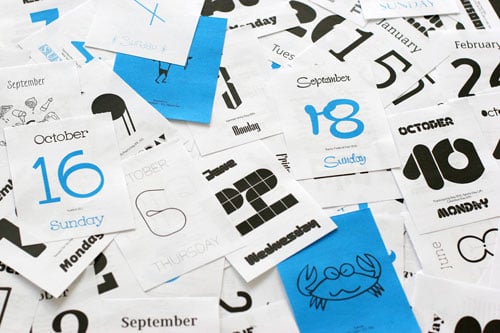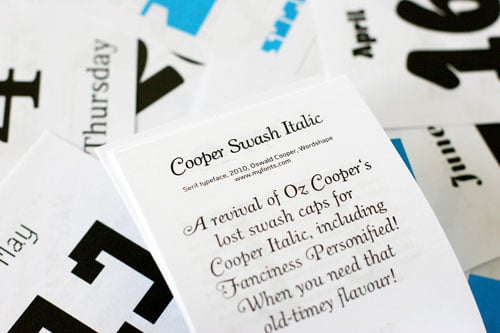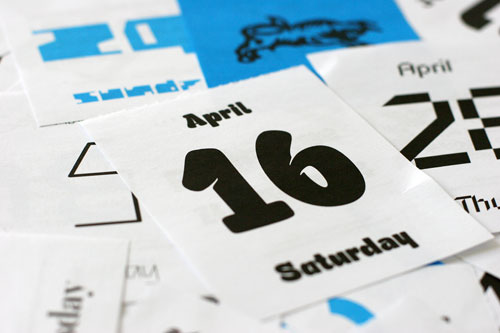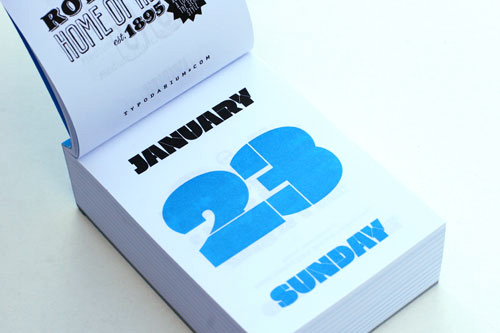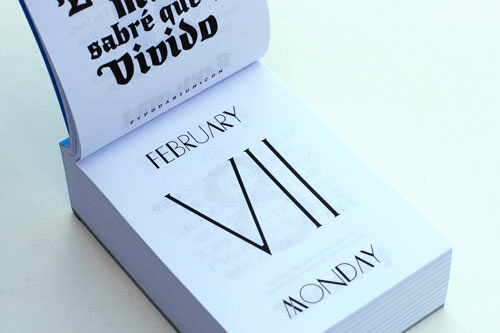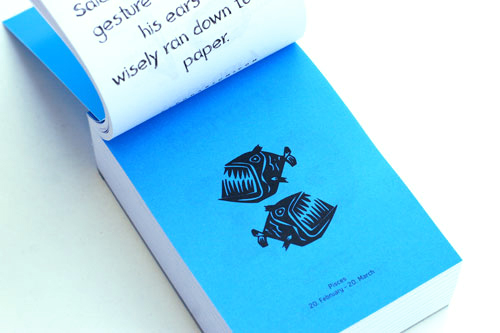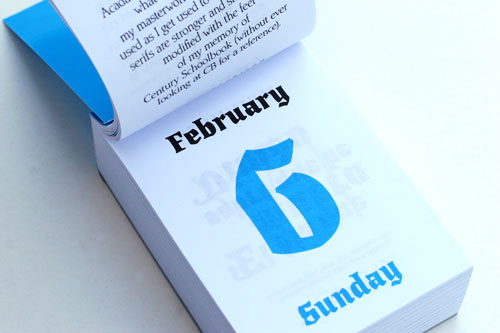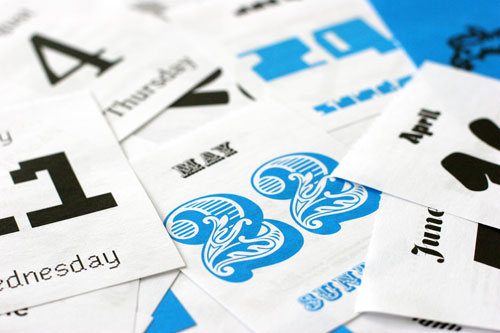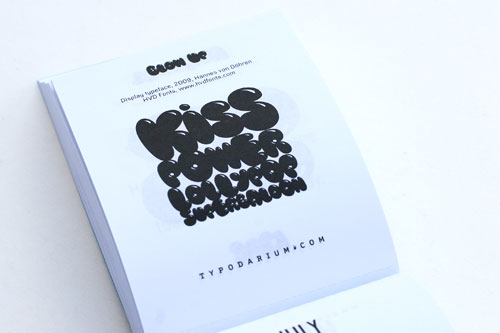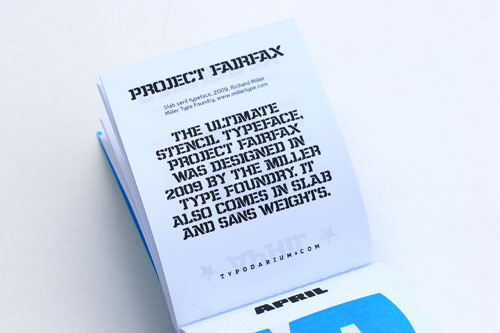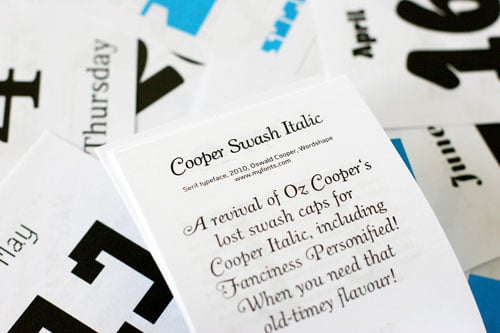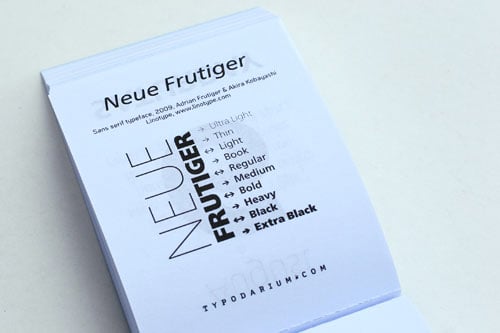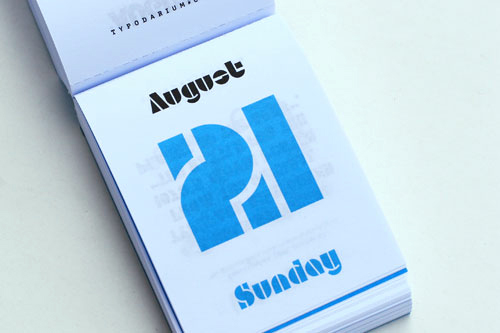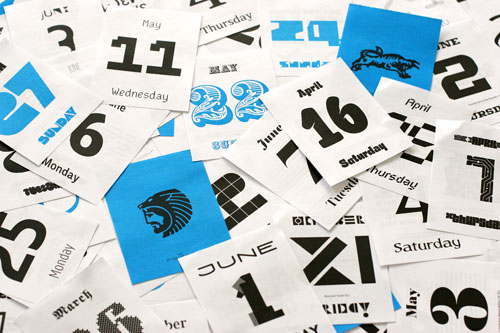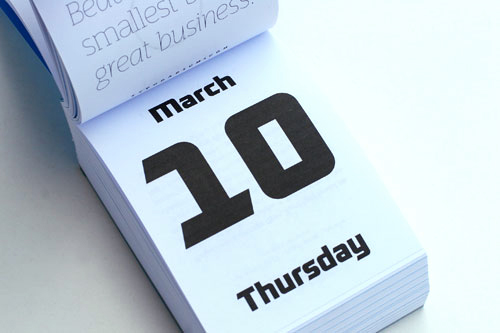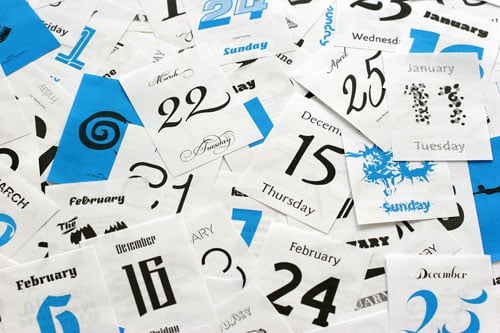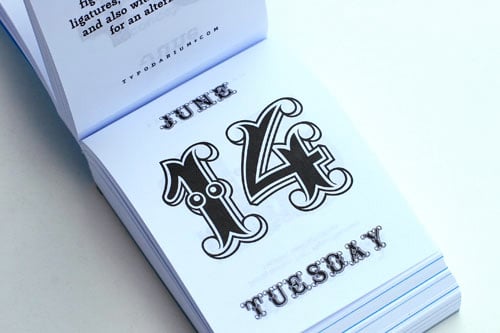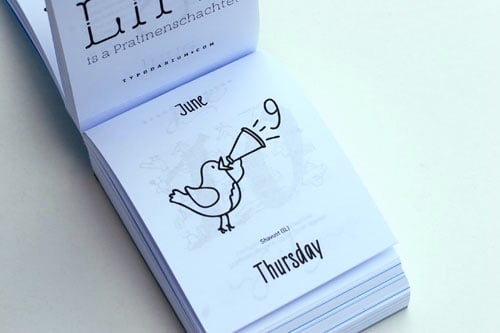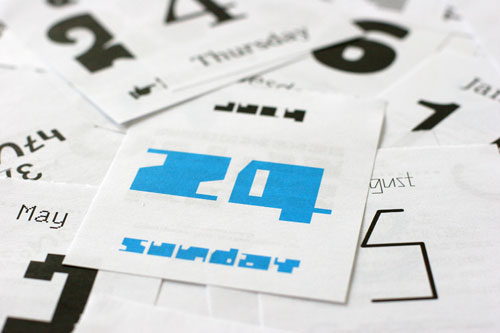 Mit Beiträgen von:
Lazy Dog, tatssachen, ambplus, Typerepublic, bauer – konzept & gestaltung, Hackberry Font foundry, Fenotype, Lukas Bischoff, Grilli, Designiq, BANK, BORSELLINO & CO., Typographies.fr, xplicit, Suitcase Type Foundry, Michael Browers, typojungle, Wolfgang Segsby, TypeTogether, Pilar Cano, Juan Casco Fonts, Cocijotype, Cort9, Freskiz Comunicate, LucasFonts, Aan, Buchstabenmuseum, Melle Diete, Studio Livius Dietzel, Type Mafia, Alphabet Soup Type Founders, MarcioDuarte.com, durchzwei, ReType, nf | type + graphic design, Erik Faulhaber, KATRINatWORK, Jan Fromm, Sven Fuchs, Fontsmith, Marina Gärtner, Lorenzo Geiger, Typographic Studio, Yanone, Huerta Tipogáfica, Charles Grant, ffffonts, Canada Type, I LIKE BIRDS, Cocijotype, Furiosum, Suomi Type Foundry, Yotam Hadar, FontMesa, Kontour, sauce.nl, adriprints press, beautility-love, The Northern Block, VESTURBÆR FONTS, Typejockeys, Patrick Hubbuch, Fried Chicken & Gasoline, Reserves, Tour de Force Font Foundry, Volcano Type, Outside the Line, P22 type foundry, Mota Italic, sygargliderz Corp., Dani Klauser Grafik Design, Kristina Klinkmüller, Melville Brand Design, Holger Königsdörfer, Alexandra Korolkova, die Typonauten, Use All Five, Inc., GLC foundry, Gunnar Link, Doubletwo Studios, Lowman, von Süden, Ian Lynam Creative Direction, d117, Emtype Foundry, FSI FontShop International, Huertatipografica, Mone Maurer, usota.com, Mugur Mihai, Miller Type Foundry, The Colour Grey, Veer, Viktor Nübel, REKORD, Wete, Sudtipos, Typofonderie, German Type Foundry, Sebastian Preuße, Typograma, Duncan Rogers Design, Type & Design Factory, 26plus-zeichen.de, SO-AND-SO, FSDesign, Infosentidos, Linotype GmbH, RADAU, Cape Arcona Type Foundry, kenydesign.de, astype / GTF, AndrijType, Dutchfonts, Avoid Red Arrows, hamburgefoenstiv, Atelier Bubentraum, Positype, Edenspiekermann, Daniel Tauber, Stereotypes, backpacker.gr, tipo, Daniel Utz Visuelle Gestaltung, JOEBOB graphics, van der Keur (typo)graphic des, Bold Monday, Laura Varsky, Parachute, VITUCCI Grafica, HVD Fonts, HATSUMATSU, LiebeFonts, Marco Wolbert, 066.FONT, Official Classic, librito.de
Verwandter Artikel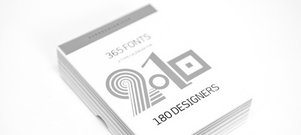 The daily dose of type
Nach dem Erfolg von Typodarium 2009, ist es nun wieder geschafft: Das Typodarium geht in die zweite ...
Submitted by Julia on 13.10.2009
in Design, Miscellaneous, Type Foundries, Typefaces 26 comments
Nächster Artikel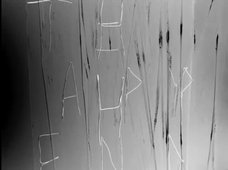 endscapes/echoes of jericho_album trailer
Jakob Wierzba ist Absolvent der Neuen Schule für Fotografie und setzt der Psychedelik von der wirklich tollen Band ...
Submitted by hans schumacher on 03.08.2010
Vorheriger Artikel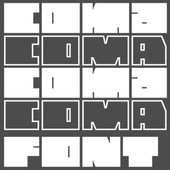 von Alois Ganslmeir & Jörg Herz
Ursprünglich wurde Coma Font als Plakatheadline-Font von Alois Ganslmeier entworfen und dann zu einem kompletten ...
Submitted by Boris on 30.07.2010