The constantly progressing digitalization of the media has radically altered the development and marketing of new typefaces. Desktop publishing and programs for the design of own fonts allow a previously unimaginable wealth of new typefaces. To provide an overview of this welcome diversity, the 'Yearbook of Type' presents a selection of new releases from around the world – from large publishing houses to small, independent typographers and foundries.
This independent compendium presents individual fonts or font families on a double page each, providing both visual impressions as well as background and detailed information about the finishing. A section with essays additionally provides background information, technical aspects, as well as instructions or descriptions from the sector. The publication serves designers and agencies as a source of inspiration and aids in the selection of fonts, at the same time also constituting a catalog and reference work for all those who are interested in contemporary fonts and type design.
– New edition with all new typefaces
– Detailed presentation of all selected fonts
– Ample background information
– Essays and articles
– Index with classification
Presented type foundries: 29Letters, A is for…, AB Type Foundry, ADTypo, AinsiFont, Atelier télescopique, Atlas Font Foundry, Baldinger • Vu-Huu, binnenland, Bold Monday, Brownfox, Cape Arcona Type Foundry, Carrois Type Design, die Typonauten, dutchfonts, FaceType, Fatype, Font Bureau, Fontfabric, fontfarm.de, FontFont, FontMesa, Fontsmith, FONTYOU, Gestalten, Great Lakes Lettering, HVD Fonts, Indian Type Foundry, International House of Fonts, Jan Fromm, Hubert Jocham, Kimmy Design, Kontour Type, Lanston Type Co., Latinotype, Letterwerk, Los Andes Type, LucasFonts, Ludwig Type, Milieu Grotesque, Monotype, Moshik Nadav Typography,Nonpareille, Nouvelle Noire, Novo Typo, P22 type foundry, PampaType, Parachute, phospho, PintassilgoPrints, Playtype, primetype, Production Type, profonts, Rene Bieder / Design and Direction, Resistenza.es, Retype Foundry, Typedesign, Rui Abreu / R-typography, Henning Skibbe –Typefaces, Sorkin Type, Storm Type Foundry, studio type, Suitcase Type Foundry, Talbot Type, TipografiaRamis, Tipografies, TipoType, tntypography, Tour de Force Font Foundry, type me! fonts, Type-Ø-Tones, typecuts, Typejockeys, Typesenses, Typetanic Fonts, TypeTogether, Typocalypse, Typofonderie, Typotheque VOF, Urtd, URW++ Design & Development GmbH, Volcano Type, Willerstorfer Font Foundry, xplicit GmbH, Zeugler
Essays by: Rudolf Barmettler, Thomas Huot-Marchand, Jakob Runge, Alice Savoie, Ole Schäfer, Rainer Erich Scheichelbauer
Yearbook of Type II
Editor: Slanted Publishers
Publishing house: Niggli
Creative Direction: Lars Harmsen
Art Direction: Julia Kahl
Graphic Design: Juliane Hohlbaum
Release: 2015
Format: 16,5 x 24 cm
Volume: 416 pages
Language: English
ISBN:978-3-7212-0942-6
Specials: Hardcover, Half linen bound, hot foil stamping, spot colors
Price: 19,95 Euro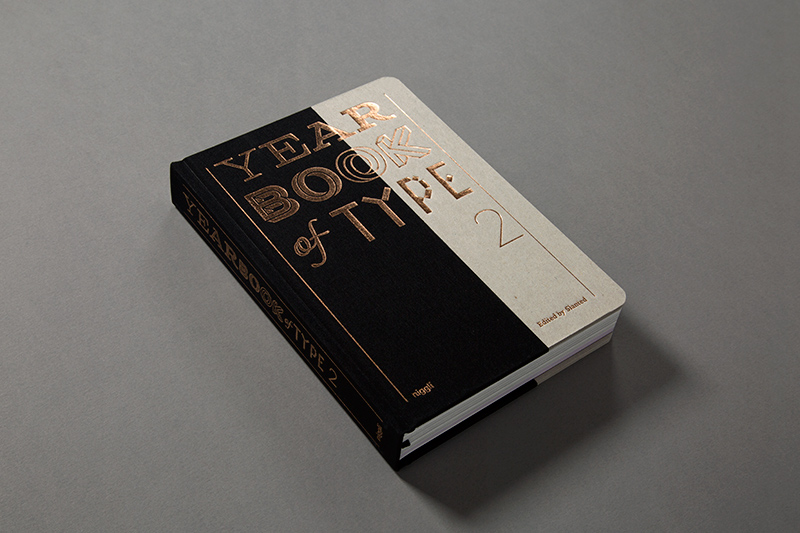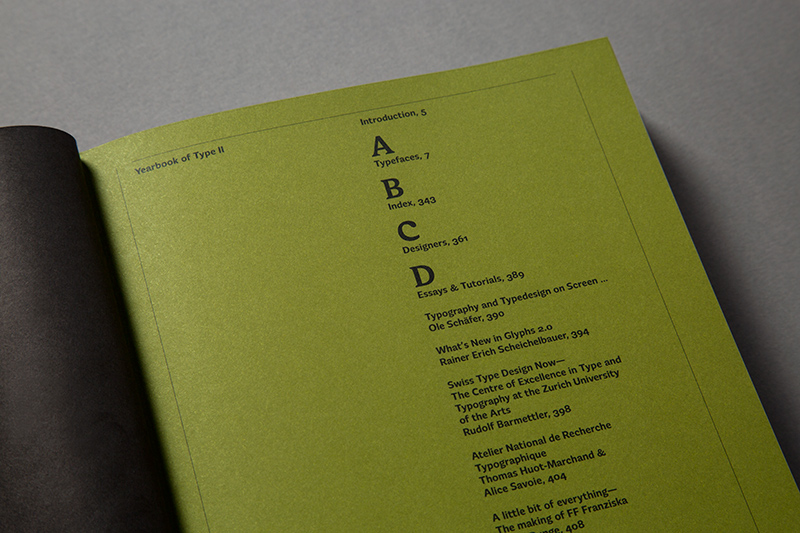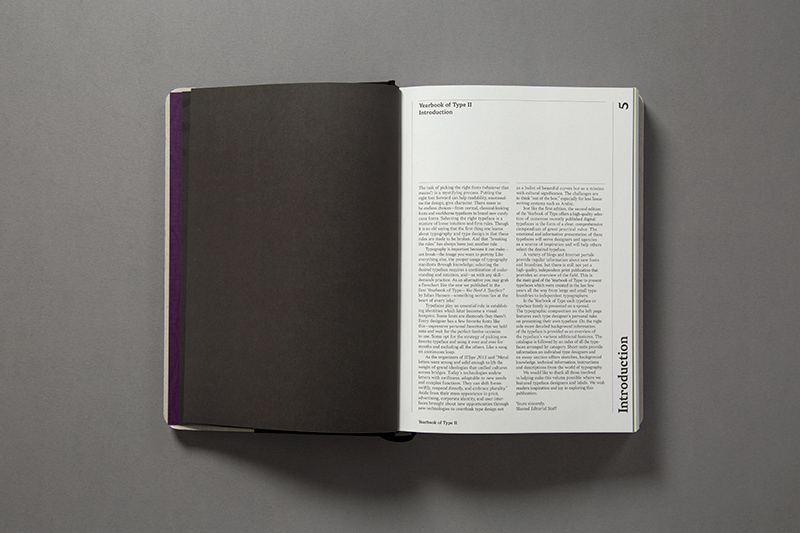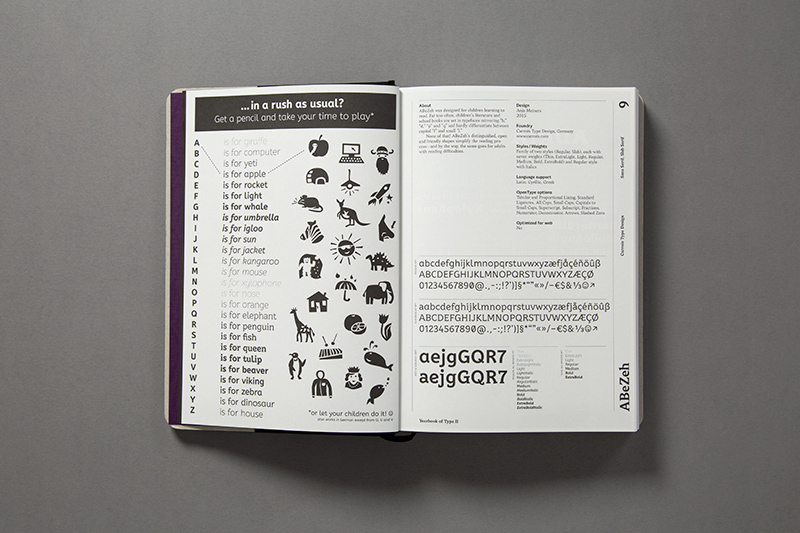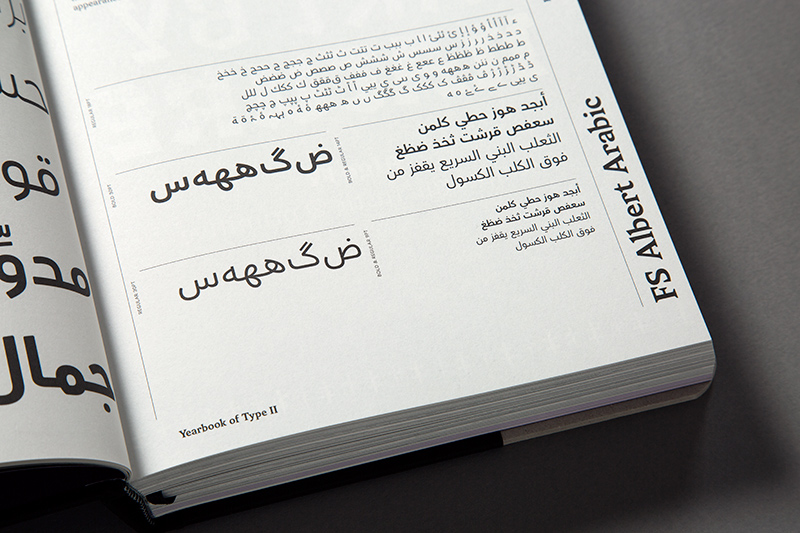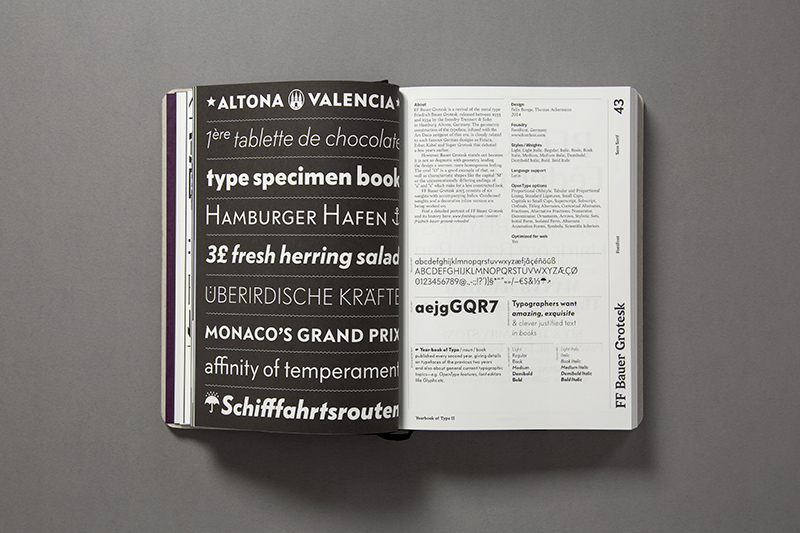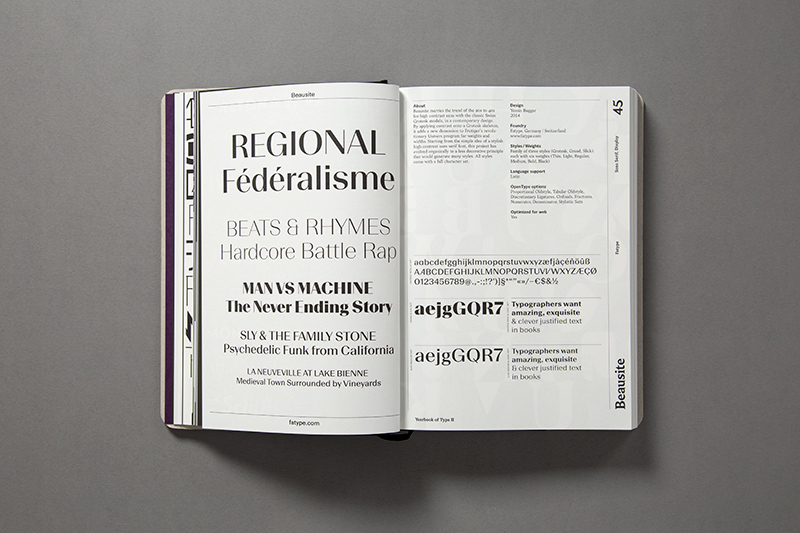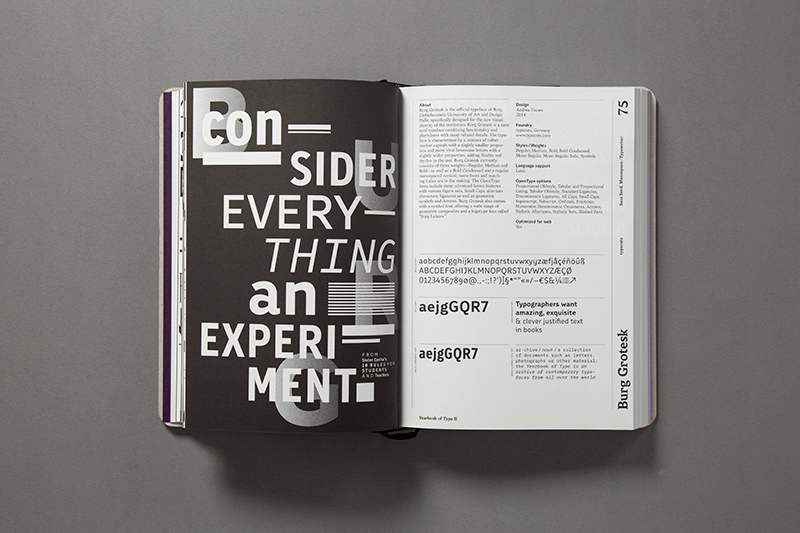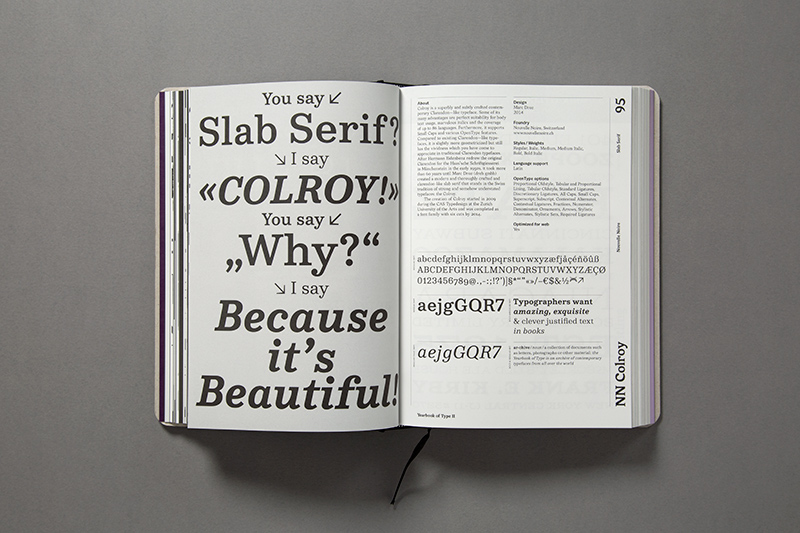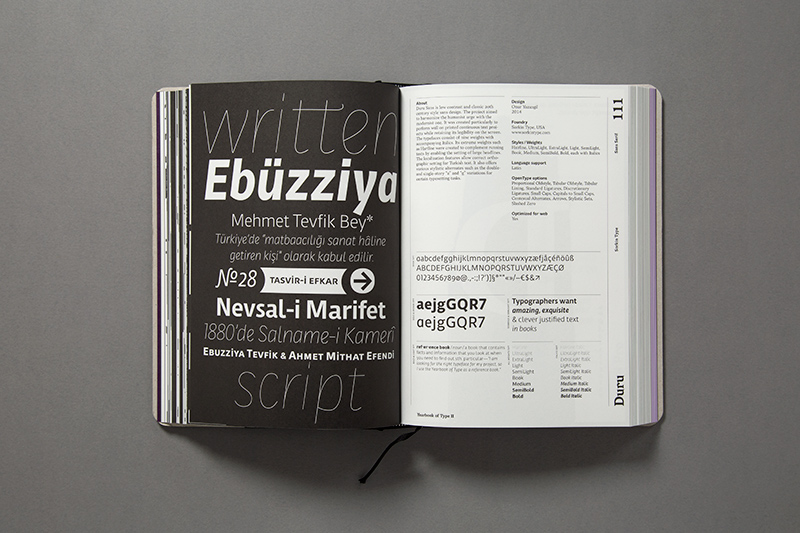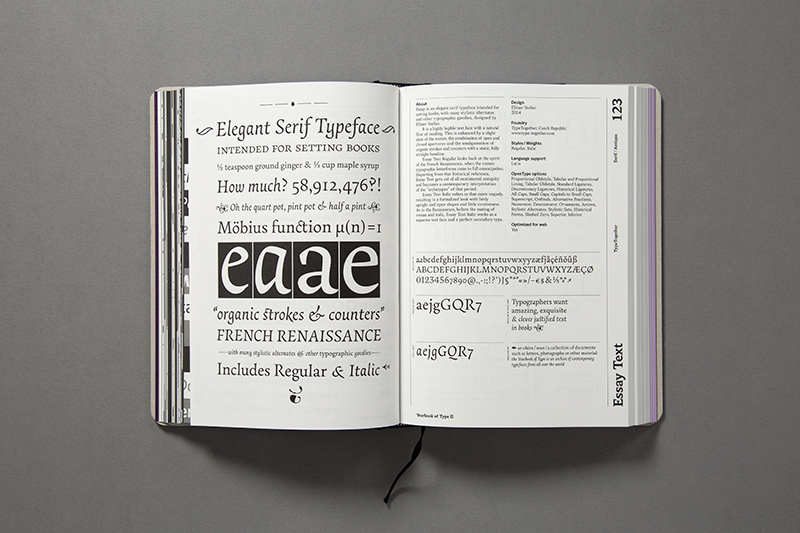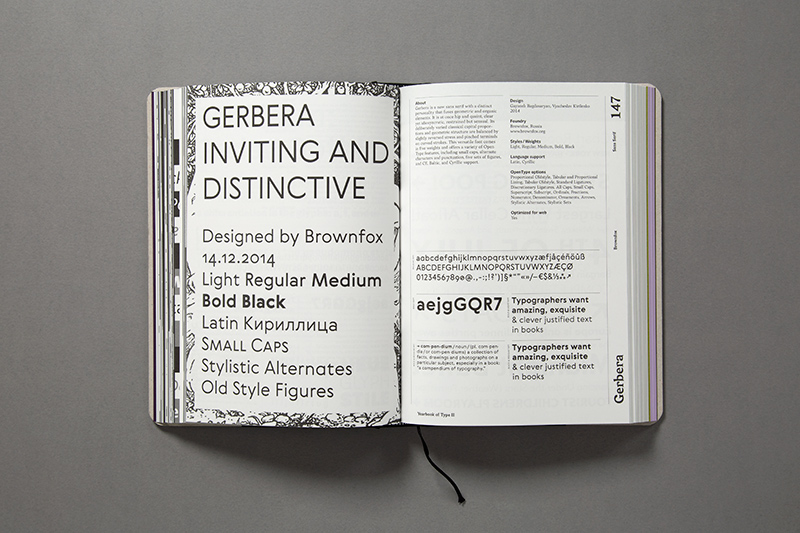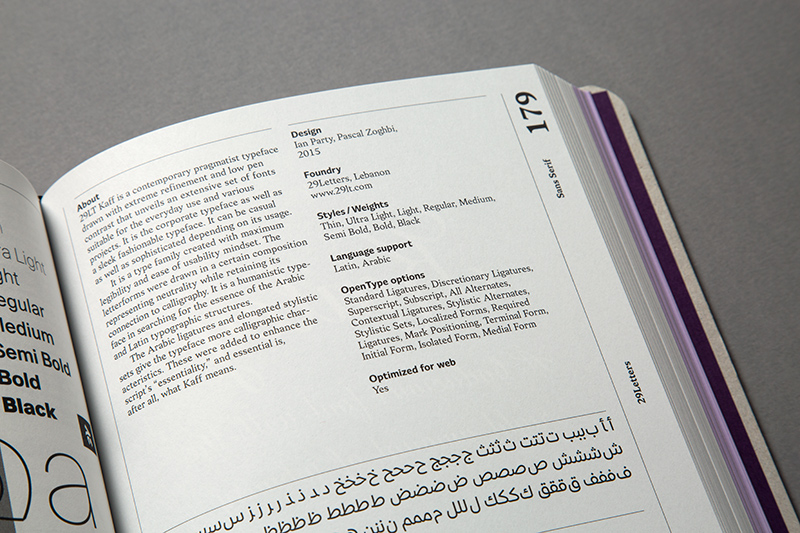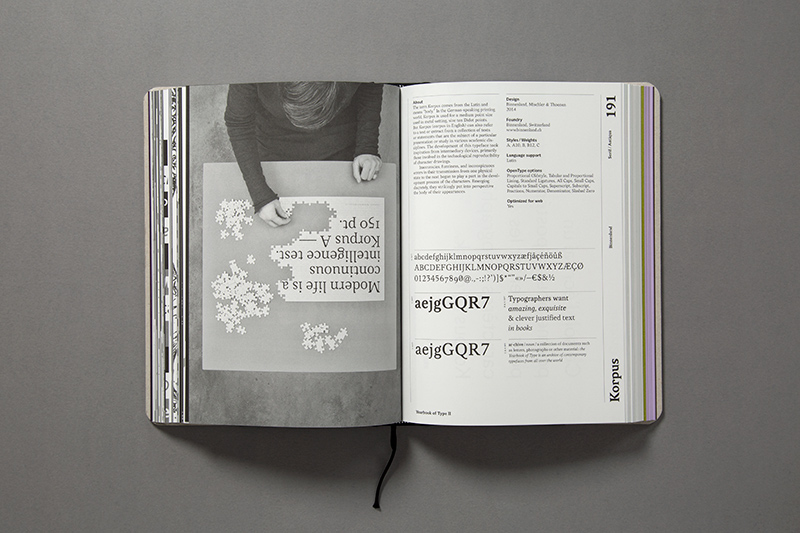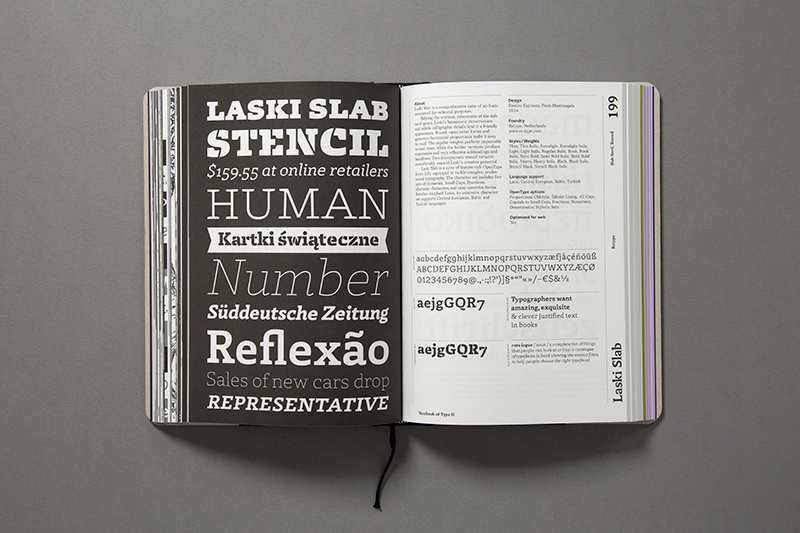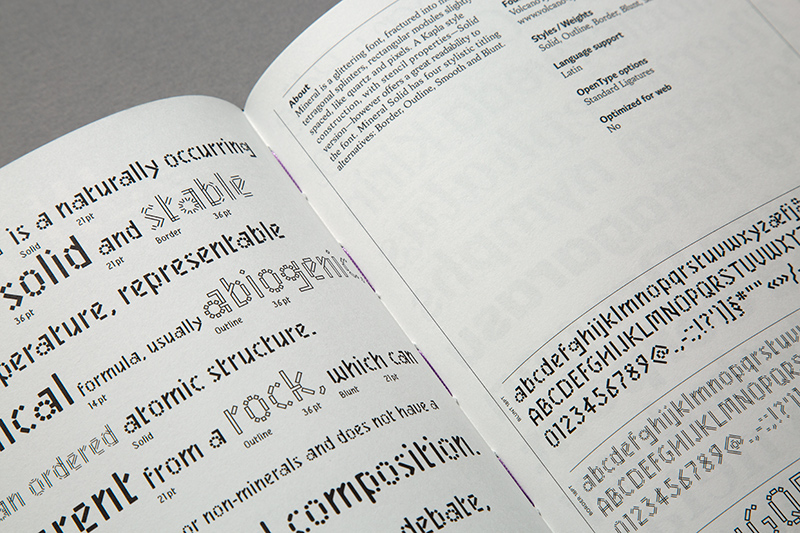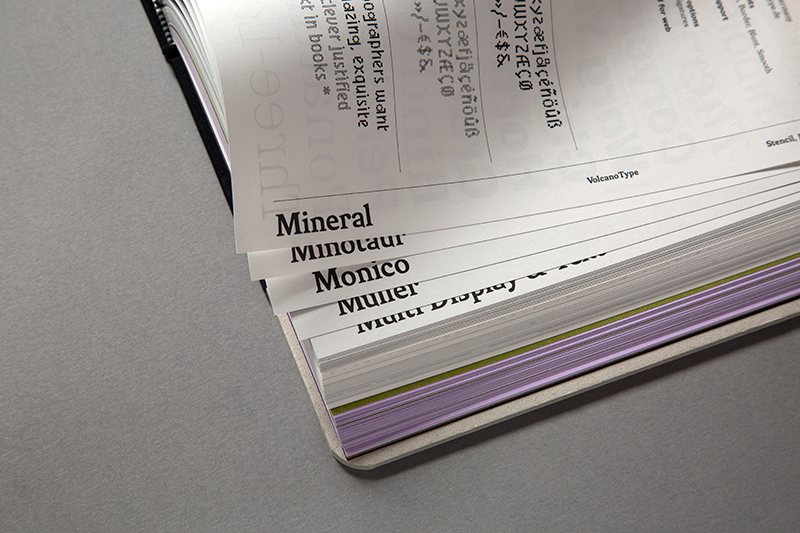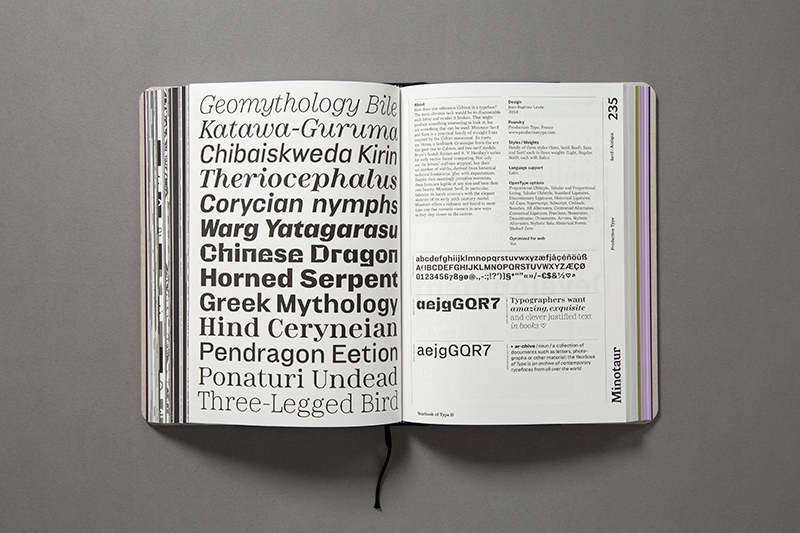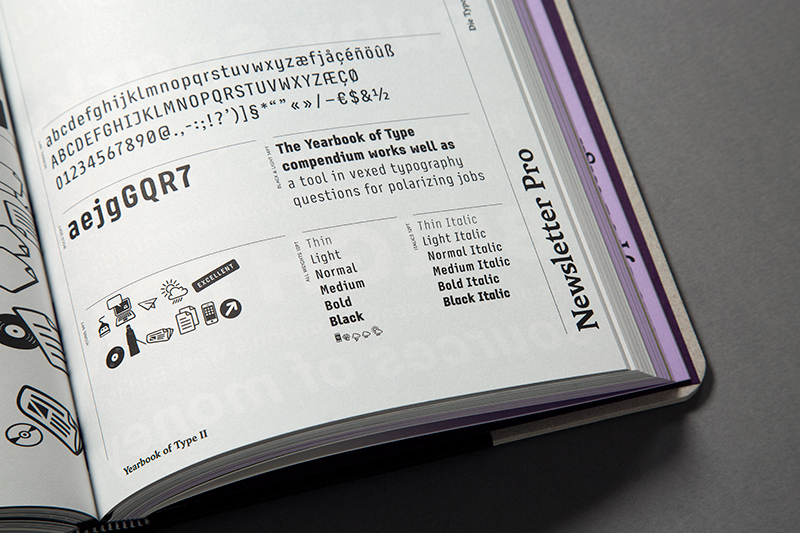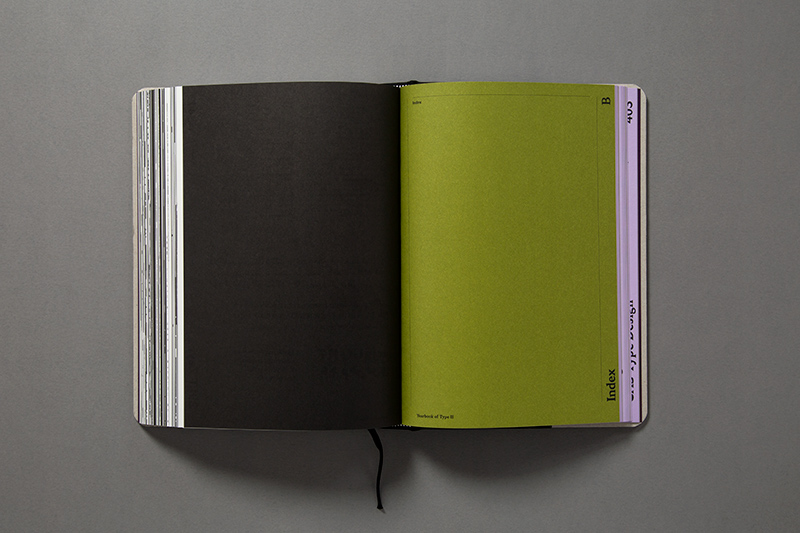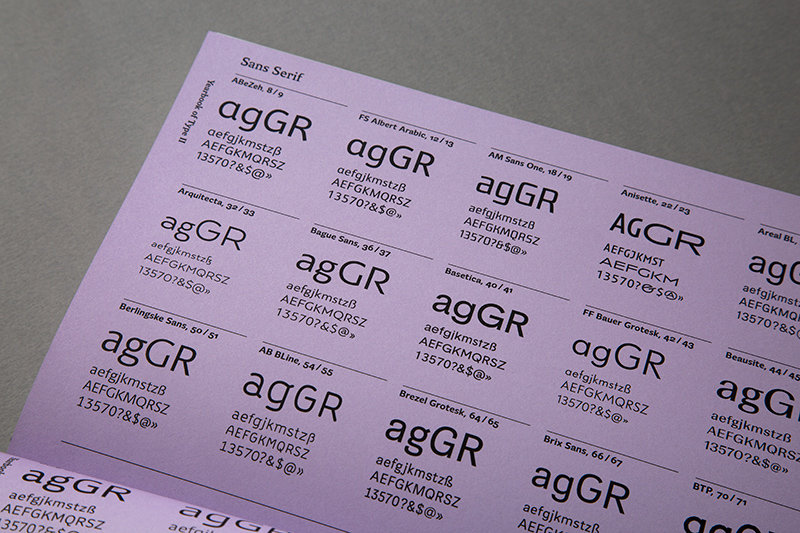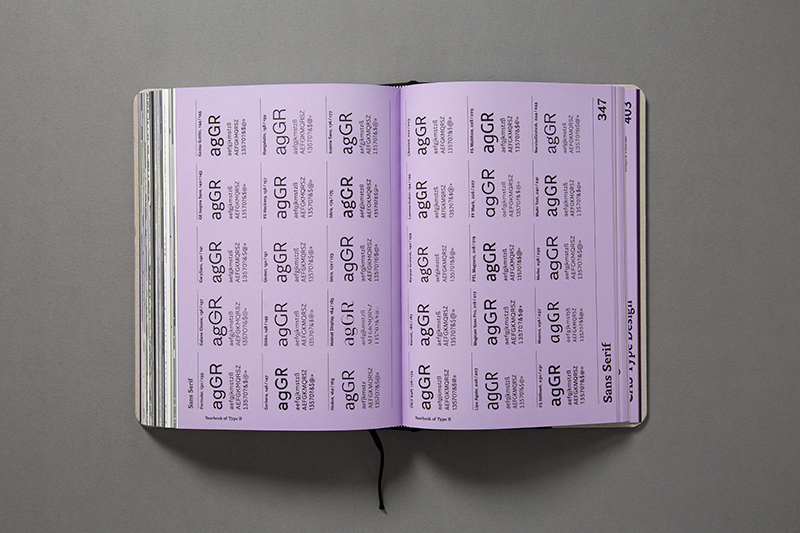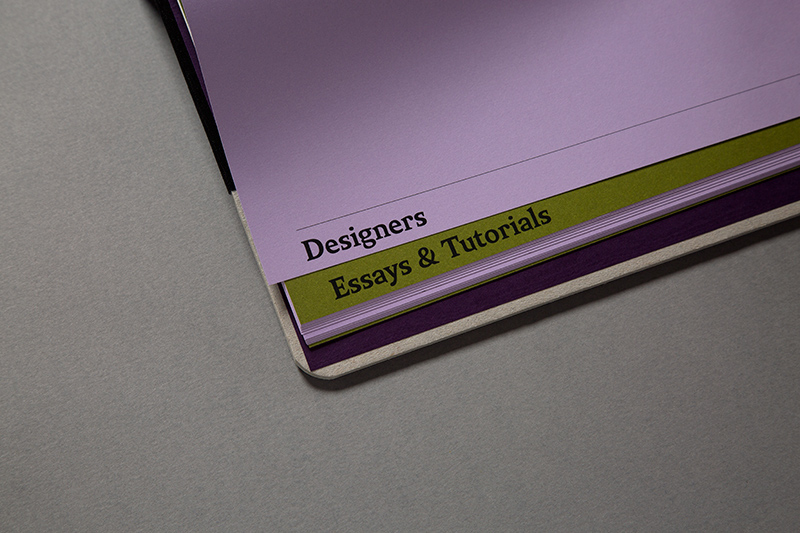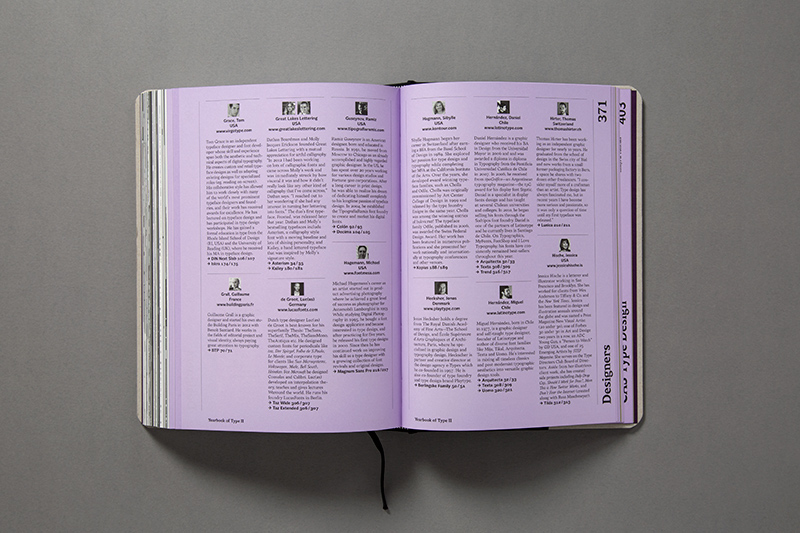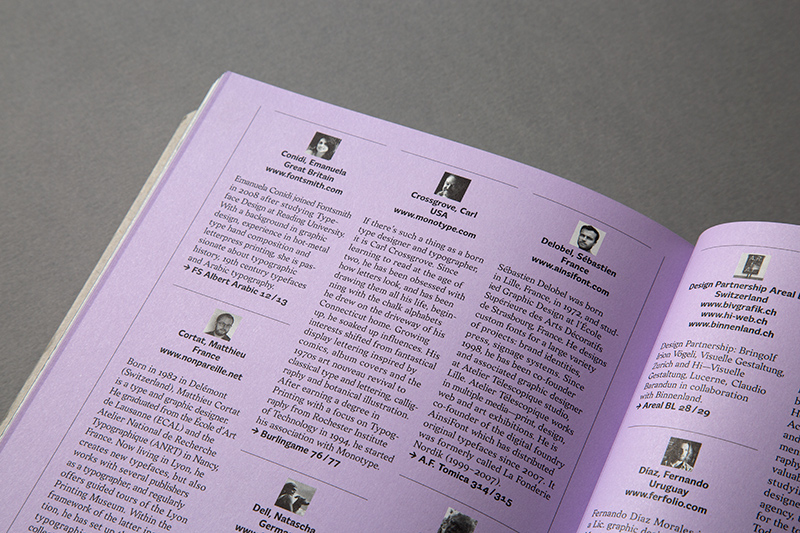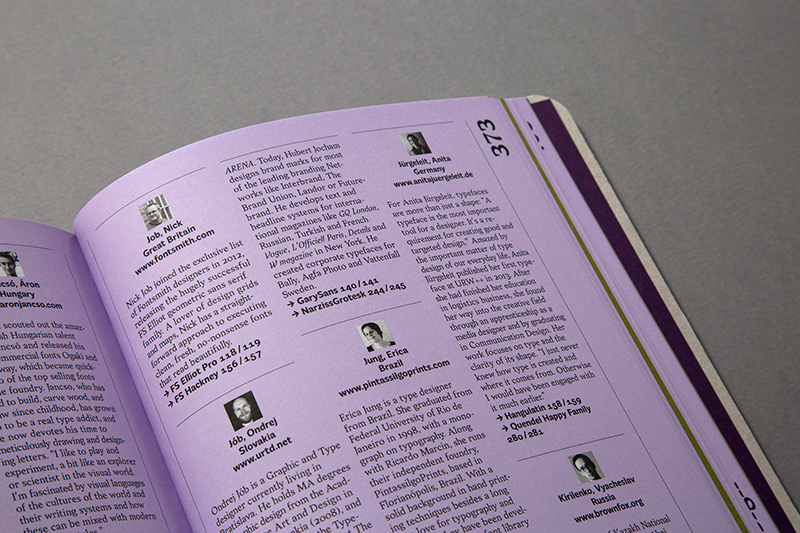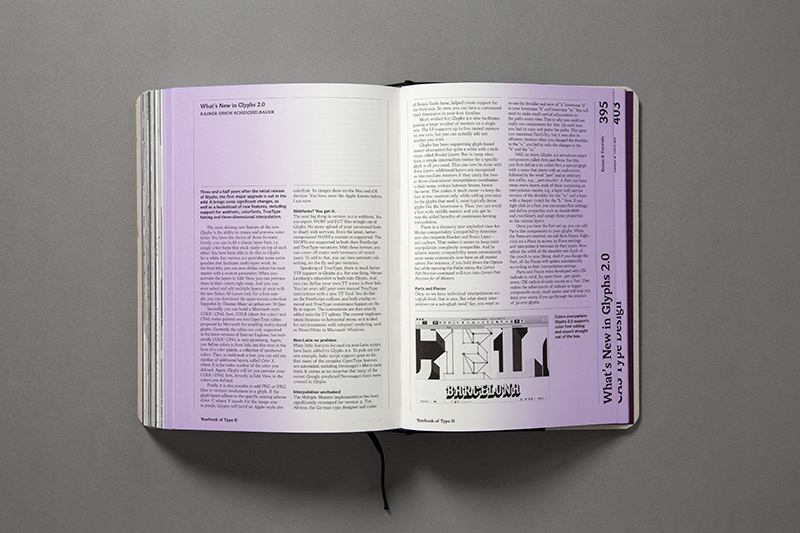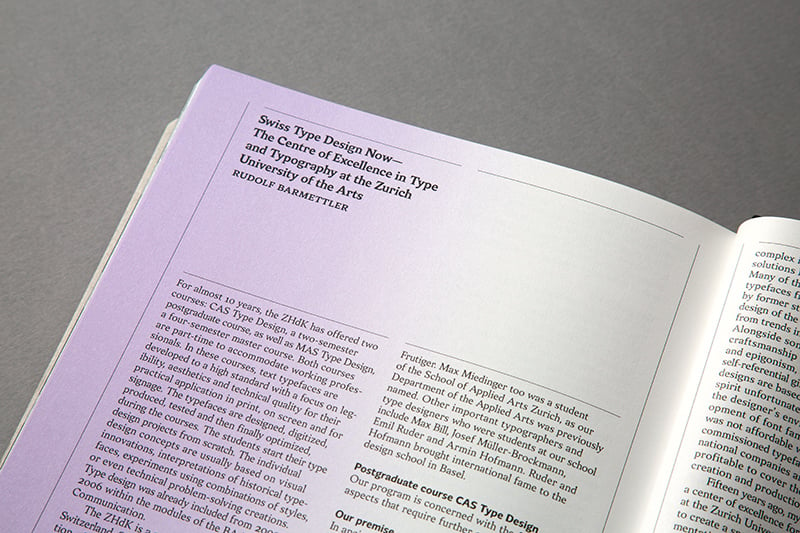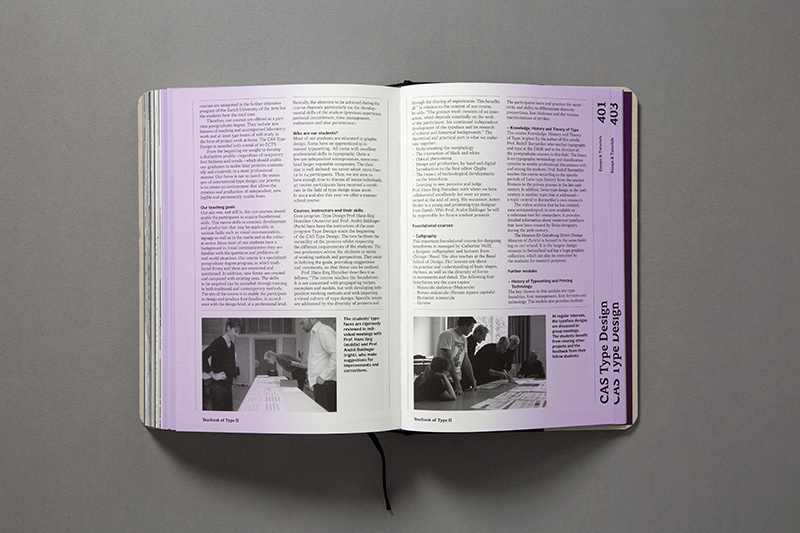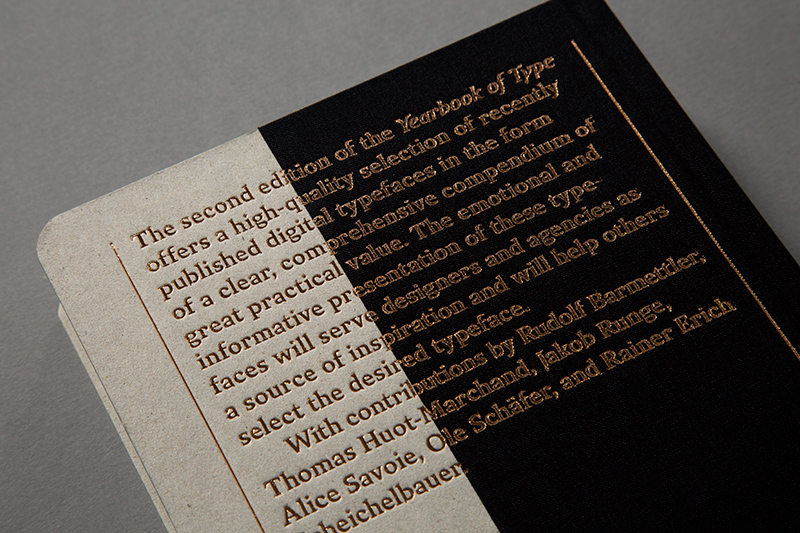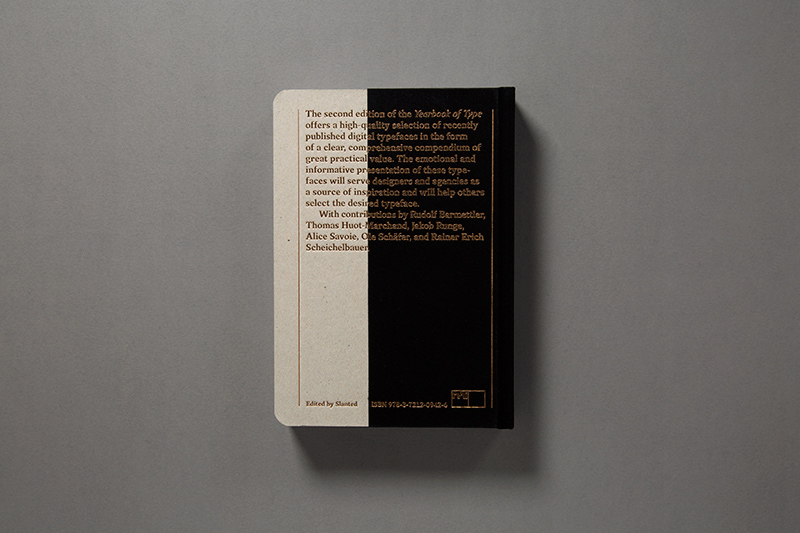 Durch die immer weiter fortschreitende Digitalisierung der Medien hat sich die Entwicklung und der Vertrieb neuer Schriften radikal gewandelt. Desktop-Publishing und Programme zum Entwerfen eigener Fonts ermöglichen eine früher undenkbare Fülle an neuen Schriften. Um diese begrüßenswerte Vielfalt übersichtlich zu halten, zeigt das Yearbook of Type II eine Auswahl der Neuerscheinungen aus aller Welt – von größeren Schriftverlagen bis hin zu kleinen, unabhängigen Typografen und Foundries.
Jeweils auf einer Doppelseite präsentiert dieses unabhängige Kompendium die einzelnen Schriften beziehungsweise Schriftfamilien und vermittelt sowohl optische Eindrücke als auch Hintergründe und Detailinformationen über die Ausstattung. Eine Sektion mit Essays bietet darüber hinaus Hintergrundwissen, technische Aspekte, Anleitungen oder Beschreibungen aus der Szene. Die Publikation dient Designern oder Agenturen als Inspiration und Hilfe bei der Auswahl von Schriften, spricht als Katalog und Nachschlagewerk aber auch all jene an, die sich für zeitgenössische Schriften und Typedesign interessieren.
– Neue Ausgabe mit neuen Schrifttypen
– Detaillierte Präsentation der einzelnen Fonts
– Umfassende Hintergrundinformationen
– Index mit Klassifikation
– Index mit den Designern
– Essays
Mit Schriften von den folgenden Foundries: 29Letters, A is for…, AB Type Foundry, ADTypo, AinsiFont, Atelier télescopique, Atlas Font Foundry, Baldinger • Vu-Huu, binnenland, Bold Monday, Brownfox, Cape Arcona Type Foundry, Carrois Type Design, die Typonauten, dutchfonts, FaceType, Fatype, Font Bureau, Fontfabric, fontfarm.de, FontFont, FontMesa, Fontsmith, FONTYOU, Gestalten, Great Lakes Lettering, HVD Fonts, Indian Type Foundry, International House of Fonts, Jan Fromm, Hubert Jocham, Kimmy Design, Kontour Type, Lanston Type Co., Latinotype, Letterwerk, Los Andes Type, LucasFonts, Ludwig Type, Milieu Grotesque, Monotype, Moshik Nadav Typography, Nonpareille, Nouvelle Noire, Novo Typo, P22 type foundry, PampaType, Parachute, phospho, PintassilgoPrints, Playtype, primetype, Production Type, profonts, Rene Bieder / Design and Direction, Resistenza.es, Retype Foundry, Typedesign, Rui Abreu / R-typography, Henning Skibbe –Typefaces, Sorkin Type, Storm Type Foundry, studio type, Suitcase Type Foundry, Talbot Type, TipografiaRamis, Tipografies, TipoType, tntypography, Tour de Force Font Foundry, type me! fonts, Type-Ø-Tones, typecuts, Typejockeys, Typesenses, Typetanic Fonts, TypeTogether, Typocalypse, Typofonderie, Typotheque VOF, Urtd, URW++ Design & Development GmbH, Volcano Type, Willerstorfer Font Foundry, xplicit GmbH, Zeugler
Essays von: Rudolf Barmettler, Thomas Huot-Marchand, Jakob Runge, Alice Savoie, Ole Schäfer, Rainer Erich Scheichelbauer
Yearbook of Type II
Herausgeber: Slanted Publishers
Verlag: Niggli
Creative Direction: Lars Harmsen
Art Direction: Julia Kahl
Graphic Design: Juliane Hohlbaum
Veröffentlichung: Oktober 2015
Format: 16,5 x 24 cm
Umfang: 416 Seiten
Sprache: Englisch
ISBN:978-3-7212-0942-6
Ausführung: Hardcover, Halbleineneinband, Heißfolienprägung, Sonderfarben
Preis: 49,80 Euro