Liebe Shop-Kunden, vom 20.12.2014 bis einschließlich 06.01.2015 findet kein Versand statt und es kommt somit zu längeren Lieferzeiten. Wir bitten Euch um Verständnis.
Dear customers, from December 20th, 2014, until and including January 6th, 2015, there will be no shipping so there will be extended delivery times. Thanks for your understanding.
Slanted Magazine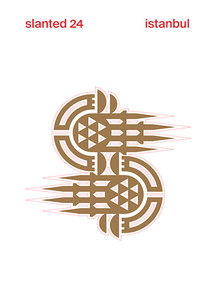 Slanted Publishers
Istanbul – die Stadt am Bosporus – ist berühmt für ihre unzähligen Minarette, prunkvollen Schlösser, Märkte und Händler, Möwen und Straßenkatzen. Istanbul, die einzige Metropole der Welt die zwei Kontinente miteinander verbindet, ist geprägt von allgegenwärtigen und inspirierenden Gegensätzen: Traditionelles Handwerk trifft auf eine junge, aufblühende Kunst- und Designszene, welche das Bild...
Bestellen:

€ 18,00
Empfehlungen
Slanted Publishers
Im vergangenen Jahr ausgezeichnet mit der BERLINER TYPE gehen die Fontografischen Monatsb12tter in die 15er Runde: 13 neue xplicit Hauschriften für Kampagnen und Corporate Designs ihrer Auftraggeber. Hochwertig gedruckt auf dem drucken3000...
Bestellen:

€ 29,00
Publikationen