Slanted Magazine's first special issue about Non-Latin typefaces: BABYLON. / Jetzt die erste Sonderausgabe über Non-Latin Schriften von Slanted bestellen.
The magazine deals with Non-Latin typefaces and has been released at Granshan Non-Latin type conference in Bangkok (TH). Besides essays, interviews, a photographic science-fiction story and non-Latin typefaces which illuminate the theme, there is also a number of new Thai TypoLyrics in the magazine. These are also part of the touring exhibition TypoLyrics which takes place in Bangkok from July 20th to August 18th, 2013. Thanks to Augmented Reality and Junaio app Slanted readers can explore lots of interactive extras by moving their smartphone over the magazine's pages.
The magazines will only be available here in a limited edition at Slanted shop, there will be no regular distribution in shops, at airports or stations. Please note: The issue is also not part of an existing subscription.
Slanted BABYLON ist eine Sonderausgabe über Non-Latin Schriften, welche Ende Juli im Rahmen der Granshan-Konferenz über nicht-lateinische Schriften in Bangkok (TH) veröffentlicht wurde. Neben Essays und Interviews, die die Thematik beleuchten, finden sich natürlich Non-Latin Schriften, eine fotografische Sciencefiction Story sowie eine Reihe thailändischer TypoLyrics im Magazin. Diese sind ab sofort auch Teil der TypoLyrics Wanderausstellung, die sich vom 20.07 bis 18.08.2013 in Bangkok befindet. Dank Augmented Reality und der kostenlosen Junaio App, können Slanted Leser zusätzliche interaktive Extras entdecken, in dem sie ihr Smartphone über die Seiten bewegen.
Das Magazin in limitierter Auflage ist ausschließlich über den Slanted Shop erhältlich, es gibt keinen regulären Vertrieb in Buchhandlungen. Bitte beachten: Die Ausgabe ist nicht Bestandteil eines bestehenden Abonnements.
Participants of the issue:

Essays by: Boris Kochan, Gerry Leonidas, Eran Bacharach, Huda Smitshuijzen-AbiFarès
Interviews with: eps51, Nadine Chahine, Hrant Papazian
Photography by: Ian Lynam
Typefaces by: Alexandra Korolkova, Kunihiko Okano, Neelakash Kshetrimayum, Oded Ezer, Panos Vassiliou, Sammy Or, Satya Rajpurohit, Nadine Chahine
TypoLyrics by: Anuthin Wongsunkakon, Athip Nimthongkam, BenChalit Sagiamsak, Chatnarong Jingsuphatada, Ekaluck Peanpanawate, Jackkrit Anantakul, Jean Vatchara, Sansern Rianthong, Natthawit Tongprasert, Warit Chaiyakul, Opas Limpi-Angkanan, Parinya Rojarayanont, Santi Lawrachawee, Stawix Ruecha, Nattapol Rojjanarattanangkool, Sumpatha Jadee, Tanawat Sakdawisarak, TAP Kruavanichkit, Ukkrid Tosak

Slanted Non-Latin Special Issue – BABYLON
Publisher: MAGMA Brand Design
Release: End of July 2013
Format: 16 x 24 cm
Volume: 64 pages + 8-page fold-out cover
Price: EUR 9,-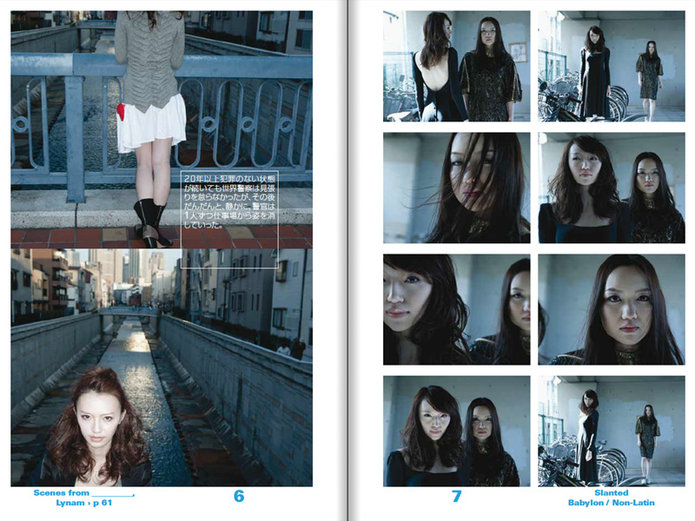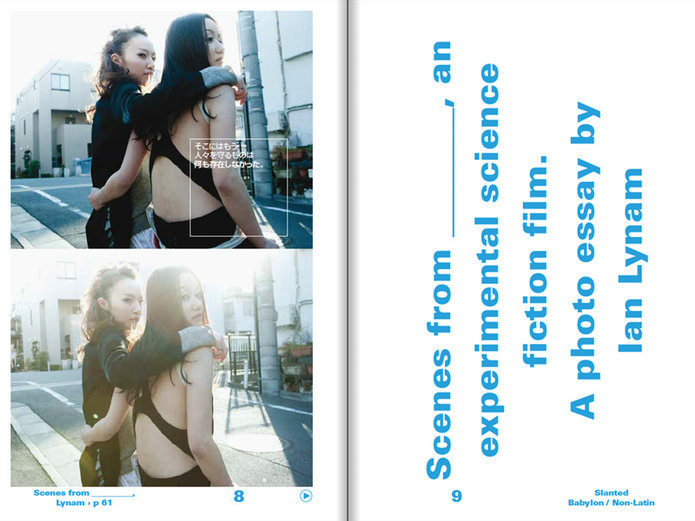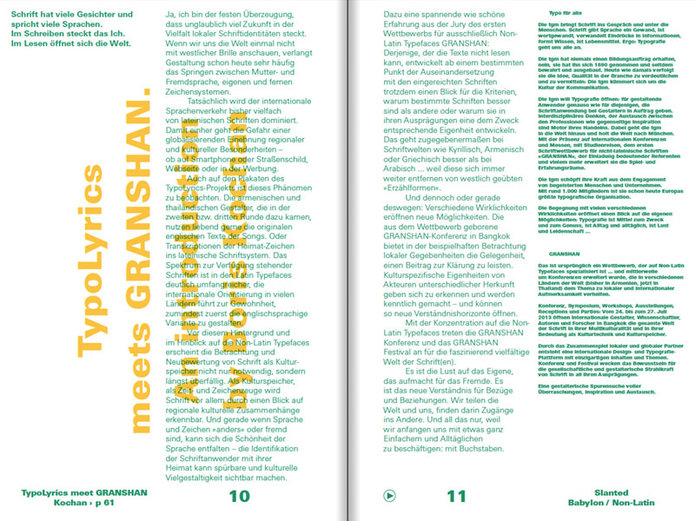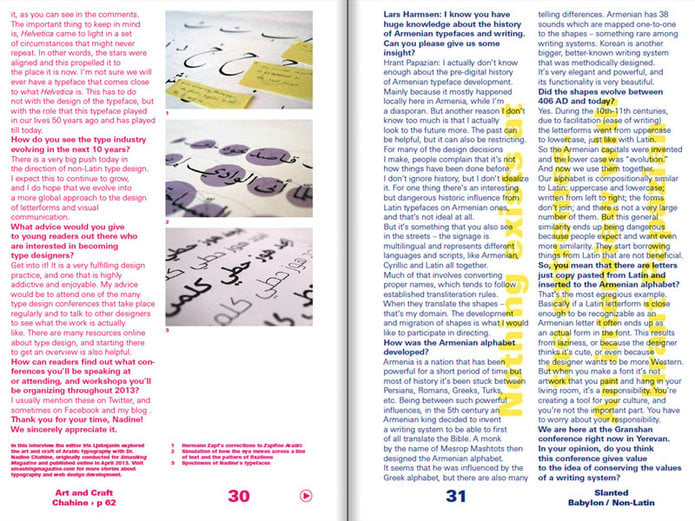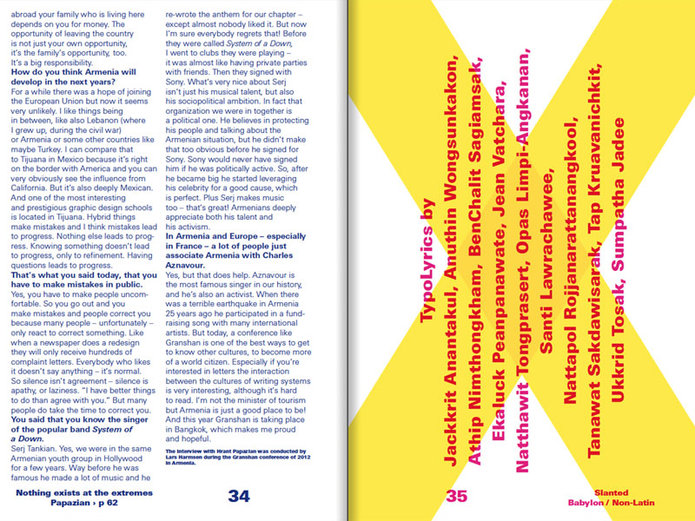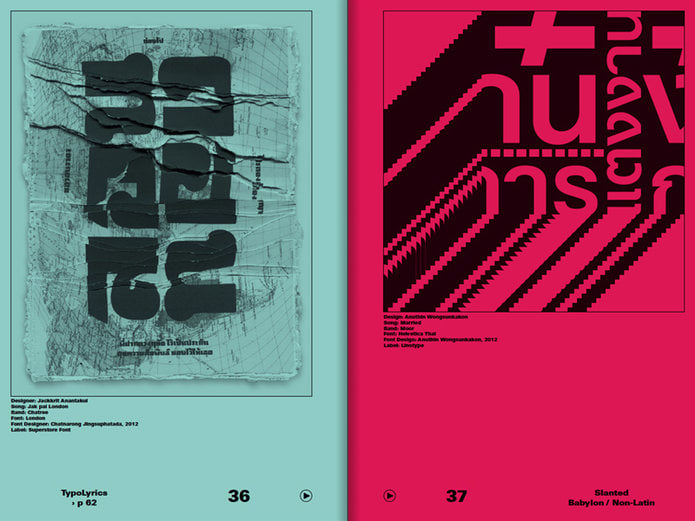 Buy: € 9,00

inkl. MwSt

, zzgl. Versandkosten.